There are several best file recovery apps available for free. Some of them are well-known in the market, others not. This article summarizes the top 5 data recovery tools of 2020. For each of these apps, it mentions its advantages and uses. At the end, it gives the links to the webpages where the free data recovery software can be downloaded.
1. Disk Drill (Windows & macOS)
Disk Drill is an undeniable leader among data recovery software, it can recover deleted files from your device even if it is failing, unreadable, or has lost a partition.
With Disk Drill you can easily recover deleted photos, videos, music files, documents from internal or external drives, USB flash drives, SD cards. The Mac version supports iOS and Android recovery as well.
Features:
You can recover up to 500MB of data for free with Disk Drill for Windows.
Unlike any other, the app has two important additional data loss prevention functionalities. The first, Recovery Vault, adds a layer to the Recycle Bin and keeps a backup reference to all deleted files. The second, Guaranteed Recovery, keeps a copy of each file moved to a previously selected folder, as for example the Recycle Bin.
In addition, Disk Drill allows users to create image files in the form of ISO, IMG or DMG files. Therefore in practice, enables the user to conduct the data search in a clone, without taking any additional risk with the original source. This functionality is of particular importance in forensic science.
"Disk Drill is an awesome free file recovery program, both because of its long list of features and its exceptionally simple-to-use interface." – Tim Fisher, lifewire.com
@Cleverfiles Just used Disk Drive Pro and recovered an important audio file for an extremely important client video. When you don't need it, you dont. But when you really do, so glad to have it. Especially when dealing with video and YouTube

— Christine Kaaloa (@grrrltraveler) January 13, 2020
Summarizing, Disk Drill is not only free and comprehensive, but also the best buy data recovery software. It has been confirmed by plentiful independent reviewers on the Internet and printed publications. CleverFiles, the developer of Disk Drill, has been around for many years and is a respected technology provider, based in the USA.
---
2. Recuva (Windows)
Developed by Piriform, Recuva can recover permanently deleted files, which have been marked as free space by the operating system.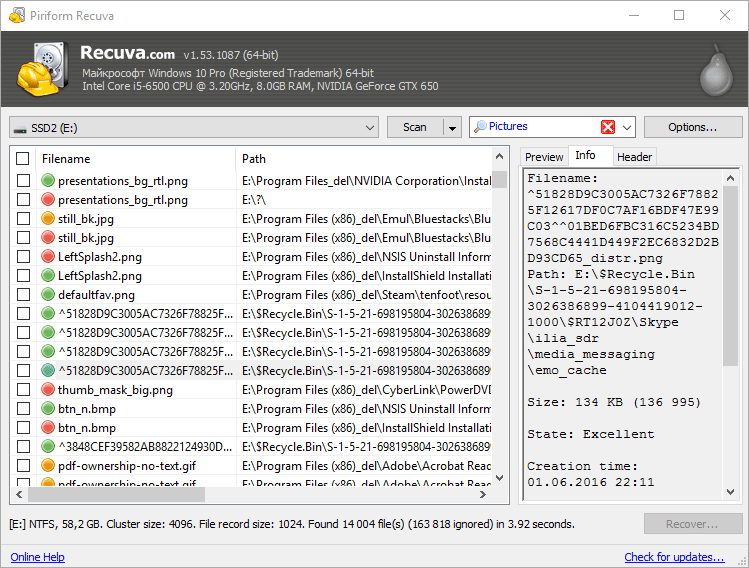 This free data recovery software can work on hard drives, USB flash drives, memory cards, MP3 players, and other storage devices supported by FAT and NTFS file systems. The app comes in 32-bit and 64-bit versions. After the developer joined a bigger enterprise, the app has not been updated in several years.
In addition, Recuva is available in installable and portable form. The portable version has the advantage of not having to risk the possibility of overwriting the data still on a hard drive, and therefore losing extra megabytes due to its own deployment.
Recuva is a Freemium app, meaning that its functionality can be enhanced by acquiring a commercial license.
"Recuva is attractively priced and easy to use, though it can't dig in quite as deeply as higher-priced data recovery software." – Edward Mendelson, pcmag.com
Apparently a few weeks ago I deleted a bunch of #files, hours of work, for the next audio book that I thought had been copied to a different folder, but they were nowhere to be found! I found this #Recuva #software that seems to have recovered all the deleted files. Whew!

— Matthew Barron (@authorMBarron) September 4, 2018
In summary, Recuva presents a good choice for both users, casual and frequent, that require a solid app for data loss recovery.
---
EaseUS Data Recovery Wizard is not just another data recovery software, but also a user-friendly app, with a Windows Explorer type interface, and a three-step easy data recovery process.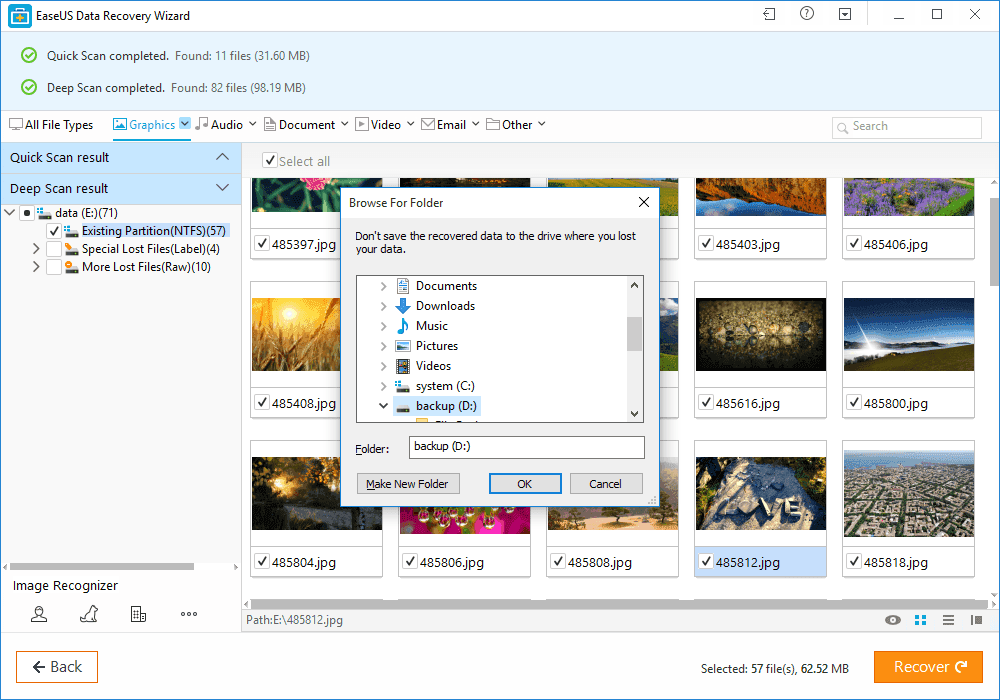 This app is free for recovering data up to 1GB (for the time being). It works on internal and external hard drives, USB flash drives, memory cards and various types of partitions. It's not clear whether it's as reliable in partition recovery as Disk Drill.
The three steps of the data recovery process are:
first, select data type (an unnecessary step according to most experts),
second, select location,
and third, preview and recover.
"Fast, reliable performance. Recovers many files other products couldn't recover in testing. Easy sorting of deleted files and specific file types" – Edward Mendelson, pcmag.com
EaseUS Data Recovery, I swear to God, is the MVP of data recovery for when SD cards just go nuts (definitely not because I eject them without doing so properly)

— dave (@ddryan) December 11, 2019
In brief, EaseUS Data Recovery Wizard presents a practical option for casual data losses. If the user needs extra recovery capacity, the developer offers a paid upgrade that gains extra functionality.
---
Restoration is a small free file recovery software. Its main characteristic is simplicity, as it doesn't require a complex installation, but only a click on the .exe file.
However, the recovery quality is inferior to Disk Drill due to lack of updates since the first decade of 2000s. Once opened, Restoration operates from a minimalistic window, which contains everything necessary for the recovery operation, novice users will find it easy to understand.
This data recovery software rescues files from internal and external hard drives, memory cards, and other common storage appliances. It produces good scan results, with relatively efficient recovery speed. However, there have been reports that Restoration presents problems in Windows 8 and 10.
"Restoration is an extremely lightweight, portable, and very easy to use free data recovery program for Windows." – Tim Fisher, lifewire.com
Overall, Restoration is the next recommended option among the best data recovery software free apps available, thanks to its inherent efficiency and simplicity.
---
Pandora is a free data recovery software, which comes with a wizard that makes the app very easy to use.
Upon installation, Pandora can recover files from hard drives, memory cards, and basically any device that can be connected to a Windows computer. Pandora uses three different recovery methods: browse, search and surface scan.
Browse presents a list of recovered files.
Search allows for the introduction of search criteria, such as name, date interval, or size range.
And finally, surface scan searches deeper into the device, taking longer time, but producing more complete results.
Update
"CleverFiles has acquired Pandora Recovery and is proud to offer the most powerful file recovery software on the internet." – pcmac.com

Overall, Pandora presents a valuable option for the user and you can recover up to 500MB of files for free. Its light approach makes it eligible for typical file recovery operations.
Peace of Mind
As a result of extensive testing of the reviewed apps, we are confident in naming Disk Drill the best free data recovery software. The impressive feature set and technical support for the first-time users score high for CleverFiles. Remember, it can not only recover your lost data but also protect your existing files from being deleted accidentally.