There are many free data recovery software products available on the Internet. Some products are freeware while others offer free trial downloads of the tool for evaluation. We've put together a list of the 5 best data recovery tools of 2023 that can be downloaded and tried for free.
Keep in mind that this is an evolving list – it was originally published earlier and is constantly updated. We're actively working on more data recovery software testing and research, so expect this guide to change throughout the year.
Quick Glance: Data Recovery Software Testing Statistics
| | |
| --- | --- |
| Number of tested tools | 21 |
| How long we tested | 2 months |
| OS version | Windows 11 |
| Minimum cost | Freeware |
| Average cost | $89 |
1. Disk Drill Data Recovery (Windows & Mac)
Disk Drill Data Recovery is an undeniable leader among data recovery software, it can recover deleted files from your device even if it is failing, unreadable, or has lost a partition.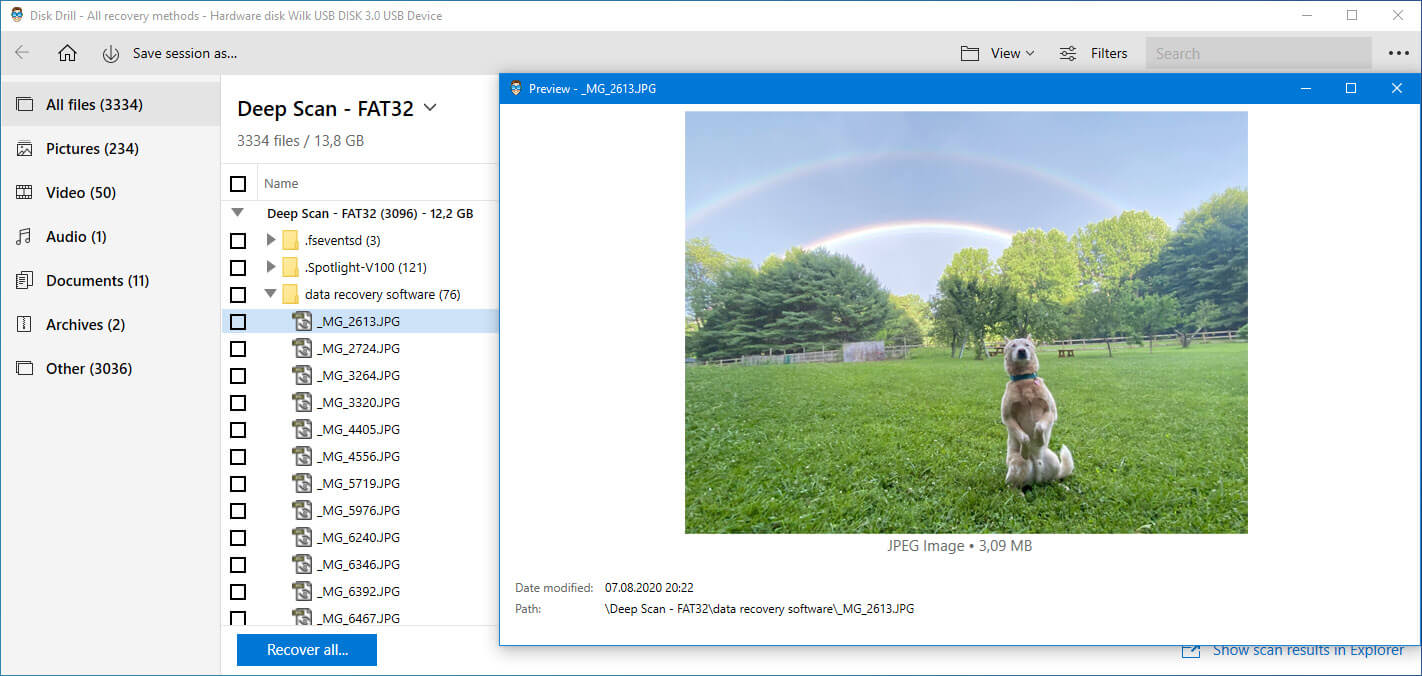 With Disk Drill you can easily recover deleted photos, videos, music files, and documents from internal or external drives, USB flash drives, SD cards, etc. The Mac version supports iOS and Android recovery as well.
Features:
You can recover up to 500MB of data for free with Disk Drill for Windows.
Unlike any other, the app has two important additional data loss prevention functionalities. The first, Recovery Vault, adds a layer to the Recycle Bin and keeps a backup reference to all deleted files. The second, Guaranteed Recovery, keeps a copy of each file moved to a previously selected folder, as for example the Recycle Bin.
In addition, Disk Drill allows users to create image files in the form of ISO, IMG or DMG files. Therefore in practice, enables the user to conduct the data search in a clone, without taking any additional risk with the original source. This functionality is of particular importance in forensic science.
"Disk Drill is an awesome free file recovery program, both because of its long list of features and its exceptionally simple-to-use interface." – Tim Fisher, lifewire.com
@Cleverfiles Just used Disk Drive Pro and recovered an important audio file for an extremely important client video. When you don't need it, you dont. But when you really do, so glad to have it. Especially when dealing with video and YouTube

— Christine Kaaloa 🎥👊🐾 (@grrrltraveler) January 13, 2020
Summarizing, Disk Drill is not only free and comprehensive but also the best-buy data recovery software. It has been confirmed by plentiful independent reviewers on the Internet and printed publications. CleverFiles, the developer of Disk Drill, has been around for many years and is a respected technology provider, based in the USA.
➡️ Check out Disk Drill for Windows review.
---
2. EaseUS Data Recovery Wizard (Windows & Mac)
EaseUS Data Recovery Wizard is not just another data recovery software, but also a user-friendly app, with a Windows Explorer type interface, and a three-step easy file recovery process.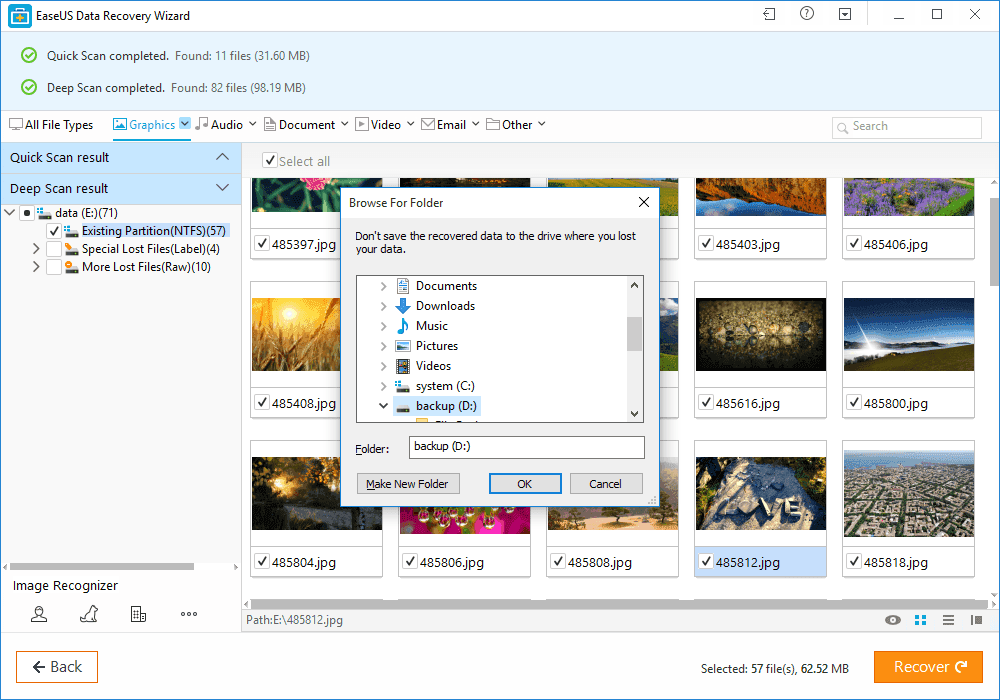 This app is free for recovering data up to 500MB (for the time being). It works on internal and external hard drives, USB flash drives, memory cards and various types of partitions.
➡️ Read our Easeus Data Recovery Wizard review.
Features:
The success rate of recovery is excellent when retrieving data from storage devices that use FAT32 and exFAT file systems;
Group deleted files with Tags for simpler recovery;
Recover up to 2 GB of data for free for clicking the share button.
"Fast, reliable performance. Recovers many files other products couldn't recover in testing. Easy sorting of deleted files and specific file types" – Edward Mendelson, pcmag.com
EaseUS Data Recovery, I swear to God, is the MVP of data recovery for when SD cards just go nuts (definitely not because I eject them without doing so properly)

— dave (@ddryan) December 11, 2019
In brief, EaseUS Data Recovery Wizard presents a practical option for casual data losses. If the user needs extra recovery capacity, the developer offers a paid upgrade that gains extra functionality.
---
3. TestDisk Data Recovery (Windows & Mac)
TestDisk freeware solution is only applicable to partition recovery. It is a command-line tool that supports many operating systems and filesystems. The app is still supported by its developer and is available in a bootable version.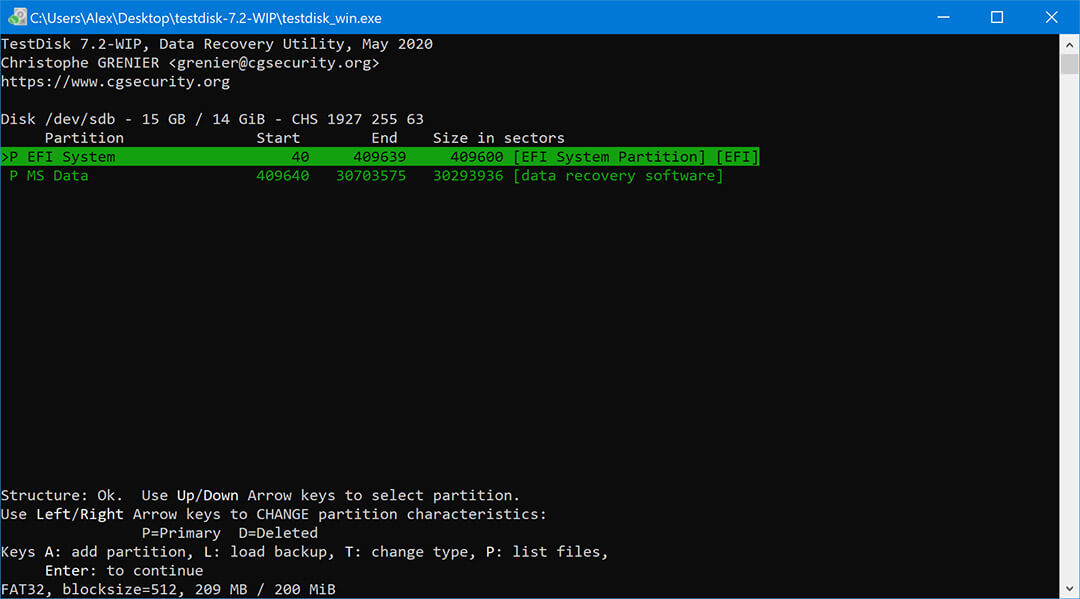 Features:
Wide operating system and filesystem support;
Recovers partitions, boot sectors, and file tables;
Has a bootable version.
Have you tried PhotoRec from Testdisk? I have successfully recovered all my video files several times from both SD cards and harddrives using it- on one occasion I did have to pair the broken video files back up but it wasn't too painless. It's free (but you should donate!)

— Rachel Sarah 💙 (@rachelsarah_m) April 26, 2020
Overall, TestDisk is a very specialized tool that will not serve the needs of average users suffering from inadvertent data loss. The functionality of this software can cause additional damage to potentially recoverable data when used by individuals with insufficient training.
"The tool is specifically designed for people who have a certain degree of computer knowledge. Nevertheless, TestDisk is an excellent tool that is great at recovering your data." – Ojash Yadav, handyrecovery.com
➡️ Check out the full TestDisk review.
---
4. Recuva (Windows)
Developed by Piriform, Recuva can recover permanently deleted files, which have been marked as free space by the operating system.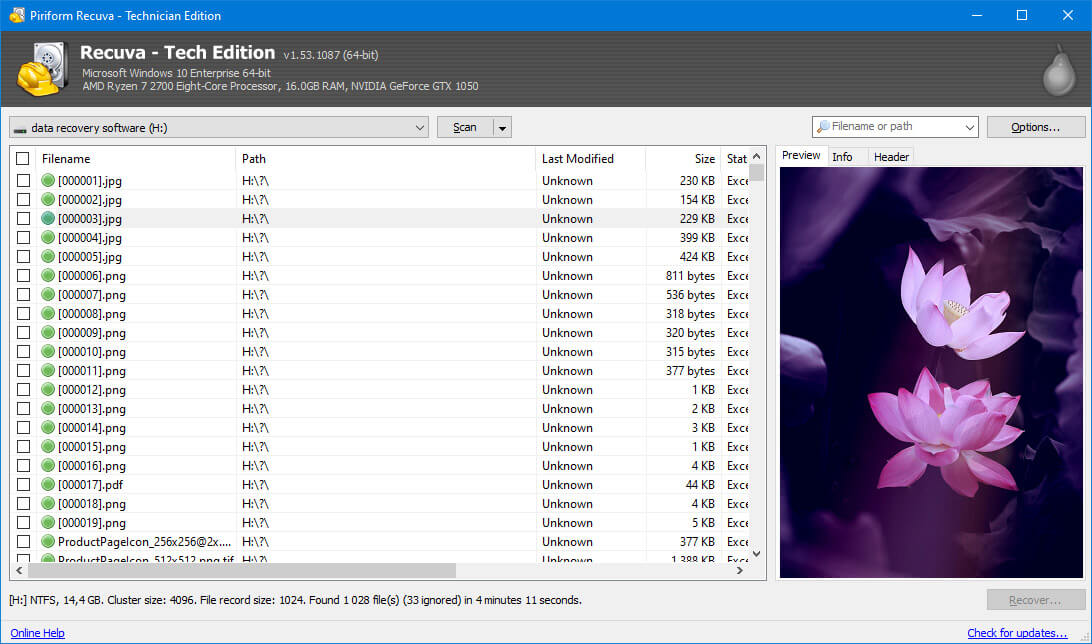 This free data recovery software can work on hard drives, USB flash drives, memory cards, MP3 players, and other storage devices supported by FAT and NTFS file systems. The app comes in 32-bit and 64-bit versions. After the developer joined a bigger enterprise, the app has not been updated in several years.
In addition, Recuva is available in installable and portable form. The portable version has the advantage of not having to risk the possibility of overwriting the data still on a hard drive, and therefore losing extra megabytes due to its own deployment.
Recuva is a freemium app, meaning that its functionality can be enhanced by acquiring a commercial license.
Features:
Unlimited free data recovery with the standard version;
Deep scan mode for hard-to-find files;
It's available in a portable version.
"Recuva is attractively priced and easy to use, though it can't dig in quite as deeply as higher-priced data recovery software." – Edward Mendelson, pcmag.com
Apparently a few weeks ago I deleted a bunch of #files, hours of work, for the next audio book that I thought had been copied to a different folder, but they were nowhere to be found! I found this #Recuva #software that seems to have recovered all the deleted files. Whew!

— Matthew Barron (@authorMBarron) September 4, 2018
In summary, Recuva presents a good choice for both users, casual and frequent, that require a solid app for data loss recovery.
➡️ You can see the full results of our tests in our in-depth Recuva review.
---
5. Minitool Power Data Recovery (Windows)
Minitool Power Data Recovery offers users a comprehensive data recovery tool that supports over 100 different file types. The application can restore lost and deleted data from many types of storage devices with a three-step recovery process.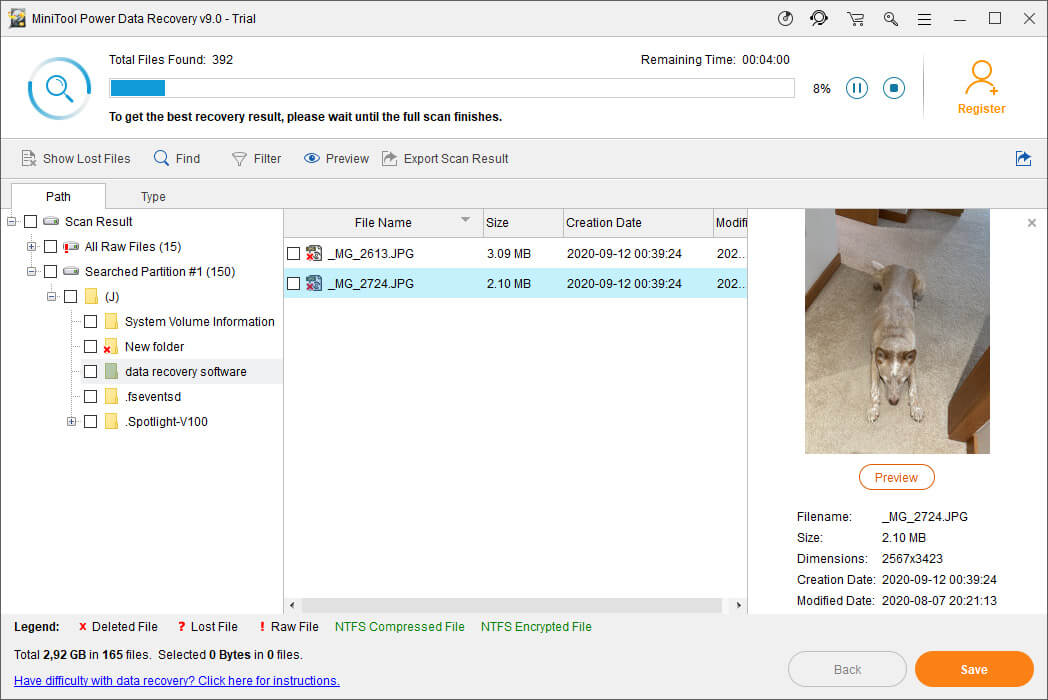 A free version of the tool can be upgraded with monthly, yearly, or lifetime subscriptions. Preview selected file types before recovery and select designated folders to be scanned for faster performance.
Features:
Recover up to 1 GB of data for free;
Intuitive user interface for simplified recovery;
24×7 technical support is available.
"Regular home users will benefit the most from this tool. The 1 GB of free file recovery is definitely worth trying the software" – Jordan Jamieson-Mane, pandorarecovery.com
Overall, Minitool Power Data Recovery tool is the next recommended option among the best data recovery software free apps available, thanks to its inherent efficiency and simplicity.
➡️ Want to know more? Explore our Minitool Power Data Recovery review to see the full results of our research and testing.
Comparison of the 5 Best File Recovery Software
| | | | | | |
| --- | --- | --- | --- | --- | --- |
| Best Data Recovery Software | Platform | Unique Features | Built-in Data Protection | Free version | Pro version |
| 1. Disk Drill | Windows, Mac | iPhone & iPad data recovery; Android data recovery; RAW file types supported | Yes | 500 MB for free | Multiplatform lifetime license |
| 2. Easeus Data Recovery | Windows, Mac | Image files and documents repair supported | No | 500 MB for free | Subscription-based |
| 3. Recuva | Windows | Portable version available | No | Free plan without customer support | Subscription-based |
| 4. TestDisk | Windows, Mac, Linux | Partition recovery | No | Freeware | Freeware |
| 5. Minitool Data Recovery | Windows | Support for CD/DVD recovery | No | 1 GB for free | Subscription-based |
Honorable Mention
How to Pick the Best Data Recovery Software
You should never use a data recovery software application without first carefully evaluating whether it's really the best tool for the job. At best, you might lose valuable time. At worse, you might ruin your chances of recovering your deleted data.
When selecting file recovery software, look beyond screenshots and extravagant marketing claims and consider the following criteria:
⚙️ Performance
Since your ultimate goal is to get back all deleted files, file recovery performance is, by far, the most important selection criteria you need to pay attention to when selecting the best software. Some applications can recover data only from the Recycle Bin that hasn't been emptied, and such applications are significantly less useful than those capable of retrieving permanently deleted files that are no longer present in the Recycle Bin.
📸 Files System Support
Data loss isn't limited to traditional spinning hard drives—it affects all storage devices, including modern solid-state drives, USB flash drives, and memory cards. Since you can never know which storage device you'll need to recover next, you should pick a data recovery application that's able to recover lost data from file systems intended for both internal and external storage devices, including NTFS, FAT, FAT32, exFAT, HFS+, APFS, ext2/3/4, and others.
💻 Operating System Supported
Unless you don't mind using a different operating system just to recover your deleted data, you should select tool that supports your main operating system. Fortunately, there are many great options available to Windows and Mac users alike, and even Linux users have several solutions to choose from.
🏞 File Type Support
The software should be able to undelete all commonly used file types, including audio files, video, images, documents, executable files, archives, and backups.
✅ Set of Features
There are several features all good data recovery software solutions should have, such as the ability to preview deleted files before recovery, the ability to recover only specific files, and the ability to recover data from devices that are failing, partially unreadable, or have lost a partition.
🛒 Price
Just because you can download and install an application for free doesn't necessarily mean that you can also use it to recover deleted data without paying. When selecting the best data recovery software, it's a good idea to start with a certain budget in mind and prioritize apps that fit into it. When comparing prices, remember that some applications are subscription-based (which means that you get charged every month/year), and some offer a lifetime license and sometimes even lifetime updates.
🔒 Security
The last thing you want is to install a tool infected with malware or created by someone who doesn't know how to recover deleted files securely. That's why you should stick to popular solutions with plenty of positive online reviews and many satisfied users. 
Conclusion
As a result of extensive testing of the reviewed apps, we are confident in naming Disk Drill the best free data recovery software. The impressive feature set and technical support for the first-time users score high for CleverFiles. Remember, it can not only recover your lost data but also protect your existing files from being deleted accidentally.
FAQ