Top 5 Best Free Data Recovery Apps for Mac OS X Revised
The best free data recovery software for Mac available online is described below. These five applications vary in their characteristics. However, all share one commonality, they are free, and therefore useful for the casual user.
1. Disk Drill Basic
Disk Drill Basic is the free version of Disk Drill. This app, in addition to having previewing capabilities for recovered files, contains several other functionalities, such as Recovery Vault and Guaranteed Recovery, which make it one of the best Mac data recovery software applications available.
Recovery Vault is basically an extra layer to the trash bin that keeps a reference to deleted data. Guaranteed Recovery is a background service that saves a copy of each file transferred to a user-specified folder. Both utilities reduce the possibilities of permanently losing critical data.
Disk Drill can work on internal and external hard drives, USB flash drives, SSD drives and many other appliances that can be connected to a Mac, including iOS and Android devices. Its last version has an extensive database of file signatures and uses scanning algorithms that are very efficient and fast.
In addition, it also includes image file creation capacity, providing the user with the ability to work on a clone version of the device/partition, without having to risk the original source.
The user interface is very friendly, and the Pro version includes an effective support service and a lifetime-upgrade option that covers every new version.
In general, Disk Drill offers an option for the casual, professional and enterprise users alike, that makes it worth the money spent on the upgrade.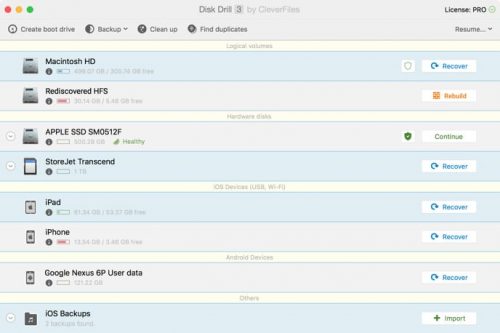 2. PhotoRec
PhotoRec is not the most powerful free Mac data recovery tool, but it has the advantage of being open source. This basically means that not only the application, but also the source code is available to the public.
PhotoRec can work with OS X, Linux, Free BSD, Net BSD, Open BSD, and Windows. It can recover the most common file formats, such as JPEG pictures, MP3 audio files, OpenDocument and Microsoft Office files, PDF documents, HTML pages, and ZIP archive files. Files can be recovered from different devices such as digital camera memory cards, USB flash drives, hard disks and CD-ROMs.
This free file recovery Mac app uses a powerful technology known as file carving. This method consists of two steps. Firstly, it searches for the data block or cluster size. If the file system is not corrupted, this value is obtained from the superblock (ext2/ext3/ext4) or volume boot record (FAT, NTFS). If this is not possible, the app checks each sector of the device, and using the first ten files found, it calculates the block or cluster size. Secondly, the app reads the device, block by block/cluster by cluster, checking against the different file signatures available in the app's database, thus assembling and recuperating the available files.  
Overall, it is a nice tool to use when in need to recover some personal files, without having to resort to a professional application.
3. EaseUS Data Recovery Wizard
EaseUS Data Recovery Wizard is another one of the best data recovery Mac software applications. The developer has released three different versions: free, pro and unlimited. The free version is limited to a maximum of 2GB of restored data.
This free data recovery software Mac can recover data from Mac notebooks, desktops, hard drives, USB drives, SD cards, memory cards, digital cameras, etc. It works on internal drives supported by HFS+, and on FAT/FAT32 file systems used in USB flash drives and external hard drives connected to an Apple computer. It recovers file formats most commonly used in image, video, music and document files.
Designed for recovering lost files due to unintentional deletes or drive formatting, it also covers cases of data corruption resulting from loss of power, or removal of a device without first unmounting it.
Summarizing, EaseUs free data recovery tool is a handy app for what it was designed for casual unintentional file deletions.
4. Softtote Mac Data Recovery
This free data recovery software Mac has the advantage of being offered without any limitation, and with free technical support.
Softtote's app can recover lost files from internal and external hard drives. File types include Canon, Fuji, Nikon and Kodak most common image files. It works on devices supported by NTFS, HFS/HFS+, HFS Wrapper, and FAT file systems. The application has the capacity to preview details, such as image size and creation date. It also has the capacity to select the files to recover.
In brief, Softtote's software can be included among the best data recovery software Mac, and even though it is not so well known, it deserves a try in case of accidental file loss.
5. MiniTool Power Data Recovery
This data recovery Mac software has a personal edition that is free for use only in one computer and with a maximum restore capacity of 1GB. Other offered editions include the commercial, enterprise and technician.
MiniTool can recover photos, music, videos, emails, documents, and other types of data from Mac computers or other common storage devices. The free version only offers support via email.
This data recovery software for Mac works in four different modes. The first, "Undelete Recovery", can be used to quickly recover data lost due to accidental deletion. The second, "Damaged Partition Recovery", recovers lost data from existing partitions. The third, "Lost Partition Recovery", recovers lost data from lost or deleted partitions. And finally, the "Digital Media Recovery" mode, recovers multimedia files from portable storage devices.
Overall, MiniTool offers a valid option for the casual accidental delete, in cases that don't involve big volumes.
How to choose data recovery software for Mac OS X
updated:
December 11, 2017
author: