The best free data recovery software for Mac available online is described below. These five applications vary in their characteristics. However, all share one commonality, they are free, and therefore useful for the casual user.
Quick Glance: Mac Data Recovery Software Testing Statistics
| | |
| --- | --- |
| Criteria | Value |
| Number of tested tools | 15 |
| How long we tested | 3 weeks |
| OS version | macOS 12.6 Monterey |
| Minimum cost | freeware |
| Average cost | $89 |
Disk Drill is the free data recovery app for Mac OS X. Disk Drill Basic, in addition to having previewing capabilities for recovered files, contains several other functionalities, such as Recovery Vault and Guaranteed Recovery, lost partition restoration, boot disk maker, and so on, which make it one of the best Mac data recovery software applications available.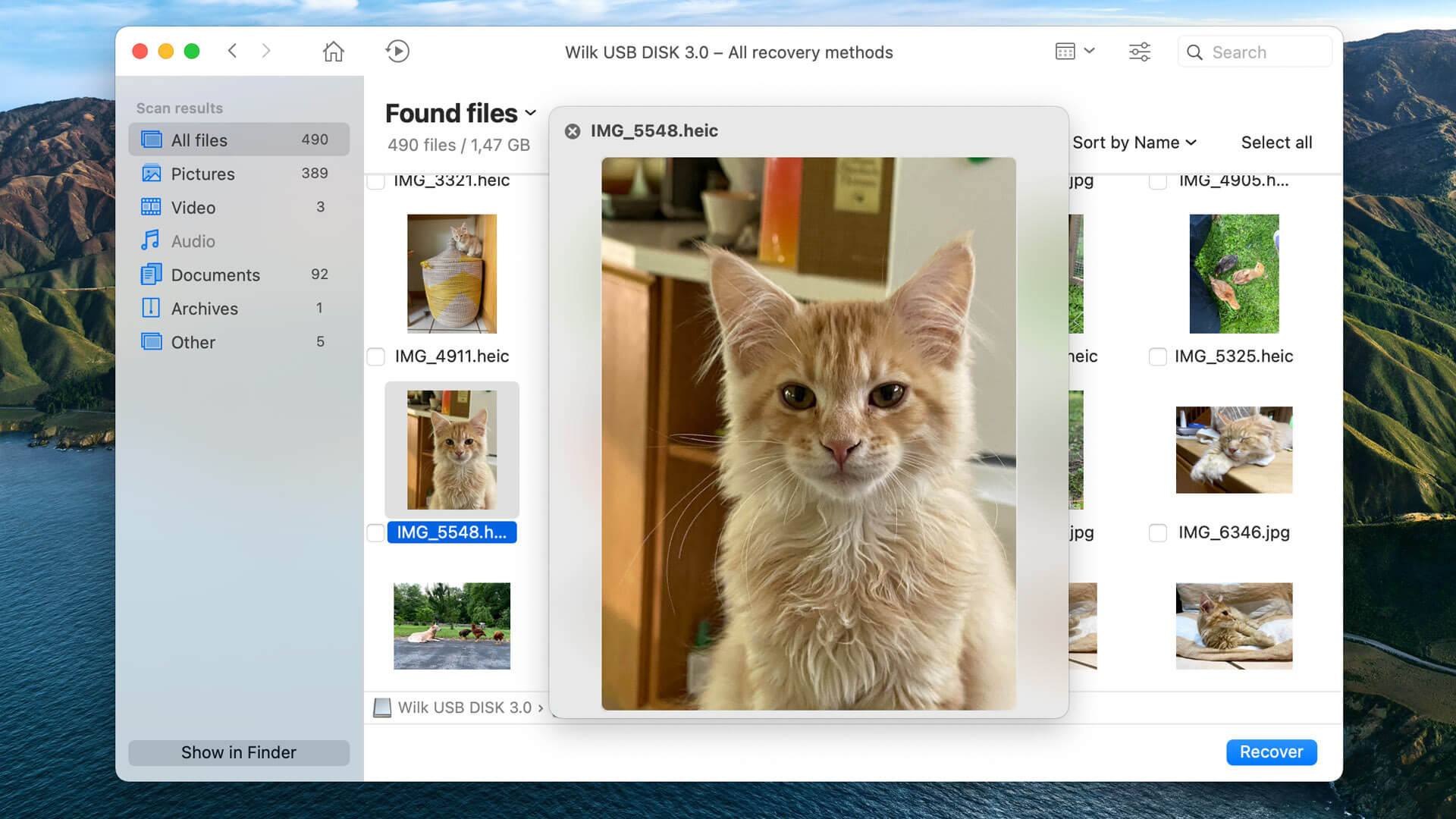 Disk Drill works on internal and external hard drives, USB flash drives, SD cards and many other appliances that can be connected to a Mac, including iOS and Android devices.
Its last version has an extensive database of file signatures that can be restored from drives even after formatting and uses very efficient and fast scanning algorithms. Disk Drill is constantly updated and supported by its ever-growing team and covers cases of data corruption resulting from loss of power, or removal of a device without first unmounting it.
Free Features:
Recovery Vault is an advanced extra layer to the Trash Bin that keeps a reference to deleted data.
Guaranteed Recovery is a background service that saves a copy of each file to a user-specified folder. Both data protection modules substantially reduce the possibility of permanently losing critical data.
Data Backup feature provides users with the ability to recover lost data from a byte-to-byte clone version of the device/partition, without having to risk the original storage source.
In addition to that, multiple extra tools like Disk Health Monitor, Emergency Recovery Boot Drive, Time Machine Recovery, Duplicate File Finder, Mac Cleaner, are available for free.
✅ Pros:
All file formats supported by macOS can be previewed by the tool.
The software runs on M1 devices and can scan system disks with M1 or T2 protection.
Files can be filtered, browsed, and previewed while a scan is being performed.
A large number of RAW file formats are supported and can be found with the raw image scanner.
⛔ Cons:
No phone support is offered.
The tool only provides limited support for RAID arrays.
"Disk Drill for macOS updated with native Apple Silicon Macs support" – Filipe Espósito, 9to5mac.com
Verdict:
Disk Drill successfully manages the balance of essential and advanced features for the casual, professional, and enterprise users alike, which makes it worth the money spent on the upgrade.
PhotoRec is not the most powerful free Mac data recovery tool, but it has the advantage of being open source. This basically means that not only the application but also the source code is available to the public.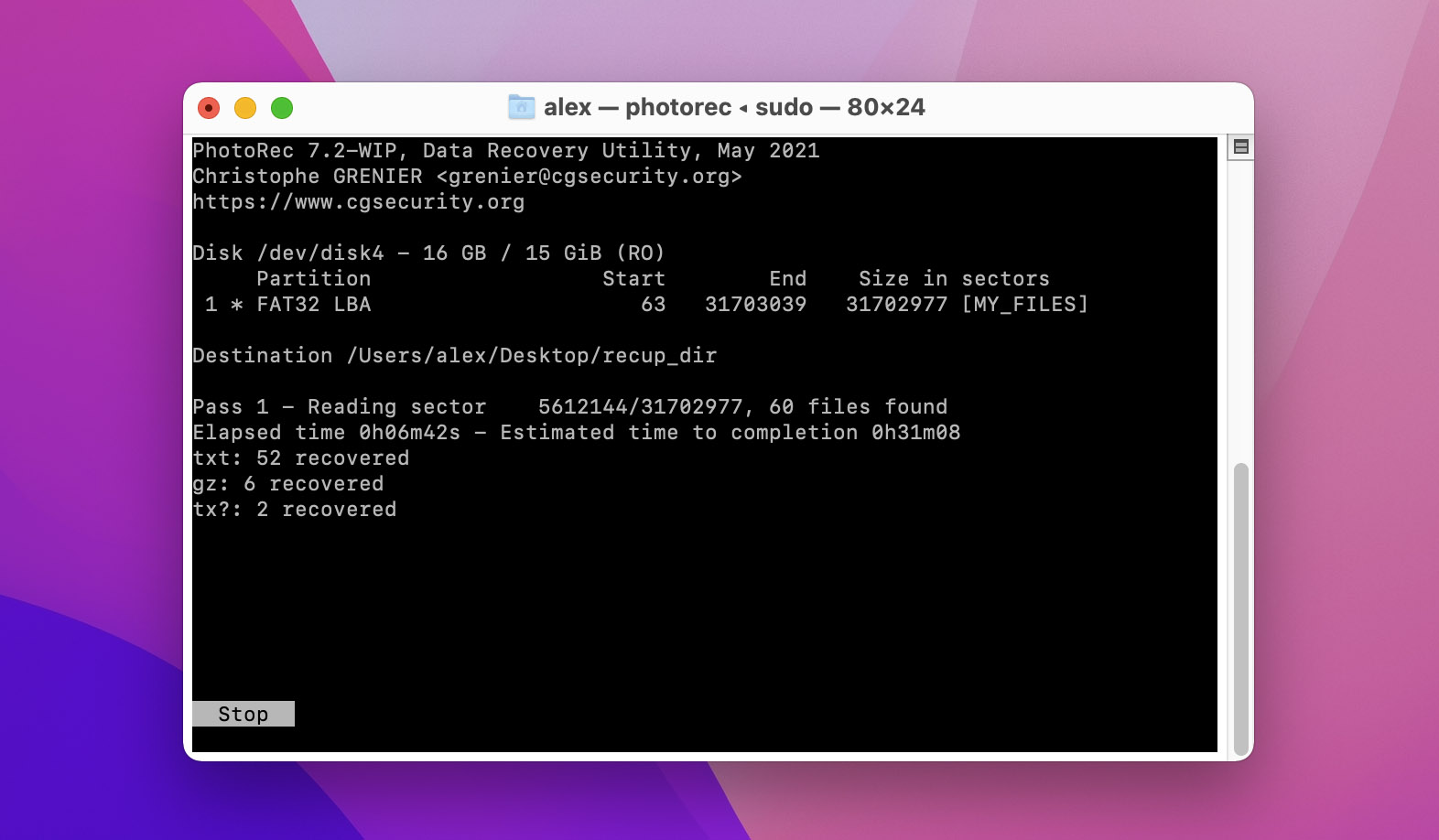 PhotoRec can work with OS X, Linux, Free BSD, Net BSD, Open BSD, and Windows. It can recover the most common file formats, such as JPEG pictures, MP3 audio files, OpenDocument and Microsoft Office files, PDF documents and ZIP archives. Files can be recovered from different devices such as digital camera memory cards, USB flash drives and hard disks.
Free Features:
This free file recovery Mac app uses a powerful technology known as file carving. This method consists of two steps. Firstly, it searches for the data block or cluster size. If the file system is not corrupted, this value is obtained from the superblock (ext2/ext3/ext4) or volume boot record (FAT, NTFS). If this is not possible, the app checks each sector of the device, and using the first ten files found, it calculates the block or cluster size.
Secondly, the app reads the device, block by block/cluster by cluster, checking against the different file signatures available in the app's database, thus assembling and recuperating the available files. Though it's unclear how many of those file signatures are known to the app.
✅ Pros:
This is a freeware tool with no cost to the user.
Support is provided for a wide variety of storage devices, file types, and file formats.
⛔ Cons:
Users must negotiate a complicated command-line interface to recover their lost data.
A degree of knowledge regarding the underlying disk system is required to use the tool.
The software has not been updated in several years.
"If you don't mind command-line software applications as long as they perform well, then you should give PhotoRec a try" – PhotoRec for Mac review by pandorarecovery.com
Verdict:
PhotoRec is a nice tool to use when in need to recover some personal files, without having to resort to a professional application.
EaseUS Data Recovery Wizard is another one of the best data recovery Mac software applications. The developer has released three different versions: free trial, Pro and unlimited.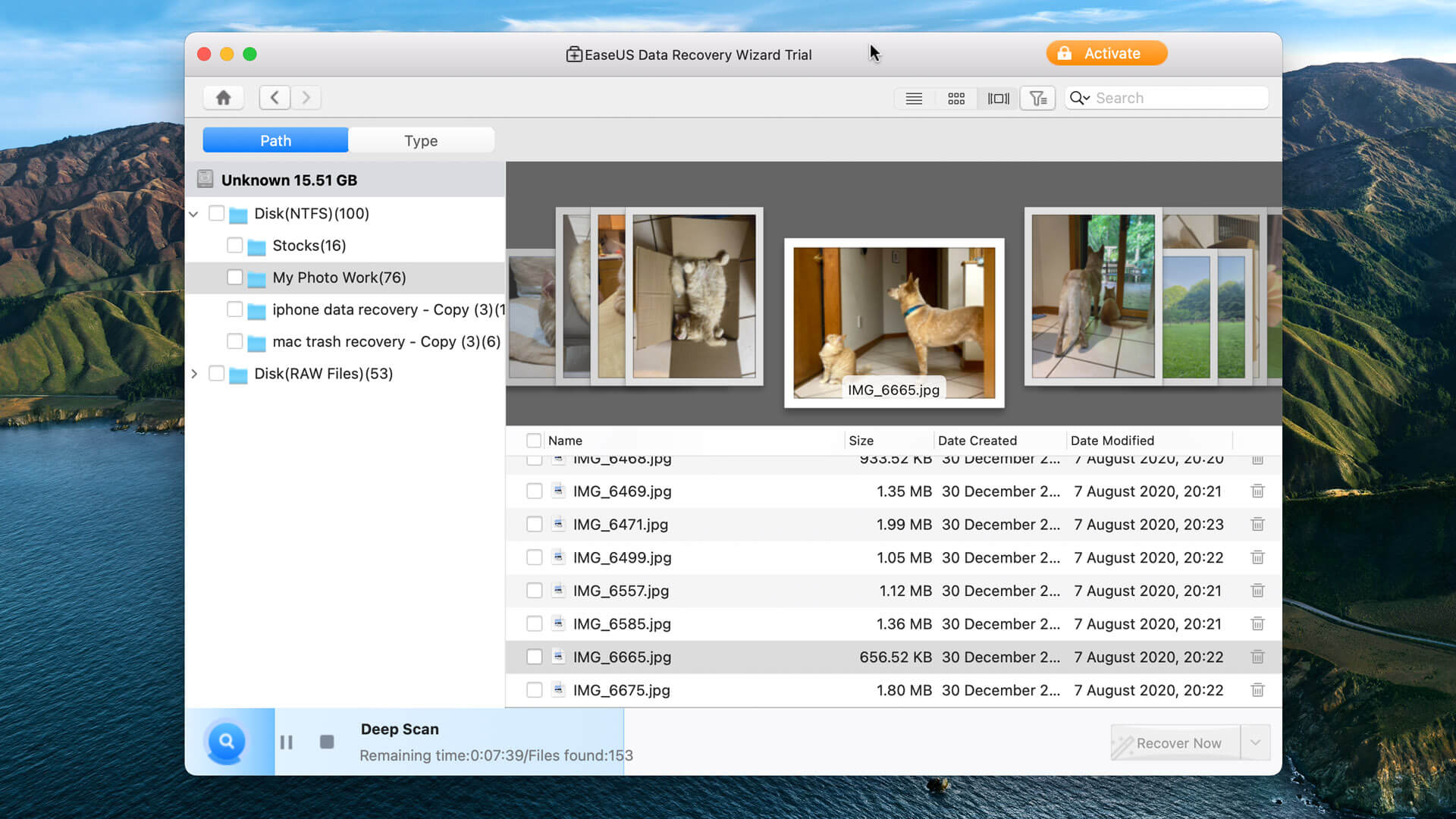 Free Features:
The free version is limited to a maximum of 2GB of restored data. This free data recovery software can recover data from Mac notebooks, desktops, hard drives, USB drives, SD cards, memory cards, digital cameras, etc. It works on internal HFS+ drives, and on FAT/FAT32 file systems used in USB flash drives and external hard drives connected to an Apple computer.
Easeus tool recovers file formats most commonly used in image, video, music and document files. It is mostly designed for recovering lost files due to unintentional deletes or drive formatting.
✅ Pros:
A fast scanning process recovers lost data quickly.
Scan results are efficiently categorized, making it easy to locate the items you want to recover.
⛔ Cons:
Not all common file formats can be previewed.
It is difficult to disable the default collection of user data.
"No data-recovery app can retrieve everything, but EaseUS Data Recovery Wizard Pro does the best job in testing at recovering lost and deleted files" – Edward Mendelson, pcmag.com
Verdict:
EaseUS free data recovery tool is a handy app designed for casual unintentional file deletions.
DMDE Data Recovery Software is a comprehensive suite of tools designed to help users manage the disks on their Macs. This includes recovering lost and accidentally deleted files from a wide variety of disk-based storage systems.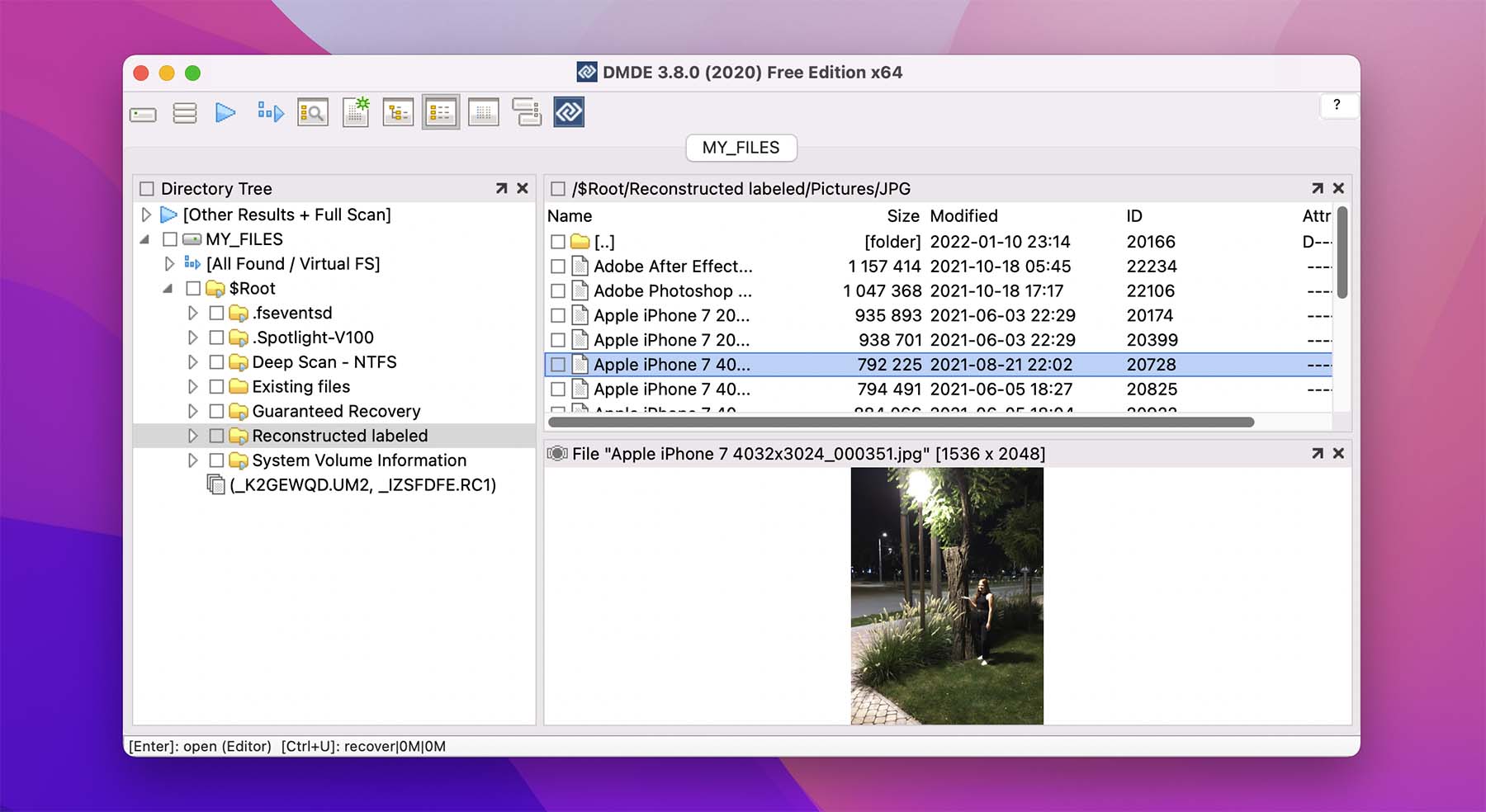 DMDE can be licensed for a single OS or multiple operating systems. In addition to working on macOS computers, the tool supports recovery on Windows and Linux systems. The additional disk editing and management tools add value to this recovery solution.
Free Features:
The free features of DMDE for Mac include scanning a disk-based device to determine which files can be recovered by the tool. You can then recover up to 4000 files in the opened directory to test the software's performance before committing to a purchase.
✅ Pros:
You can recover up to 4000 files with the tool's free version.
Multiple additional free features are included with the tool like a partition manager, a RAID constructor, a disk editor, and the ability to create disk codes.
⛔ Cons:
The tool has an outdated user interface.
There are limited customer support options available.
This solution is designed to be used by computer experts and may be too complex for the general user.
"While the user interface presents information that might be potentially confusing to the uninitiated, it boasts features that other tools omit, can handle RAID construction, and create disk images." – Christian Cawley, techradar.com
Verdict:
Users with multiple operating systems may like the ability to license the tool for more than one OS. This recovery software was developed to be used by experts and may be less intuitive than other options. The complex configuration necessary may be beyond the skill set of the average user.
Data Rescue 6 for Mac from Prosoft is another specialized software tool that can help users recover from a wide variety of data loss scenarios. The program supports systems running macOS 10.12 or later. You need to maintain a constant Internet connection while using the tool which can limit its functionality.
The tool can help recover files lost to accidental deletion, infection with malware, or inadvertent formatting. Limited file display options can make it difficult to find the items you want to recover. Since macOS 10.13, system disks need to be scanned in Recovery Mode.
Free Features:
The free demo version of Data Rescue 6 allows users to scan a device and preview the files that can be recovered by the tool. When the scan is complete, purchase options will be presented for users who want to recover the identified items.
✅ Pros:
The company offers online chat support.
Files can be previewed for free before purchasing the tool.
Emails can be generated to alert users about bad sectors.
⛔ Cons:
The Pro version of this tool is more expensive than alternate solutions.
Since macOS 10.13 High Sierra, Recovery Mode needs to be used to scan system disks.
It can be difficult to locate found files due to the way they are displayed.
No method is available for finding lost partitions.
"After fifteen years in the business, Prosoft Data Rescue continues to offer one of the most powerful and accessible tools for data recovery." – William Fenton, pcmag.com
Verdict:
Data Rescue 6 is worth a try as it can identify recoverable data for free. The need to boot into Recovery Mode to scan system disks may be an issue for some users and the software is higher priced than alternate solutions.
How to Pick the Best Data Recovery Software for Mac
Selecting the best Mac data recovery software can be a challenge since there are so many seemingly great options available. To help you narrow down available data recovery software for Mac, here are the most important selection criteria you need to focus on:
⚙️ Performance
The best file recovery software apps for Mac have been perfecting their data recovery algorithms for years to quickly and reliably find all deleted files. Since data restore is a time-sensitive task, it makes sense to select the most capable app available and get all deleted data back on the first try.
💻 Files System Support
Mac users typically format disks and volumes using Apple File System (APFS), HFS+ (Mac OS Extended), MS-DOS (FAT), FAT32, and exFAT file systems, so make sure to select a data recovery software application that supports them. If you also want to recover Windows drives, the application needs to support NTFS.
👩🏽‍💻 macOS Version Supported
In recent version of macOS, Apple introduced some pretty substantial changes intended to make the operating system safer for its users. Unfortunately, many developers of data recovery tools for Mac have yet to update their apps accordingly to support the latest versions of Apple's operating system.
📷 File Type Support
There are thousands of file formats in existence, and no data recovery software supports every single one. However, some solutions can recover virtually all file formats you are likely to come across, and we highly recommend you prioritize them over applications that can recover only a handful of commonly used file formats.
🗂️ Set of Features
While all data recovery software apps for Mac can recover deleted files, some have many extra features that make the recovery process easier and more likely to end successfully, such as the ability to preview deleted files, recover files from failing, corrupted, and formatted devices, or scan RAW and lost partitions. You may even come across recovery apps that double as capable backup solutions, giving you more value for your money.
🛒 Price
The price of file recovery software apps for Mac OS X varies greatly, and it's definitely not true that more expensive apps are always better than those that are either cheaper or free. Especially attractive are paid data recovery apps that let you preview recoverable files, allowing you to evaluate their data recovery performance without costing a single dollar. Keep in mind that some recovery apps charge you only once for a lifetime license, while other apps charge their users on a monthly or yearly basis, which can increase their price substantially over time.
🔒 Security
Not all software applications are secure, and data recovery software is no exception to this. While you can use all the apps listed in this article without any worries, the same can't be said about many lesser-known data recovery solutions that can be found online.
If you keep the above-described criteria in mind when selecting file recovery software for Mac, you won't have any trouble picking the best solution available and recovering your data in no time.
---
Updates
March 2022
We have removed MiniTool from our review as it is no longer available. When accessing the company's website, you are directed to download Stellar Data Recovery instead of MiniTool. There are better options out there that don't try to redirect you to another site.
Softote has also been removed from our list since it is no longer supported by its developer. It appears to have last been updated in April of 2020. We believe data recovery is too important to trust with unsupported software.
October 2022
We've tested the DiskWarrior tool and decided not to include this software in our rating. The last version was released in 2018, since then, not a single update has been released.
We were not able to test Lazesoft Data Recovery. The latest version of this tool is compatible only with macOS Mojave 10.14.
---
The Bottom Line
We recommend going with Disk Drill Data Recovery Software for Mac, as it delivers on its data recovery odds. This awesome data recovery tool is backed up by good looks, a more intuitive user interface, and a ton of free disk tools that may become handy for any user.
FAQ
Here are the best data recovery software applications for Mac in 2022:
Disk Drill for Mac – best for SD cards and USB drives;
PhotoRec for Mac – best freeware;
EaseUS Data Recovery Wizard for Mac – best customer support;
DMDE for Mac – best for professional use;
Data Rescue for Mac – best money-back guarantee.
As you can see, Disk Drill tops the list, offering excellent data recovery performance paired with an easy-to-use user interface that looks and feels as if Apple designed it themselves.
There are Mac data recovery software applications that are completely free, but most come with certain limitations and require their users to purchase a license to remove them. The cost of a Mac data recovery software license varies greatly, but the average is around $100.
Yes, there is. PhotoRec (TestDisk) is open-source data recovery software for Mac, Windows, Linux, and *BSD that you can download for free and use to recover most file formats without any limitations. However, you should know that PhotoRec doesn't have a graphical user interface, and it doesn't offer any extra features that require it, such as the ability to preview files before recovery.