Even though Apple makes the most reliable laptops in the world (there are consumer surveys that say so), MacBook data recovery is a topic that most Mac users have researched at some point, only to find solutions that don't work and tutorials that are difficult to follow. With this article, we want to explain everything there is to know about MacBook Pro data recovery to help Mac users of all walks of life recover all data with ease.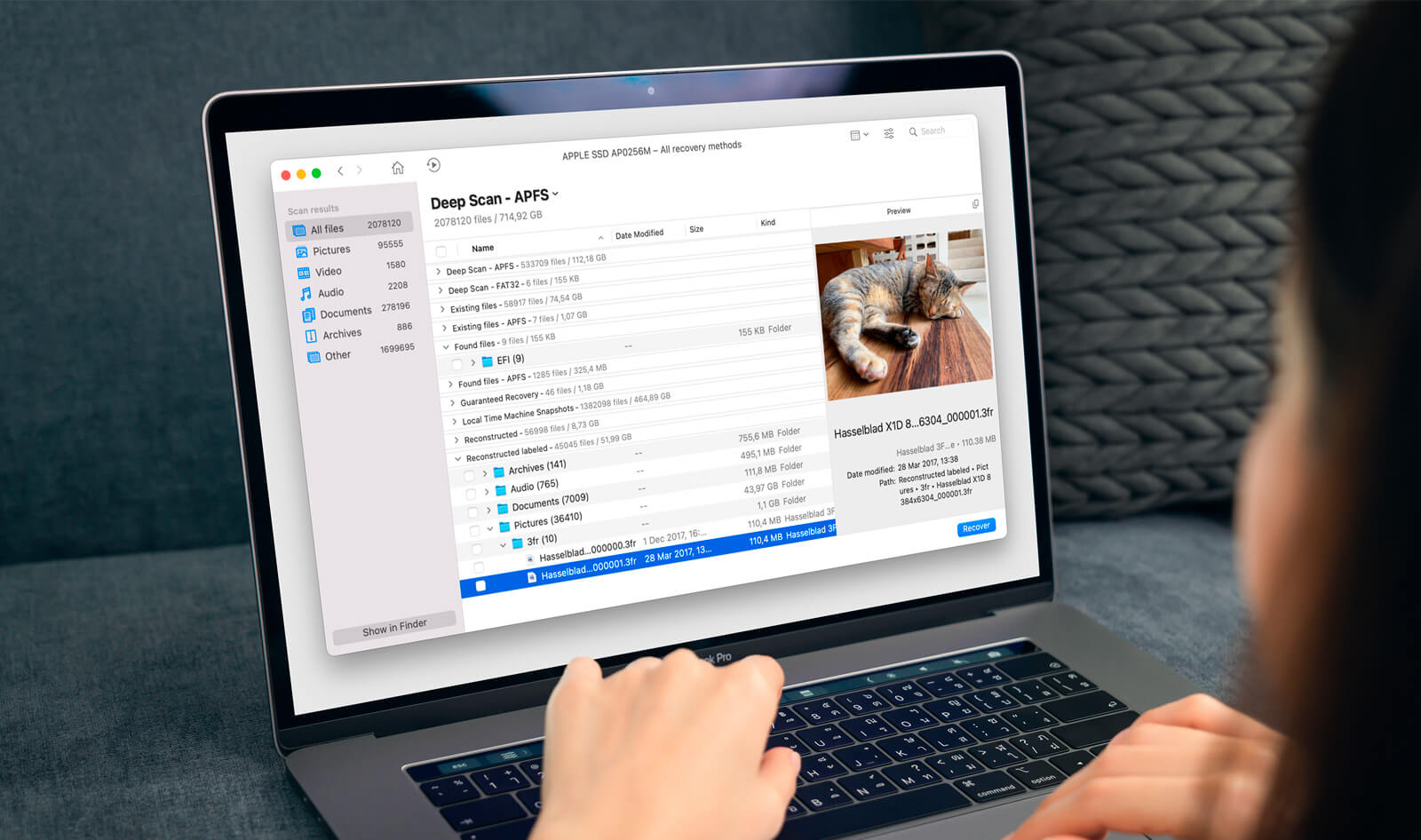 Ways to Recover Data from a MacBook Pro Hard Drive
It doesn't matter if you have an older MacBook Pro with a spinning hard drive (HDD or a new MacBook Pro with a fast solid-state drive (SSD)), after reading this chapter, you'll know exactly what to do to recover your data on Mac.
Way 1: Restart Your MacBook in Recovery
Recovery Mode in macOS provides convenient access to useful recovery tools, including Time Machine, Apple's backup software application. Assuming that you had activated Time Machine prior to losing your data, you can use it to go back in time and recover files that are no longer present on your MacBook computer.
Follow these steps to recover data from your MacBook Pro with Time Machine:
Reboot into Recovery by restarting your MacBook and holding down the Command + R until you see an Apple logo or spinning globe. M1 mac users should follow this instruction.
Select the Restore From Time Machine Backup option and click Continue.
Read the information about restoring from a Time Machine backup and click Continue.
Select the disk that contains your Time Machine backup and click Continue.
Select the Time Machine backup you want to restore and click Continue to begin the restore.
💡 Depending on the size of your hard drive, it may take some time for the recovery process to finish. Make sure that your MacBook Pro is plugged in all the time and keep the lid open. By interrupting the recovery process, you might lose important data and end up with a dead MacBook Pro.
Way 2: Recover Data by Using a Bootable Mac Data Recovery Software (Without Backup) ✅
As you may know, there are many data recovery software applications available for Mac computers, and they all promise to recover your lost data. But what if you can't use them because your MacBook Pro refuses to boot properly and you don't have a backup that you could recover it from?
In that case, you should recover your data using bootable Mac data recovery software such as Disk Drill, which lets you create a USB boot drive for recovery on any working Mac so you can recover your data without booting into macOS.
Here's how bootable recovery works in the latest version of Disk Drill (version 4):
Click on the Apple logo at the top left of the screen.
Choose the Restart option.
Hold down Command (⌘) and R as soon as you see an Apple logo or spinning globe to start your Mac in Recovery Mode. You can also try holding down Option (⌥) + Command (⌘) + R to use Recovery over the internet.

💡 If you have an M1 Mac, then you should turn it off and then turn it back on without letting go of the power button. From there, click the gear "Options" icon and click Continue. Enter your admin password if asked to do so and choose Terminal.

Click the "Utilities" menu and launch the Terminal app.
Enter the following command and press enter: sh <(curl http://www.cleverfiles.com/bootmode/boot.xml
Wait for Disk Drill to be downloaded from the internet and automatically launched.
Select the storage device you want to recover (your Mac's main hard drive, most likely) and click the Scan for lost data button.
Wait until Disk Drill finishes analyzing the drive.
Select each file you want to recover.
Click the Recover button to restore your files to a safe location.
⚠️ Keep in mind that the bootable version of Disk Drill can't preview recoverable files, but its actual data recovery performance is just as excellent as the performance of the installable version.
Disk Drill 3
If you're still using Disk Drill 3, you can follow these instructions instead:
Download and install Disk Drill on a working Mac.
Plug in an external USB flash drive. Make sure the flash drive is empty.
Open Disk Drill, click the Create boot drive option in the top menu, select Boot drive for data recovery.

Select the Recovery partition of your Mac (it should be called Recovery) and click Use as Source.

Click the Make Bootable option next to the destination drive.

⚠️ Keep in mind that all data stored on it will be erased.

Restart your Mac and press Option (⌥) or Alt during boot. Choose your Disk Drill Boot flash drive.
Select Disk Drill from the list of available options.
Click the Recover button next to your Mac's hard drive.
Wait until Disk Drill finishes analyzing the drive.
Select each file you want to recover.
Specify the recovery directory and click the Recover button to recover the selected files.
⚠️ Please remember that this method works only on macOS Catalina and older. If you're using macOS Big Sur, use
previously described method
.
Way 3: Retrieve Mac Data by Using Target Disk Mode
Truth be told, not all MacBooks are easy to take apart and service. For example, iFixit gave the latest MacBook Pro a repairability rating of just 1 out of 10 (10 is easiest to repair), stating that Apple still has a long way to go when it comes to designing serviceable devices. That's bad news for those who would like to recover data from a MacBook Pro that doesn't want to boot but don't feel confident enough to take it apart.
Fortunately, Apple has a solution, and it's called Target Disk Mode. Simply put, Target Disk Mode can turn your Mac into an external storage device that you can access from another Mac using Thunderbolt or FireWire. This means that you can retrieve lost data from an unbootable Mac using data recovery software running on a different Mac. Disk Drill is a great choice because a single Disk Drill activation code works on up to three computers.
Follow these steps to retrieve your data using Target Disk Mode:
Connect your Mac with another Mac using a FireWire or Thunderbolt cable.
Turn off your Mac and start it up while pressing and holding the T key. You can also activate Target Disk Mode by going to Apple menu > System Preferences > Startup Disk > Target Disk Mode.
Download, install, and launch Disk Drill on the working Mac and recover your data just like you would normally (see the next chapter for step-by-step instructions).
Way 4: Restore Data Using Time Machine
Since Mac OS X Leopard, all MacBook Pro users can use what's arguably the most user-friendly backup and versioning software for macOS: Time Machine. If you already do, you're in luck because Time Machine makes restoring lost or accidentally deleted data a breeze. Best of all, you can choose specifically which files you want to get back, so there's no need to restore many GB of data just to recover a single document.
Follow these steps to restore your data using Time Machine:
Connect your Time Machine backup disk to your Mac.
Open the folder that contained the deleted data. For example, if the data was in your Documents folder, open Finder and select Documents from the sidebar on the left.
Click the Time Machine icon located in the Menu Bar and choose Enter Time Machine.
Locate the data you want to recover using the timeline on the right edge of the screen.
Click Restore to restore the selected files.
Way 5: Recover Data from Backup or Cloud Storage Services
There are many different ways of backing up important data on a Mac. Some users enjoy the convenience of cloud storage services like Dropbox and Google Drive. Recovering data from such services is typically straightforward because you can log in to your cloud storage account from any computer and download your data with a simple click.
Other users prefer to create byte-to-byte disk images (DMG) using the backup feature included in Disk Drill or specialized backup software applications like Acronis True Image, and Carbon Copy Cloner. To recover your data from a backup image, you simply locate it and double-click the DMG file to open it and mount it to your Mac.
If that doesn't work, you can try to attach the non-mountable disk image with the help of Disk Drill:
Launch Disk Drill.
Select the "Storage devices" option from the left panel and click "Attach disk image…" at the bottom of the main window.
Select the backup image and click Attach.
Recover your data.
Ways to Restore Data from Crashed/Dead MacBook Pro Hard Drive
If you visit Apple's official forums, you can find many threads created by MacBook Pro owners who have lost important data because of a sudden hard drive failure. In many of these cases, data recovery is still possible, but it requires special hard drive recovery software or even the help of data recovery professionals.
Way 1: Using Data Recovery Software ✅
A capable data recovery software application like Disk Drill is able to detect and rebuild a lost Mac partition and recover files that many lesser data recovery MacBook Pro software applications would consider to be unrecoverable.
Disk Drill supports hundreds of file formats, including all common video file formats (3GP, AVI, FLV, M4V, MKV, MOV, MP4, TS, WMV, and more), audio file formats (MP3, WAV, OGG, M4A, WMA, and more), image file formats (JPG, PNG, GIF, TIFF, BMP, PSD, and more), document file types (DOC, DOCX, XLS, XLSX, PPT, PPTX, TXT, and more), and others.
Follow these steps to recover your data with Disk Drill:
Install Disk Drill on your MacBook Pro. 
Launch Disk Drill and click the Search for lost data button next to the hard drive on which they were stored. Disk Drill will automatically select the most appropriate recovery method and attempt to fix common issues.
Wait until Disk Drill finishes analyzing the drive.
Select the files you want to recover. Use the preview feature to preview them before recovery.
Click the Recover button to recover the selected files.
Way 2: Data Recovery Service
Even though modern data recovery software applications like Disk Drill can do wonders, there are some data loss scenarios that can only be solved by data recovery experts.
For example, if you have a MacBook Pro whose hard drive has suffered a mechanical failure and is no longer spinning, you won't be able to recover any data from it without first repairing it, which requires a dust-free environment, the proper tools, and plenty of experience.
Follow these steps to have professionals recover your data for you:
You initiate a work order with the CleverFiles data recovery center.
Remove the hard drive from your MacBook Pro.
Pack and ship the hard drive to the provided address.
Wait for the lost data to be recovered and securely shipped back to you.
Tips for Better MacBook Pro Data Recovery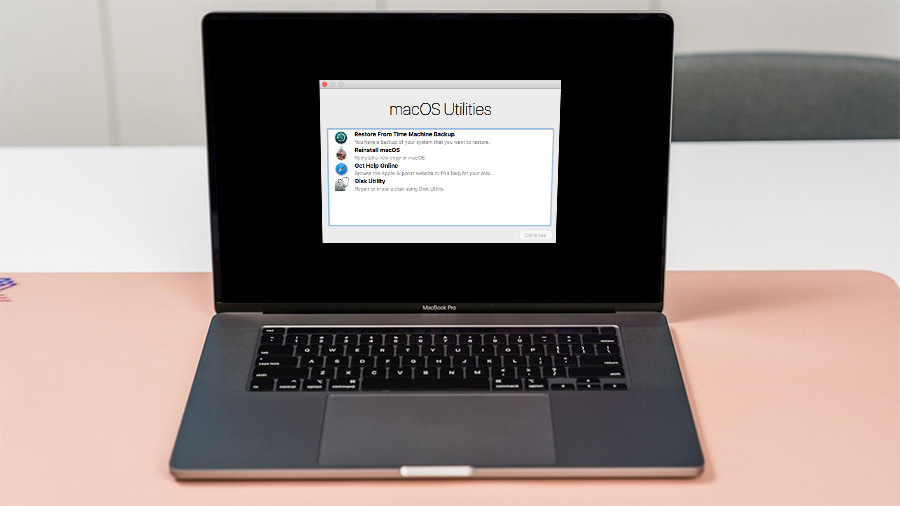 If you haven't yet had a reason to learn about data recovery MacBook solutions, you can be sure that there will come a time in your life when MacBook data recovery will be the only thing on your mind. Recognizing that data loss is an inevitable fact of life, you should do whatever you can to prepare your self for it.
While some data is impossible to recover no matter what, most data loss scenarios can be solved relatively easily as long as you keep in mind certain basic data recovery dos and don'ts. Here are five tips that are guaranteed to help you get your files back.
1. Create a Backup in Advance
Backups make it very easy to recover accidentally deleted or lost data. Depending on your needs, you can either backup your entire MacBook Pro hard drive or just the most important files and folders. As a Mac user, you already have an excellent backup solution installed on your system—Time Machine. However, you can also explore other backup options, such as those that are included for free in Disk Drill.
2. Don't Defragment Before Recovery
Defragmentation won't help you recover your files. In fact, it's almost guaranteed to make easily recoverable files impossible to retrieve. Why? Because files are moved during defragmentation and organized into the smallest number of contiguous regions, overwriting the space occupied by the very same files you're trying to recover. Besides, modern SSDs don't even benefit from defragmentation, so there's no reason to bother with it in the first place.
3. Never Write New Data to the Place Containing Lost Data
Deleted files are recoverable until they are overwritten by new data. To prevent this from happening, don't write any new data to the place containing lost data until you finish their recovery. Even if you have plenty of free storage space left on your MacBook Pro, you never know where it decides to write new data.
4. Limit the Use of Your MacBook Pro
For the same reason you shouldn't write new data to the place containing lost data, you should also limit the use of your MacBook Pro as much as possible. Ideally, don't use it at all until you're ready to begin the data recovery process. If you don't already have a data recovery software application like Disk Drill installed on your MacBook Pro, consider removing your machine's hard drive so that you can connect it to another Mac.
5. Use the Best MacBook Pro data Recovery Solution Available
The market is saturated with data recovery MacBook Pro software solutions, but not all of them perform equally well. Truth be told, some do more harm than good, which is why it's so important to use the best MacBook Pro data recovery solution available. In this article, we've described data recovery with Disk Drill, which combines professional performance with the ease-of-use of Apple's own software applications.
Summary
Despite owning the most reliable laptops in the world, most MacBook Pro users have at least some experience with data loss. The good news is that losing an important file on a MacBook Pro isn't the end of the world because you can easily recover it using Disk Drill and other methods described in this article.
FAQ