It is not unusual for people to think that Mac files aren't compatible with PC hard drives. Although some macOS app files (Pages, Numbers) won't automatically load, you can still transfer the information.

This guide takes you through the process of recovering data from a Mac HDD to a PC.
When Would You Need to Recover Data from a Mac Hard Drive to a PC?
If your Mac gets damaged in a way that prevents you from booting it, your only option for recovering your data may be to use a separate computer. If you have another Mac, but it doesn't support a second hard drive, you might have to use a PC instead.
Some Mac models are also very difficult to disassemble and perform maintenance on, which could make it challenging to attach a second hard drive.
Recovering files directly from your Mac's hard drive can also make sense if you've just bought a new PC and want to directly transfer all your old files to it. If you've been using your Mac for a while, you might have hundreds of gigabytes of data to transfer.
Using an external drive to copy everything can take hours as you'll have to essentially copy all data twice, and you'll also be limited by the speed of your USB ports.
Situations When You Need to Recover Mac Hard Drive Data to a PC
If your macOS computer died, you likely recovered the HDD or SSD from the system to retain your files.
Since Apple devices can be expensive, you might have replaced the MacBook, iMac, or Mac Mini with a Windows PC.

You might also want to put your files on an existing PC you have at home.
💡 Apple and Windows have more compatibility than many people realize. You can transfer document files, spreadsheets, and other information between these two devices.
When you know how to transfer files from Mac to a PC external hard drive or internal system, you'll have 100% information access all of the time.
Ways to Recover Data from a Mac Hard Drive to PC
Although the reasons why you might need to transfer files between a Mac and a PC are numerous, the methodologies available for this task are not.
If you need to recover a Mac hard drive on Windows, these are the five best choices to use.
1. Retrieve Files from an HFS+ Hard Drive
Software recovery tools can help you access the information on your Mac HDD, take the information to the cloud or onto another system, and transfer it over to your PC. 
Each software package uses the same structures in different ways to accomplish this goal. That's why Disk Drill is a superior solution.
It streamlines the process by offering an intuitive user interface that feels like the apps you'd use on a Mac.
💡 Pro Tip:
Disk Drill for Windows supports allocating existing files stored on HFS+ drives.
Use the following steps to perform this operation:
Attach the HFS+ drive to the Windows PC.
Launch Disk Drill and select the HFS+ partition on the connected drive.
Select the Allocate existing data scanning method and click Search for lost data.
Click the Show scan results in Explorer option which attaches the HFS+ partition to Windows Explorer as a read-only partition.
Use native OS methods to copy your files.
2. Recover Files from a Non-HFS+ Hard Drive.
If your Mac drive is non-HFS+ formatted, it'll take a little more time to complete the transfer process. You may be using the APFS file system which is not natively compatible with your Windows PC.
Step 1: After verifying the disk condition, you can start the recovery process from your root drive.
Step 2: This action causes your PC HDD to become the storage device you'll connect to transfer the information. (SSD recovery requires additional steps, including the creation of a byte-level backup, to recover the data for transfer.)
Step 3: You'll choose the hard drive you want to recover.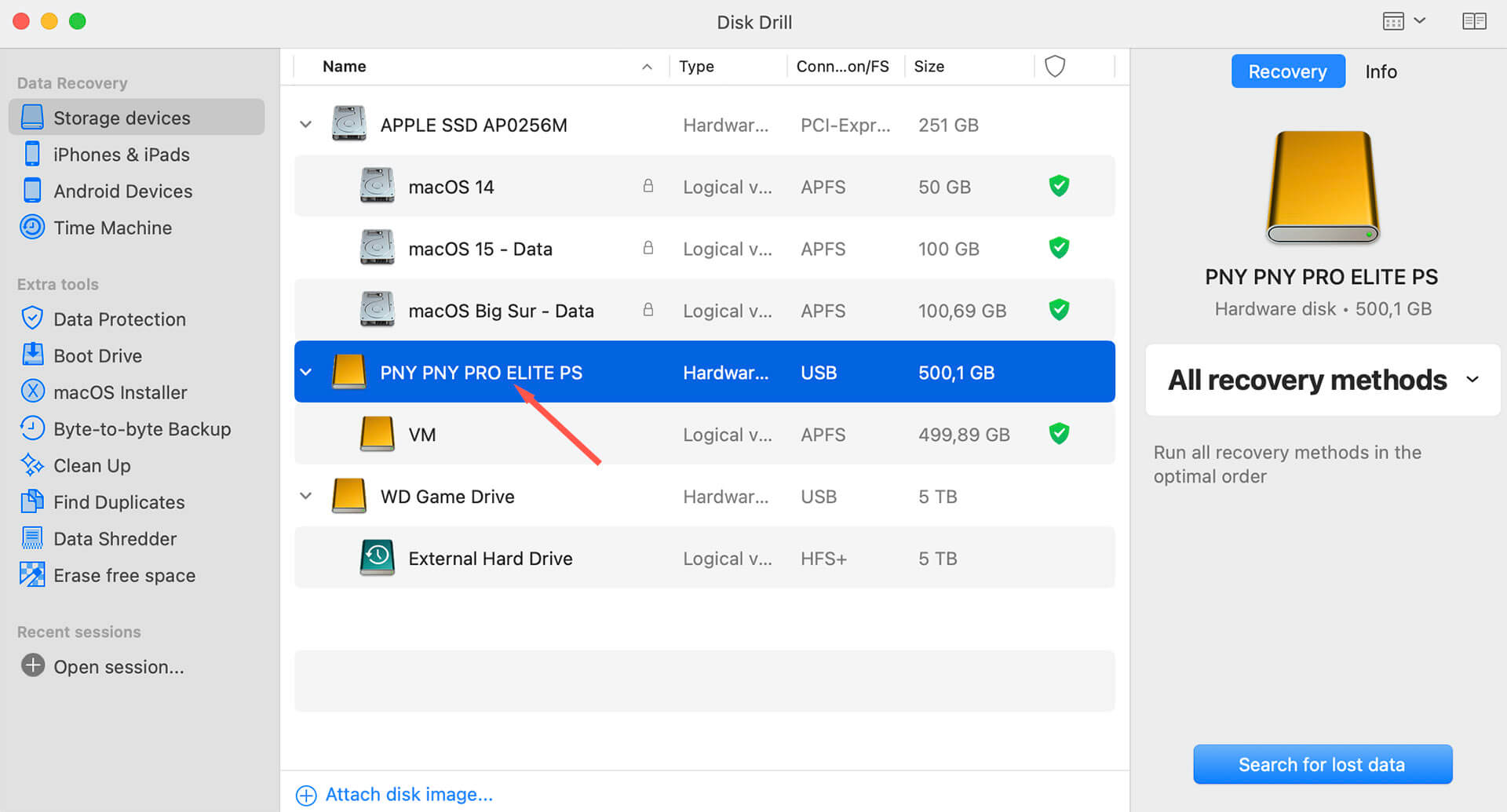 Step 4: Select the scanning method, and wait until Disk Drill delivers a solution.
Step 5: Implement the instructions provided by Disk Drill to retrieve the files from the HFS+ hard drive. Once you've completed the steps, the transfer to PC is complete.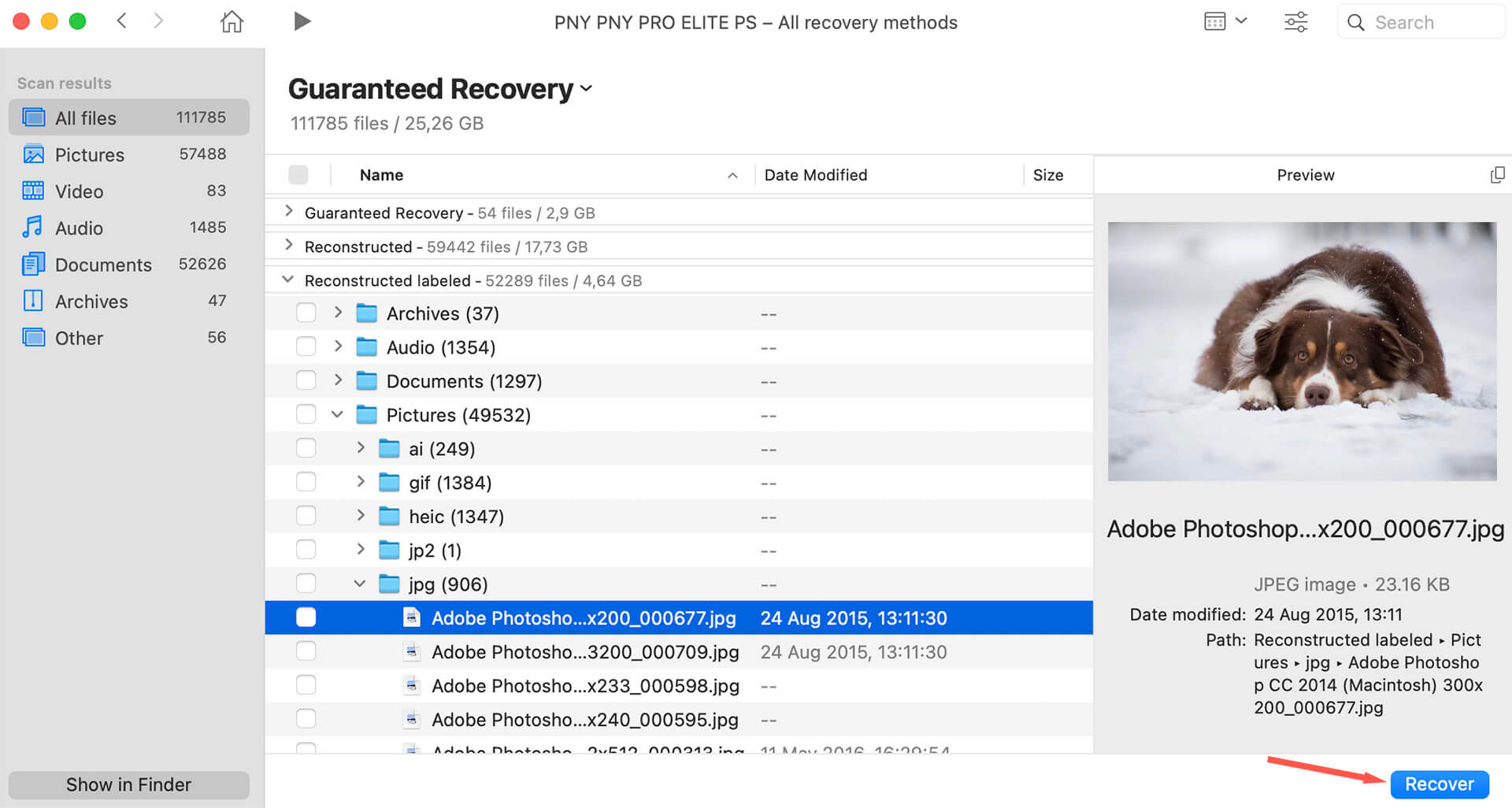 💡 You may also have success with
MacDrive
which is a third-party app that enables data to be transferred between Mac and Windows computers.
3. Transfer Data from a Mac to a PC using an External Hard Drive
If you have a Mac hard drive that isn't functioning well, you can send the files to an external drive. The easiest way to accomplish this goal is to use a USB flash drive, but you might have more information than what it can handle.
Prepare drive
The USB drive can go between macOS and PC successfully. It might be faster to complete multiple copy transfers if your systems allow it. The external drive's file system should be exFAT or FAT32. Your best results will come from formatting the drive on the macOS system using Disk Utility.
Follow these steps:
Connect the external drive to your Mac.
Start Disk Utility on the Mac.
Click "View" in the top-left corner of the window and select "Show All Devices".
Choose the desired drive from the panel on the left side of the screen.
Click the "Erase" button at the top of the window.
Give the drive a name and select GUID Partition Map for the Scheme.
Specify the exFAT format as this is compatible with macOS and Windows.
Click "Erase" to format the drive.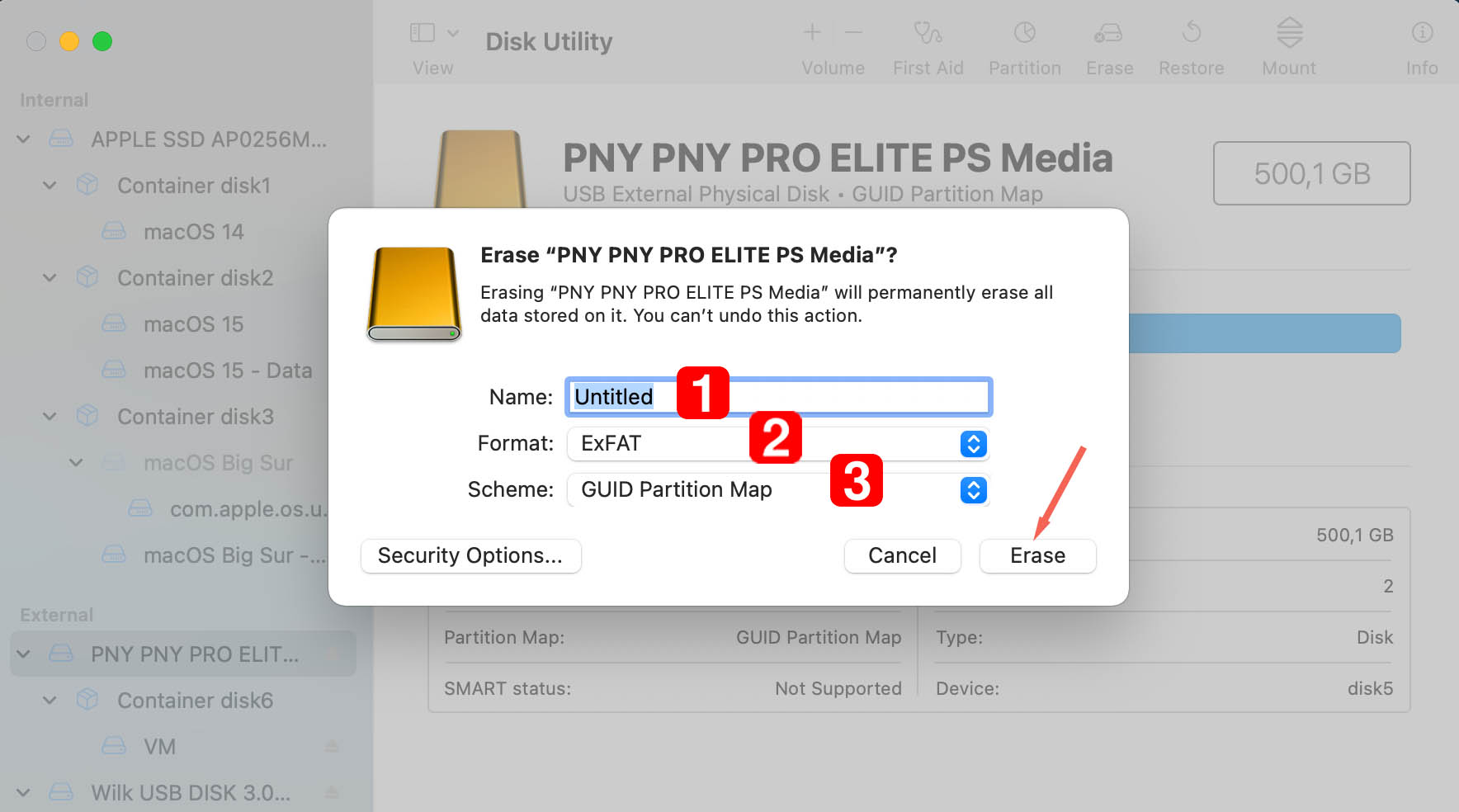 Transfer files
Once the drive is formatted you can perform the copy and transfer your files.
Connect the external drive to your macOS system.
Open the drive, select File, and select New Folder.
Type "Exported Files" and hit Return.
Select the files you wish to transfer or choose "Select All".
Copy the data to the external drive.
Disconnect the device from your Mac and connect it to the Windows machine.
Open Windows explorer and copy the files from the external device to Windows storage.
4. Use a Portable Hard Drive Operations Connection
Did your Mac fail? You can still transfer files from Mac to a PC external hard drive without a power source if you have a hard drive reader.
The best option is a dual-bay external hard drive docking station. This product serves as the power source so that the physical disk can spin for reading purposes.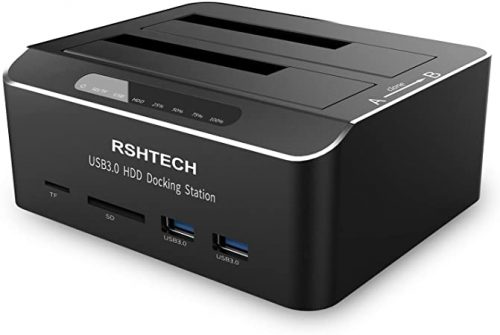 You can connect the docking station to your PC. Some models require an external power source and come with an AC adapter.
⚠️ This procedure will not be possible with newer Macs that are equipped with an internal SSD that cannot be removed from the device.
Older Macs do have drives that can be removed, but they may not be visible in Windows Explorer since they have an HFS or APFS file system. Consider using one of the previously described solutions to get the data off the Mac drive. 
5. Use the CleverFiles Data Recovery Center
When you don't have a power source or a readable disk from a portable docking bay, laboratory services can help you access your Mac data to put it onto a PC. You'll get back the lost information for a reasonable and competitive cost.
The CleverFiles Data Recovery Center provides this service with a fast turnaround and emergency response. That means you can get the access you need without risking further damage to your hard drive.
SSD recovery might also be possible in some situations. You can always contact the CleverFiles team to see what could happen with your equipment.
6. Network the Mac and Windows Computers Together
You may be able to transfer files between your Mac and Windows PC by creating a small local network consisting of the two machines.
Connect the two computers using a standard Ethernet cable. You can use a USB-to-Ethernet adapter if either of the machines does not have an Ethernet port.
Turn on File Sharing on the Windows computer.
On the Windows machine, right-click on folders you wish to share and select Share with and Specific people. Then follow the onscreen instructions.
Turn off the Internet Connection Firewall. If left open, leave TCP port 445 open to enable sharing connections.
On the Mac, select Go > Connect to Server and browse for or enter the network address for the Windows machine in the Server address field.
7. Sync your Mac and Windows Machine with a Cloud Client
Using cloud services like iCloud or Google Drive enables users to sync data between two or more computers. Your systems can easily be configured so when you create a file and upload it to the cloud client, the second computer automatically receives the update.
In Conclusion: How to Get Files from Mac to PC
You can recover the files on your Mac by sending them to a PC. This option can happen immediately or several months after you've recovered the HDD from a failing Apple computer.
👌 These options work well if all you need is a simple file transfer between macOS and Windows for your personal or professional needs.
Solutions such as Disk Drill ensure that you can retrieve Mac files on PC quickly and accurately.
You can also use the CleverFiles Data Recovery Center if your Mac drive has corruption or physical damage to attempt file access.

Data recovery for free
Your Companion for Deleted Files Recovery
Although you don't have many options, these solutions are proven to work. If you need to transfer files from Mac to PC, these steps accomplish that goal.
FAQ