Unbootable hard drive? Damaged SSD?
We can recover your data from almost any storage device. If your drive is not recognized or cannot start, our expert team is ready to get your data recovered in our lab.
Priority service available
Original drive warranty is not voided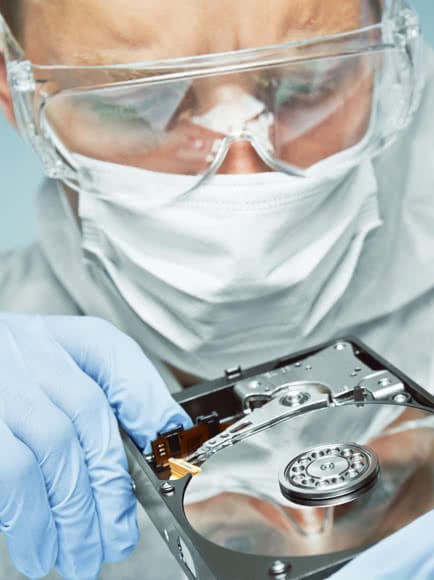 Here's how our data recovery center works
Let's get started
This is YOUR data, and we need your authorization to process it. Please follow these steps to help us help you get it back.
Start here
You initiate a work order
Type in, print, sign and send a new Work Order form to us with your media. Please provide as much detail as possible, this helps us ensure the results of the diagnostic evaluation are more accurate.
Start with a Data Recovery Work Order form
Pack and ship your media
Storage media can be critically damaged by static electricity, mechanical impact, and other factors. For proper handling of your media, wrap it in an anti-static bag or foil and pack it with foam or bubble wrap. We recommend shipping your drives via certified mail or with a carrier that provides a tracking number. For your convenience, here is the Address Label that you can print and attach to your package. Alternatively: drop your device off at one of our locations nationwide.
Print the Address Label
Static – make sure your media is placed in anti-static bags before packing. If not available, simply wrap the media in aluminum foil.
Shock and Vibration – Shock and/or vibration can cause further damage to your media. To insure the media is protected at all times, package the media in a box with at least 2" of padding (i.e. foam, bubble wrap) on ALL 6 SIDES. Please do NOT pack with Styrofoam peanuts. Failures caused by shock and/or vibration account for one third of all HDD failures.
Laptops – If the hard drive is inside a laptop computer the drive needs to be removed before shipping.
Please remember to include the Work Order form in the same package as your media.
Your approval
We start the recovery only after your approval of the quote.
Our policy of "No Data – No Charge" means that if we are unable to recover any viable files that you're looking for, there are no charges to you.
We don't have an Attempt Fee - a non-refundable fee many recovery companies charge. In fact, we don't have any hidden or additional fees. You pay what is quoted to you if we are successful. Our rigorous quality assurance process makes sure that you receive the data you are looking for.
Done! Your data is recovered and secured
We confirm your case completion and return your data to you on a DVD, flash or external hard drive. We might recycle your old storage device for you as well.
Questions?
Call our data recovery center or email us.