Mac users should be very familiar with the macOS Trash Bin. It's a special folder that is designed to temporarily hold recently deleted files. If you have accidentally deleted files, the Trash is the first place you should look to try and recover your lost data.
To recover deleted files from Trash on Mac: click on the "Trash" icon and choose deleted files or folders, then Right-click or Control-click on the item. After a drop-down menu will appear, click "Put Back" to restore files.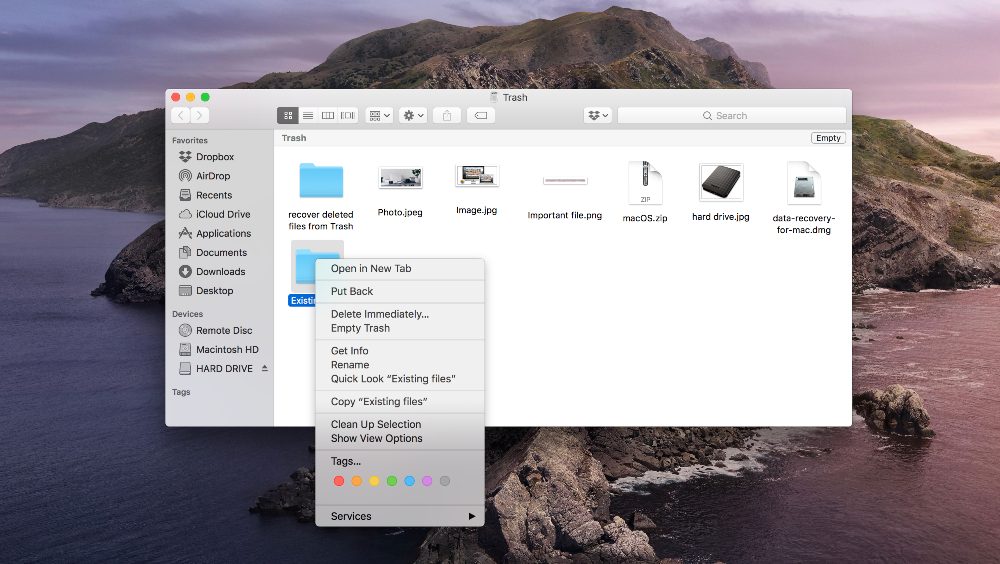 But what about if you have manually or automatically emptied the Trash and the files you are looking for are no longer available?
Is There a Way to Recover Emptied Trash on a Mac?
The simple answer to this question is "Yes". Due to the way that the operating system handles file deletions, there is a good chance that you can successfully recover lost files even after the Trash Bin has been emptied.
When a file is deleted the OS marks its storage space as being available for use. If that space is needed to save new data, the old files will be overwritten, but until this time it still physically exists on your storage device. It has been logically, but not physically deleted.
You will increase your chances of recovering deleted files on your Mac by minimizing the usage of the storage device on which the files were stored. In the case of your Trash Bin, this is almost always going to be your internal hard drive. So your best bet is to stop using your computer for other activities until you have completed your file recovery. Failure to follow this advice will potentially overwrite the files you intend to restore. 
Newer versions of the operating system such as macOS High Sierra, macOS Mojave, macOS Catalina, macOS Big Sur have a Finder preference which can be set to automatically empty files from the Trash after they have been there for 30 days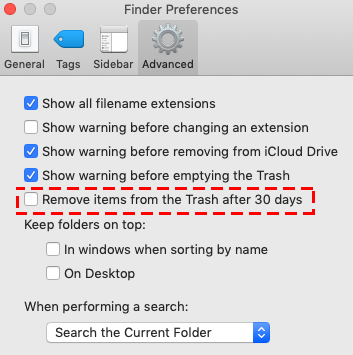 This makes it less likely that you will find the file you need in the Trash where it can be easily recovered with a few clicks. If the file you need to restore is not in the Trash you will have to employ specialized software that can recover deleted files on a Mac after the Trash has been emptied.
---
Recover Deleted Files on a Mac with a Data Recovery Software
The fact that files remain physically present on their storage media until being overwritten allows data recovery software to restore them. These software tools scan your computer's hard disk and locate files that are no longer visible to the OS but are still physically intact and available for recovery. File recovery is based on the quality of the scanning algorithms used and the file types that the tool recognizes.
There are a number of applications that will perform data recovery for a macOS, one of the best is – Disk Drill for Mac.
---
Steps to Recover Deleted Files from an Emptied Trash on Mac
---
Step 1. Download and install Disk Drill for Mac
⚠️ We strongly recommend that you DO NOT perform these actions on your computer's internal drive where the Trash Bin lives. Doing so risks overwriting the files you intend to recover with the very tool designed to recover them. Use an external drive or USB stick to download and install the program.

Data recovery for free
Your Companion for Deleted Files Recovery
Step 2. Launch the application and select the drive that contained the Trash Bin on your Mac.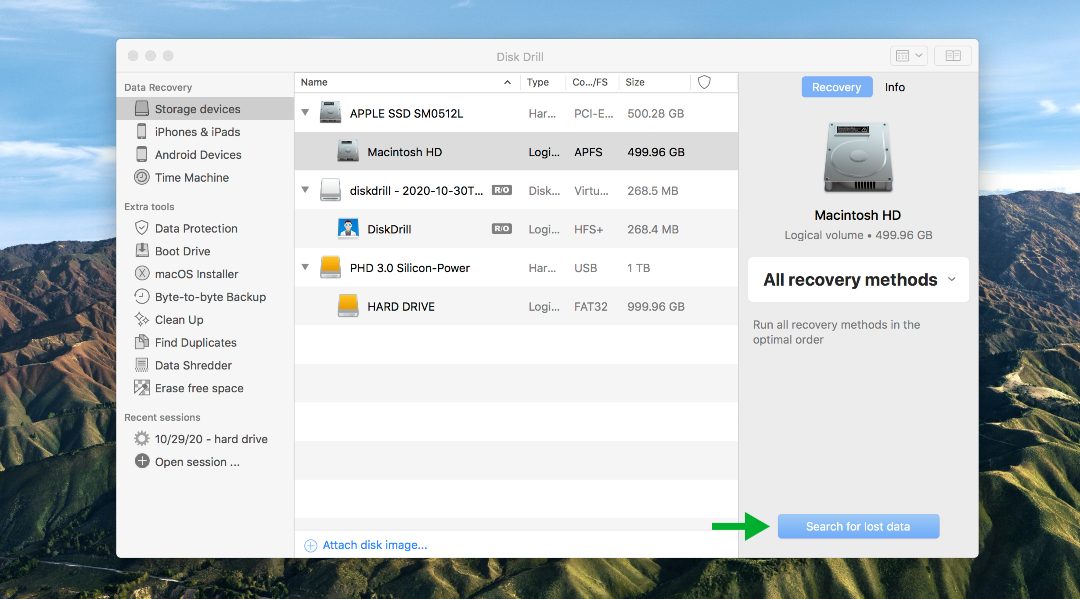 Step 3. Click the "Search for lost data" button. This will initiate Disk Drill's scanning algorithms. As the scan progresses, you will see the files that can be recovered displayed in the application's window. You can shorten the scanning time by filtering on file type.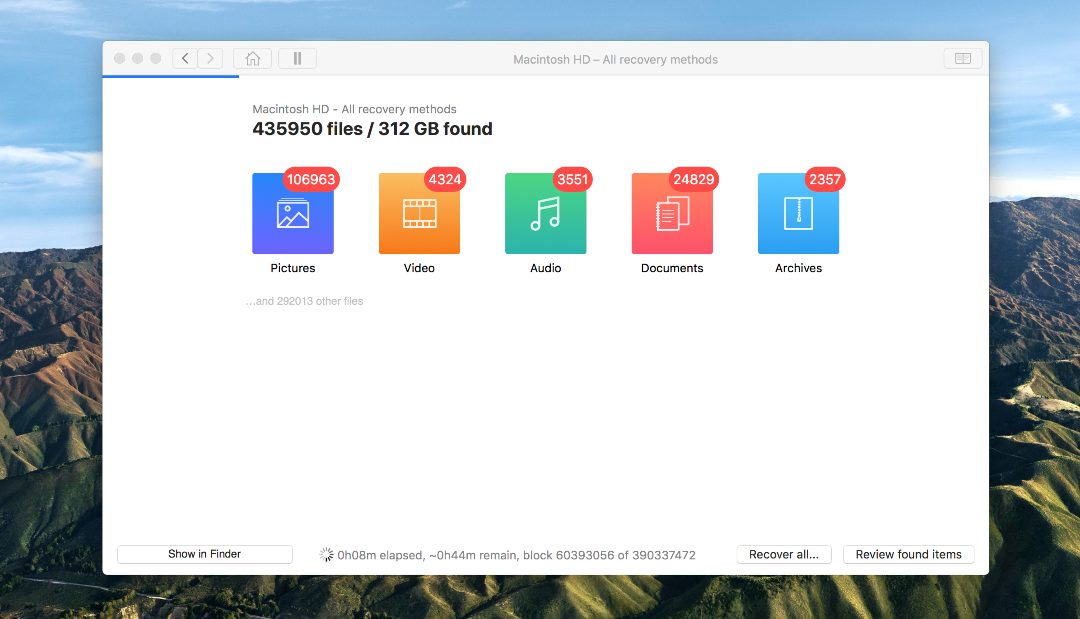 Step 4. Preview the files that the tool can recover from a Trash.
If you are not satisfied with the initial scan you may need to use the app's Deep scanning facility.
Step 5. Select the files that you wish to recover.
Choose a new location where they will be stored, don't use their original location as this could lead to file corruption or overwriting during the recovery process. A good place for the initial recovery is on the removable storage device that you used to download and install Disk Drill.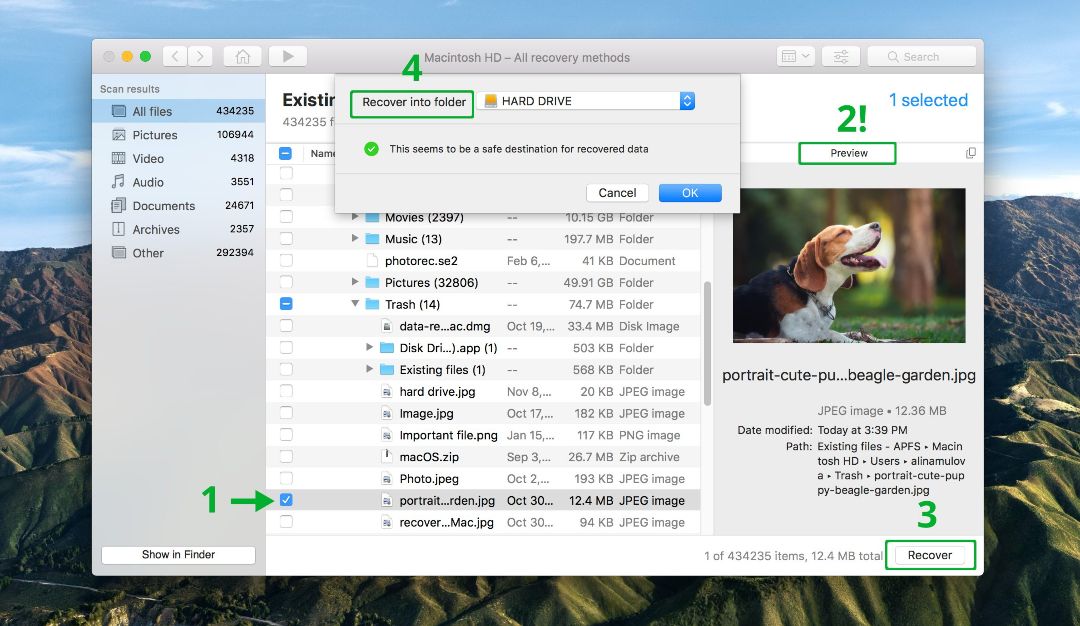 Step 6. Click the 'Recover' button a second time to perform the actual file recovery.
There are several reasons why Disk Drill stands out from other data recovery software including:
Quick and Deep scanning options that can address any lost file issue. If a Quick scan does not find the required files, running a Deep scan interrogates your drive at the sector level and can scavenge it for file fragments that can be reconstructed into recoverable files.
Extensive knowledge of file types. Disk Drill can recover just about any file type that might be present on your Mac.
An intuitive user interface that makes it easy to scan your disks and recover lost files found by the application. With just a few clicks you can scan your storage media, identify and recover deleted files from Trash on Mac.
Advanced data protection and disk maintenance features. Free tools included with Disk Drill allow you to create a disk map and identify files that can be removed to regain valuable storage space. Easily find duplicate and unnecessary files that can be deleted from your system. You can also protect your files from accidental deletion with the Recovery Vault and Guaranteed Recovery features built into the app.
Recover Emptied Trash on a Mac for Free without Software

There is really only one way to recover deleted files from an emptied Trash Bin without using file recovery software. You need to restore the missing files from a backup taken before the file was permanently deleted from the machine.
Apple users should be taking advantage of the built-in backup tool known as Time Machine to regularly backup their data. Now is the time those backups prove their worth by enabling you to recover accidentally deleted files.
Step 1. Launch Time Machine on your Mac
You can access Time Machine by clicking on the clock icon located on the Mac's menubar. You can also use the Terminal app which allows you to control Time Machine through a command-line interface. Using Terminal will allow you to remotely manage other computers and obtain many statistics regarding the backups that Time Machine has taken.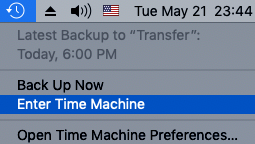 Step 2. Locate your file
Performing a file recovery with Time Machine requires that the media you are using to back up your Mac is connected and turned on. Once you launch Time Machine, you will be able to navigate through the backups made of your file system.
Step 3. Search for the desired files in their original locations
Identify the files that were inadvertently deleted from a backup that occurred prior to the deletion date.
Step 4. Select the file you want to restore
After you have found the requested files, simply click restore to recover them to your hard drive.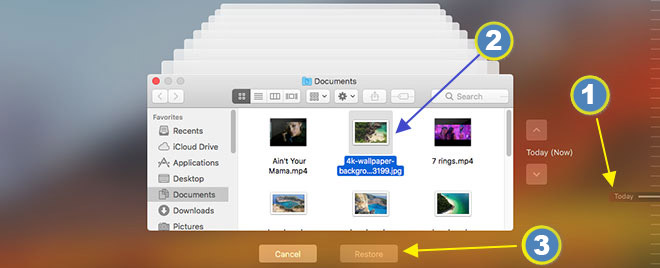 Video Tutorial
Conclusion
Maintaining valid backups of your computer is a critical aspect of protecting its data. While this task should definitely not be ignored, there may be times that you need to recover files that were not included in a backup.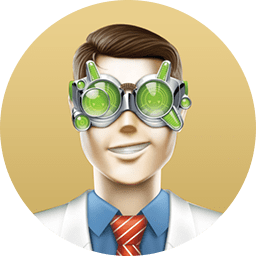 Perhaps you manually emptied the Trash Bin right after deleting some newly created files that have never been backed up. Data recovery software such as Disk Drill can be used to restore those files. It's a great solution to the problem of recovering files from an emptied Trash Bin.
FAQ