Our modern world runs on data. Gone are the days when photos were inseparable from paper, and "securing our data" meant photocopying it. However, not everything is rosy, and EaseUS knows that better than most.
Storage devices and filesystems aren't bulletproof eternal solutions, and, in short, they can fail. EaseUS Data Recovery Wizard Pro is one of the most popular solutions for when your files disappear. Can it really recover your lost data, though? How does it compare to alternatives? Let's put it to the test.
EaseUS Data Recovery Wizard Summary
| | |
| --- | --- |
| Feature | Performance |
| 🚄 Recovery Speed | Mid-tier |
| 💻 Platforms | Windows, Mac, iOS, Android |
| 📉 Storage Support | Almost any type of storage device |
| 📚 Filetypes | Multiple (Docs, Media, etc.) |
| 🖥 RAW Support | Yes |
| 🆓 Free Trial | Yes, but doesn't allow data recovery |
| 💰 Pricing | Subscription plans |
| ☎ Customer Service | 24/7 through email & live chat. One-on-one remote recovery with paid plans |
Main Recovery Features
By prioritizing simplicity EaseUS made its data recovery tool easily accessible for the masses. However, this also means it's also stripped of features you'd expect to find in modern data recovery solutions. Many might consider extra functionality – like backups – as the equivalent of "fluff". Still, others, like CleverFiles' Disk Drill, often include such features, even in their free/trial versions. EaseUS doesn't.
What EaseUS Data Recovery Wizard Pro allows you to do is scan a storage device, check a list of "lost" files it located, and choose the ones you'd like to get back. Everything's automated, and the program's support for multiple filesystems and countless filetypes is almost entirely hidden from the user. But is it among the best solutions for data recovery? Let's find out.
How to Recover Data on Your Desktop with EaseUS Data Recovery Wizard Pro
Theoretically, getting back your lost files with EaseUS Data Recovery Wizard Pro is a straightforward process, presented as a series of steps. Practically, if you go with the trial of the Pro version, you won't really get any files back.
The Pro trial version only works as a demo. After you locate lost data with it, you won't have the option to recover it. Or, rather, you will, but when you reach the point where you'd recover your files, you'll instead meet a suggestion to purchase the software. Your only options are to pay or to return to the list of potentially recoverable files it presents.
Because of the above, although we'll start our journey with
the pro version
, which works great as a demo, we'll swap midway to
the free version
, which allows actual recovery of some data (up to 2GBs).
To recover your lost data with Data Recovery Wizard, run the app and choose the device where your data was stored.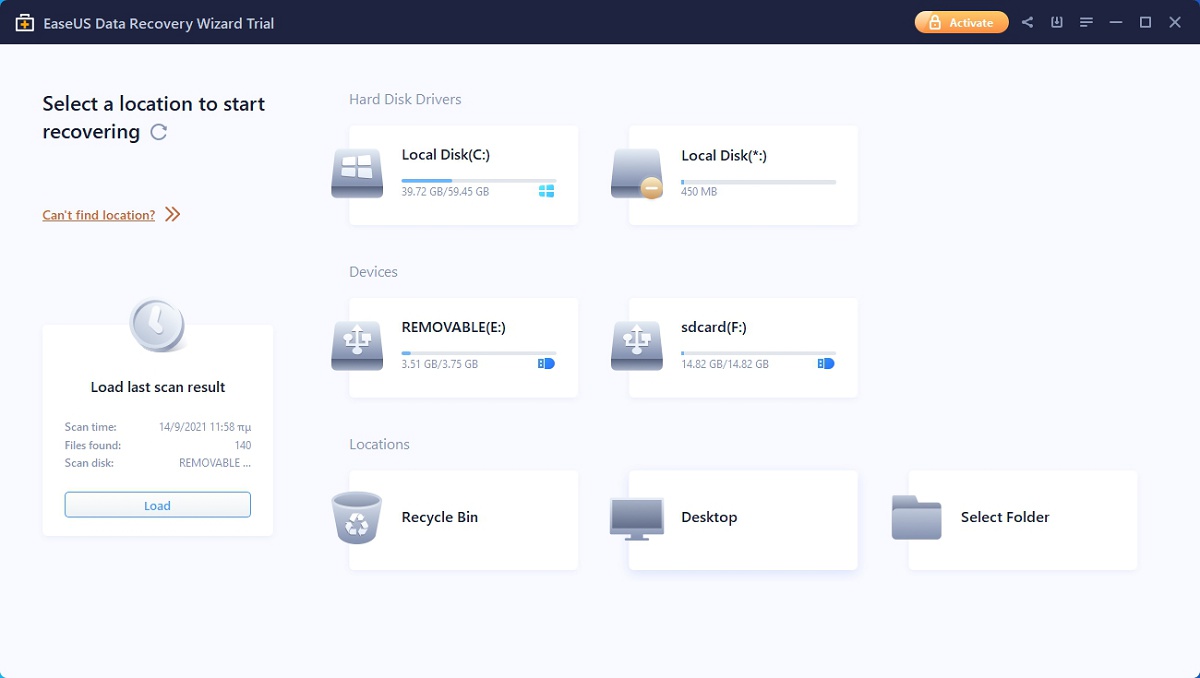 Data Recovery Wizard will automatically perform a quick scan of your device. Then, it will probably continue with a deep scan if it estimates it may reap more or better results. There's no user intervention needed until the scan completes.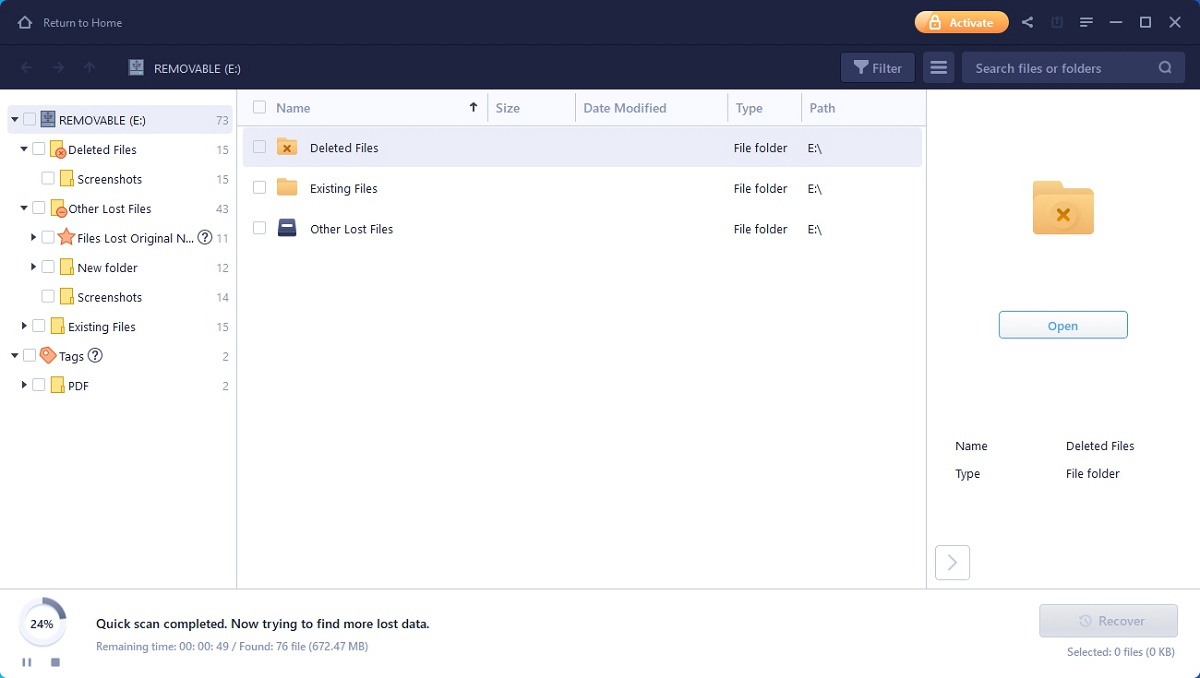 When the scan's completed, EaseUS Data Recovery Wizard will show an indication on the bottom left of its window, with a short report about the number and size of the files it located.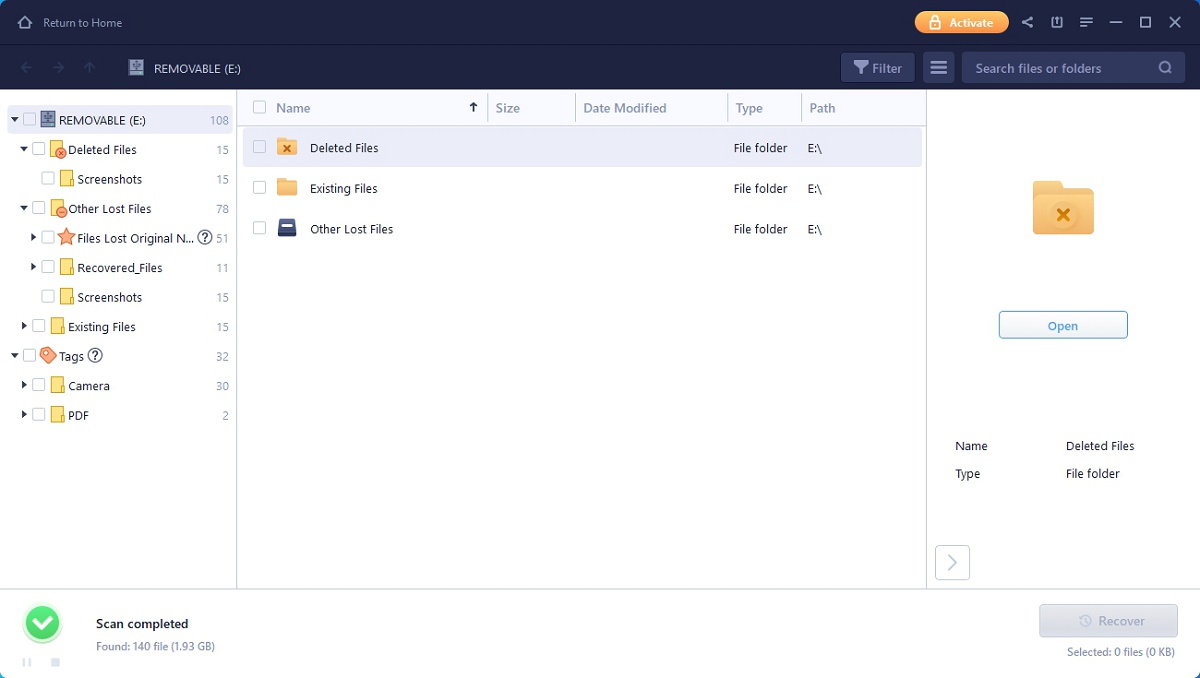 Check all category and tag folders on the left to see the files EaseUS Data Recovery Wizard located. The app didn't auto-generate thumbnails for the image files it found during our test runs until we clicked on each file. To check your files' contents and ensure you want to recover them, you can double-click on them or right-click and choose preview.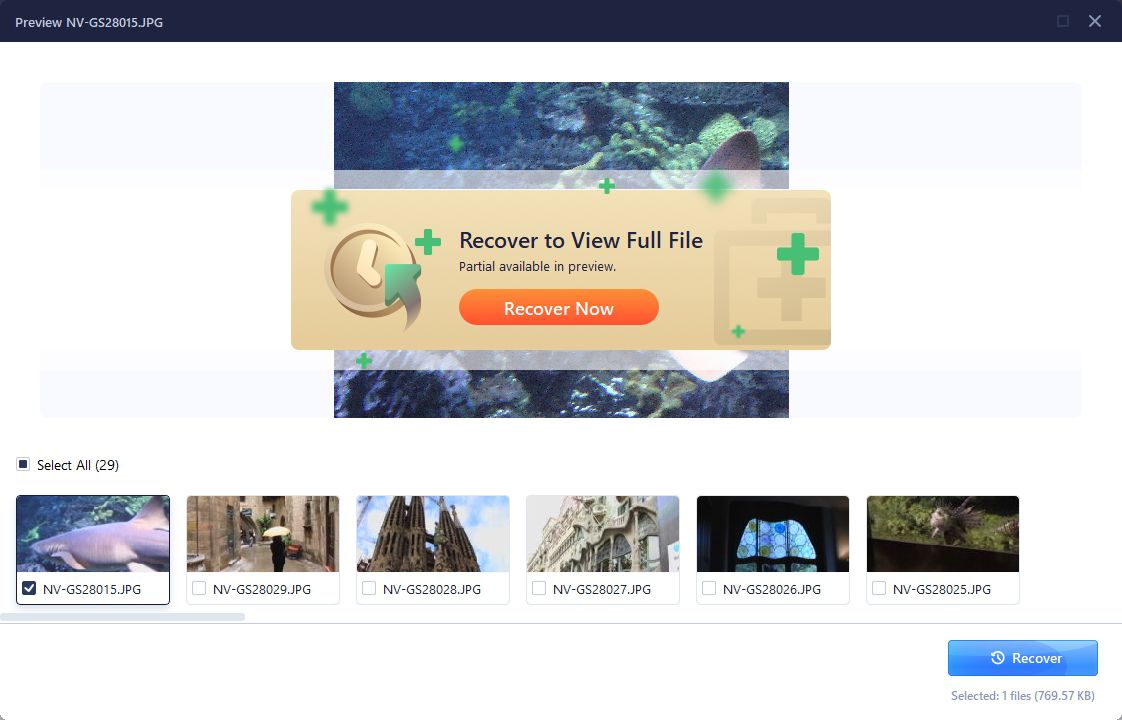 You can recover a single file you're previewing or return to the app's main window and place a checkmark on the left of every file you'd like to get back. Then, click on Recover, on the bottom right, to get them back.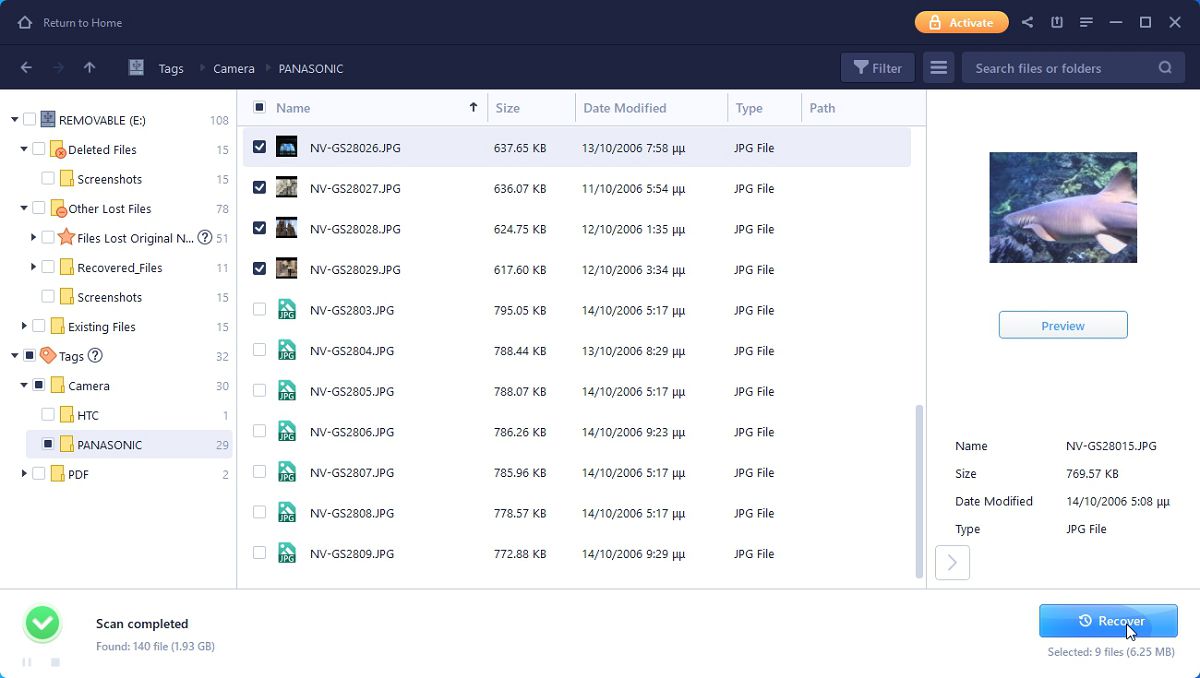 If you're using the Pro trial version, it will ask you to visit its site, purchase a subscription, and then return here to enter a code.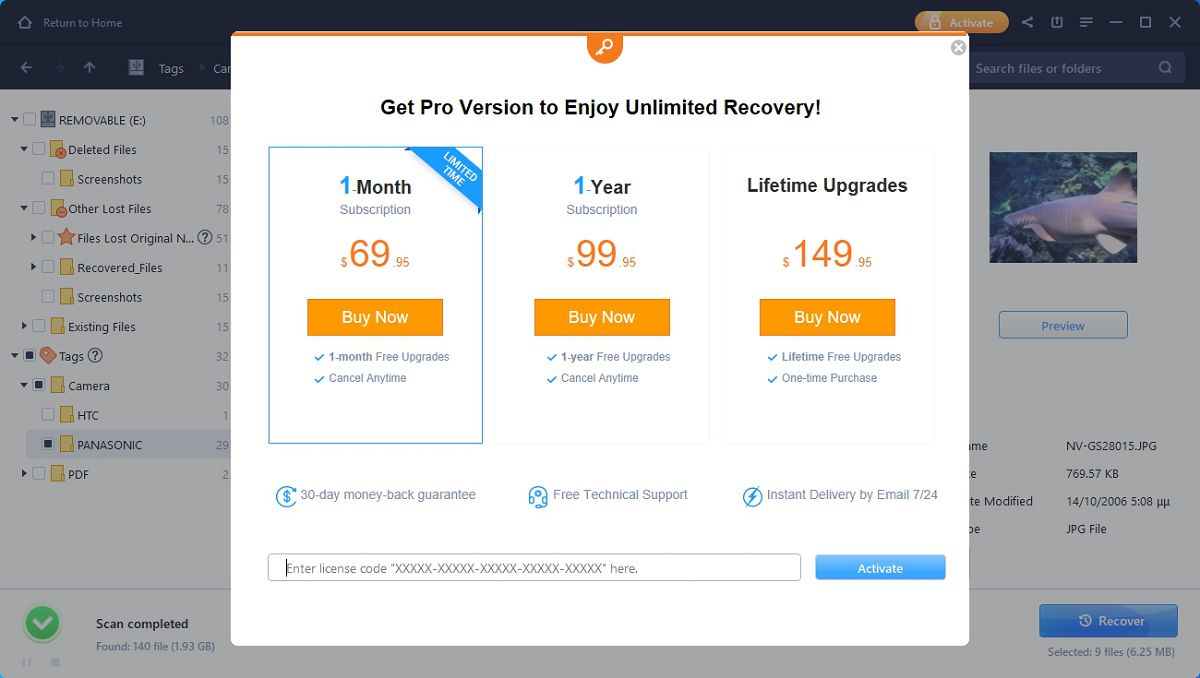 With the free version, you'll be asked for the location where you want to store the recovered files instead.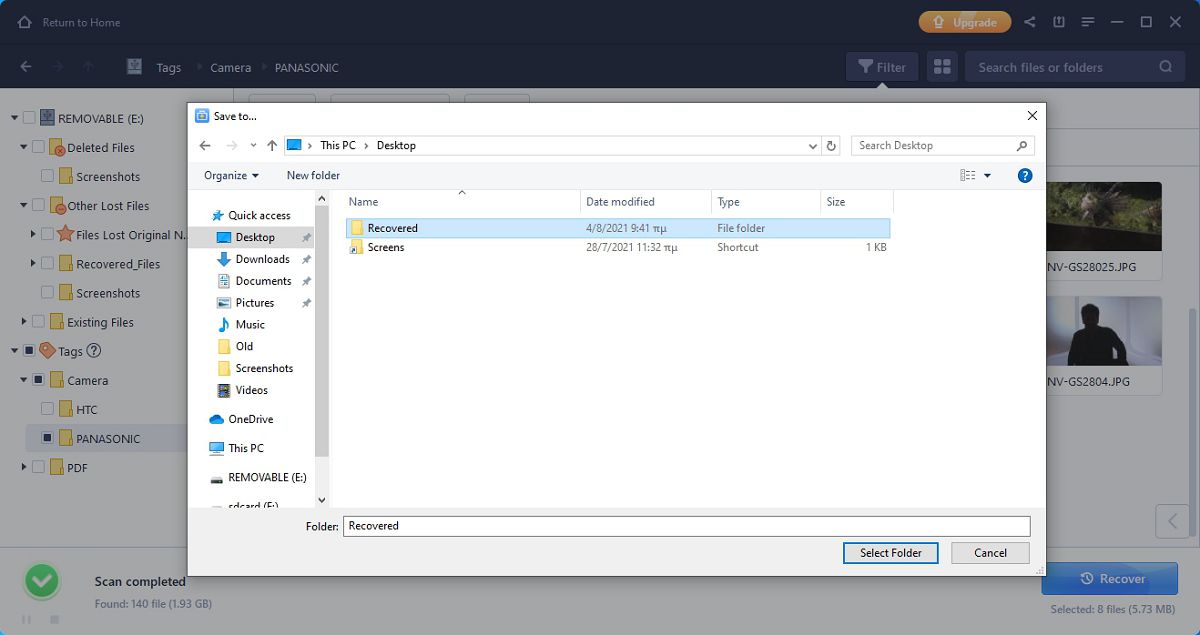 The program will inform you when the recovery's complete, and you'll find your files in the folder you chose.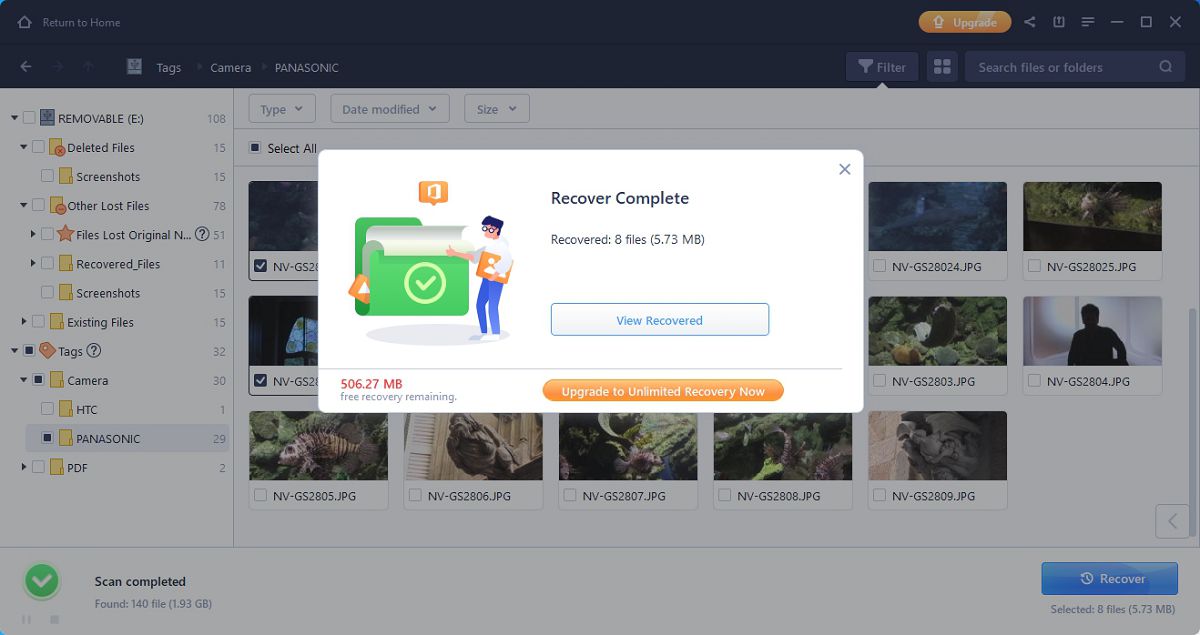 Still, if you look past EaseUS Data Recovery Wizard Pro's cost (and artificial restrictions), it's an excellent data recovery solution. It's dead simple to use, successfully located most files in our data recovery test suite, and enabled us to get them back. We particularly liked its versatile and almost instant filtering capabilities, which empower the user to pinpoint precisely the files they want to recover.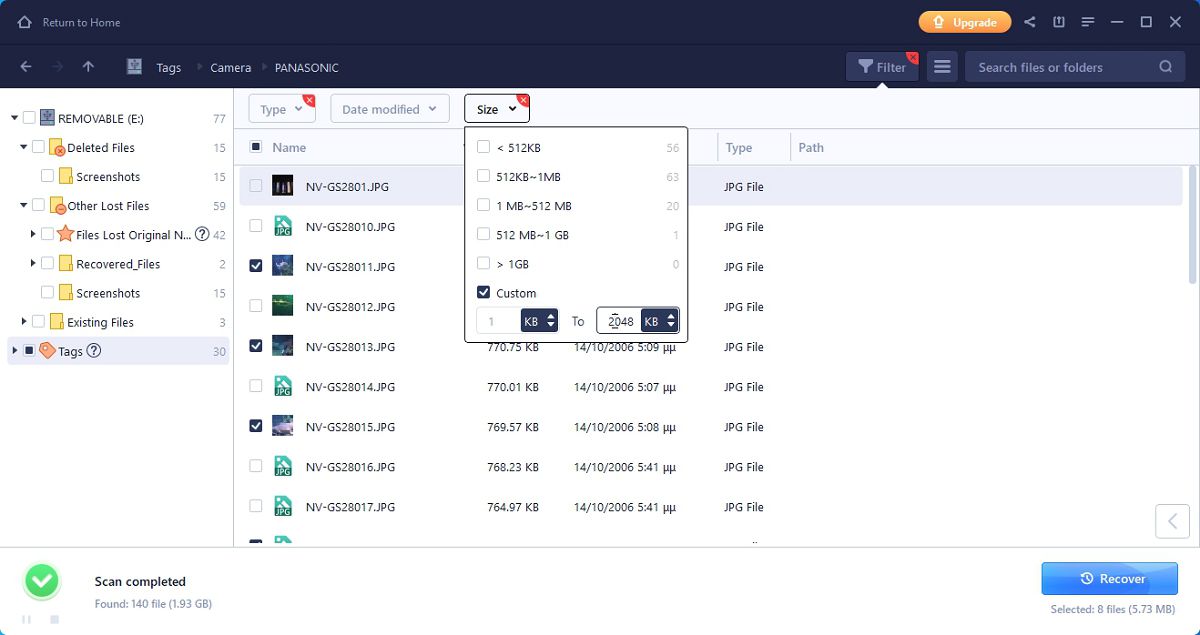 The Mac version of the software works in the same way. As expected, its interface is different and even more simplified. Still, the file recovery process is the same:
Choose the device where data was lost
Let EaseUS Data Recovery Wizard scan it
Choose the files you want back (you can also preview them) and click on Recover Now, on the top right.
Select where you want to store the recovered data.
You could turn to other solutions for recovering desktop files that have disappeared on Macs, but EaseUS Data Recovery Wizard keeps the process as straightforward as 1-2-3.
Recover Lost Data on Your Smartphone with Mobisaver
Smartphones are small computers we can carry everywhere, and just like computers, they're prone to data loss. It's worth learning more about the data recovery process on iPhones, and the steps needed for recovering deleted files on Android devices.
Still, not all of us care about the details, or have the time to learn more about data recovery on portable devices. Thankfully, we don't have to. EaseUS offers straightforward and accessible solutions for such problems, that support both Android and iOS. However, they don't fall under the Data Recovery Wizard monicker. Instead, you'll find them as "MobiSaver".
MobiSaver is split into two individual parts. The first is a desktop app, which can dive into the smartphone you have connected to your computer and recover your lost data.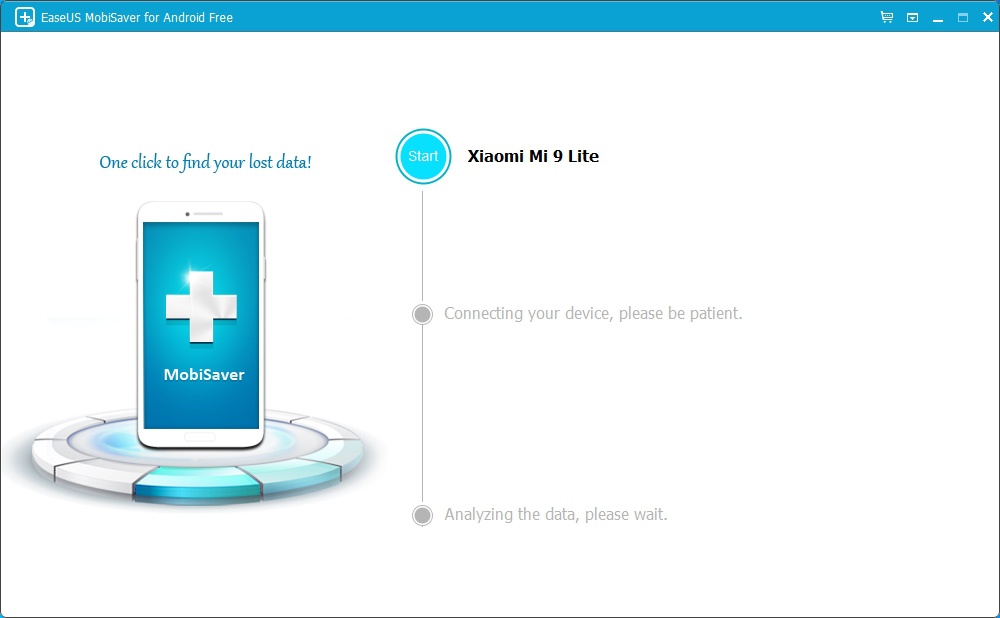 However, like with the trial of the Pro version, there's disappointment to be found here, too. That's because the app can't recover anything if your phone isn't rooted. At least, it couldn't with the Android devices we used for our tests.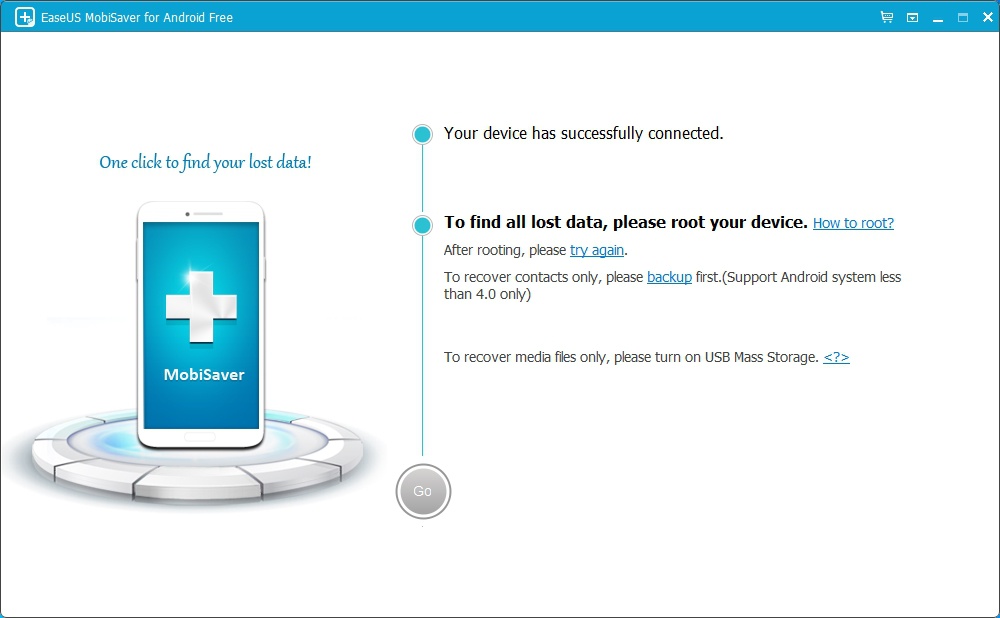 Thankfully, the mobile part of MobiSaver also works as a standalone solution. Install it directly on a mobile device, and you can perform a basic recovery even on non-rooted devices.
A large part of the screen is dominated by information about how rooting your device would be helpful. However, you can ignore that and choose the type of data you want to recover from the tiles at the bottom.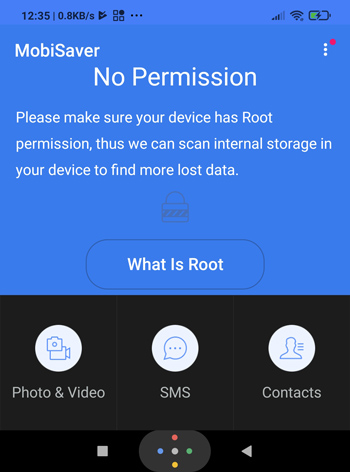 Allow the app some time to scan your device for lost files.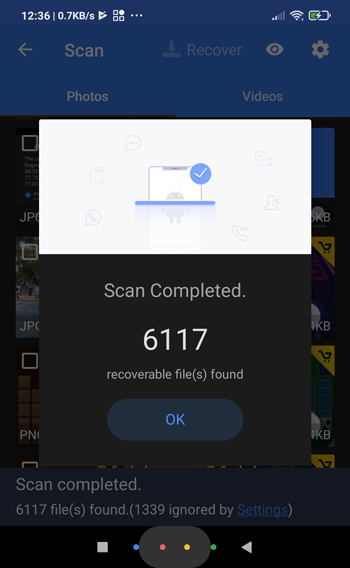 Choose the files you want to get back by placing a checkmark on them, and then tap on Recover at the top of the app.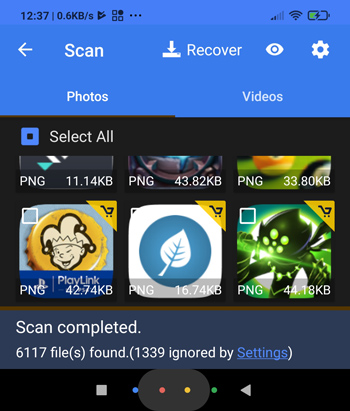 Hopefully, the app will find your files in your smartphone's storage that's accessible without root privileges. To check out the recovery results, tap on the eye icon on the top right.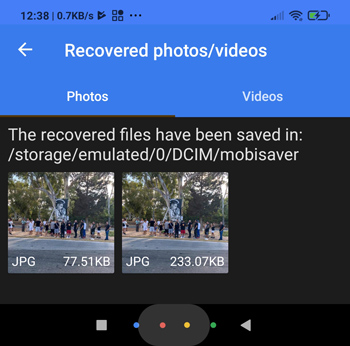 On Security and Privacy
Before testing EaseUS's Data Recovery Wizard Pro for this article, we've checked what others were asking about it. Strangely, the topics of security and privacy were close to the top.
Some specifically talk about encryption, and we can't guess why, for that's a useless feature in data recovery apps. Why try to restrict your access to the very data you're trying to recover (AKA: encrypt it)?
Others worry about privacy after finding out that EaseUS is a Chinese company. But why worry if you're not sending your data anywhere? EaseUS's Data Recovery Wizard works offline and doesn't use "cloud services" to recover your files.
Making Sense of EaseUS's Data Recovery Solutions Costs
Using EaseUS's Data Recovery Wizard Pro to get back your lost data is more straightforward than purchasing the actual software! You can blame the software's multiple versions and various pricing plans for that.
🆓 The Free edition comes with zero cost. However, it can initially recover only up to 512MBs of data. The limit's raised to 2GBs if you talk about the program on your social media.
🤑 Pro costs $69.95 and lifts the data limit. Like with the free version, you can preview files before recovery, and it can work with deleted, hidden, lost, or RAW partitions. You also gain access to free remote consultation and assistance from EaseUS specialists.
🤑 Pro + Bootable Media costs $99.90, and adds a bootable WinPE image to the "plain" pro version. You can write this image on optical media or a USB flash drive. Then, use it to boot your PC and recover data in case of OS failure.
The above costs are monthly, for a yearly subscription. Although pricier, it's much more economically sound to go for a lifetime plan that costs $149.95, for unlimited use and perpetual free upgrades.
With that in mind, the yearly plan that expects $99.95 for a year of upgrades doesn't make much sense. It might last more and cost less (in total) compared to the monthly plan, but it's not much cheaper than the lifetime plan.
EaseUS Data Recovery Wizard Technician for Specialists
Another option is EaseUS Data Recovery Wizard Technician, which is actually the same piece of software. You can choose from three plans, all supporting its use on multiple computers and offering free remote assistance. Their difference in cost has solely to do with the duration of official support you're getting.
💰 1-Year plan costs $299
💸 2-Year plan costs $399
🤑 Lifetime Upgrades will set you back $499
EaseUS Data Recovery Wizard for Macs
Just when you thought it all started making sense, you realize those are the prices for the PC versions. The story's different if you're on Mac or care for EaseUS's smartphone data recovery solutions.
The versions are the same on Macs as on Windows: Free, Pro, and Technician, with similar features (and limitations). However, they're also a tad more pricey.
EaseUS Data Recovery Wizard for Mac comes with a $89.95 monthly cost for its Pro variant.
The annual cost for the same version is $119.95.
The Lifetime Upgrades path, which is the equivalent of a fully unlimited, standalone version, costs $169.95.
The costs for the Technician version for Macs are the same as for PCs: $299 for one year of support, $399 for two years, and $499 for Lifetime Upgrades.
MobiSaver: EaseUS Data Recovery for Smartphones (and tablets)
All of the above didn't account for one tiny detail: our portable devices. Complicating things further, EaseUS's MobiSaver is a separate app, specializing in smartphones and tablets.
The "plain" MobiSaver for Android comes with two plans: $39.95 for Home/Personal use and $399 for Business Use.
For the same "plain" version on Macs, those plans cost $79.95 and $499, respectively.
However, it seems there's also an EaseUS MobiSaver Pro version available for PCs. That one also comes with three plans, two of which are subscription-based: monthly at $59.95, annual at $79.95, and lifetime for $99.95.
What Others Say About EaseUS Data Recovery Wizard
EaseUS Data Recovery Wizard is a popular piece of software used by thousands of people. It was a given that some of them would have shared their opinions on it. So, we decided to pick and share some of those mini-reviews that might help you determine if it's worth your time.
Quote: It did the job. (Storm, 5 out of 5 stars at Amazon)
Quote: The good news is that I was able to locate the most important lost folders and files and restore uncorrupted versions. Thank you EaseUS! (Westlake, 4 out of 5 stars at Amazon)
Quote: Flat out the software did not work as advertised even after purchasing the full version. (Michael E., 1 out of 5 stars at Amazon)
Final Verdict
Our experience with EaseUS Data Recovery Wizard shows that the stories about problems and subpar results probably stem from user error.
During our testing, the program performed flawlessly and managed to recover all files in our data recovery test suite.
Yes, we'd like it to be somewhat quicker, or offer more options and include useful extra tools, like many of its competitors. We'd also appreciate less convoluted pricing plans (and maybe lower prices).
Still, EaseUS Data Recovery Wizard successfully achieved what it claimed it could do. It didn't overpromise nor underdeliver.
Worst case scenario, if it doesn't work for you, there's always the option of a refund. Alternatively, it's worth noting that CleverFiles offers a 50% OFF competitive discount that enables users of other licensed data recovery software to purchase Disk Drill Pro at half price.
FAQ