Stellar Data Recovery for Windows is a fully featured data recovery tool that's been used by thousands of technicians, corporations, and casual users like you and me. However, with a lot of similar tools popping up in the market, can we consider Stellar "the best"?
In this article, we take a look at five Stellar alternatives – we cover both free and premium software, their features, pros & cons, and how they stack up against the data veteran. At the end, we provide our own recommendations in the hopes of helping you make an informed decision when choosing your software.
Why Not Stellar Data Recovery?
Stellar has an impressive suite of advanced recovery features – such as SQL database recovery, email recovery, exchange recovery, and more. These utilities are the meat and potatoes of the Stellar product. However, Stellar definitely isn't for everybody. Here's why:
💳 Subscription-based payment model
Stellar Data Recovery offers monthly and yearly subscription plans that don't really make sense for most individual users (unless you accidentally delete data once a month). Many advanced recovery tools offer a lifetime license.
🤑 Expensive pricing
Stellar subscriptions start at $29.99 per month, which is a decent price on its own – however, its base recovery features are on par with other software that are either cheaper or come with a lifetime license.
📜 Too many features
This might seem like a contradiction at first, but when it comes to utility software, less is oftentimes more. Stellar is an awesome tool for technicians, organizations, and corporations that need constant, high level data protection. 

However, it's way above the needs of typical individual users – especially casual users, who only need to recover data when they accidentally delete their files, format a drive, or experience a virus attack.
Top 5 Stellar Data Recovery Alternatives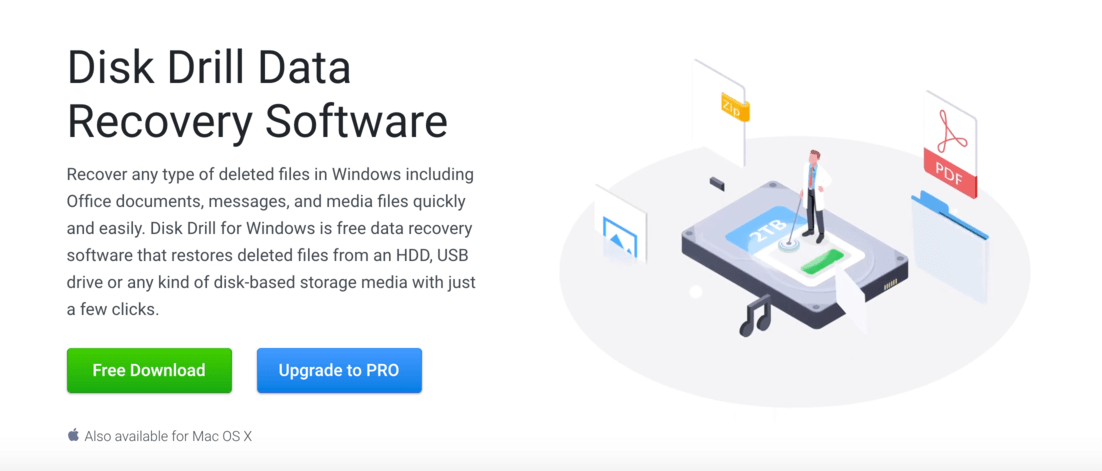 Disk Drill is a well-known advanced recovery tool that's easy to use and DIY-friendly even for those who are totally new to data protection software. It's a reliable and affordable option that "just works" for users who need to recover lost files.
Main Features
Advanced Recovery – Recover any file that has been lost due to virus attacks, software issues, hardware errors, and human error – such as accidental file deletion, formatting, etc. 
Preview before saving – Disk Drill lets you preview your files before attempting recovery. Preview works with any type of file, including videos.
Portable Mode – Install Disk Drill on a USB stick or other storage media and recover data from crashed and unbootable systems due to hardware failure, software errors, BSOD, etc.
👍 Pros
Free recovery for up to 500MB of data
Clean and user-friendly UI that makes it easy to recover data even for those who have never tried DIY recovery
Affordable Lifetime License model – Pay once and have the ability to recover your data forever at a reasonable price, especially compared to software with subscription-based models that offer similar functionality
Unlimited file preview, which is super important for figuring out if your data is actually recoverable by software. 


⚠️ If you cannot recover your files via software, your drive might have been physically damaged and must be sent to a professional

data recovery center

. Any further DIY attempts might cause permanent data loss.
👎 Cons
You only get free updates for the version you purchased. For example, if you buy Disk Drill version 4, you only get updates for 4.1, 4.2, 4.3, etc.  
How to Recover Data with Disk Drill:
Download and install Disk Drill.

Data recovery for free
Your Companion for Deleted Files Recovery

Connect the storage device you want to recover data from.
Launch Disk Drill by double-clicking its icon on your desktop.
Select the storage device or partition that contains your data and select your desired recovery method. For this demonstration, we'll use the default "All recovery methods." Click "Search for lost data."


💡 Disk Drill lets you pause recovery sessions, and you can easily pick up where you left off by selecting the session on the left sidebar. See underlined in the screenshot above.

Wait for the scan to complete, or begin browsing files that Disk Drill was already able to discover by selecting one of the file type icons. Next, click "Review found items."


💡 If you find that your files are still missing, they may be in a different partition. You can run a scan on the entire disk for more results.

Select the files you want to recover by clicking the checkbox beside your selection. You can hover over the file to access the Preview eye button, which opens the Preview window as a sidebar. Once you're satisfied with your selection, click "Recover." If you want to recover all the files Disk Drill found, clear your selection for the "Recover" button to change to "Recover all…"

You'll be greeted by a popup window. Select the destination folder for your selected files by clicking the folder icon beside the field, and click "OK."



⚠️ Disk Drill offers 500GB of free data recovery. If the files you want to recover are larger than 500MB, you'll be prompted to upgrade to the Pro version.
Alternative #2: Acronis

Acronis is a massive global company that provides holistic data protection for both organizations and individuals across Europe, Asia, and the United States.
Its retail backup and recovery solution, Acronis Cyber Protect Home Office, is a fully-featured advanced data recovery tool with even more advanced backup and protection features.
Main Features
Advanced Recovery – Recover files that were accidentally deleted due to a damaged drive, corrupt partitions, a virus attack, or human error
Advanced Backup with Cloud Storage – Automatically replicate your data in the Acronis Cloud; for Tier 1 Subscriptions, Acronis offers full image and file-level backups but no cloud storage
Disk Cloning – Clone your computer's OS, software, drives, and more, to easily configure multiple computers or simply have a "total backup" when your system is unrecoverable
Acronis Bootable – Recover data from crashed systems by installing Acronis on an external storage drive that you can boot from
Ransomware Protection – Protect your data from "ransomware", a malicious software that locks your computer system until you pay up
Antivirus and Anti-Malware – Avoid data loss caused by virus attacks and protect your computer from 
Microsoft 365 Backups – Backup MS teams, mailboxes, meetings, t
Blockchain Certification – Protect your data transactions from tampering and revision so you can ensure that all your files are unchanged since you last engaged with them
Electronic Signatures – Sign documents securely with using blockchain technology
👍 Pros
Sleek and modern GUI
Impressive data protection features such as backup and cloning
Constant free upgrades
Ransomware protection, which prevents the nightmare of having your data held hostage
For those who need the extra features, they offer pretty good prices
50% off for students
Up to 6TB of cloud storage for the highest subscription tier
Works with Windows, Mac, and Linux
👎 Cons
Many features that set Acronis apart from other data recovery tools (such as its antivirus, Microsoft 365 backup, and blockchain certification) are locked behind subscription tiers 2 and 3
Most of the time, for casual users who only need to recover data, less is more when it comes to utilities
Subscription-based model – which is always a point of reconsideration for us because there are data recovery tools that offer an affordable lifetime license that can accommodate the needs of most users
Alternative #3: Recuva

Recuva is a tiny, lightweight data recovery app by Piriform, the same company that built CCleaner. Recuva is an excellent undeleter and a decent advanced recovery tool. It's a great choice if you accidentally deleted a few important files from a drive.
Main Features
Advanced Recovery – Recover files from damaged or corrupt memory cards, external hard drives, USB thumb drives, and more
Disk Imaging (virtual drive support) – Create, mount, and recover data from virtual hard disk images
Secure Overwrite – Securely data your files forever by overwriting the hidden data on the drive
👍 Pros
Simple and no-frills user interface
Lightweight, as it only does one thing, and does it quite well
Unlimited free recovery (doesn't work for all situations, but very effective for simple recovery tasks like un-deleting)
👎 Cons
Some files cannot be recovered by the free version of Recuva, but have found to be recoverable with the pro version
Most advanced recovery features like Disk Imaging is gated behind the pro subscription
Subscription-based model
Alternative #4: EaseUS

EaseUS is a suite of data protection, management, and recovery software that has been in the space since 2004. EaseUS Data Recovery Wizard is an easy-to-use advanced data recovery tool
Main Features
Advanced Recovery – Recover important data that was lost due to a virus attack, corrupt drives and partitions, software issues, human error, etc.
Export/import sessions – Easily pause recovery sessions and pick up where you last left off – super useful when recovering a large amount of data
Repair corrupt JPEG, JPG, MP4, and MOV files – During recovery sessions, EaseUS attempts to repair image and video files
EaseUS Bootable USB, CD/DVD, and ISO – Recover data from crashed Windows system via booting EaseUS through a USB thumb drive or other storage media
One-on-one remote assistance – Get technical help from the EaseUS team for free; for the Technician tier, EaseUS can also provide technical assistance to your customers
👍 Pros
Modern, sleek GUI
Free recovery for up to 2GB of data
Remote recovery assistance for paid subscriptions
👎 Cons
Subscription-based model
Prices are expensive compared to other paid software on this list
EaseUS has other useful recovery utilities such as Partition Recovery, MS SQL Recovery, and Exchange – however, these apps require separate subscriptions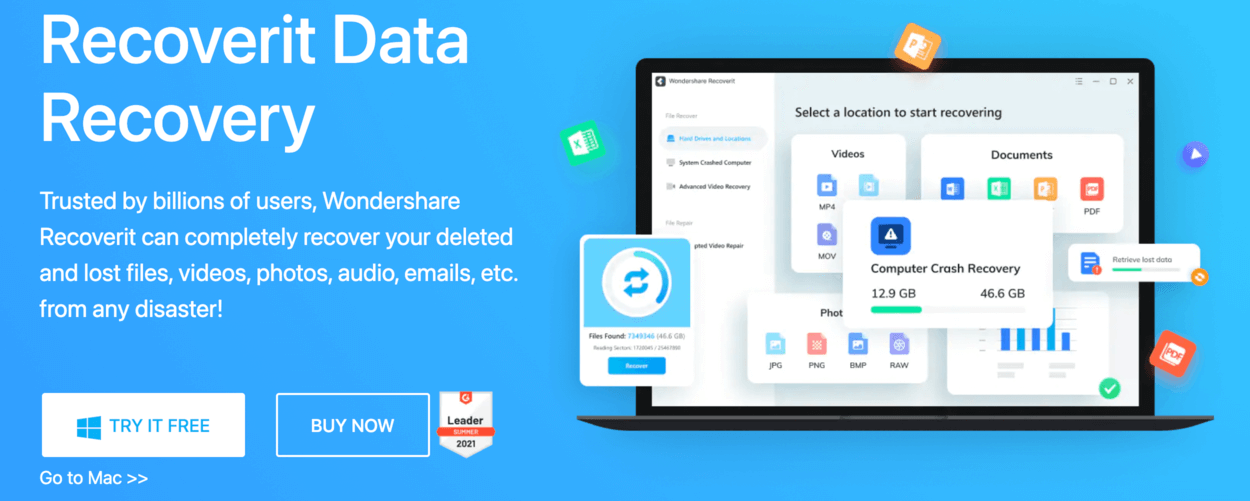 Wondershare is a software company that develops creative, office, and utility software. Recoverit is their data recovery tool with unique features that cater to creative professionals.
Main Features
Advanced Recovery – Recover data of over a thousand file types from all storage devices and media
Advanced Video Repair and Recovery – Repair and recover corrupt videos in Ultra HD, 4k, and 8k format from all popular camera brands by gathering and matching fragments of the corrupted files
Bootable Toolkit – Recover data even when your own system won't boot properly using a USB thumb drive or other storage device
👍 Pros
Beautiful GUI
Advanced video repair tools, which are great for users who work with videos and need a way to easily protect their files
👎 Cons
Bootable recovery is only available for subscription tier 2 and above
While Wondershare Recoverit's video repair and recovery feature is an incredible utility, especially for creative professionals like videographers and editors – however, it's unnecessary for many users and leaves Recoverit's basic tools as nothing special
Subscription-based model
Conclusion
Stellar Data Recovery is a fantastic software for those who need its advanced features like SQL Database recovery, email recovery, and more. However, most individual users will fare better with more minimalistic software that "just works" for a more affordable price.
FAQ
Stellar and Disk Drill are both data recovery utilities, but they differ in pricing models and features. Here are the 3 biggest differences we found:
Stellar offers a subscription-based pricing model, while Disk Drill offers a lifetime license pricing model.
Stellar in its entirety covers an impressive range of advanced data protection needs that are spread out through multiple apps, while Disk Drill is a straightforward data recovery tool with all of its features in a single app.
Stellar offers data recovery for Android and iOS as separate apps with separate subscriptions, while Disk Drill supports mobile recovery using the same app you use with computers, and with a single subscription.
Based on the factors of pricing, features, user interface, and recovery ability, we've chosen 5 of the best alternatives:
Disk Drill
Acronis
Recuva
EaseUS
Wondershare Recoverit