Stellar Phoenix Data Recovery is a well-known data recovery tool with multiple awards and thousands of reviews on the internet. It's been deployed for over 25 years and works with over 100 R&D Engineers to bring a fully-featured product to its customers.
But Stellar Data Recovery is a paid tool. With a lot of new software with more streamlined services and competitive pricing floating around the market, users want to know if Stellar is still the go-to for their data recovery needs. In this Stellar Phoenix Data Recovery review, we cover everything you need to know to make an informed decision. Read on.
Overview
Feature
Summary
🚄 Recovery Speed
Recovery speed depends on the size of the data. For my testing, recovery speed ranged from minutes to hours.
💻 Platforms
Windows, Mac, Linux
👩🏼‍💻 Free Trial
Up to 1GB of free data recovery
☎ Support
24*5 customer support
✅ Pros

Multiple products for individuals, technicians, and corporations
Technicians on-call
1GB free recovery
Recover BitLocker-encrypted data (only possible WITH a password)
Recovers a huge range of file types including Outlook Express (DBX), Lotus Notes (NSF), Exchange Server (EDB), MySQL, etc.

❌ Cons

Confusing pricing on their website
Overwhelming for casual users when there are simpler solutions on the market
Subscription-based model with basic features on-par with software that offer lifetime licenses
Some plans are pretty expensive
Main Features
Stellar Data Recovery has an array of impressive recovery features, but note that some are gated behind subscription tiers. This section of the Stellar Recovery review will cover what the tool has to offer in its full capacity – but do check the Pricing & Plans section to check if what you need is included in the tier you want to purchase.
3-Step Recovery Basic recovery is as easy as Select Drive > Scan Drive > Save Recovered Files.
S.M.A.R.T Monitoring & Cloning S.M.A.R.T. (Self-Monitoring, Analysis, and Reporting Technology) is a tool built into most modern hard drives that detect potential failures. Stellar Data Recovery and many other data recovery utilities let you view S.M.A.R.T. reports so you can back up your data before the worst happens.
Preview Before Saving Preview files before recovering them – this works with all file types recoverable by Stellar, including PDFs, images, videos, ZIP files, RAR files, HTML, PHP, etc.
Recover Almost Any File Type Stellar can recover Documents, Emails, Pictures, Videos, Audio Files, Excel Workbooks, Powerpoint Decks, and more.
Recover Multiple Devices The tool works with multiple devices, including hard drives, SSDs, USB drives, 4k drives, crashed and unbootable systems, and partially burnt or scratched CDs and DVDs
Bootable Media Install Stellar on a USB to recover Windows systems that have failed due to hardware errors, BSOD, boot sector corruption, disk errors, and more.
Recover Encrypted Data Recover data from BitLocker-encrypted hard drives, SSDs, misc. External storage, disk image, etc. Note that you need the password to recover encrypted files.
Disk Imaging Recover data from drives with problematic sectors by creating an image of an entire hard disk, existing logical partition, etc., with the ability to specify the start and end sectors for disk imaging.
Optical Media Recovery Recover data from scratched, corrupt, or even partially burnt CDs, DVDs, HD DVDs, Blu-ray discs, etc. while keeping original file names and folder structures intact.
How to Recover Data Using Stellar Data Recovery
Stellar Data Recovery, like most modern software, was designed to be easy-to-use for non-tech savvy customers. However, data recovery can be stressful and confusing for new users, especially if the missing files are important… Which is why we prepared a precise step-by-step guide that you can follow.
Download and install Stellar Data Recovery from Stellar's website.
Connect the drive that contains the files you want to recover.
Launch the Stellar app by double-clicking its icon on your desktop.
You'll find the main menu where you can specify the types of files you can recover – including documents, emails, videos, and more. For this article, we'll choose "All Data." Click "Next."

Choose the drive or location that you want to recover data from, and click "Scan."

Once the scan is over, you'll be greeted by a popup. Click "OK."

You'll arrive at the tool's main recovery menu. On the upper left corner, you can select which view will help you focus on the files you want to recover. File Type view arranges files by type, Tree View follows your original folder structure, and Deleted List shows deleted files. On the right is the Preview window, which we'll demonstrate in the next step.

All you have to do is select any file in order to view them in the Preview window. You can see that I'm watching a video that is 169.50MB in size. Once you're happy with the selection, click "Recover" at the bottom right corner of the window.

You'll get a final popup where you can select via the destination of your recovered files using the "Browse" button (or type it in manually). Once you've selected the destination, click "Start Saving."

Congratulations! Once the recovery is complete, your files should appear in the destination you specified in the popup.

⚠️ Stellar Data Recovery will only recover up to

1GB of free data

for the free version. For unlimited data recovery, see the subscription tiers in the

Pricing & Plans

section below.
Interface and User Experience
Stellar Data Recovery is relatively simple to use and has a no-frills interface. The different views are very helpful for users to navigate their data quickly.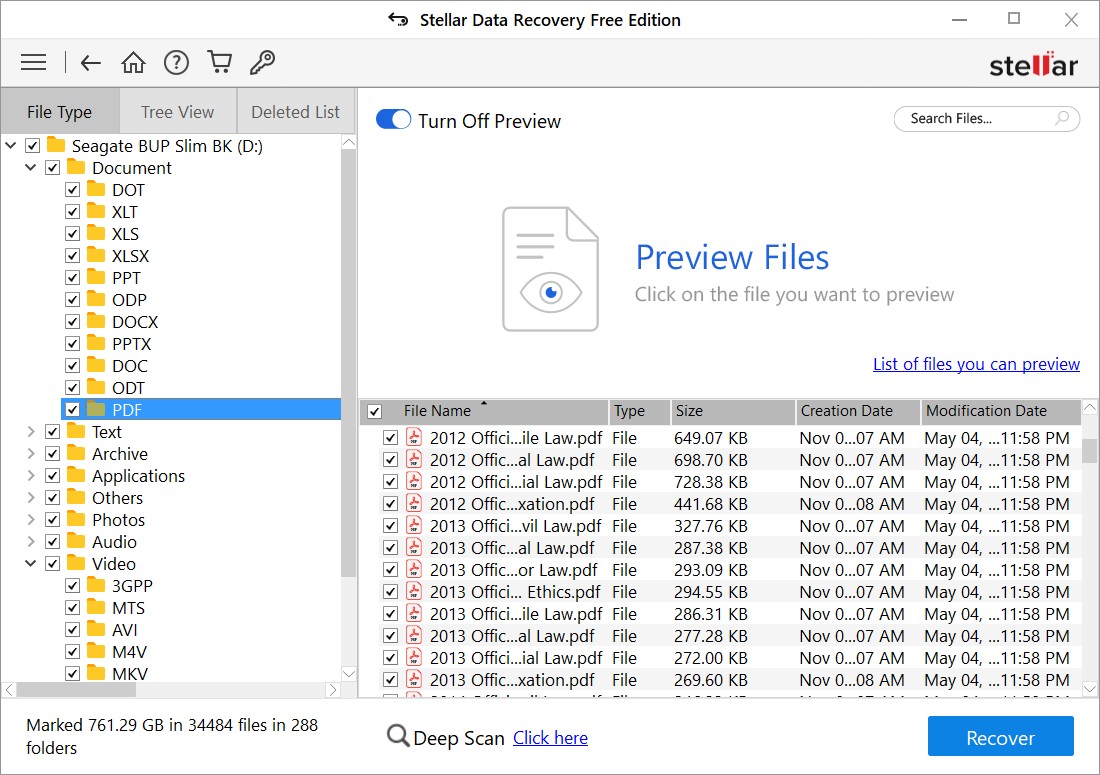 Basic general recovery is an easy 3-step process, but experienced users can easily tailor the recovery process to their needs to save time and resources (especially for corporate customers). There are better-looking utilities out there, but most users will not be put off by Stellar's interface.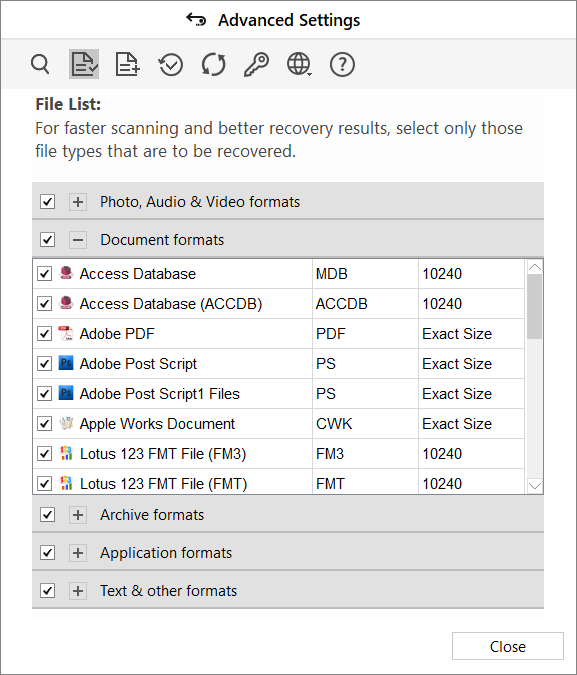 Mobile Apps
Stellar Data Recovery has a mobile app that you can actually find on the Google Play Store. However, the app seems to be outdated, has low ratings, and requires root privileges to even run. If you want advanced recovery on mobile, Stellar offers an app that you can run on your Windows machine while connected to your mobile.
For Android, Stellar can recover photos, videos, contacts, text messages, WhatsApp chat history, call history, documents, and deleted and/or formatted data from internal memory. 
For iOS devices, Stellar can restore call history, text messages, WhatsApp chat history, calendar entries, Camera Roll, Voice Memos, Photo Stream, and iTunes and iCloud backup data that were lost due to accidental deletion, jailbreak issues, OS problems, and miscellaneous non-physical damage.
Security & Privacy
Stellar Data Recovery is ISO 27001 certified, which means that they are qualified to handle data in consideration of the policies, procedures, and frameworks required to be greenlit. They also go through regular internal and external audits to make sure that they are adhering to security and privacy standards. 
Finally, they've got thousands of reviews all over the internet from real users – which we'll cover in the Customer Reviews section further down this article.
Pricing & Plans
Stellar Data Recovery has multiple tiers for its general recovery utility, and individual prices for solo apps. We've listed everything we could find below.
Tier
Price
Features
Free
$0

Free recovery up to 1GB
Advanced recovery for any storage media with NTFS, exFAT, FAT (FAT16/FAT32) formatting
BitLocker-encrypted data recovery
Recover from formatted systems

Standard
$29.99 per month
Everything in the Free version plus unlimited data recovery
Professional
$69.99 per month
Everything in Standard, plus:

Supports unbootable system and lost partition recovery
Recover data
Recover data from CDs/DVDs/Blu-ray

Premium
$79.99 per month
Everything in Professional, plus:

Repair corrupt or distorted photos
Repair corrupt or distorted videos

Technician
$199 per year
Everything in Premium, plus:

RAID 0, 5, and 6 data recovery
Recover lost or formatted RAID logical volumes

Stellar Photo Recovery
$39.99 per year

Recover deleted photos, videos, and audio files
Supports mirrorless, action, drone, 4k, 8k, 360, and VR cameras such as GoPro, Insta360, and more
Supports deleted photo and adobe files, RAW camera image files, and video clips and movies

Stellar Repair for Exchange
$399 per year

Recovers dismounted and offline EDB files to recover mailbox items such as emails, contacts, notes, calendars, and more without the risk of data loss
Exports directly to Exchange and Office 365

Stellar Repair for MS SQL
Starts at #349 lifetime license

Advanced tool for restoring SQL server databases by scanning and repairing corrupt MDF and NDF files
Recovers all database components, such as tables, triggers, keys, indexes, rules, and more
Works for databases in Windows and Linux systems, and even works with SQL versions older than 2008

Stellar Repair for video
$49.99 per year

Repairs corrupt videos files such as stuttering, flickering, and blurry videos (and more)
Preview videos before recovery
Uses sample files to repair severely corrupt video files
Stellar offers other tools like EDB and NSF converters, backup utilities, data repair, data eraser, and more. Check their product page for more apps.
💡 If you're moving from another data recovery service, Disk Drill offers a 50% discount for the PRO version, which offers a lifetime license.
Support
Stellar Data Recovery offers 24*5 customer support – in other words, you can contact them directly 24 hours a day, 5 days a week. When looking at their pricing packages, they mention that the representatives manning their customer support center include technicians that can help if you encounter issues on the tech side. You can contact them via ticket submission or by directly calling them. See their support page for more information.
They also have an online support center with a Knowledge Base, Account Management dashboard, Request Refund system, and more.
Customer Reviews
For this section, we'll pick the one positive review (4-5 stars), one average review (2-3 stars), and one negative review (1 star) each from Trustpilot and Google Reviews. We also sought reviews that either had the most information, was the most recent entry, or had the most relevant comments.
Based on the collated reviews, customers find Stellar Data Recovery to be a decent product, but expensive compared to other tools on the market. Customer service was also a hit and miss – many customers were highly satisfied with the support they received, but others didn't have as great an experience.
Trustpilot

Rating: ⭐⭐⭐⭐⭐
I purchased this software as my portable hard drive stopped working after I had completed an assignment for a course of study. I was hopeful yet skeptical, at times feating the worst. However, the Stellar software has enabled me to retrieve my documents. The customer service has been exceptional. The willingness and patience to enable me to resolve a situation that could have ended up so differently, is wholeheartedly appreciated. I cannot express my gratitude enough to your customer support team and particularly to Sunil. You left no stone unturned in assisting me. Thank you so much. I would recommend this company their software to anyone who needs to recover their lost data. – Joy Sharon
Rating: ⭐⭐⭐
I had recently purchased Data Recovery Premium for Windows [1 Year License] as I had lost my data accidentally. The data was recovered completely but all the files were corrupted and could not use the recovered data. Hence sought tech support. Mr. Yatin Sharma was kind, knowledgeable, and excellent. He tried to resolve my issue to the core but since the files were badly corrupted, he helped me receive a refund of my purchase price. Now the ticket is raised and the refund is in process. Feeling sad that I could not use the best software available in the market (based on reviews) – Prasad
Rating: ⭐
I chose Stella because of the reviews. It was very expensive for me. When I make a deep scan, the application takes about 10 hours and after it closes. I was able to recover like 10GB of almost 250 that I had. The most ABSURD is that Stella shows some files that I already have on my computer and iCloud as they recover. The assistant doesn't help at all. They only give generic answers and asks you to download the newer version (which I did twice). They even didn't offer a refund when I showed my disappointment. I wouldn't pay at all to recover just a few files. – Luísa Maria Fontoura Vieira
Google Reviews
Rating: ⭐⭐⭐⭐⭐
Contacted this company when a hard drive failed to be detected in the computer. They recovered 100% of the data. Loved their services and how they care for their customers by time to time updates and interaction. They even arranged free pickup and drop services. The charges for services are justified by the quality of service and efficiency of data recovery. Thanks to Ms. Reena for such an amazing communication. – Brar
Rating: ⭐⭐⭐
Unprofessional sales people. Service is a bit expensive. By the way, master in data recovery services. – Nigam Dikshit
Rating: ⭐
Too expensive. They will charge you like you are a billionaire. Other companies are far more economical than Stellar. – Prakash Dwivedi
Final Verdict
For the final verdict of our Stellar Data Recovery review, we've written a short summary as well as its Pros and Cons, considering our experience with the software and in comparison to the numerous recovery tools we've reviewed on our site.
Stellar Data Recovery ​​is a great choice for corporations and technicians who are looking for a fully-featured tool and are looking at long term needs.
But for casual users – like users who accidentally formatted a drive with important data – there are much simpler tools that can get the job done for a lifetime license model. Here are some recommendations (with links to each tool's reviews on our site):
Pros
Stellar Data Recovery has a lot of repair and recovery products that can serve customers from the individual to the corporate level.
They have their own certified technicians handling customer service to help if your problems are on the tech side
They offer free recovery for up to 1GB of data
They offer the Preview feature along with the free version of the software, which – from my own testing – worked well for everything from PDFs to videos
Cons
Some of the pricing on their page doesn't really make sense – for instance,
This many products can be overwhelming for users who just want to recover important data that they accidentally deleted
They offer a subscription model whose prices are on par with other software that offer lifetime licenses off the bat
Some tiers and packages are expensive
Conclusion
Stellar Data Recovery is a data recovery tool that offers a wide range of products that can accommodate all users across the board – from data recovery newbies, advanced users and technicians, to entire corporations. In fact, we highly recommend this software for those who need data recovery for work or for their organization.
For casual users though, Stellar is on the pricey side and there are simpler and more affordable tools on the market that may be more than enough for your needs.
FAQ