Data loss is a stressful experience that affects most people who live the digital lifestyle. There are several scenarios where you might accidentally delete files or empty your PC recycle bin unintentionally.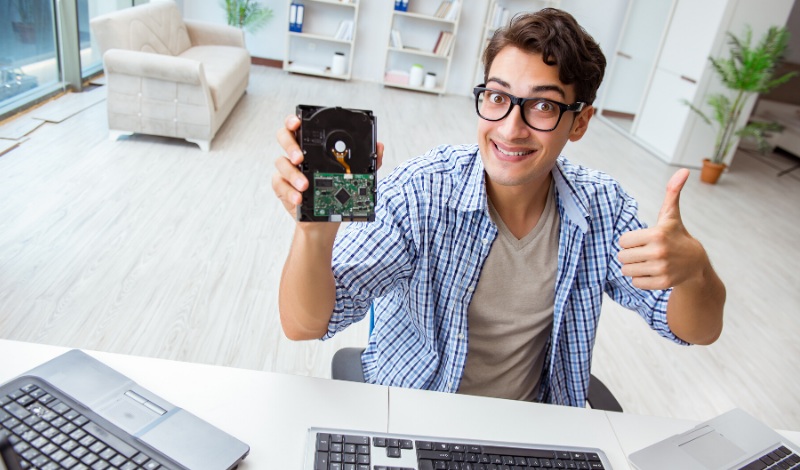 With data recovery software such as Disk Drill, you can retrieve all lost files and a significant portion of formatted data from your crashed hard drive. Disk Drill is a hard disk data recovery software that facilitates easy recovery of your only copies of essential documents, assignment files, cherished photos, videos, and other related data lost from your device internal and external storage.
Data Loss Scenarios: How they happen and what you can do
There are several instances where you might incur data loss from your crashed hard disk.
Typically, you can lose data due to physical damage done to your hard disk or through a logical data loss process. Most physical damage scenarios are irreversible and might require professional help from hard disk recovery service. However, data loss scenarios that are not caused by physical damage can be easily retrieved with hard disk data recovery software.
Logical data loss involves files that have been lost due to formatted hard drive or accidental deletion. With this kind of situations, your hard disk loses reference to where the files are, but they are still present on the hard drive of your PC.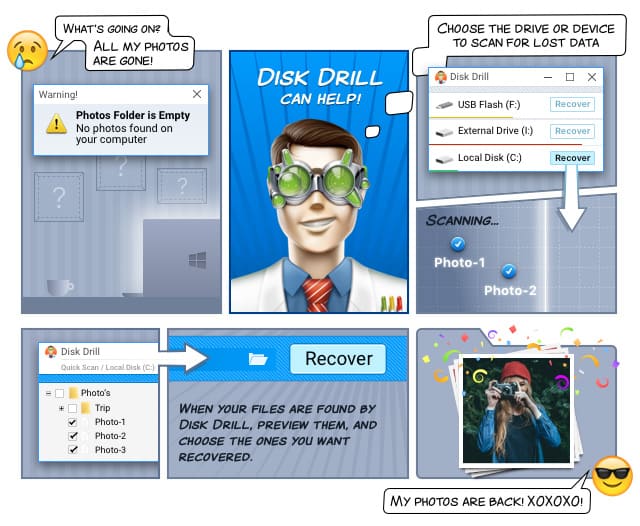 The most common mistake most people do is clearing or emptying the recycle bin. This action completely removes the computer reference to where the files are stored.
Depending on hard drive file system or type of device where the lost file was stored, Disk Drill hard disk data recovery software will be able to find the file as long as it is not overwritten. The file is normally located somewhere in your drive, and your OS (operating system) just doesn't know where to find it.
Reformatted and Formatted Data Recovery Options
Sometimes, you might accidentally format your disk only to realize that you have deleted important files and documents. This situation can happen when a disk or drive becomes crashed, and your computer requests you to format the drive, only to realize that all files are lost. Data losses like this happen intentionally, and a computer hard disk data recovery software such as Disk Drill can help you retrieve back all lost files.

Data recovery for free
Your Companion for Deleted Files Recovery
There are unlimited numbers of file types that Disk Drill can recover. What matters the most when retrieving data is the type of recovery option available for that particular volume.
Steps to Recover Data from a Corrupted or Crashed Hard Drive:
Download and Install Disk Drill for Windows or Mac OS X.
Launch Disk Drill recovery software, select the crashed hard disk and click:
Windows version – Search for lost data button;
Mac version – Recover button.
Preview the files you found with Quick or Deep Scan. Disk Drill provides you with a complete disk scan report at the end of the recovery operation. The report contains a list of all complete and partial files found.
Click Recover button to recover your lost data. Its speed and simplicity, features are exceptional, there is no complicated interface, just one click of a button and files are recovered with time.