Data loss events often happen with no warning and can cripple your computer. In some cases, they can result in serious negative impacts to your business or organization. When you are faced with a data loss event there are usually three methods you can use to recover your valuable information.
Recover from a backup – Performing periodic backups can allow you to recover static files or at least return to the last saved version of a file.
Use data recovery software – If the data you wish to recover has not been backed up, data recovery software may be able to perform a restore.
Employ a data recovery service – In the event that you need to recover data from severely damaged devices or data recovery software is not sufficient, a data recovery service is your last recourse.
What Are Data Recovery Services?
A data recovery service is a service that specializes in the recovery of lost or corrupted data. It is performed by salvaging data from failed, damaged or corrupted storage devices. A hard drive recovery service may use a variety of methods in an attempt to recover the lost data. They can employ software tools, repair damaged drives, and use industry insider techniques to successfully restore the lost or corrupt data that resided on the storage media.
When using a hard drive data recovery service you will need to send the storage device to the service where they will perform the recovery in a clean environment using dedicated equipment.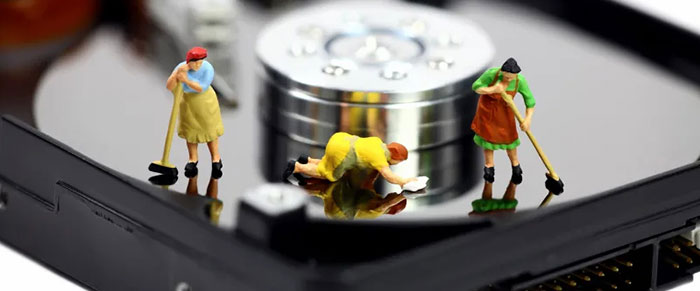 Before we investigate individual characteristics of the services, we need to address the subject of pricing. Since the amount of technical expertise and highly-qualified labor required to enact a hard drive recovery varies significantly from case to case, it is impossible for the data recovery services to accurately estimate the cost of your recovery without actually inspecting the storage device in question.
All of the services listed below will conduct a no-cost evaluation of your device. At that point, they can give you a more knowledgeable quote as to the actual cost of the data recovery.
5 Best Hard Drive Data Recovery Services in 2022
Here are five of the best HDD recovery services currently available to assist you with your data loss issues. Let's take a closer look at them and how they can help you when you require a hard drive recovery.
The data recovery team at SALVAGEDATA can handle any type of storage device you have from hard drives to RAID arrays.
Features:
Certifications – SALVAGEDATA uses a full-size ISO-5 certified clean room for its mechanical recoveries. They are also ISO-9001 and SOC III security certified.
Range of Services – Recovery of data from virtually any type of storage device or operating system. Hardware supported includes hard drives, RAID arrays, memory cards, and flash drives. Recovery can be performed on PCs, Macs, mobile phones, and laptops.
RAID Array Recovery – SALVAGEDATA possesses the technical expertise to handle the added complexity involved in recovering data from damaged RAID arrays. You can ship your RAID arrays to one of their locations or engage onsite technicians for your data recovery.
Locations – More than 40 locations throughout North America.
Support:
24/7 customer support is offered by SALVAGEDATA.
Free assessment of your data loss situation.
Onsite emergency file recovery services.
100% no-cost successful data guarantee.
---
Ace Data Recovery Service has been in business for over 30 years and has established a solid reputation for reliability and technical expertise. Their engineers can recover any types of files from any kind of storage media regardless of the type of damage it has experienced.
Features:
Certifications

–  Ace Data Recovery operates using Class 100 (ISO-14644-1 Class 5) clean rooms that are very close to being Class 10 equivalent during production. They are a Microsoft Registered Partner, with extensive experience performing Microsoft Exchange® and Microsoft SQL® database recoveries.

Range of Services – Ace recovers data from all types of storage devices including RAID arrays, SSD drives, hard drives, and tape media. Tape duplication can be performed on virtually any type of current or obsolete technology. Computer forensics services are offered with an emphasis on protecting digital evidence. Emergency and onsite recovery services are available 24 hours a day. All recovery operations are performed in-house on image copies made with proprietary Direct-Drive Access Reader (DDA Reader™) technology to prevent further damage to the media.
Locations – Ace is headquartered in Dallas, Texas with recovery labs in Dallas, Houston, and Chicago. They have over 30 service centers spread out over the U.S. and Canada.

Support:
Free phone consultation to get a price estimate and discuss successful recovery probability 24/7.
Ship devices to Ace or drop off your device at one of their service centers.
Onsite emergency recovery services.
No data, no charge commitment if recovery cannot be accomplished.
Over a 98% rate of successful recoveries.
---
DATATECH Labs provides professional data recovery services which are priced based on the technology that needs to be employed to complete the data recovery.
Features:
Range of services – DATATECH can successfully recover data from a wide variety of devices including hard drives, RAID arrays, camera cards, and flash drives. They can also perform tape data recovery. These services are available for the Windows, Mac, Linux, and Unix platforms.
Locations – Multiple locations are spread throughout North America to make it easier to get your device to the company. Directions using Google Maps to the closest location are available through the website.
GSA contract holder performing recovery for government agencies.
Support:
24/7 emergency services are available for Business Partners.
Free assessment of your damaged storage media.
---
Gillware offers comprehensive data recovery services for small businesses and individuals suffering from data loss issues.
Features:
Range of services – Data recovery services are offered for NAS/SAN devices, flash storage, encrypted data, and RAID arrays. Data recovery is sometimes possible without shipping the device by engaging Gillware's technicians remotely. Data can be recovered from devices used by any operating system.
Modular cleanroom benches – ISO-5 certified cleanroom benches enables data recovery at cost savings of up to 50%.
Locations
Support:
Free in-lab evaluation of your storage device.
No data, no charge consumer protection policy
---
SERT offers professional data recovery services from their offices in West Palm Beach, Florida.
Features:
Range of services – SERT can recover data from hard drives, solid state drives, Micro SD cards, and mobile phones. Clean rooms are employed in all data recovery exercises to protect the data on your device.
Cutting-edge training and technology – SERT employs experienced recovery specialists and equipment and will make every effort to recover your important data.
Support:
24/7 consultations are available.
Free assessment of your device and no charge for unsuccessful recovery.
---
Features:
Range of services – All media types are supported by the technicians at Data Mechanix, including enterprise storage such as RAID arrays. They support all operating systems including Windows, iOS, Linux, and Novell.
Comprehensive evaluation – Data Mechanix provides a free detailed report of the problem affecting your device and the files that can be recovered.
Support:
Free assessment of your recovery situation with no customer obligation.
Onsite and in-lab emergency services are available for critical and time-time-sensitive recoveries.
Expedited service is available that aims for a 24 hour turnaround time for data recoveries.
---
When faced with a hard drive or RAID array that is damaged or corrupted, your best chance of recovery is to engage a professional data recovery service. They will have the expertise required to salvage the data that is on the damaged device when your other recovery efforts fail. Contact one of the services listed above before giving up hope of ever recovering that lost data.
Everything You Need to Know About Data Recovery Centers
Data recovery is the process of restoring lost or deleted digital information from damaged or compromised hardware devices. If you are around computers and digital storage devices for long enough, there is a good chance you will need to avail yourself of the services offered by a data recovery center at some point. Finding the right one may be the difference between having vital information irretrievably lost or celebrating its recovery with an ice-cold beverage of your choice.
Let's take a closer look at data recovery centers to clear up any misunderstandings that may exist around them and the services they offer. We hope to give you a clearer picture of what to expect if you ever need to engage a recovery service for your personal hard drives or business data.
What is a data recovery center or lab?
A data recovery center is a dedicated facility that is used by data recovery professionals to practice their craft and help individual and business clients to get their lost data restored if and when their digital media gets damaged or corrupted. A recovery center is also often referred to as a data recovery lab. The designation of the establishment as a laboratory is justified by the highly-trained individuals who work there, the specialized skills they bring to the table, and the advanced technologies that are employed to perform data recovery.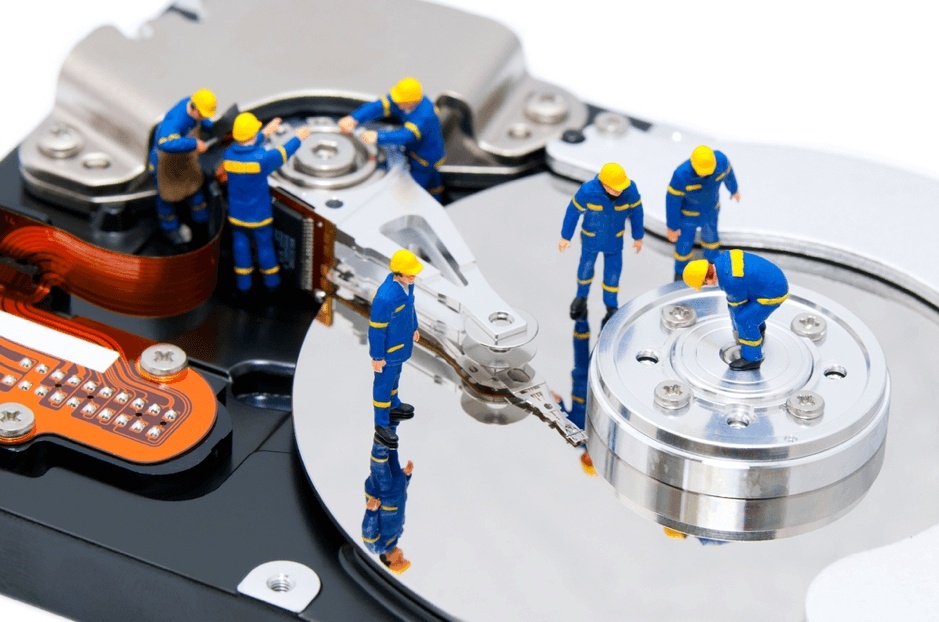 A data recovery center is comprised of business and technical departments. Administrative tasks such as accepting devices (drop-off and collection locations, shipping, deliveries, case management and handling), conducting initial consultations with customers, and billing for successful recoveries are carried out by the business unit of the recovery center. The technical side of the operation is responsible for determining what may be wrong with the device and recovering its data if possible.
One of the most essential components of a reputable data recovery lab is the inclusion of a cleanroom in which to perform delicate recovery procedures. A cleanroom needs to undergo an annual certification to verify that it is up to industry standards. In the data recovery business, a certification at ISO-14644-1 Class 5 or Class 10 indicates that you are dealing with a respectable company.
The characteristics of a cleanroom include:
The strict control of particles in the air that can contaminate an open drive. Extensive filtering is used for this purpose.
Controls that limit access to the cleanroom to authorized personnel who are trained to avoid accidentally contaminating the facility.
Infrastructure and furniture are designed to be lint-free to eliminate sources of contamination.
Rooms are often positively pressurized so that in the event of a puncture, air will flow out rather than in which can expose the room to particulate contamination.
Operators will usually be required to wear appropriate non-linting bodysuits, gloves, and masks to further eliminate the risk of inadvertently contaminating open drives.
How data recovery centers work and what processes they use? 
The details may vary from center to center, but all of them share many common characteristics. Let's look at how a typical data recovery lab handles a damaged storage device.
Step 1 – Initial consultation

– During the first phase of data recovery, the scope of the problem needs to be clarified. The user will need to define the problem they are facing and specify what data should be recovered from the device. In some cases, only certain data may be important enough to warrant recovery. This phase is mostly handled online or as part of a phone call these days when the work order is generated and signed by the customer. In most cases, data recovery centers cannot start any procedures without verified customer consent.

Step 2 – Technical evaluation

– Every model of drive or storage device has a unique fingerprint that needs to be understood and kept in mind during recovery. If the problem is a fried circuit board, simply taking a board from a similar drive may not be sufficient to recover the data. The evaluation will check the power supply and sometimes the fix will be to simply replace a blown fuse. Once power is verified, the technician will listen for the tell-tale clicking sounds that indicate problems with the read/write heads. At this point, the recovery center should be able to provide a quote for the work needed to restore the data.

Step 3 – Verification

– After a recovery strategy is determined, the next step will probably be to open the device in the center's cleanroom. Various components of the device like parameter or firmware chips may be replaced and the technician will need to gain access to the servo track.

Final step – Drive cloning

– If the damaged drive can be put into a semi-operational state, the next step will be to attempt to clone the drive and copy the data to a host drive. This is the critical step that will determine if your information can be saved from the device. If the cloning is successful, the data will be copied to the media that will be delivered to the customer.
When the data is returned to the customer on a new device, it's time to settle the bill with the recovery company. You should not be charged for an unsuccessful recovery. If you are, you have selected the wrong company.
How much does a data recovery service cost?
When you purchase a software product, you are assured of the cost before you make your final choice. The price of a particular application may influence which one you select from among comparable solutions. After you pay for the product you get to see how it works. In some cases, there may be a money-back guarantee if the product failed to meet your specifications.
This is not the way that a reputable data recovery service works. If you are presented with a quote that concentrates on a price per gigabyte of recovered data, you should look elsewhere. A good recovery company takes each instance as a special case that needs to be evaluated before determining the cost of fixing the problem.
After the evaluation is performed, the company should be prepared to give you a quote for a successful recovery. The keyword here is successful. A dependable data recovery service will return your original drive to you with no charge if they cannot successfully recover your data.
How is customer data treated by recovery service providers?
This is one of the most significant questions you should ask yourself when searching for a data recovery service. Knowing that your information is safe and treated in the right way is every bit as important as the track record of the service you choose to perform the recovery.
A quality data recovery service will be able to ensure 100% confidentiality regarding the information that they will recover. You should be able to obtain a written document that verifies this fact. Asking how a particular service will handle your data is an important question that should be answered during the process of selecting a vendor.
What's the difference between a data recovery service and data recovery software?
There are a couple of important differences between a data recovery service and data recovery software. Among them are:
Data recovery software, like Disk Drill, allows the end-user to perform recovery on their own devices. A data recovery service requires that the device be delivered to the facility where technicians will handle the task of rescuing its information.
Data recovery services are usually employed to recover live data from damaged or corrupted devices. The information is there but inaccessible due to physical or logical problems with the device. Data recovery software is used to restore data that has been accidentally lost or deleted from a functioning storage device. In cases where data that has been deleted needs to be recovered from a damaged drive, a combination of the two processes may be required.
What to look for in a data recovery center
Quality data recovery centers all share several common characteristics. When searching for the right one to handle your valuable data, you should ensure that the service you engage has you covered from a technical and business perspective. Here's what you should expect in a data recovery service.
The existence of a certified cleanroom in which to conduct examinations and perform repairs and recovery procedures.
An estimate of charges after an initial evaluation is performed. Stay away from services that advertise a per MB or GB rate as that is not how reliable companies operate.
Successful companies that have a proven track record. They are preferable to less experienced players that may not have the technical expertise or access to specific spare parts needed to recover your data.
Certification from hardware manufacturers indicating that the recovery company had the requisite skill set to work on your devices.
High-level security to protect your data before, during and after recovery. This includes completely wiping the data from storage devices that were used in the recovery as well as from any media that will be destroyed after the process is complete.
Who are the top data recovery players in the United States market?
Here are some of the top data recovery companies operating in the U.S:
Ace Data Recovery

– Three full-service labs located in Dallas, Chicago, and Houston are complemented by service centers located in most major U.S. cities.

SalvageData

– This recovery service makes its home in Cleveland and has locations throughout the U.S.

Gillware Data Recovery Service

– This recovery company is located in Madison, Wisconsin. It partners with recovery centers throughout the country.
Any of these companies should be able to address your data recovery needs. For you and your data's sake, we hope they are successful!