Minitool Data Recovery Tool and it's Best Alternative
Disk Drill data recovery tool helps to recover critical data lost to viruses, unintended deletions, and operating system crashes. Windows version available in two versions: Free and Commercial ($49). The free version is the commercial version with a 500MB recovered data limitation. Minitool Power Data Recovery available in two versions: Personal ($69) and Commercial ($119).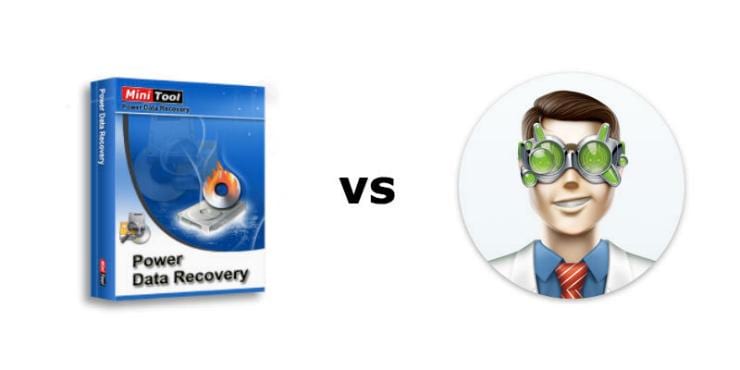 Installing Disk Drill for Free
Disk Drill installation is friendly and straightforward. The installer does all the hard work. Once installed, the app is ready for use.

Data recovery for free
Your Companion for Deleted Files Recovery
Unlike Disk Drill, Minitool power data recovery free download takes long to download and install. Sometimes, the Minitool power data recovery keeps hanging without giving any feedback messages.
Recovering Files
Once open, Disk Drill captures information on all connected drives, and places a button labelled "Recover" next to each item. Once clicked, it presents a menu with two options: Quick Scan and Deep Scan.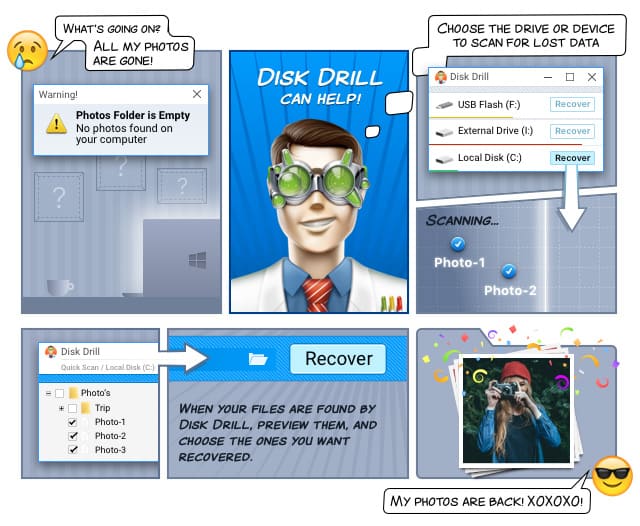 Quick Scan recovers files using metadata from the file system. Therefore, it is useful in cases like recent unintended deletions.
Deep Scan drills deeper. It does a binary level search. If no metadata is available, it will try to reconstruct the files, partition or drive. However, there is a limitation: file names may appear in a generic manner, such as file002.pdf.
These scan modes are not present in Minitool power data recovery. However, Minitool Partition Recovery has two scan modes: Quick and Full.
Data recovery, depending on the size of the drive, may take long. Disk Drill presents the possibility of pausing the search, or of saving the session. Both allow the user to continue later on, without any loss of work.
With Minitool Power data recovery free download, both functions are unnecessary: Minitool's installer just keeps hanging.
Once the search is finished, Disk Drill presents its findings together with filters. Data can be classified according to type, date and size.
In addition, the search can be narrowed with the "Preferences" option. This choice allows the user to select specific file types. Disk Drill will ignore the rest. This option can result in a faster process, particularly in the case of Deep Scan.
Preventing Future Losses
Disk Drill is much more than a "Minitool", as it provides two tools for data loss prevention. The first, Recovery Vault, is an extra layer to the Recycle Bin. In it, deleted file references are kept safeguarded for future recoveries. In case the Recycle Bin has been cleaned, Recovery Vault can find the file, and if not yet overwritten, Disk Drill will recover it.
The second, Guaranteed Recovery is a service that makes a copy of any file moved into a selected folder. In this manner, a full copy of the latest version is kept safe for future retrieval.
Minitool Power data recovery doesn't have any of these capabilities. It is merely a recovery "Minitool".
Disk Drill can also create backups of entire drives in the form of image files. The option is in the "Extras" menu.
Minitool Power data recovery doesn't have this option. According to a Minitool Power data recovery review, the software can recover data from image files, but cannot create backups.
Upgrading Disk Drill
Disk Drill free download can be upgraded to its full version by purchasing a license and entering the activation code.
Sometimes users want to have the full version for free, by downloading a serial, key, keygen, crack, license key, torrent, or registration code. They are not aware that sometimes pirated software may come with some extra "free" software, such as viruses, botnets, and other forms of malware. In addition, by not having a legal product, they have no access to other benefits such as warranty and the company's support. They will only have a "Minitool".
Final Words
Disk Drill offers a comprehensive solution for data recovery. In addition, it contains options for data loss prevention that Minitool Power data recovery software doesn't have. Overall, Disk Drill presents a handy solution for the casual and professional user.