MiniTool's data recovery tool is a preferred way for many to recover their accidentally deleted files from SD cards and the computer's hard drive. But is it really the best tool for the job?
There are plenty of other data recovery applications out there, often offering similar, if not better performance than MiniTool. Some have more advanced features, while others simply do the same job faster and more reliably. Here are the top five alternatives to MiniTool.
What is MiniTool Power Data Recovery?

MiniTool Power Data Recovery is a data recovery application that allows you to restore deleted files on your computer. It only works on Windows (there is a separate version for Macintosh) and cannot be used to create a bootable USB without a premium license.
This greatly limits when you can use this tool, as most people don't have external hard drives. Installing the data recovery app to the drive to be scanned reduces recovery chances, so you need another option. This can be creating a bootable USB, or even getting hold of a portable data recovery tool.
That being said, MiniTool is a working data recovery application with a generous free data recovery limit of 1 GB, which is much more than most tools out there. If you only need to restore a few deleted files on a Windows computer and have an external HDD, MiniTool can be a good choice for you.
1. Disk Drill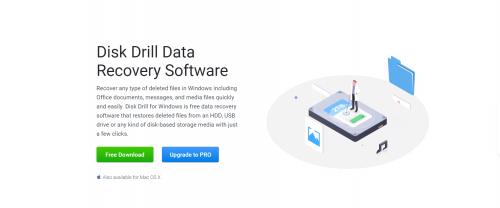 Disk Drill is a complete data recovery solution for both Mac and Windows, with a better UI and smoother performance than MiniTool. Apart from being better at the main task (recovering lost data), Disk Drill also includes additional tools like the Data Shredder, Byte-to-Byte Backup, Boot Drive, Data Protection, and many more.
The best part? All of these features are available in the free version too. The only restriction placed without a license is a data recovery limit of 500 MB, but within that quota, you can take advantage of the full capabilities of the software.
Features
Boot Drive
Like most data recovery applications, Disk Drill gives you the option to create a bootable USB you can use to recover data even from dead hard drives. Unlike the competition though, Disk Drill allows you to use this feature in the free version.
This means that you can use Disk Drill to rescue important data from a bricked computer without having to buy a premium license.
Recover Anything, From Anywhere
Disk Drill supports all file types and all kinds of storage devices. Audio, video, documents, pictures, archives… if it existed on your computer, Disk Drill will find it. The application has no problem scanning through SD cards or USB drives formatted in legacy formats as well (such as the SD card used with your phone), restoring formatted, corrupted, or deleted data with ease.
Recovery Vault
Disk Drill helps in prevention as well as the cure. With its Recovery Vault feature, you can keep track of all deleted files, giving you an additional layer of protection over the Recycle Bin. This keeps your data from being lost in the first place, which is always preferable to recovering it.
👍 Pros
Works on both Mac and Windows.
Has a free version with advanced tools like Data Shredder and Recovery Vault.
Recover lost data from all kinds of storage devices and file formats.
Can create bootable USB in the free version.
👎 Cons
Can only recover 500 MB of data for free.
Needs installation or a bootable USB to work.
How To Recover Files Using Disk Drill Data Recovery
To start recovering files on your computer, download Disk Drill and run the installation.
Once installation is complete, accept the license agreement and continue through the initial screens to reach the main window. Select the drive you wish to recover from and hit the Search for lost data button.
As Disk Drill scans the drive, the number of found files will be displayed, divided by type. To take a look at these files, select Review found items.
The results are displayed in a file explorer-like view. Use Filters to narrows down the selection, or search for a specific file name.
After you have selected the files you want to recovery, click on the Recover button. A destination folder must be selected, and the files will be saved to that location.
2. Recuva

Most data recovery applications require you to either install them to the PC or create a bootable USB. This can make it difficult to use when your computer has just a single partition, as installing the app to it can overwrite some of the files you are looking to recover.
Recuva is one of the few data recovery tools that are portable in nature and can be used without installation. This means you can just put the app on a USB stick and scan your computer's drive. While the tool has not been updated for a while, it works well enough on Windows for some basic data recovery.
Features
Portable
Recuva's most notable feature is its portability. Unlike other data recovery tools, it doesn't need to be installed on a computer. You can copy it to a USB drive and use it to scan and recover data simply by plugging it in.
This gives it an advantage in scenarios where you lack a second drive to install the data recovery app and don't want to take the hassle of creating a bootable disk.
Supports Windows
Recuva works perfectly on all recent versions of the Windows operating system, starting from Windows 10 and going all the way back to XP. This includes install
No Data Limit
All data recovery tools have some restrictions in their free versions. Either some features are locked away, or there is a limit on the amount of data you can actually recovery. Sometimes it is both.
Recuva comes in the former category. The free version is lacking in many of the more advanced tools, but it does not impose any data limit. You can recover as many files as you want for free.
👍 Pros
Does not need installation.
Can recover files on Windows.
Has no data recovery limit.
👎 Cons
Does not support Mac.
Is not being actively developed or updated.
Lacks any advanced features.
3. R-Studio

The little-known R-Studio is not just a data recovery tool. It offers a bunch of different tools in the same software package, from partition management to creating virtual RAID setups. It can also recover lost data, of course, and is quite good at it too.
That being said, all these additional features can be a bit too much when you are just looking to recover some files. For that purpose, you may be better off using a dedicated data recovery tool instead.
Features
Network Recovery
In offices and other commercial setups, you often have multiple computers connected to the same LAN network. It might be beneficial in such cases to be able to run a data recovery tool on a computer from another PC in the network.
R-Studio allows you to do just that. Instead of installing the app or running it from a bootable disk, you can use it over a network to scan another computer and recover lost data.
RAID Reconstruction
A Redundant Array of Independent Disks (RAID) can be hard to set up. Things get even more complicated when a part of this configuration gets corrupted or deleted. R-Studio can recover not just the data, but help reconstruct the RAID itself.
Hex Editor
For advanced users, R-Studio includes a hexadecimal editor. It can be used to view or even edit the boot record or the file tables. Keep in mind that this is a powerful feature that can make things more difficult if not used properly. Only dabble in it if you know what you are doing.
👍 Pros
Can perform partition management.
Create virtual RAID setups.
Excellent performance in data recovery.
👎 Cons
Complicated interface.
Is a collection of various tools, not just data recovery.
Confusing pricing.
4. EaseUS Data Recovery Wizard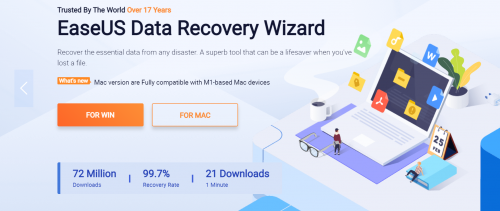 EaseUS is another full-fledged data recovery tool that functions on both Windows and Mac. On both performance and features it has the edge on MiniTool, though the 500 MB data recovery limit is comparatively lower.
As it can work with all kinds of storage devices and file formats, EaseUS is a great alternative to MiniTool. It can recover files lost due to most common reasons, ranging from accidental deletion to formatted drives.
Features
Restore Lost Partitions
Often people accidentally delete or format entire partitions. EaseUS can be used in such scenarios to restore the lost partitions, not just the files contained within them. This includes partitions that were removed using other partition management tools or partitions with corrupted file tables.
Preview Files Before Recovery
Like most leading data recovery tools, EaseUS allows you to preview files before recovering them. You can view the images or take a glance at the text without actually recovering them to disk.
This is especially useful in the free version, where you have to keep your restored files within a data limit. You can carefully preview and choose the important files to use as little of the free quota as possible.
Supports Both Mac and Windows
Unlike MiniTool, EaseUS supports both Macintosh and Windows with the same software. While the pricing varies between the two platforms, the features are consistent. The interface is kept user-friendly in both versions, and you can use the tool to recover from all file types, no matter which operating system you are using.
👍 Pros
Easy to use interface.
Good success rate in most recovery operations.
Supports both Mac and Windows.
👎 Cons
Can recover only 500 MB of data.
Expensive pricing schemes.
Slow recovery speed.
5. Wondershare Recoverit

Wondershare Recoverit is a decent data recovery application. It can recover files with a very high success rate, works on both Mac and Windows, and supports the most common file formats. But it has one glaring issue: the data recovery limit.
On the free version of Wondershare Recoverit, you can only restore 100 MB of data. This is far too little, especially when compared to the rest of the competition. Most other data recovery applications will offer you anything between 500 MB to 1 GB of free data recovery. As a result, there is little reason to choose Wondershare Recoverit over other applications, unless you are willing to shell out for the paid version from the get-go.
Features
Advanced Video Recovery
Wondershare Recoverit has a dedicated video recovery feature. Basically, it can stick together recovered fragments of videos to try and restore them to their original form. This video repair feature can fix many corrupted videos that are unable to play properly after data recovery.
Deep Scan
When the normal scan fails to turn up the files you are looking for, you can try a Deep Scan. In this mode, Wondershare Recoverit scans the disk memory byte-by-byte, looking for buried file signatures. This can often turn up deleted files that are difficult to locate otherwise.
👍 Pros
Can recover multiple files at once.
Supports all common file types and storage devices
Works with both Mac and Windows
👎 Cons
Only 100 MB can be recovered in the free version.
Complicated interface.
Slow recovery speed.
Conclusion
While MiniTool is a good data recovery app, it is by no means the best. There are plenty of better data recovery tools out there, offering improved functionality.
You can use Disk Drill, which allows you to create bootable USBs and use other advanced features in the free version. Or you can try out Recuva, which doesn't have a data recovery limit, even if it is a bit dated.
R-Studio is something of an outlier, offering an advanced suite of features that go beyond data recovery. For a more traditional alternative, EaseUS and Wondershare Recoverit come to mind. Both have similar capabilities to MiniTool, but with a better interface and performance.
FAQ
On the surface, both MiniTool and Disk Drill appear quite similar. But if you dig deeper, plenty of differences emerge.
The biggest one is in features. MiniTool allows only basic data recovery in the free version; advanced functions are shut behind a paywall. This includes even the essential capability to create a bootable USB, useful for recovering data from corrupted hard drives and PCs that cannot startup.
Disk Drill, on the other hand, gives access to all of its features from the get-go. You can create a bootable USB using the free version, and use it to restore important files from a bricked hard drive without having to pay a penny. Many other features like the Data Shredder or the Recovery Vault are also enabled, giving you the complete, unrestricted package.
The best MiniTool alternatives are:
Disk Drill
Recuva
R-Studio
EaseUS
Wondershare Recoverit
All of these applications either provide a more robust feature set than MiniTool or give a smoother performance in data recovery.