One of the most annoying and possibly catastrophic occurrences that can impact a computer user is the experience of a data loss event. You go to open a program and get an error due to missing files. Maybe you are sorting through your digital photos and realize that a folder that documented your last vacation has disappeared.
Panic is one of several possible reactions when faced with this kind of situation. What you really need to do is stay calm and perform a file recovery to restore your data. If you are using a Windows computer, one of the options to recover lost files is to use the Recuva utility.
What is Recuva?
Recuva is a data restoration program designed to recover lost files on Windows computers. It's available in both a free and a paid professional version and can come in handy if you discover that you have inadvertently deleted files from your machine.
The software is easy to use and provides a Wizard to guide the user through the process of selecting data recovery options. You can choose the types of files you are interested in recovering as well as the device or drive where the files resided before being deleted. Quick and deep scanning modes are available to help find all of your lost data.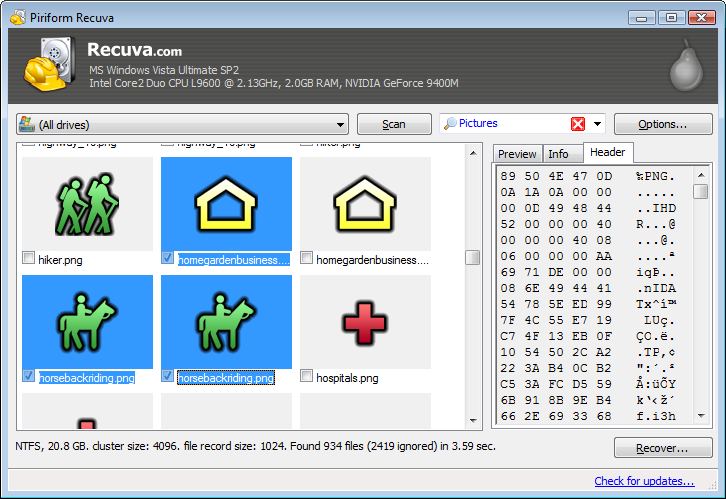 The free version can recover files directly from your hard drive, which is fine when your drive is functioning properly. In cases where your drive is failing or experiencing issues, you will want to use the professional version and recover your files from a disk image to preserve the original drive. It is a great tool for data recovery that is designed to be useful to any Windows user.
⚠️ Mac users need to go another route since there is no Recuva for the Mac. I'm going to show you some software that can greatly help you recover deleted files on a Macbook.
---
5 Best Alternatives to Recuva for Mac
Let's take a look at five alternatives to Recuva that will perform data recovery for a Mac. As a macOS user, I too have experienced the anguish of data loss. Rather than have you randomly search for recovery software on the Internet, I am going to show you some software tools that I have used in my recovery efforts. These applications were tested on a MacBook Air and a removable USB drive.
Disk Drill is a full-featured data recovery and protection tool for your Mac. The tool allows you to perform file and photo recovery on your machine or any attached external storage device. Disk Drill incorporates data protection capabilities that guarantee the recovery of deleted files if activated.
Pros:
Advanced recovery algorithms
User-friendly interface
Preview of recoverable files
Additional data protection functionality
Cons:
Cannot recover files with the free version.
Steps that you need to perform to recover deleted files on a Mac:
Download and install Disk Drill. To preserve the integrity of the deleted files, it is recommended that you install and run the program from a different drive or partition than the one with the files you wish to recover.


Data recovery for free
Your Companion for Deleted Files Recovery

Launch the program and select the drive or partition where the files to be recovered were stored.
Click "Search for lost data" to start a Quick Scan.
Preview recoverable files and select the ones that you want to recover. To avoid overwriting files as you recover, choose a unique storage location for the new files.
Click "Recover" and Disk Drill will recover the selected files to your designated location. In order to recover the files, you will need to upgrade to the Pro version of the application.
Video Tutorial:
---
Features:
The application features an easy-to-navigate user interface and allows you to pause scans or save scan results for later use.
Deep scanning technology and the ability to recognize hundreds of file formats make this comprehensive data recovery utility a perfect solution for resolving data loss events. Taking proactive steps by employing the data protection features of the application will keep your data even more secure.
The data protection tools and the ability to preview recoverable files are included with the free download.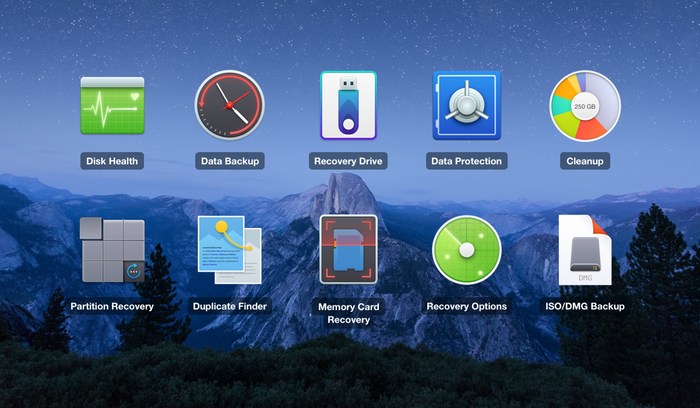 ---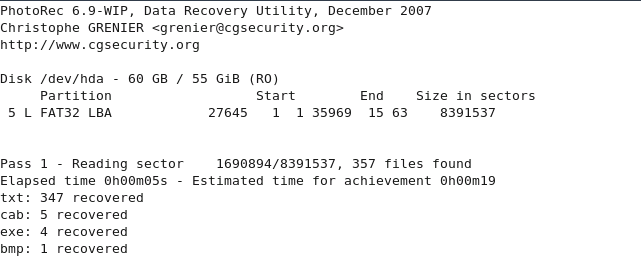 Pros:
Free to use
Open Source allows for modification
Cons:
Not user-friendly
Better for recovering partitions rather than files
TestDisk is a freeware program that is primarily used for recovering lost disk partitions on a variety of platforms. After downloading and starting the program, you are presented with an option of whether to create a new log file or append it to an old one.
Once you make your selection the tool guides you through selecting the disk you want to work with as well as the actions you want to perform on that disk. It has a companion product called PhotoRec which can be used to recover lost files
The tool is free to use and provides a wealth of information regarding your system's drives. It is open source, so you can modify the code as you desire. I would not recommend this tool for novice Mac users, as the command line interface is not particularly user-friendly. Some users may be overwhelmed by the amount of information the tool reports about their drives.
---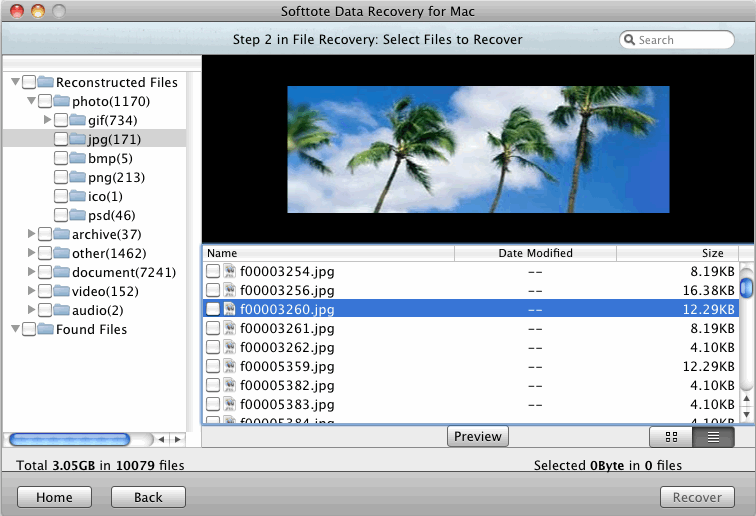 Pros:
Preview recoverable files
Intuitive user interface
Cons:
Slower scan speeds than expected
Cannot recover files without an upgrade to the paid version
The Softtote recovery tool installs easily and requires your admin password since the tool may need to make changes to your hard drive. The application features a user-friendly interface that provides options to recover files, photos, or lost partitions. I found it easy to select the file type and drive I was interested in recovering.
This data recovery application allows you to preview recoverable files with a free preview, but to actually restore files you need to upgrade to the paid version. There is a sector-by-sector search facility to find all files that can be reconstructed or recovered. The scanning was a little slower than expected but did find the deleted files from the USB drive.
---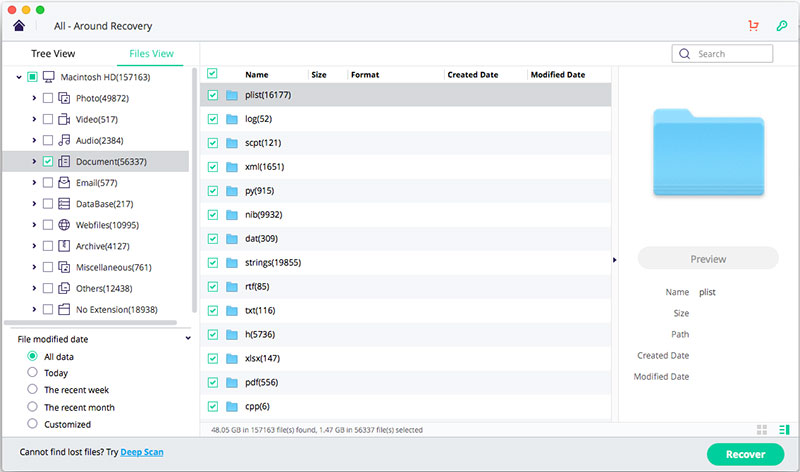 Pros:
Preview recoverable files
Deep scanning if a quick scan fails to find your files
Filters to narrow file search
Cons:
Need paid version to recover files
Inadvertently clicking Recovery in the trial version requires a program restart
After a simple installation, the iSkySoft data recovery application presents you with a welcome screen that allows you to select the device or partition that you wish to recover. The tool then performs a quick scan on the chosen device and returns a graphical representation of the files which can be recovered.
You can preview the files that the tool will recover, but actual recovery requires an upgrade to the paid version of the app. Deep scanning is available if the quick scan does not find your files.
While using the trial version, I clicked recover to see if any recovery was possible. At this point, a registration screen opened up, and the only way to return to the preview was to quit and restart the program. This was annoying, especially if you just clicked the recover button by mistake. On a positive note, there are many options available to narrow your file search and save time, and the user interface is fairly friendly.
---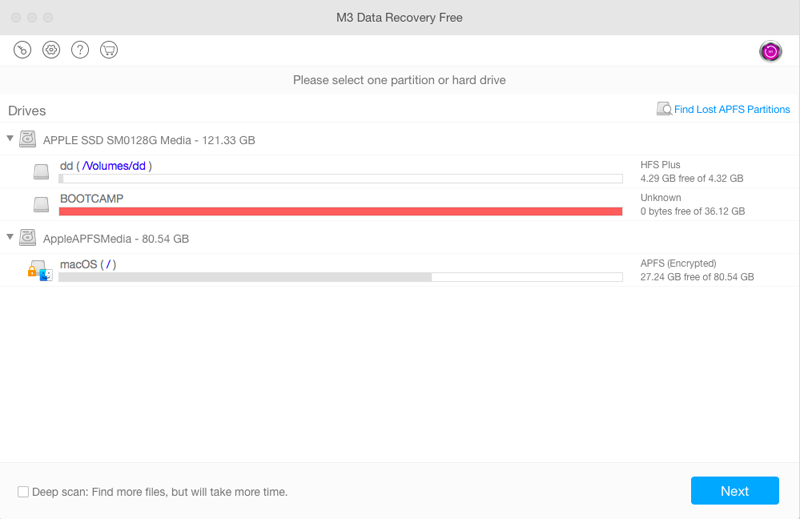 Pros:
Preview of recoverable files
Ability to recover one GB of data with the free version
Cons:
Does not recognize all drive formats
Complicated procedure to scan drives
The M3 Mac Data Recovery tool installs easily and requires you to enter your admin password to execute the app. You are immediately presented with a selection screen where you can choose a quick or deep scan and the drive you wish to recover. It provides a preview of files that can be recovered and allows you to restore 1 GB of data with the free version.
The USB drive I was using is formatted as a Mac OS extended drive. This was the only tool I reviewed that did not recognize this drive, which is definitely problematic. When attempting to scan the internal drive, I was warned to turn off SIP in order to continue.
While the tool has a nice-looking interface, it posed more complications than other applications in order to scan my drives.
---
The Best Recuva Alternative for the Mac
So maybe there is no Recuva for the Mac, but you definitely have some options to help you recover lost files on your Mac OS X or external devices like SD cards, USB flash drives and external HDD. I believe that Disk Drill is your best bet when you need to recover from a data loss event on your Mac machine. The combination of its user interface, advanced scanning technology, and data protection features set it above the competition when searching for a data recovery tool for the Mac. Download it for free and see what it can do for you.