How to Recover deleted files from SD card
In this how-to article, we are going to learn how to recover deleted pictures and other types of data from an SD card using Disk Drill for Windows, a powerful free SD and microSD card recovery tool that does everything you could wish for.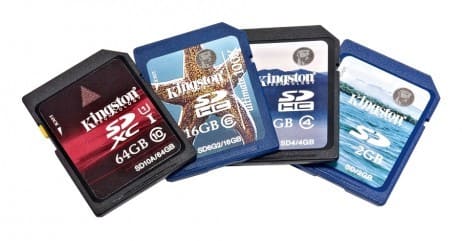 Disk Drill can not only help you recover your lost or damaged data from an SD card, but it can also handle virtually any storage device, including internal and external hard drives, USB flash drives, iPods, and other. The software features several different recovery algorithms, together with a simple-to-use interface that everyone can use.

Data recovery for free
Your Companion for Deleted Files Recovery
#1 Install Disk Drill SD Card Data Recovery Software
The first step is to download and install Disk Drill on your system. You can always find the latest version of Disk Drill SD card data recovery software. Once the installation file is stored on your system, you will need to open it and follow the straightforward instructions. After the installation is complete, click 'Close' to exit the setup wizard.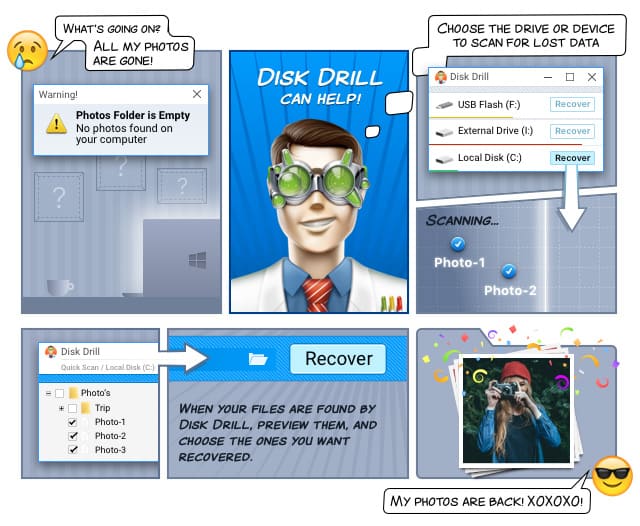 #2 Connect Your SD Card
Now it's time to connect the SD card you want to recover deleted files from. It doesn't matter whether it's a microSD card or a regular SD card – Disk Drill can handle both, as well as all types of file systems. Keep in mind that you may not be able to access the card through Windows Explorer. That's normal, and it doesn't mean Disk Drill won't be able to recover your files.
#3 Select the SD Card to Recover Deleted Files & Fhotos
When you launch Disk Drill, you will be presented with a list of storage devices connected to your computer. The list you will see on your system will probably be quite different from the one you see in the screenshot above. Nonetheless, your goal is the same: to select the SD card from which you want to recover deleted pictures, songs, or any other data. In our case, it's the "SanDisk SDDR-113 USB Device. If you're not sure, look at the size below the name. Our SD card is 16GB large, so we can easily tell that it's, indeed, our device. Simply click on the 'Recover' button to start data recovery.
#4 Wait & Review Found SD Data
Now it's time to kick back and wait until Disk Drill SD card file recovery goes through the content of your SD card and finds all lost or deleted data. Results will be displayed in the main window, and you can take advantage of powerful filter options to narrow down the results. The small magnifying glass located next to each file name allows you to quickly preview the particular file. When you know which files you want to recover, tick the checkbox located on the left side of each file or mark all files at once by marking the "Found files" folder located on the top. Next, select where you want to recover your files to and click on the big 'Recover' button.
#5 Open Recovered SD Files
All that's left to do is to open the folder you have selected in the previous step and rejoice that all your beloved pictures, music, videos, or documents are recovered. This is just a small sample of what Disk Drill data recovery app can do. Don't hesitate and grab a copy today! You will never have to worry about data loss ever again.