If you've ever had a Compact Flash card either go bad or become unreadable, you know how frustrating that can be. However, all is not lost. With a bit of work, you can recover that data. Let's find out how.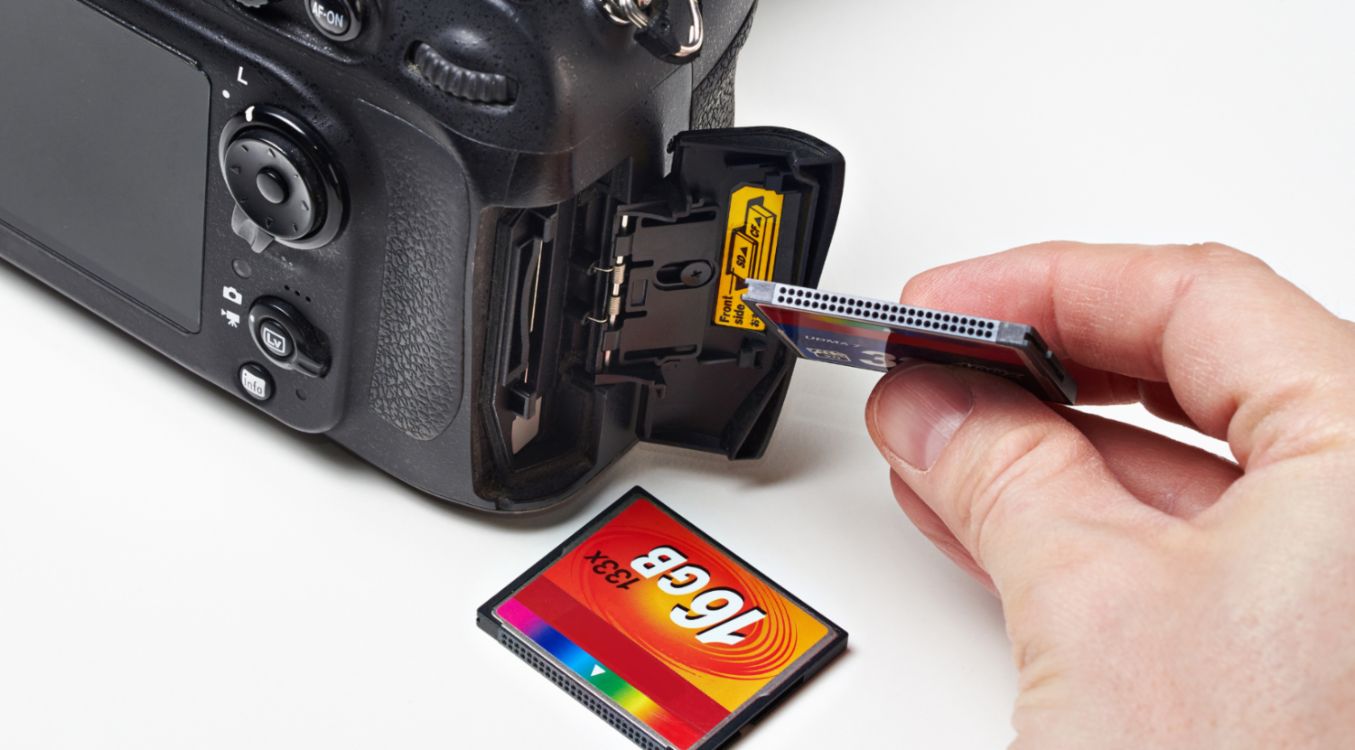 What is CompactFlash?
CompactFlash (aka CF) memory is a type of non-volatile, solid-state memory used by many portable devices (such as cameras and camcorders). This type of memory has been around since 1994 (originally created by SanDisk) and has become so widespread that its usage has surpassed traditional storage devices (such as hard drives).
CompactFlash cards are larger than SD and microSD cards. A typical CF card measures 42.8 mm by 36.4 mm and can range from 512MB to 128GB of storage. Other than size, the biggest difference between CF and SD cards is speed and cost. CF cards are more expensive than SD cards, but are also considerably faster and more durable. Most compact flash cards display the minimum write speed directly on the front in the form of X MB/s (Where X is a number to indicate the write speed in MB per second a card can handle).
For comparison, the average write speed of an SD card is approximately 12.5MB/second.
Although most devices have migrated to SD and microSD cards, there is still plenty of technology out there that requires CF cards. You'll find these cards in commercial-grade video cameras, where write speeds that are faster than typical SD cards can handle.
Why You Need CF Card Recovery
Someday you might find yourself in a situation where a CF card has data that your computer cannot retrieve. And because that card was probably used in a camera or camcorder, you will definitely want those files.
But what can happen to a CF card to cause the data to become unreadable? There are a few reasons this can happen.
You've accidentally deleted files: This happens more often than you might think, and can occur on the device that uses the card or your computer.
Card formatting: You might have accidentally reformatted a card that contained files you still need.
File system errors: The file system on the CF card can become unstable or unreadable by your computer.
Virus attacks: A virus has rendered your card unreadable.
Corrupted/damaged CF card: The partition table on the CF card might have become unrecognizable by your computer operating system, or you have a physically damaged card.
A power surge or outage: If there's a power surge as your computer is trying to read the CF card, it can become damaged.
Water damage: Water is the enemy of electronics.
Physical damage: You might have bent or even broken your CF card.
How to Recover Files from CF Cards Using Recovery Software
If you happen to have a CF card that contains data you cannot access, all is not lost. One of the best options to retrieve that data is by making use of a third-party memory card recovery software solution. There are quite a large number of applications available for this purpose, one of which is Disk Drill, which supports all brands of CF cards and can recover nearly any type of file. You can use Disk Drill free (500MB recovery for free), or purchase a Pro license for $89.00.
Let's dive in and find out how to recover files from a CF card that's unreadable by your computer.
Download and install Disk Drill compact flash card recovery software.

Data recovery for free
Your Companion for Deleted Files Recovery

Insert the CF card into your PC or laptop (you might need to use a CF card reader for this).

Open Disk Drill and click on the entry for the Generic STORAGE DEVICE USB Device associated with the damaged or unrecognized CF card.

From the drop-down in the right sidebar, select All recovery methods and then click Search for lost data.

At this point, you must allow Disk Drill to completely finish the CF card scan. If you pause or stop the scan before completion, the chances of complete data recovery are reduced. Depending on how large the CF card is, how much data is/was on the card, and the speed of your computer, this scan could take some time. You should also know that if the CF card was accidentally reformatted, Disk Drill will first search for and recover any lost partition on the card (adding even more time to the scan).

When the scan completes, if you find Disk Drill didn't locate the number of files you expected to recover, click Scan entire disk (if available) and allow the tool to run a full scan of the CF card. If, however, it does locate the files you expect, click Review found items.

Expand each entry, under either Deep Scan, Reconstructed, or Reconstructed labeled. Keep expanding until you find the recovered files you're looking for. One thing you should make sure to do is to right-click the item in question and select Preview (or hover over the file listing and click the eye icon) before you select each item to recover. If the file preview appears as you expect, click the associated checkbox for the file. Continue previewing and selecting the recovered files until you have all of them checked.

Click Recover.

When prompted, select a location to house the recovered files. Make sure you do not select a destination that is on the same drive as the one you are recovering from.

Click OK and Disk Drill will recover the found files to the selected destination.

Congratulations, you've successfully recovered files from a broken or unreadable CF card.
How to Recover CF Card with Data Recovery Service
If you find that the software recovery method did not work for you, all is not lost. You can opt to use a data recovery service that has very powerful tools to recover data from CF cards that consumer software would never find. Data recovery specialists are remarkable at salvaging data, even from CD cards (or other devices) that are too far gone for consumer software to save.
CleverFiles offers such a service. If you have a CF card that Disk Drill (or another solution) cannot save, reach out to them (or another company) so they can recover your lost files.
Top 5 Best CF Card Recovery Software for Mac and Windows
Let's take a look at some of the best CF card recovery solutions for Mac and Windows systems. With one of these applications, you should be able to recover deleted files and folders from a CF card as long as it has not been overwritten by new data.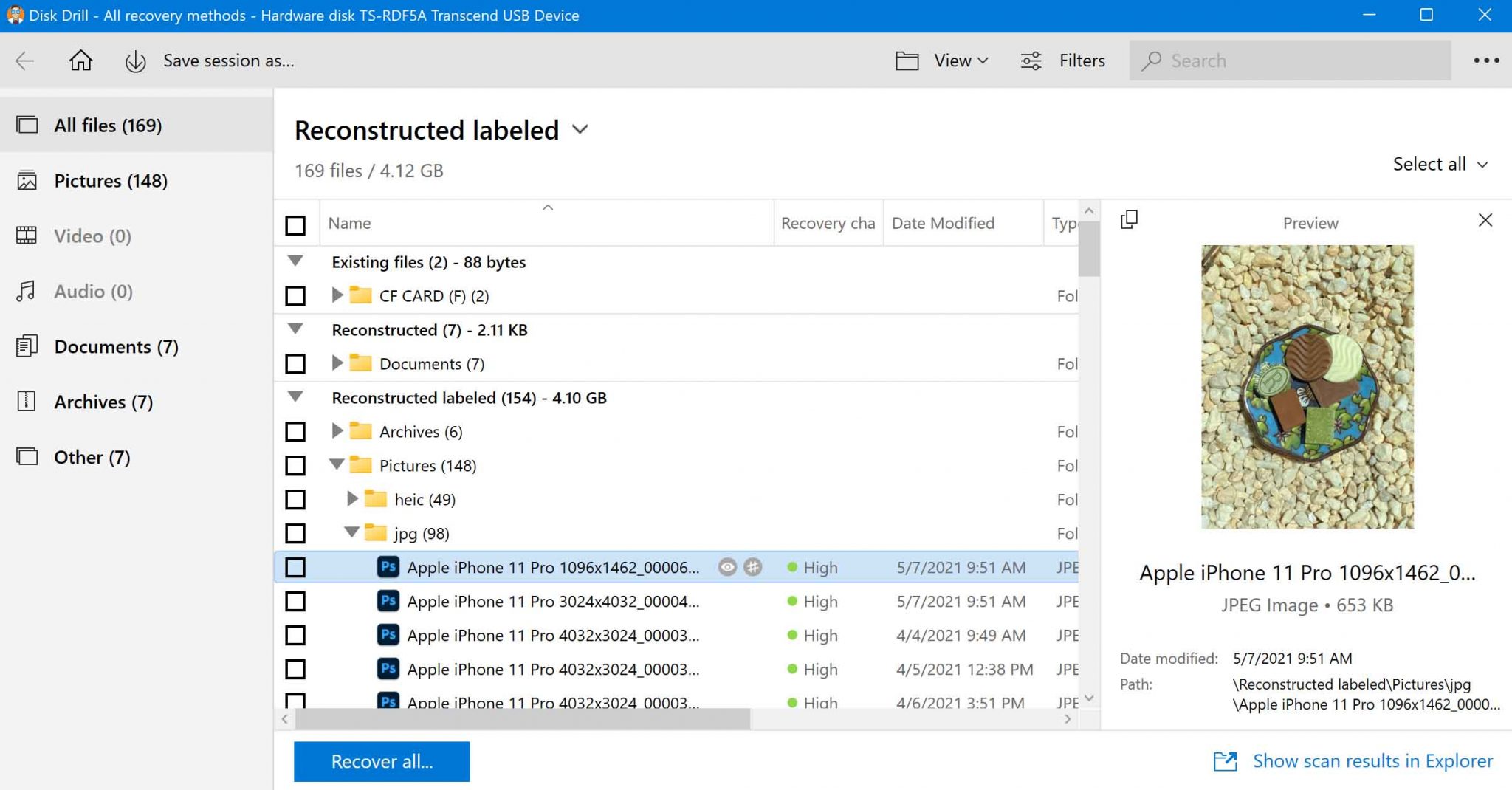 Disk Drill is a full-featured data recovery solution that comes packed with additional features designed to help you protect and manage valuable information on your disk-based storage devices. It works with virtually any kind of storage device with a disk, including CF cards, external hard drives, and internal disks.  
Recovering deleted files and folders from a CF card is a simple process that can be done by any user with a few clicks. After connecting the CF card, a quick or deep scan can be run to find all available data on the device. Scans can be stopped and restarted at will to facilitate recovery on your schedule.
Free data protection and management tools separate Disk Drill from the competition. You can create byte-level backups, find and delete duplicate files, and perform a disk cleanup to maximize your free storage space. The tool also provides a Recovery Vault that can be configured to protect important files and folders, making them available for instant recovery if accidentally deleted.
✔️ Pros:
Intuitive and user-friendly interface
A simple data recovery procedure
Supports around 300 different file formats
Supports all types of disk-based storage devices
Works with all versions of the Mac and Windows operating systems
Updated regularly to address developments in supported operating systems
Free additional data protection and management tools
1 GB free recovery with the Windows version of the software
❌ Cons:
No phone support
Mac trial version only lets you preview recoverable data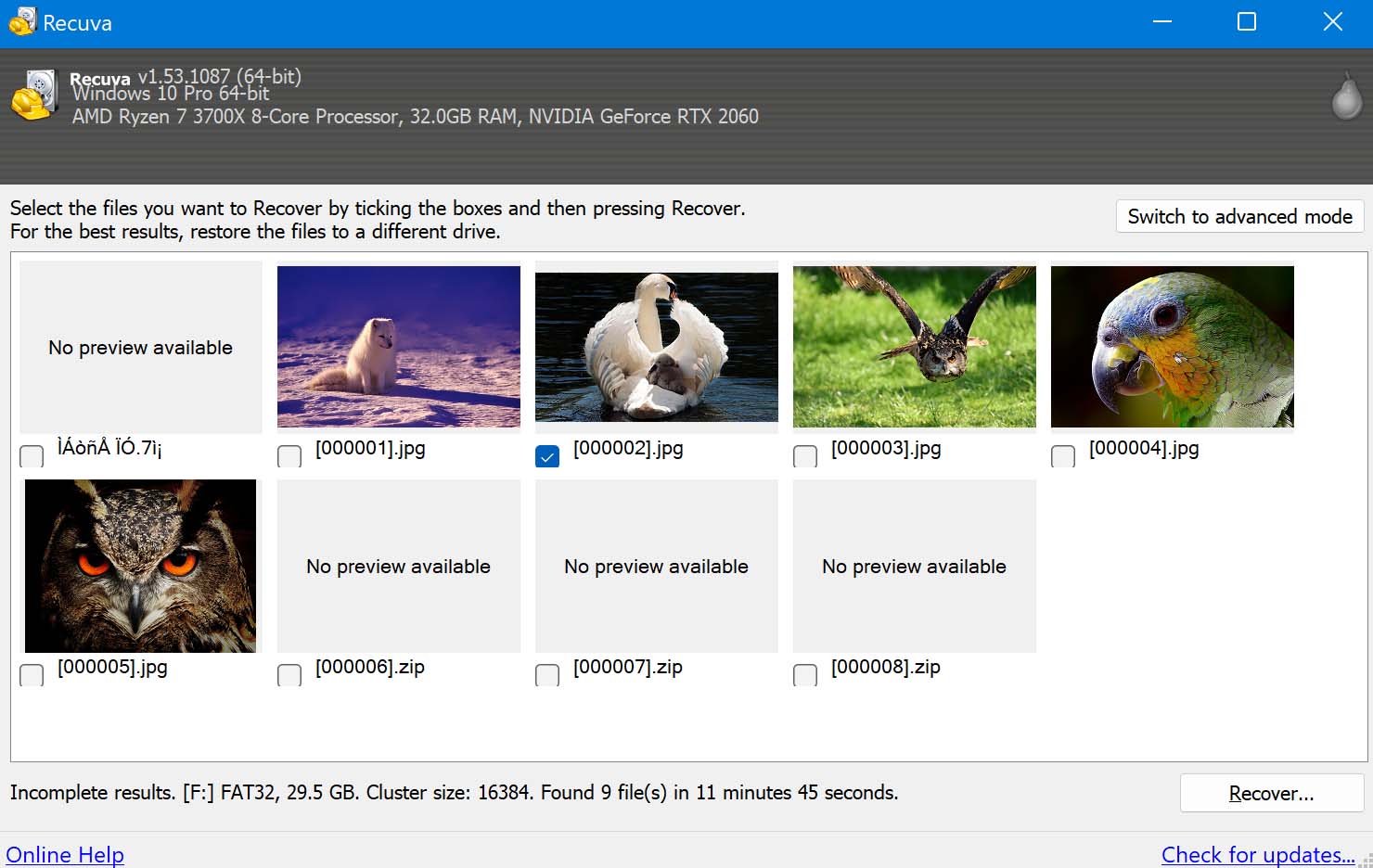 Recuva is a freeware tool for Windows data recovery that provides users with a simple interface modeled on Windows Explorer. It offers serviceable recovery performance but does not do as complete a job as a commercial tool. Recuva is good for users wanting to recover some non-essential files from a CF card. When recovering more important files, you may want to try another solution. 
A wizard helps guide users through the recovery process. Quick and deep scans can be performed to find as many files as possible. The tool also has a paid upgrade version that promises premium support and the ability to recover data from virtual hard drives.
✔️ Pros:
Freeware with no cost to the user
Can be run as a portable version, eliminating the need for installation
Can scan inside files to search for text strings
❌ Cons:
Has not been updated since August of 2020
Only runs on the Windows operating system
The download page may try to install other software on your computer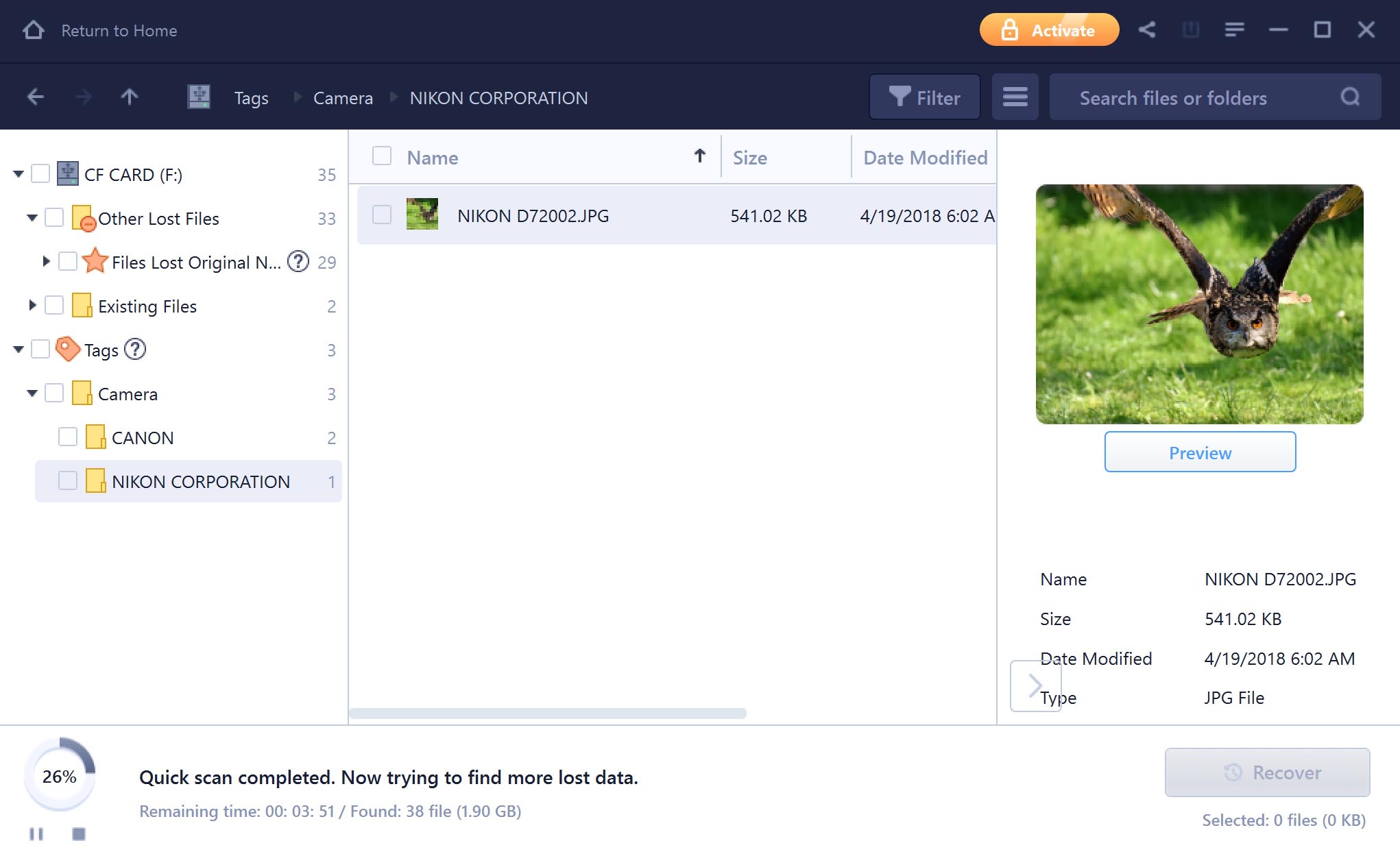 EaseUS is a commercial data recovery tool that has versions available for Windows and Mac systems. It provides users with a comprehensive recovery solution that can get deleted files back from CF cards or any other kind of disk-based storage device. The tool also supports recovering files deleted from the Trash or Recycle Bin and can help fix accidentally formatted partitions.
A user-friendly interface enables recovery to be performed by anyone with a few clicks. Advanced recovery techniques are available in the tool to recover MS SQL Server databases and Exchange mailboxes. The company has been around since 2004 and has successfully recovered data for millions of users.
✔️ Pros:
30-day money-back guarantee
Supports Windows and Mac systems
2 GB free recovery with the Windows version of the software
Preview files before committing to recovery
One-on-one remote recovery assistance
❌ Cons:
More expensive than other commercial products
No additional data protection tools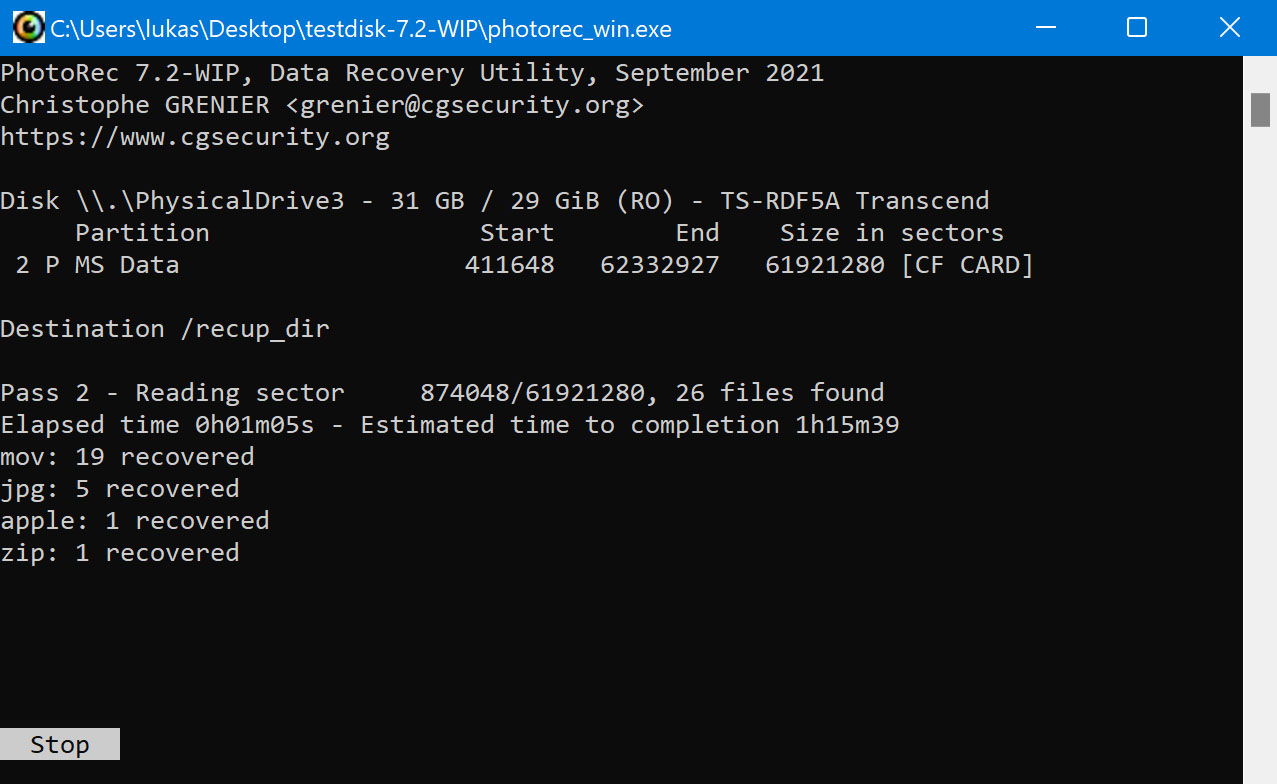 PhotoRec is a freeware tool that supports a wide range of storage devices like CF cards and runs on many different operating systems including Mac and Windows. It does not possess the features or user-friendly interface of commercial data recovery solutions. Users need to interact with a command-line interface and supply recovery details such as partition names that may be beyond the scope of their computer knowledge. 
Files are recovered under generic filenames which require users to preview them to identify their contents and rename them more descriptively. This makes the tool less efficient, especially when attempting to recover a large number of files. If you are prepared to use a command-line and are performing a limited recovery, PhotoRec could be the right tool for the job.
✔️ Pros:
Freeware with no cost to the user
Supports data recovery from Mac, Windows, and Linux machines
Supports CF cards and many other storage devices
❌ Cons:
Has not been updated since 2019
Command-line interface
Recovers files with generic names
Complicated recovery procedure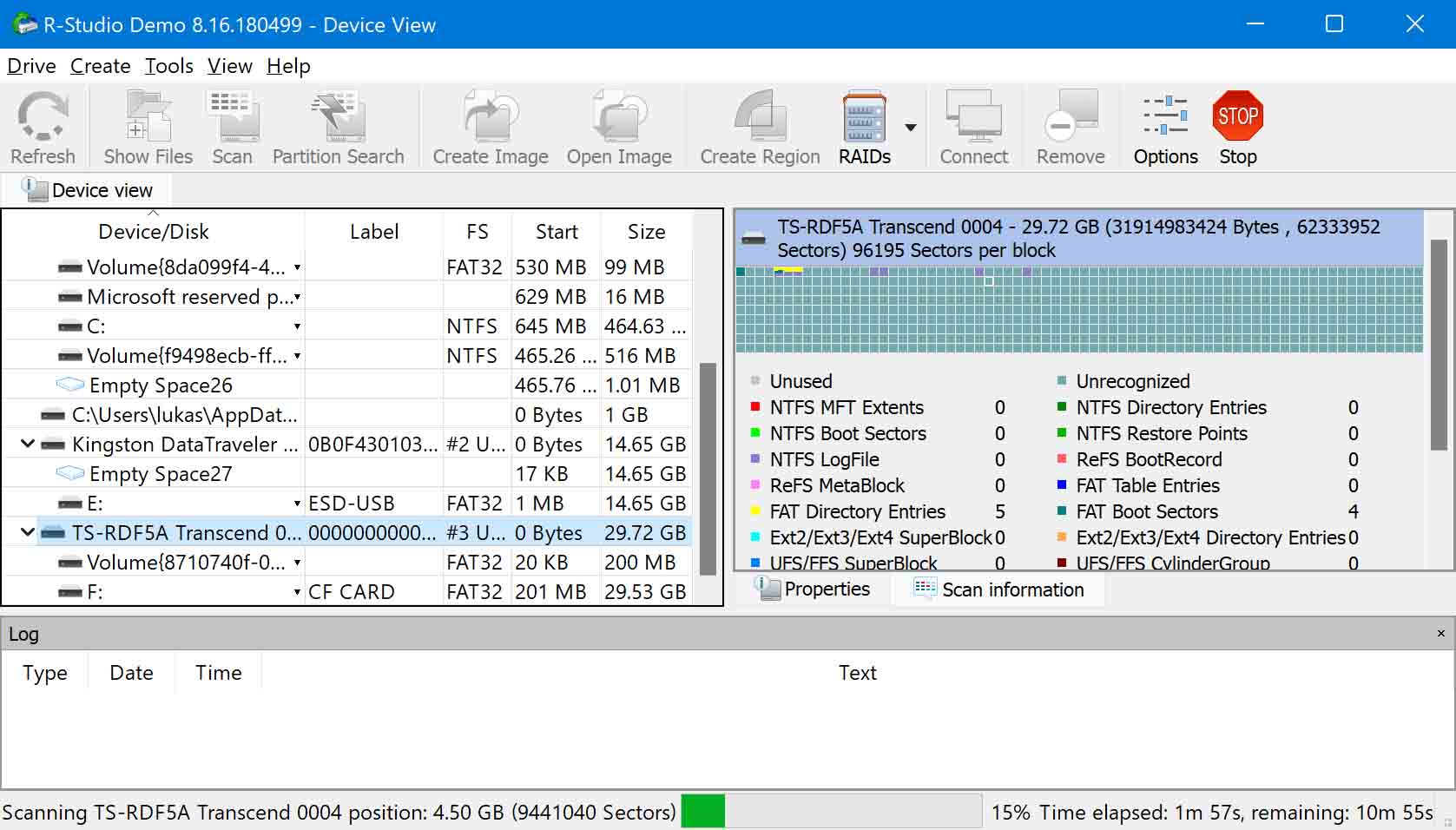 R-Studio is another commercial data recovery tool with versions that run on Windows, Mac, and Linux computers. It was originally designed for use by data recovery professionals and is packed with recovery features that may be more than is needed for average recovery activities. The tool can handle recovering damaged RAID arrays, perform a recovery over the network, and employs advanced scanning and recovery algorithms. 
A drawback to the solution's development as a tool for professional use and its impressive collection of features is that it can be difficult for an average computer user. If you can get through the complications, the tool offers a powerful recovery platform. Different versions of the tool provide increased functionality, so users need to make sure they obtain the right one for their data loss situation.
✔️ Pros:
Supports data recovery on Mac, Windows, and Linux systems
Can recover data from damaged RAID arrays
Supports many file systems and formats
Can recover data from devices with unknown file systems
Multiple versions priced differently that offer various levels of functionality
❌ Cons:
Made for professional use and may be unsuitable for the average user
Can be hard to find specific features
More expensive than some alternative commercial data recovery products
How to Improve the Chances of Recovery
To begin with, you should not leave this process to any software that isn't specifically designed for data recovery. By doing that, you could lessen the likelihood that Disk Drill (or any other tool) could recover those files.
You should also not reformat the card. When you insert a CF card into a computer, and the computer has trouble reading the card, it might prompt you to reformat. Don't. Yet another formatting could lessen the chance of recovery.
Also, do not attempt to write data to the card in question. By doing this you could overwrite or destroy the data you want to actually recover.
How to Prevent Data Loss on a CF Card
It should go without saying that you should care for these cards. Store them in protective cases and never leave them in extreme heat or cold.
You should also always remember to safely eject your cards from the computer. Do not just pull the card out when you're done. By doing so you risk corrupting the card's partition table, making it unreadable by your operating system.
Finally, always backup your CF cards. With a recent backup, even if something does happen to the card, you still have copies of your files and won't have to worry about data recovery.
Conclusion
Hopefully you'll never have to recover data from a corrupt or broken CompactFlash card. But when the time comes that you do, rest assured you can use tools like Disk Drill to recover CF card data loss. Whether it's spreadsheets, documents or you need to recover photos from a CF card, tools like Disk Drill have you covered.