SD cards are often used as an extension of your electronic device's internal storage. These small, external memory cards greatly expand your capacity to take and store numerous digital photos and videos. Swapping cards in and out can allow you to create extensive libraries of photographs to be viewed at your convenience. They afford users great flexibility in the amount of storage space they carry on their device and therefore the number of photos and videos that they can store.
Why Would I Need to Recover Deleted Photos From an SD Card?
As with all digital storage media, there is the possibility that at some time in your use of a digital camera, phone or other camera-equipped devices you will need to recover photos from an SD card:
✅ You might need to perform SD card photo recovery due to accidentally deleted photos or a simple mistaken click.
☑️ Your SD card may have been formatted inadvertently or corrupted, making it impossible to access your photos. If these photos are important to you, these situations can be quite stressful.
Either way, you can use the below table to quickly jump to the section you need:
6 Ways to Recover Deleted Photos From an SD Card
Depending on the operating system and device you're using, there are various ways to recover deleted photos from an SD card. We've included a few methods below to give you some options.
Way 1:

Recover Using Data Recovery Software

The safest way to recover deleted photos from your SD card is through the use of data recovery software, such as Disk Drill.

Disk Drill

is a data recovery app that will help us get back the deleted pictures from our SD card. Disk Drill can recover almost any file format, including RAW images as well!

Let's take a look at how easy it is to use this data recovery tool to recover deleted photos from an SD card.
How to Recover Deleted Pictures from an SD Card on Windows
Users of the Windows operating system should first opt for the free download of Disk Drill. The free version allows you to preview recoverable files and actually recover up to 500 MB of data for free, without upgrading to the Pro version.
Follow these steps to recover deleted photos from an SD card on Windows:
Download and install the Disk Drill onto your Windows machine.
Connect the SD Card to your Windows PC using an SD card adapter, or the built-in SD card slot if your computer has one.
Launch Disk Drill and select your SD card from the list of available disks. Once you've selected the SD Card, click on Search for lost data.
Wait for the scan process to complete.
Browse the photos that Disk Drill found on the SD card once the scan has finished. Click on the Preview icon to look at the pictures before you choose to recover them.
Check the files that you would like to recover and then click on the Recover button.
Choose a suitable recovery destination for the files on a separate storage device.
How to recover deleted photos from an SD card on Mac
Mac users can download a free version of Disk Drill that allows them to preview the files that it can recover before any financial investment is required. If the files you need are recoverable, you can opt to purchase the Pro version of Disk Drill and perform the actual data recovery.
Follow these steps to recover deleted photos from an SD card on Mac:
Download and install Disk Drill onto your Mac.
Connect the SD card that held the deleted photos to your Mac using an SD card reader or port.
Select the SD card from the list of disks presented by Disk Drill. In this case, we're going to select our SD card but it could be any storage device.
Wait for the scan process to complete. This can take some time depending on how much data you have to scan.
Now that the scan is done, review the items that Disk Drill was able to recover from your SD card. You can browse your files, use the search box to find something, and also use the Preview function to look at something before recovering it.
Look through the files that you want to recover from your SD card and then checkmark the box to select them for recovery. Now, click on the blue Recover button to recover the files and put them back onto your Mac.
Choose an appropriate location for recovery. Make sure you don't recover the photos to the same SD card, as it can corrupt them.
Way 2:

Recover Pictures Using an Android Data Recovery App

If you need to recover deleted photos from an SD card that was used to expand the storage space of your Android smartphone or tablet, then you can use an Android data recovery app like DiskDigger photo recovery.

To recover deleted photos with DiskDigger:
Download the app from the Play Store.
Launch it and scan your SD card (usually appears as "/mnt/sdcard" or something similar).
Specify the file types you would like to search for and tap OK.
Choose the files you want to recover.
Tap the Recover button to save them to your device.
For the best results, your device should be rooted, and you should use DiskDigger Pro instead of the free version. Still, don't expect to find as many deleted photos as with desktop data recovery software like Disk Drill.
Way 3:

Restore Photos from a Backup

An SD card can be used for long-term storage of digital photos or for expanded capacity on a photographic device. If you have just taken a photo and then deleted it there was probably no time to have taken a backup of your photos. On the other hand, if it's a card you use for transferring photos to be viewed on different devices and the pictures have been resident on the card for some time, it would be best for you to create a backup of those photos.

Using Backup on Mac
Time Machine is the primary backup feature for macOS. It can be used to automatically back up your personal data, allowing you to easily restore files that have become deleted, damaged, or otherwise inaccessible.
You can recover photos that were deleted from your SD card using Time Machine if it was previously configured to back up data from external devices. This is, of course, only possible if you have previously connected the SD card to your Mac at least once in order for them to be backed up.
If you want to learn more about how to use Time Machine, Apple has a walkthrough which you can view here.
💡 In cases of loss or theft of an SD card, a backup may be the only way that you can ever recover your photos. Most people think that data loss won't happen to them, I would recommend that you start backing up sooner rather than later.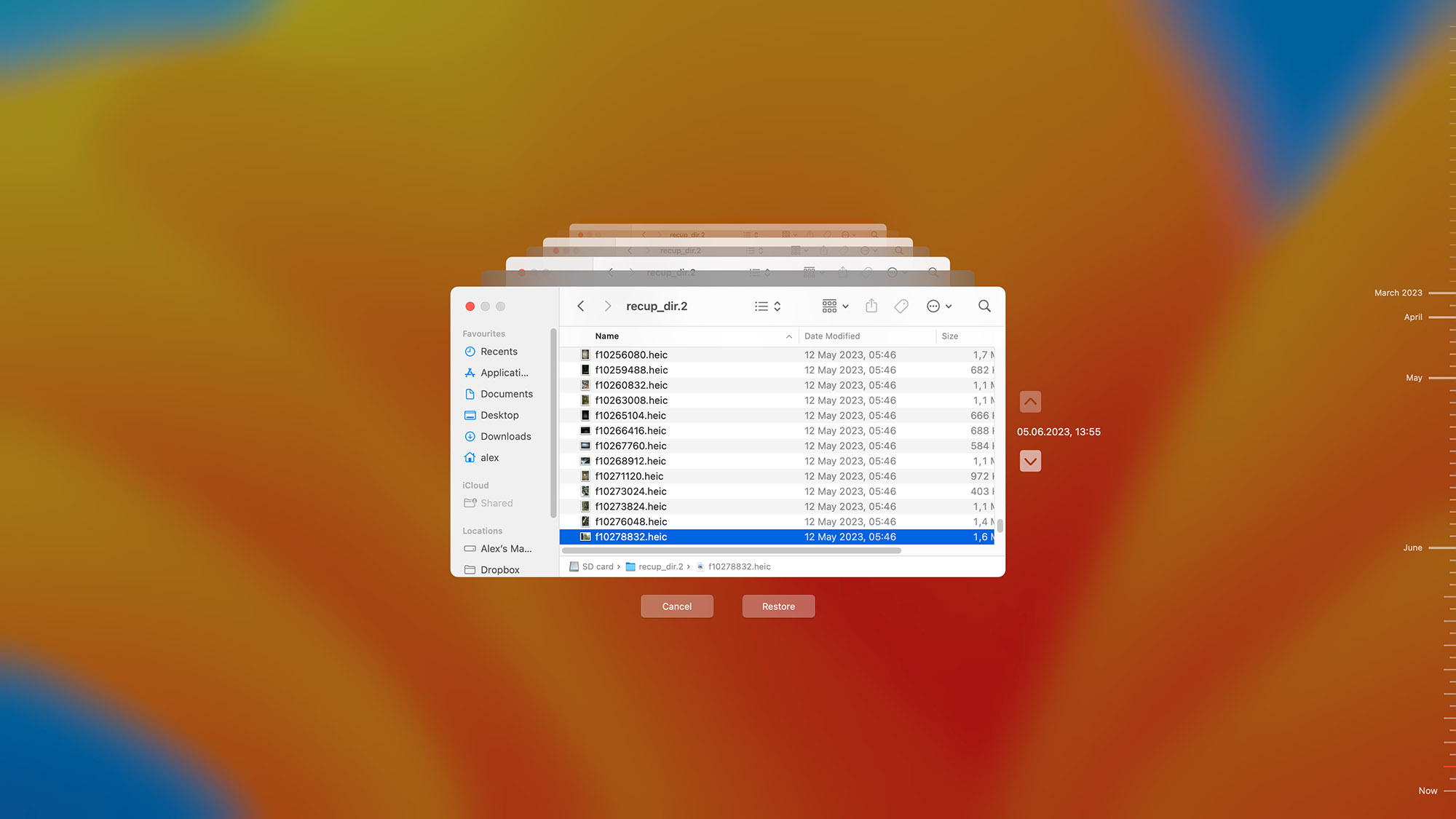 Again, your exact procedure will vary based on the type of backups that you perform. Whether you have backed up to the cloud or an external storage device, there is a secure feeling that comes with knowing that you can recover all of your precious memories at any time.
Using Backup on Windows
On Windows 10 and 11, you can use the native backup utility File History to back up your personal files. This includes data on external storage devices, like SD cards. If it was set up to back up the photos stored on your SD card, a copy of the photos will be stored on the drive that was designated to be used by File History. Using File History, you can then restore the deleted photos.
Open Start and search File History. Open it.
Click Restore personal file.
Navigate to the backed-up photos and select the ones you want to restore.
Right-click the green Restore button and either click Restore to restore them to the original location, or Restore to in order to choose a custom destination.
Alternatively, if you previously copied or moved the files from your SD card to your computer, try searching for the photos instead, as they may reside in a subfolder somewhere. Using File Explorer, you can enter the name of the photo or folder you're looking for into the search box. Or, you can pull all files by a specific type if you cannot remember the name.
Way 4:

Get Back Photos from a Cloud Backup

Android users have it great because they can not only tell their smartphones to store photos on a removable SD card, but they can also take advantage of apps like OneDrive, Dropbox, or Google Photos to back up everything to the cloud.

If that's your case, then you should be able to recover each and every deleted photo just by downloading it from your cloud storage service of choice. Best of all, you can do so from anywhere and on any device, so this method can save you even if your original device has become stolen or lost.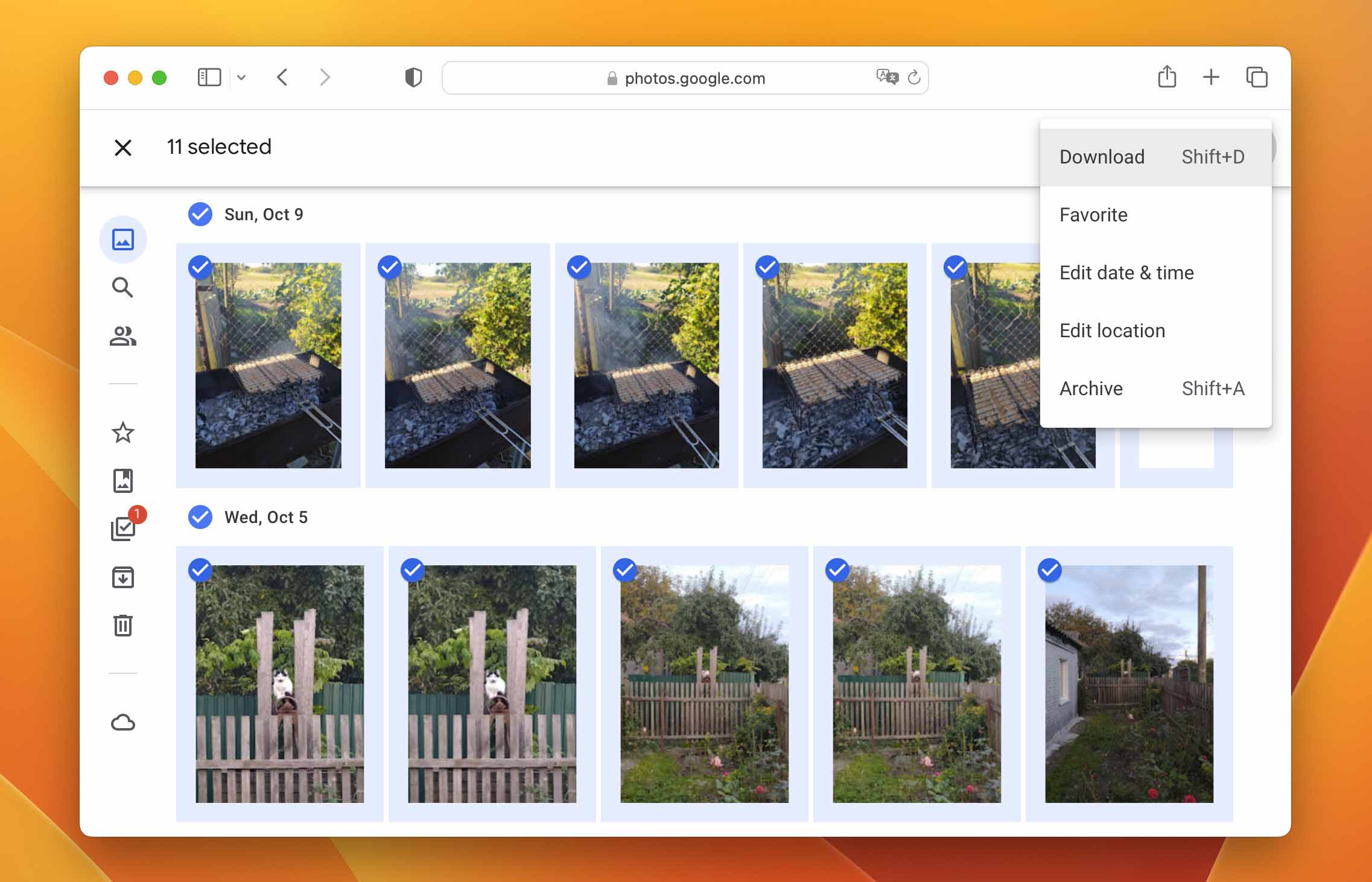 Use the following links to see official guides on how to download files from popular cloud storage services:
Do you use a different cloud backup app and are not sure how to download your deleted photos from it? Then we recommend you consult Google and look for a suitable guide.
Way 5:

Retrieve Photos from Your Device's Internal Memory or Storage

Be sure to check your device's internal memory or temporary storage on Mac or Windows PC. When you delete a photo on your device, it is logically deleted and its storage space is marked as available, allowing new data to overwrite it at the same location. It is not immediately physically removed from your SD card.

❗ For this reason, stop using your device as soon as you notice that you have deleted a photo that you want to recover. This will give you the best chance of recovery before the storage that contained the lost pictures is overwritten.

Of course, you can also restore the deleted photos from apps that retained copies of them, such as Photos on macOS. The Photos app allows you to import photos from your SD card. In doing so, a copy of the photos will be moved to your Mac's storage disk. If they're deleted from within the app, you can then go to the Recently Deleted folder and quickly restore them.

💡 This is only possible if the SD card has been connected to your Mac and the photos have previously been imported. Deleted photos in the Recently Deleted folder will be retained for 30 days.

A similar procedure can be performed using the various photo gallery apps found on Android devices. Technology is pretty smart and helps us out a lot. 🙂
Way 6:

Recovering Photos From the Recycle Bin

In case you weren't aware, there is a place where files go before they're permanently deleted on Windows and macOS. On Windows, this is Recycle Bin. On Mac, it's Trash. The two work very similar to each other, with only slight differences.
On Windows
Windows will send any file you delete to the Recycle Bin unless it's either permanently deleted or too large to be stored in the Recycle Bin.
❗ Files deleted from an external storage device (external hard drive, USB flash drive, etc.) will not go to the Recycle Bin. Instead, you must use data recovery software to get such files back.
Here's how you can restore files from the Recycle Bin on Windows 10 and 11:
Open Recycle Bin on your Desktop.
Select the data you want to restore, then click Restore the selected items.
This will restore the items back to their original location. If you want to restore them elsewhere, simply drag and drop them out of Recycle Bin and into another folder.
On Mac
The process of restoring data is similar on macOS. 
Open Trash using Finder.
Drag and drop the files to a safe location.
When you delete files from an external storage device on older versions macOS, it created a hidden .TRASHES folder on the device. To access it, go to the root directory of your storage device and press CMD + SHIFT + . to show hidden files. Then, simply restore the deleted photos from the Trash folder. Unfortunately, this is no longer possible on the current version of macOS.
Conclusion
As you can see there are a variety of options available to you if you accidentally deleted some photos from an SD card on Mac or Windows PC. Depending on how long ago they were deleted and the availability of a backup, it might be a simple or more complex procedure.
💡 Make use of the power of
data recovery software
by using
Disk Drill for Mac or Disk Drill for Windows to recover your deleted photos
. The free download lets you preview the files that can be recovered for you and
Windows users can recover up to 500MB for free
. Download a copy today and protect your important photos from accidental deletion.
FAQ