Everyone loves the convenience of taking and sharing digital photos. You can store thousands of pictures on your Mac from where you can easily send them to friends and family. Unfortunately, it is really easy to accidentally lose or delete some of these precious memories. In the time it takes to press a key, a whole lot of irreplaceable pictures can be lost.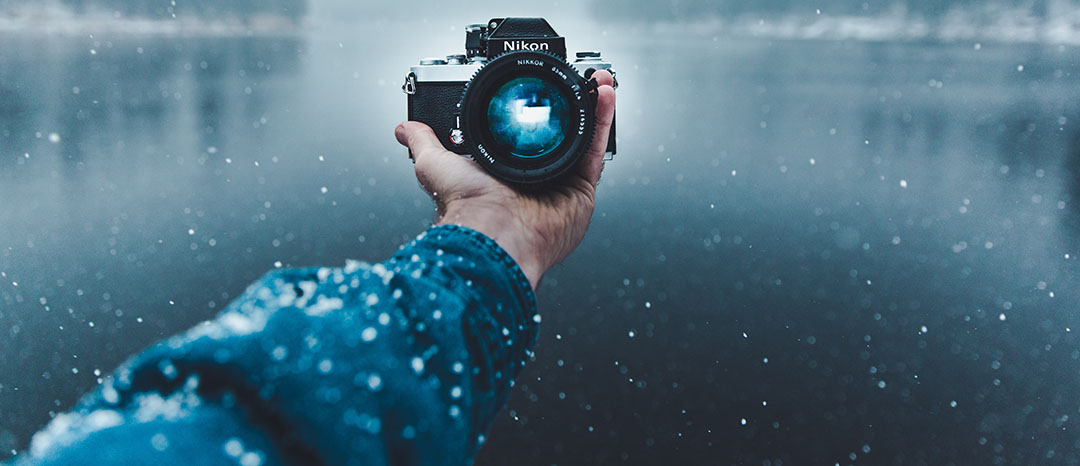 In this article, we will show you how to recover deleted photos on Mac using multiple different techniques. Hopefully, one of these methods will help you get your valuable images back.
Photo Loss Scenarios & Recovery Solutions
There are many ways photos can be lost from your Mac. The following table describes common photo loss scenarios and directs you to the best method of attempting recovery.
| | |
| --- | --- |
| Photo loss scenario | Recovery technique |
| I accidentally deleted an important picture from the Photo app. | Use the app's Recently Deleted Folder. (Solution 1) |
| I deleted a folder of photos from the Finder app. | Try recovering from the Mac Trash Bin. (Solution 2) |
| I lost some photos and have emptied my Trash bin. | Data recovery software is the best choice for this situation. (Solution 5) |
| I just formatted a partition that contained all of my photos. | Data recovery software can get them back. (Solution 5) |
| My photos are gone, but I did back up my machine last week with Time Machine. | Use the Time Machine backup to restore your photos. (Solution 3) |
| I deleted photos on a mobile device and now they are gone from my computer too! | You should be able to recover the photos from iCloud using the recently deleted album. (Solution 4) |
| I discovered a virus that has deleted some of my photos. | Data recovery software or a backup may be able to get your images back. (Solution 5 | Solution 3) |
How to Recover Deleted Photos on Mac
Now we will demonstrate how to recover deleted photos on Mac using five different methods. One of these should be able to get your valuable pictures back.
Recovering Photos Using the Recently Deleted Folder
If you were working in iPhoto or the Apple Photo app when you deleted the photos, they may be in the Recently Deleted Folder. Deleted photos and videos will remain in this folder for 30 days after deletion, and can easily be restored using the following simple steps.
Open the Photo app.
Click on Recently Deleted in the left-hand window.
Select the photos you want to retrieve.
Click the Recover button to restore the deleted photos.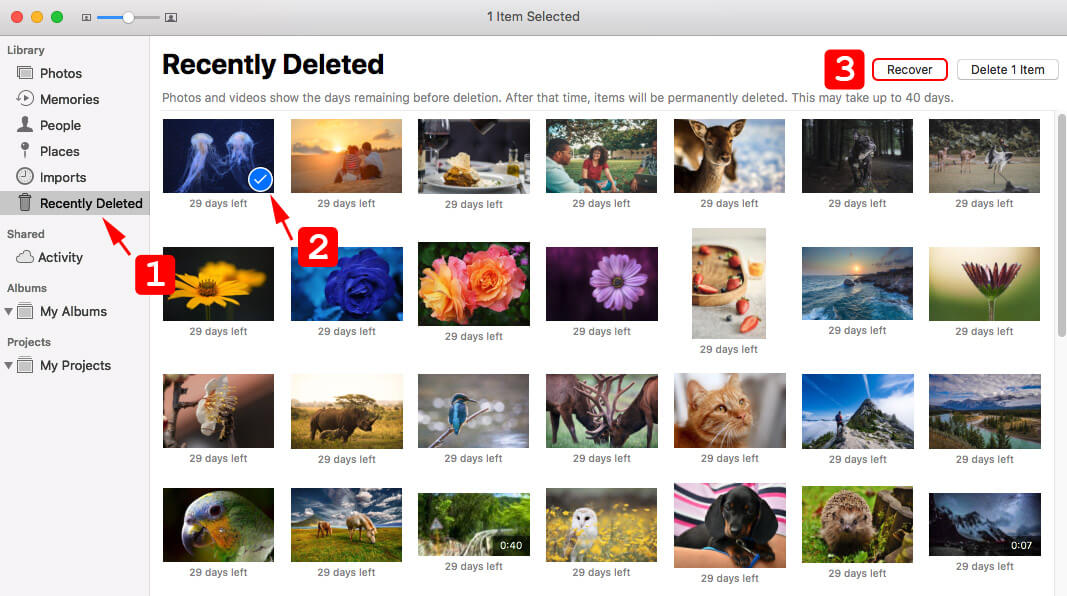 Recover Deleted Pictures from Mac Trash
If the photos were deleted from another app, or are not in the Recently Deleted folder, the next place to look is in the Mac Trash Bin. The Trash Bin is a special folder that stores recently deleted files and folders for 30 days or until the bin is manually emptied.
The following procedure can be used to restore deleted photos or any other files that are in the Trash Bin.
Open the Trash by clicking on its icon.
Locate the item you want to recover.
Right-click on the file and select Put Back to recover it to its original location.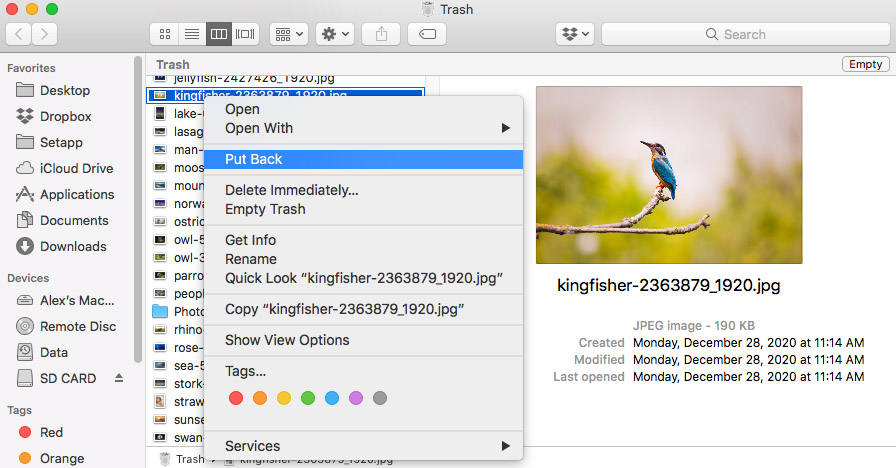 Recover Deleted Photos From a Local Backup
You should be backing up the data on your computer, and that includes your photos. Your Mac comes with a nice backup and restore tool called Time Machine. Restoring photos from Time Machine is easy if you have backed the photos up using the tool. Use the following steps to get your photos back from a Time Machine backup.
Connect the USB drive or other storage device that contains the Time Machine backup to your computer.
Open a Finder window displaying the storage location where the lost data was last stored.
Open Time Machine by clicking the Time Machine icon on the menu bar.
Use Time Machine's arrows and timeline to navigate through the local snapshots and backups until you find the photos you want to restore.
Make your selections and click the Restore button. The photos will be recovered to their original locations.
Restore Deleted Photos from iCloud
If you store your photos in iCloud, they can be recovered for up to 30 days after you delete them. The following procedure should be used to recover deleted photos from iCloud.
Go to iCloud.com and login with your Apple ID.
Go to Photos in iCloud.
Click on the Recently Deleted album in the sidebar.
Select the photos you want to retrieve.
Click the Recover button.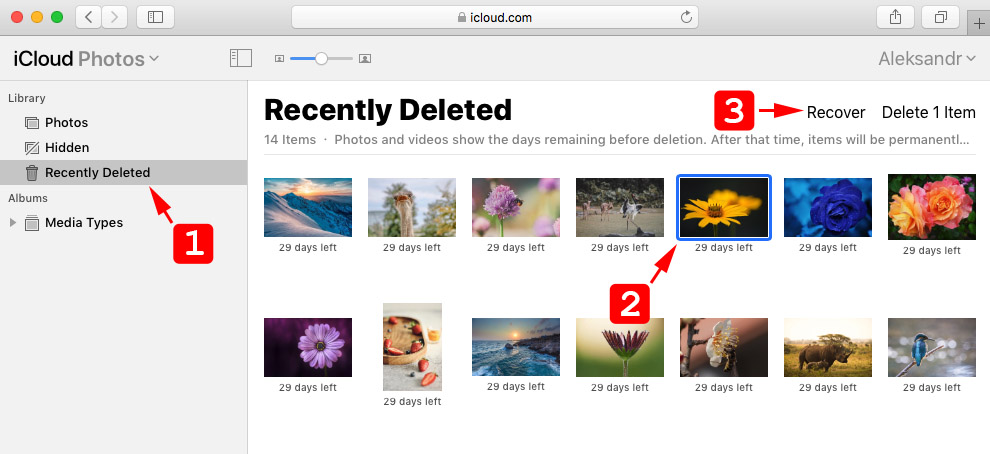 Recover Lost Photos With Data Recovery Software
Data recovery software for Mac may be able to recover lost photos when other methods fail. You may not have a backup of the images in question, or you may have emptied the Trash Bin. Photo recovery software can help in this situation, as long as you act quickly.
⚠️ IMPORTANT: As soon as you realize you have lost some photos, you need to stop using the storage device that contained the images. The macOS does not immediately remove data from storage devices when performing a deletion. It just deletes the logical links that make the files available.
Data recovery software works by repairing the deleted links to files. It can only do this if the files have not yet been overwritten by new data. For this reason, you need to stop using the device as soon as possible to minimize the chances of the photos you want to recover being overwritten or corrupted.
The following steps show you how to restore deleted photos on your Mac using Disk Drill data recovery software.
Download and install Disk Drill Photo Recovery for Mac on your computer. If your photos were stored on your main disk drive, don't use it for the download and installation. Use a USB drive instead to avoid overwriting your data.

Data recovery for free
Your Companion for Deleted Files Recovery

Start Disk Drill and select the disk that contained the lost photos from the disk list. 
Click the Search for lost data button to start scanning for deleted photos.
Preview the found photos and select the ones you want to retrieve. Choose a safe location to save the photos that is not on the affected disk.
Click the Recover button to restore the photos to your selected location.
💡 Photo recovery software can help you recover deleted images, even if you have formatted the disk that stored them. The key is to use the software quickly before your photos are overwritten by new data.
How to Avoid Photo Loss on Mac
There are some precautions you can take to avoid or minimize the chances of losing photos on your Mac. We suggest that if you value your photos, you start to follow some of these practices.
💽 Backups are critically important! If you are not currently backing up your Mac regularly, what's your excuse? Time Machine is there and ready to use on your Mac. All you need is an external disk drive to store the backups. If you value your photos and other data, start backing up your Mac today! You can also back up your Mac using a third-party backup tool.
⚠️ Take care when formatting partitions or disk drives. It's the kind of activity that should only be done after careful consideration and needs to include double and triple-checking to ensure the right target is being formatted. Taking a few extra seconds now can save you a lot of time later.
👾 Try to stay away from computer viruses and malware. Infection with malware can lead to all kinds of trouble, including the loss of important photos. Use an antivirus program on your Mac and avoid connecting external devices to unknown machines that may contain malware.
If you follow these suggestions, your chance of losing photos will diminish. Pay attention to what you are doing, and start taking backups of all your valuable data.
Conclusion
It may seem like a disaster when you realize you have lost or deleted some of your valuable photo memories. If you act quickly, chances are good that you can get them back safely. If the photos have not been backed up and are no longer in your Trash, data recovery software can restore them for you. 
We like Disk Drill for its user-friendly interface and excellent recovery results. You can download the app for free to see what it can recover before committing to a paid version of the tool. It's the most reliable method of recovering deleted photos on your Mac.
FAQ