Even with all of the cloud-based backup solutions from iCloud to Google Photos, sometimes photos still get erased or removed by accident. A single wrong tap on the screen can instantly remove a photo that means a world to you or wipe out your entire photo gallery.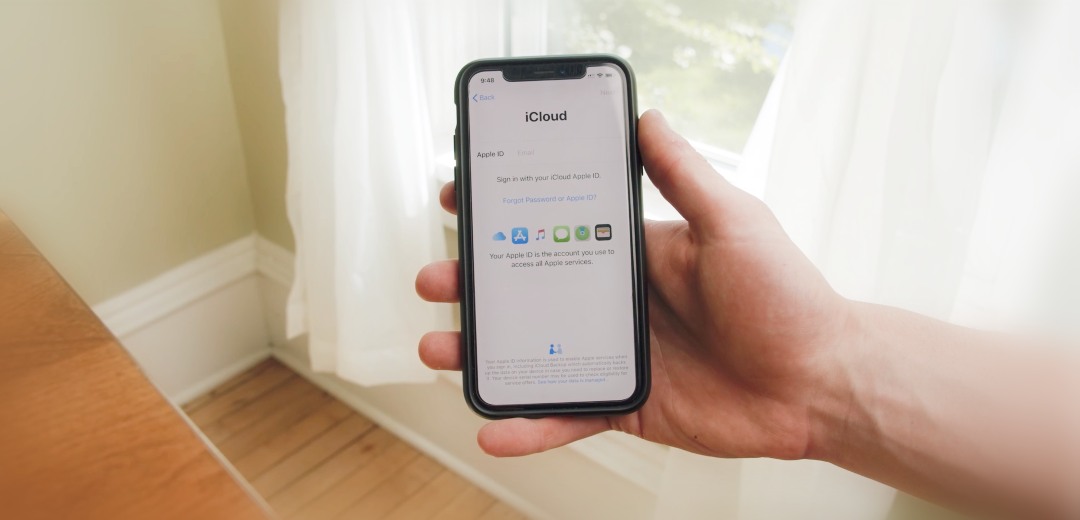 In this article, we explain all possible ways how to recover deleted photos from iPhone to help you get back all-important photos no matter how bad the situation looks. If you're lucky, you might be able to recover all deleted photos with a few taps, but we also explain how to use iPhone recovery software to recover photos many would consider unrecoverable. 
The methods described in this article can be applied on all iPhone models including iPhone 14 and 14 Plus/Pro/Pro Max, iPhone 13/13 Mini/Pro/Pro Max, iPhone SE (3rd), 12/12 Pro Max, 11 Pro/Max, 11, XS, XS Max, XR, X, 8 Plus, 8, 7 Plus, 7, 6S Plus, 6S, 6 Plus, 6, 5S, 5c, 5, 4S and 4. All you need to do is follow our detailed step-by-step instructions as closely as possible. 
Restore Deleted Pictures on iPhone with Photos App
---

By default, pictures taken with the Camera application are saved to the Photos application. If a photo is deleted, it's moved to the Recently Deleted folder, where it stays for some time, giving you a chance to restore it by following the steps below: 
Open the Photos app. It will display a list of albums – by default, the albums "All Photos", "People", "Places" and others are displayed down to "Recently Deleted". Here's an example with our album containing this handsome chap:
Select the folder marked "Recently Deleted". It will show the pictures that are scheduled for deletion and how much longer until they are removed permanently from the iPhone. Usually this process will last up to 40 days since it was "Deleted".
(iOS 16 and later only) Unlock the Recently Deleted album using Face ID or Touch ID if asked to do so.
Tap the Select button in the top-right corner. 
Tap the picture we want to recover, then tap Recover.
Tap "Recover Photo" and the photo will be back in our Albums.
---
How to Recover Deleted Photos from an iPhone Backup
---
Backups are your second-best option how to retrieve deleted photos on iPhone. Since there are several different ways how to backup photos on iPhone, we provide three different solutions, and it's up to you to select the one works best for you. 
When recovering deleted photos from iPhone with backups, pay attention to the age of your backups. Always use the most recent backup you have, but don't delete all older backups. It's always a good idea to have multiple backups just in case something goes wrong with the main backup. 

Since macOS Catalina, the Finder is in charge of iPhone backups and recoveries from them. If this is your first time recovering from an iPhone backup with Finder, you have nothing to worry about because Apple made the process completely painless. 
Follow these steps to recover lost photos from an iPhone backup:
Step 1. Launch Finder. 
Step 2. Connect your iPhone to your computer. 
Step 3. Select your iPhone from the list of locations on the left.
Step 4. Click the Restore iPhone button located in the General tab.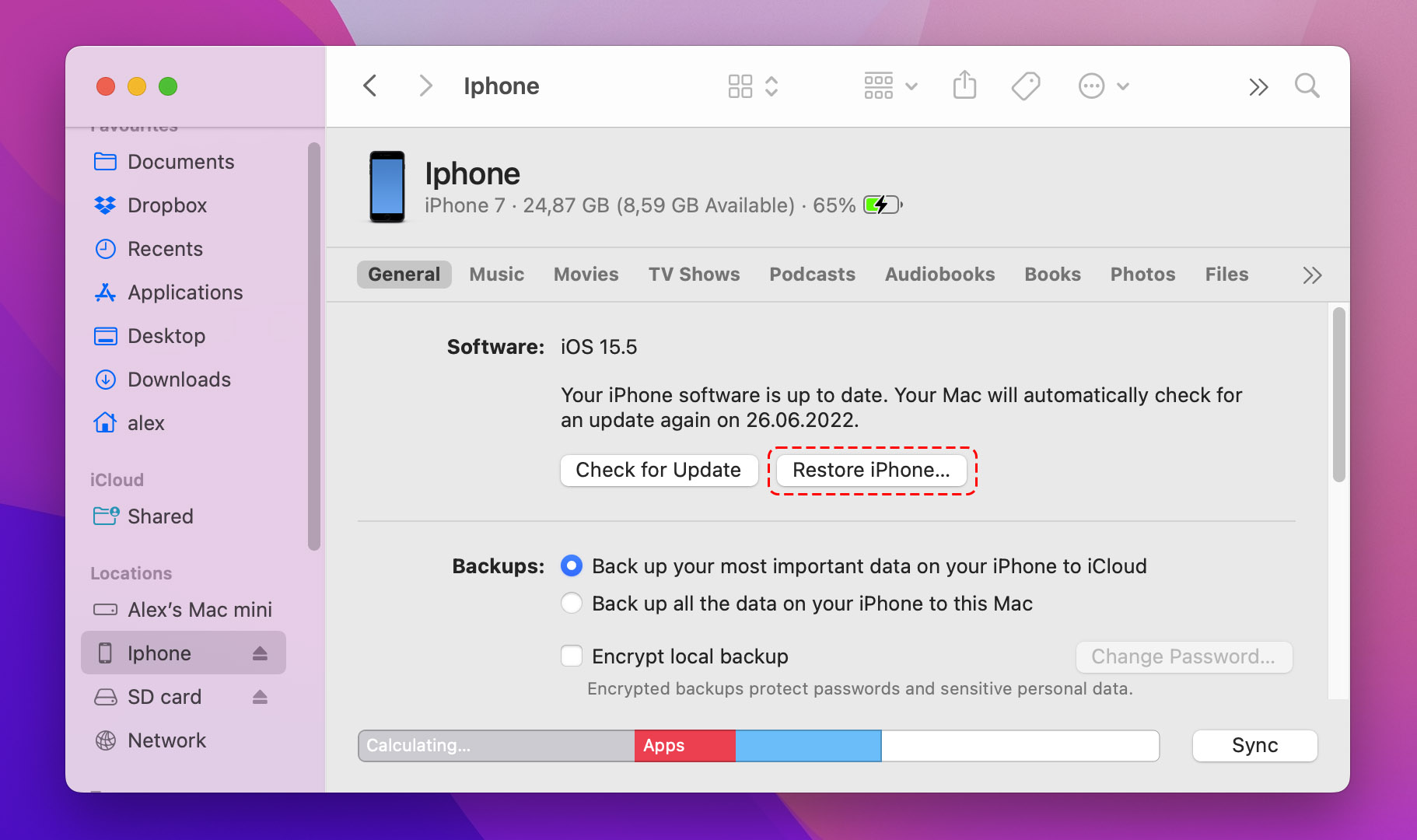 Step 5. Let Finder back up your iPhone before restoring. 
Step 6. Click the Restore button to confirm that you're ready to restore your iPhone from a backup.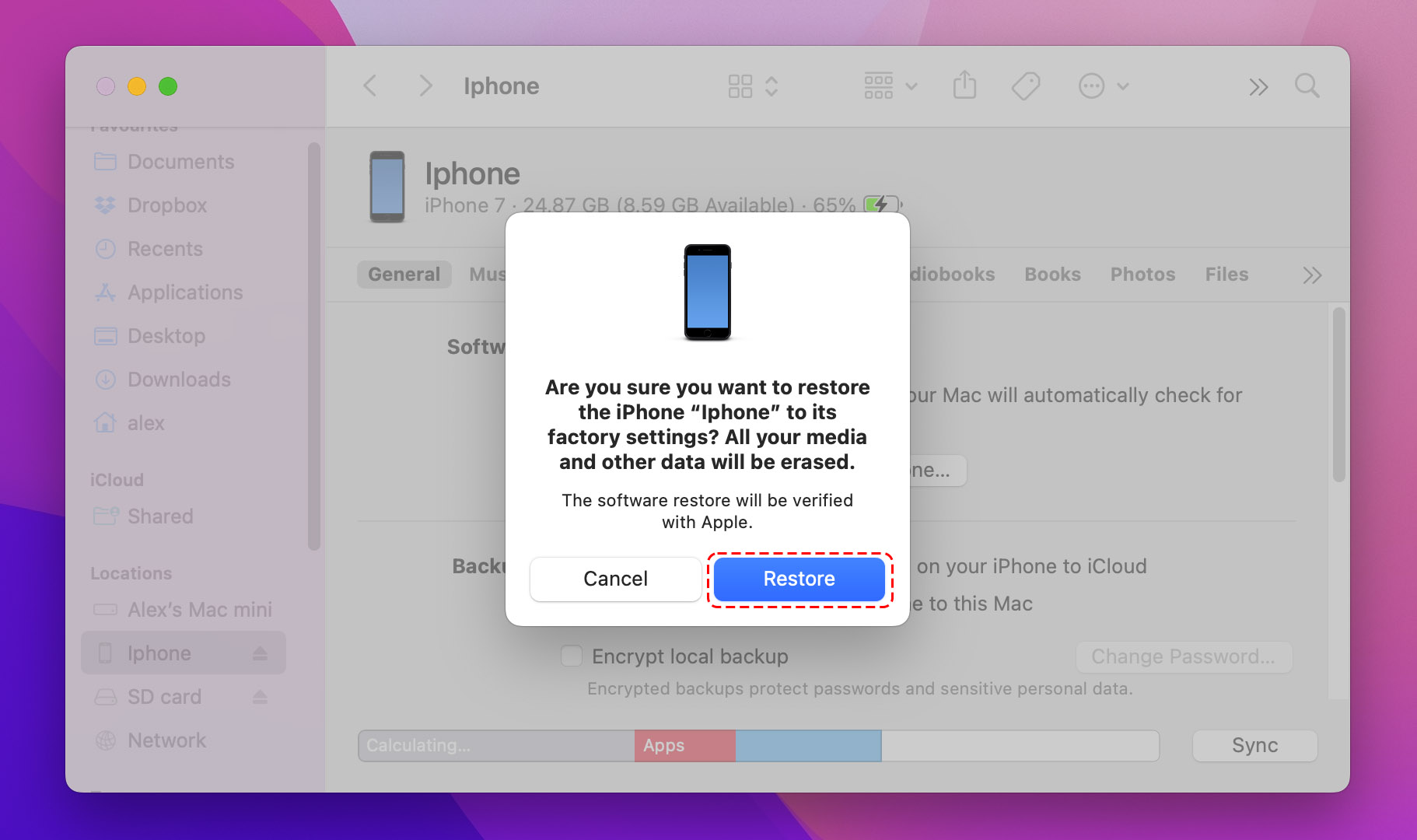 ---
How to Recover Deleted Photos from iTunes Backup
---

On macOS Mojave or earlier, or on a PC, you can restore deleted photos from an iTunes backup. Because iTunes can do a lot more besides restoring deleted data from backups, iPhone users are often afraid of going through the recovery process on their own. But with our instructions, you'll be able to get your photos back with just a few clicks. 
Note: macOS Mojave is the last version of Apple's operating system to ship with iTunes. In macOS Catalina and newer, iTunes is split into three different apps: Podcasts, TV, and Music.
To recover deleted photos from iTunes backup follow these steps:
Step 1. Open iTunes.
Step 2. Use an original Apple cable to connect your iPhone to your computer.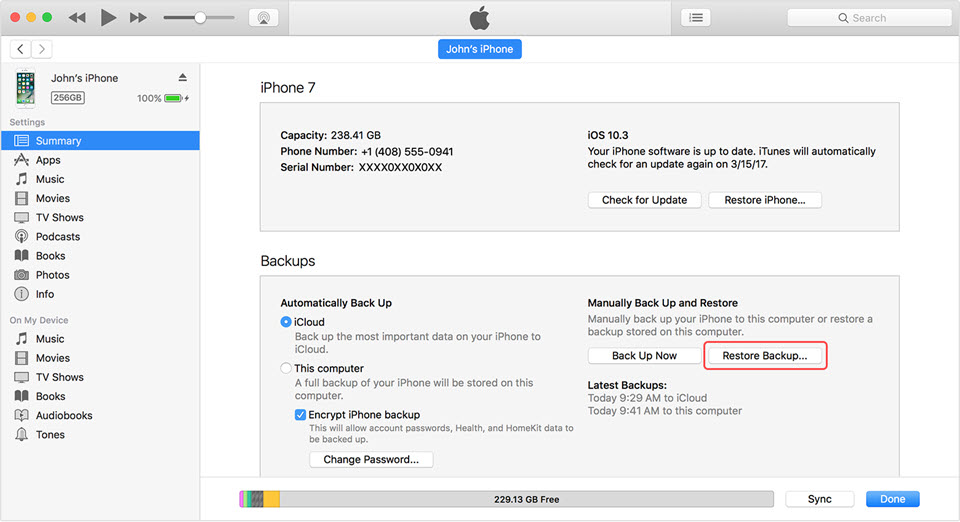 Step 3.Select the Restore Backup option. 
Step 4.Pick the most relevant backup.
Step 5. Click Restore and wait for the restore process to finish.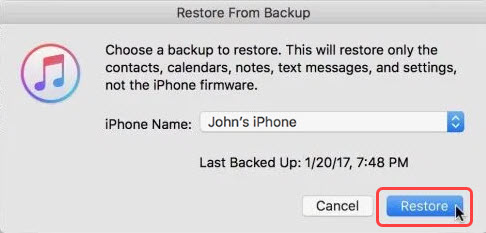 ---
How to Recover Deleted Photos via iCloud
---

If for some reason the photo isn't in the Photos "Recently Deleted" area, there's still a chance it can be recovered via iCloud. Here's how to restore deleted photos on iPhone without backing it up to the computer first:
Follow these steps:
Go to https://www.icloud.com. This provides access to Apple's cloud services, offered for free.
Log in with your username and password.
Once logged in, select "Photos" from the web page.
Click the album marked "Recently Deleted". Now we have a list of the photos ready for deletion within the next 40 or less days.
Select the photo we want to restore and click "Recover". It'll be back into our photo albums. It will also be restore onto the iPhone once it syncs with the iCloud service again.
---
Retrieve Deleted Photos on iPhone with Software (without backup) ✅
---
When everything else fails, it's time to take out the big guns: image recovery software. With the help of a capable image recovery software solution, you can recover deleted photos even without a backup because deleted files remain on your device until they are overwritten by other files. How quickly they become overwritten depends on many factors, but time is the most important one of them, which is why you should start the image recovery process as soon as possible. 
Steps to Recover Deleted Photos from an iPhone on Mac
If the previous two options aren't working, the best chance we have left is to use Disk Drill iPhone Recovery to recover pictures. You can download it for free at the official website, Disk Drill has powerful algorithms with an easy to use interface that can recover deleted photos, video, and other information off of iPhones (iOS 14 supported).
Even when a photo or other kind of file is deleted from an iPhone, space is simply flagged for "use" by the rest of the operating system. This can mean that a file marked "Deleted" can still temporarily be present the system's memory until the phone decides it needs that space and overwrites it with new photos or other information, which can happen at any time and without a warning. If done in time, we can still recover deleted pictures from an iPhone even if the system tells us it's "gone".
Disk Drill works by scanning through iPhone (and Android devices) to recover lost or deleted files as well. The steps below were performed using a Mac running a recent version of OS X for comparison.
Download Disk Drill. Open the .dmg file and drag the Disk Drill application to the Applications folder on your Mac hard drive.


Data recovery for free
Your Companion for Deleted Files Recovery

Plug the iPhone into the computer. If asked by the iPhone if we trust this computer, select "Trust" and enter the unlocking code.
Close all programs on the Mac. Especially those that connect to the iPhone like iTunes, iPhoto, and the like. The less communication that other applications have with the iPhone, the better it will be.
Double click on Disk Drill to run it. There are several installation procedures to be aware of, as well as additional file protections and monitoring that Disk Drill offers. When everything is finished, we'll see a list of drives and devices.
Select your iPhone and then click on "Search for lost data". This will launch the recovery procedure that will scan our iPhone, looking through the memory for files that have been marked deleted, but the data is still available.
Enter the iPhone's encryption password if Disk Drill asks for it. This is the one used for encrypting iPhone backups through iTunes on the local computer.
Wait. This is an important part. Disk Drill will be analyzing the iPhones databases and files, and analyzing what can be recovered. During this time, don't use the iPhone or anything that might interact with it. We want to maximize our chances of getting back information:
Review the files that Disk Drill displays when the scan is complete. This will include everything from iMessages, Notes, and other information that the iPhone can store.
From this point, there are two ways to restore our photos. We'll explore the Disk Drill only method, and the other method mounting the recovered information in Finder.
Method #1:
Select the folder marked Photos. Wait for Disk Drill to finish analyzing the thumbnails so we can see what photo to restore.
Select the photos to restore.
Select the directory that we want to restore the photos to in the "Recover to" section at the top of Disk Drill. It will default to the user's "Documents" directory.
Click Recover. With that, the selected photos will be restored to the specified directory.
If we want to use the Finder directly, follow these alternate steps after Disk Drill has completed its scan.
Method #2:
Click "Show in Finder".
Read the warning from Disk Drill – really it's just telling you how great using Finder.
Click "OK Let's Do it" – and now the recovered files will be mounted as a folder marked "Recoverable".
Open the mounted disk called "Recoverable" and go to the directory "Accessible Files", then "DCIM", then go through the subfolders from there to find the photo we want:
Copy the photos in finder that we want to recover. What's our final result? Our friend is back! He's sad because we wouldn't share our donut with him. Don't worry – we gave him a treat later to make up for it.
Steps to Recover Deleted Photos from an iPhone on Windows
If you don't have access to Mac OS X and can't use Disk Drill to recover deleted photos from your iPhone, you can use dr.fone by Wondershare, a Windows data recovery application capable of recovering deleted photos from any iOS device. 
Step 1: Download dr.fone. Launch the downloaded installation file and follow the installation instructions. 
Step 2: Connect your iPhone to your Windows PC. Make sure to use the USB cable that came with your iPhone. Third-party USB cables can sometimes cause connection issues.
Step 3: Launch dr.fone and choose the Recover iOS Data option. 
Step 4: Wait for dr.fone to detect your iPhone and click the Start Scan button. The application will scan your iPhone for deleted photos.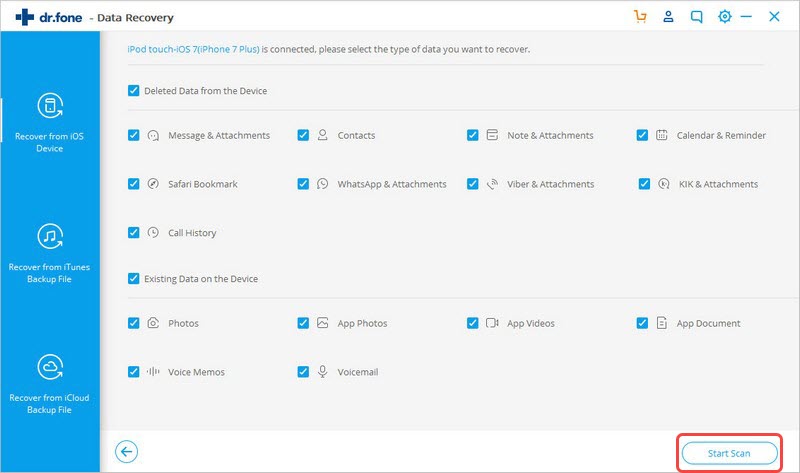 Step 5: Select Camera Roll from the list of options on the left and preview the deleted photos. 
Step 6: Select which photos you want dr.fone to recover and click the Restore to Device button.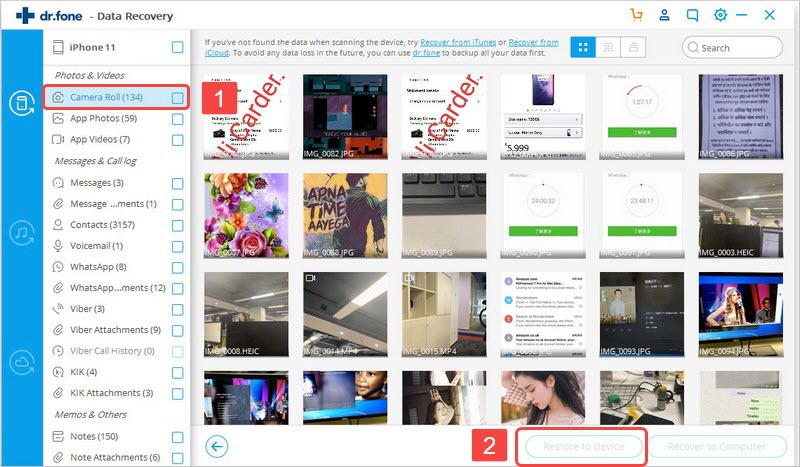 How to Recover Deleted Photos from iPhone with Messaging Apps
If the above methods fail, you might still have a chance to recover some photos if you've shared them via any IM apps like WhatsApp or Viber. Even if a photo is deleted from your phone after you've sent it, it will still exist on the app's servers.
In the worst case, you might lose some of the original quality if the app compresses its images. But it's certainly better than losing the picture altogether!
Some apps like Messenger and Viber allow you to view all shared media in one place. This can make it easy to browse through all pictures you've shared with a contact and extract the ones you want to recover. In other cases, you might be able to use filters to bring out the messages you're after.
In Discord, for example, you can use the search modifier has:image to filter all messages containing an embedded picture. If you want to only see messages you've sent, you can also add from:your-user-name.
How to Recover Deleted Photos from a Damaged iPhone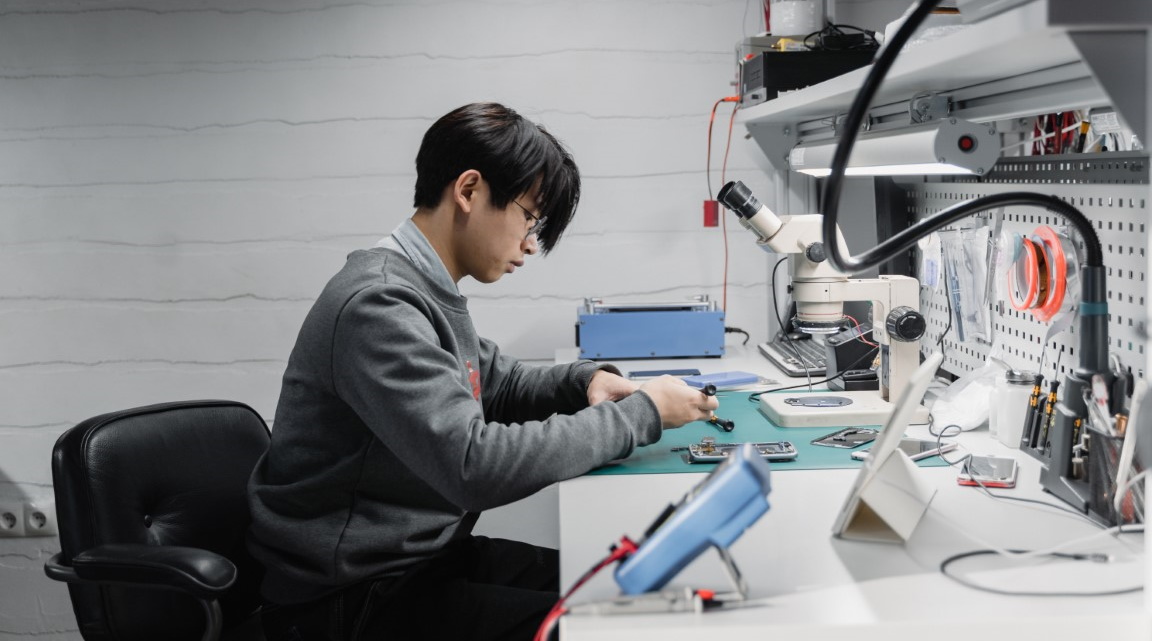 The above-described methods can help you recover lost photos from your iPhone if the device is working correctly. Unfortunately, they won't help you in data loss situations involving physical damage, such as a cracked display that doesn't turn on or a Lighting port that's so worn out that it's not possible to charge the battery. 
In such situations, it's necessary to repair the damage first, and that's where professional data recovery services come in. The experts they employ can fix even serious physical damage and use sophisticated recovery techniques to get back as much lost data as possible. 
Yes, the cost of professional data recovery may be high depending on how bad the damage is, but you can always ask for a free price quote to know what to expect. 
---
How to Avoid iPhone Photo Loss in Future
Anyone who has ever experienced the loss of a treasured photo wants nothing more than to avoid the same thing happening again in the future. The good news is that there are several ways how you can make your images more resilient to data loss. 
Because even the most reliable data backup strategy in the world can fail, we recommend you always have more than one backup ready. A backup of a backup can save you when a disaster strikes, and you'll be very glad that you have it.  
1. Back up your iPhone
The first way to prevent photos from being lost from an iPhone is to have it registered with a cloud service like Apple's iCloud. It provides several services such as backups to Apple's cloud service storing photos, documents, and most importantly "Find my Phone" so if it gets lost or misplaced, the iPhone can tell us where it's at. In addition to using iCloud, you should also create a local iPhone backup using iTunes (macOS 10.14 and older) or Finder (macOS 10.15 and newer). 
2. Use services like Mega or Google Photos
Another option is to use another backup service such as Mega or Google Photos. Both services can work as a "backup to the backup", so even if we delete it from the iPhone or iCloud, another copy might be on those systems as well. Mega offers 50 GB of free online storage, and it gives its users a chance to earn additional storage space by completing various challenges. 
3. Safeguard your iPhone
Do you have kids and often leave your iPhone unattended? If so, don't be surprised when they wipe out all photos from it. That's why you should activate either Touch ID or Face ID and keep your iPhone locked when it's not in use. You will also appreciate Touch ID and Face ID if you ever lose your iPhone because the person who finds it won't be able to look at your personal pictures and potentially steal them from you. 
4. Don't Jailbreak Your iPhone 
When you jailbreak your iPhone, you gain access to a huge amount of useful apps and tweaks, but you also greatly increase the chance of losing your photos. Apps on a jailbroken iPhone don't have to abide by the restrictions imposed by Apple, which means they can modify system files and other applications. Unless you know exactly what you're doing, stay away from jailbreaking or be ready to face the consequences. 
5. Be More Careful
We know that this is easier said than done, but the fact is that being more careful is the only way how to avoid accidentally deleting important photos from your iPhone. Ask yourself if you really need to take your phone with you when you go out drinking with your best friends or when you go on an epic bike right in the mountains. Even if you keep your photos backed up in the cloud, there's no point in having to recover them because of a silly mistake. 
Summary
As we've explained in this article, there are several ways how to retrieve deleted photos on iPhone. You should always start by checking the Recently Deleted album, which is where all deleted photos are kept for 30 days. 
If you miss this critical window, your only option is a third-party data recovery application like Disk Drill. Since Disk Drill's success rate decreases over time, we highly recommend you begin the recovery as soon as possible. 
FAQ