As we all know, photos build up over time. But, if you have five pictures of Fluffy eating ice cream or seven photos of your bestie giving a thumbs up, you probably don't need to keep them all. With a couple of super simple methods, we'll help you delete duplicate photos on iPhone.
🗨️ Where do duplicate photos come from? How do you remove copies of pictures? What helps eliminate duplicates on iPhone? If you're ready to reduce clutter in the Photos app and regain precious storage space on your iPhone, let's get to it!
Why Do Photos Keep Duplicating on iPhone?
There are a few reasons you may see duplicate photos on your iPhone. Each one can cause copies of pictures to appear in the Photos app leaving you with a mess of duplicate images.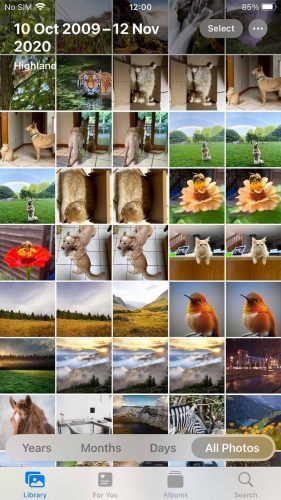 Whether you're having trouble finding photos because of the massive number you've accumulated or you're looking for ways to get more storage space on your iPhone, let's look at where those duplicates can come from.
Capturing With Burst Mode
When you capture a burst of photos, Camera automatically snaps a sequence of pictures within seconds. You then choose which one or more to keep. Until you manage that saved burst of pictures, you can have a large number of duplicate or close-to-exact photos piled up.
Using the HDR Feature
On iOS 16 and with iPhone X and earlier models, there is a controllable HDR setting in the Camera app. The setting is labeled Keep Normal Photo and if enabled, you can have duplicate photos; one for the HDR and one for the non-HDR version of the image.
Notes on HDR for iOS 17:
On iOS 17 with models previous to the iPhone 13 series, there is a Smart HDR setting in Camera which saves only the HDR photo automatically.
On iOS 17 with the iPhone 13 series and newer, there is no HDR setting for photos. There is an HDR setting for videos, but it does not cause duplicates.
Snapping More Than One Shot
To make sure you capture that "perfect shot," many people snap multiple photos of the same scene. Rather than using Burst mode mentioned above, you may simply tap the shutter button two, three, or even four times resulting in copies of the same photo.
🤔 As you can see, each of the above actions can result in duplicates. If you're ready to get rid of duplicate photos on iPhone, we'll walk you through a couple of easy ways to do so.
How to Delete Duplicate Photos on iPhone
From a built-in iOS feature to a third-party app, here are two methods to remove duplicate photos on iPhone for free. Use one or try them both to clear out your Photos app and even regain some storage space on your device.
Method 1:

Use the "Duplicates" Feature on iOS 16 and iOS 17

With iOS 16, Apple introduced the Duplicates feature in the Photos app and, as of this writing, it's still available in later iOS versions. In just a few taps, you can find duplicate photos on iPhone and then merge them. By doing so, Photos keeps the highest quality image between the two (or more) duplicates in the group and deletes the other.

What's great about this feature is that you can see exact copies as well as images that appear to be the same but have different resolutions, formats, or other small differences. What's not so great is that you cannot automatically merge photos to remove duplicates and it can be quite time-consuming to review each set one-by-one.

To view and merge duplicates, open the Photos app and follow these steps:
Go to the Albums section by tapping the Albums tab.
Scroll towards the bottom to the Utilities area and pick Duplicates. Note that you'll see the number of duplicates you have on the right side.
Review the sets of duplicates. You'll see the most recent at the bottom.
Select Merge on the right to combine a set of duplicate photos. Note that you can tap a photo in the group to see a larger view first, if you like.
Confirm that you want to merge the pictures by tapping Merge X Exact Copies or Merge X Items.
The duplicates that are removed from the merge process are placed in the Recently Deleted folder in the Photos app.
☝️
Pro Tip:
If you can't locate the Duplicates album for duplicate photos and videos on iPhone, check out this helpful
Apple Support page
for assistance.
If you want to simply merge all sets of duplicates rather than review them one at a time, this is an option. Please keep in mind that if you remove a picture by mistake, you'll have to recover the photo from the Recently Deleted folder. 
To merge all duplicates, follow Steps 1 through 3 above, then tap Select on the top right.
Choose Select All on the top left.
Select Merge X at the bottom.
Confirm whether you want to Merge X Exact Copies Only or Merge X Items in the pop-up message.
Method 2:

Use an App to Delete Duplicate Photos

The Duplicates feature in Photos is an easy way to remove those copies, but it's not perfect. Maybe you want a faster method or one offering more control such as deleting similar photos rather than exact copies. If this is the case, you might consider using a third-party iPhone photo duplicate remover. 

Here are three apps you can use to find and delete duplicate photos on your iPhone. Each offers extra features that can make it even more worth your while.

🧐 Warning: Always exercise caution to prevent the accidental deletion of crucial photos.
Remo Duplicate Photos Remover 
The Remo Duplicate Photos Remover app for iPhone and iPad lets you remove exact duplicates or similar photos for great flexibility. For instance, you may have two photos of your friend; one with their eyes open and another with them closed. Because these pictures aren't exact copies, you can use the feature to remove photos that are simply similar.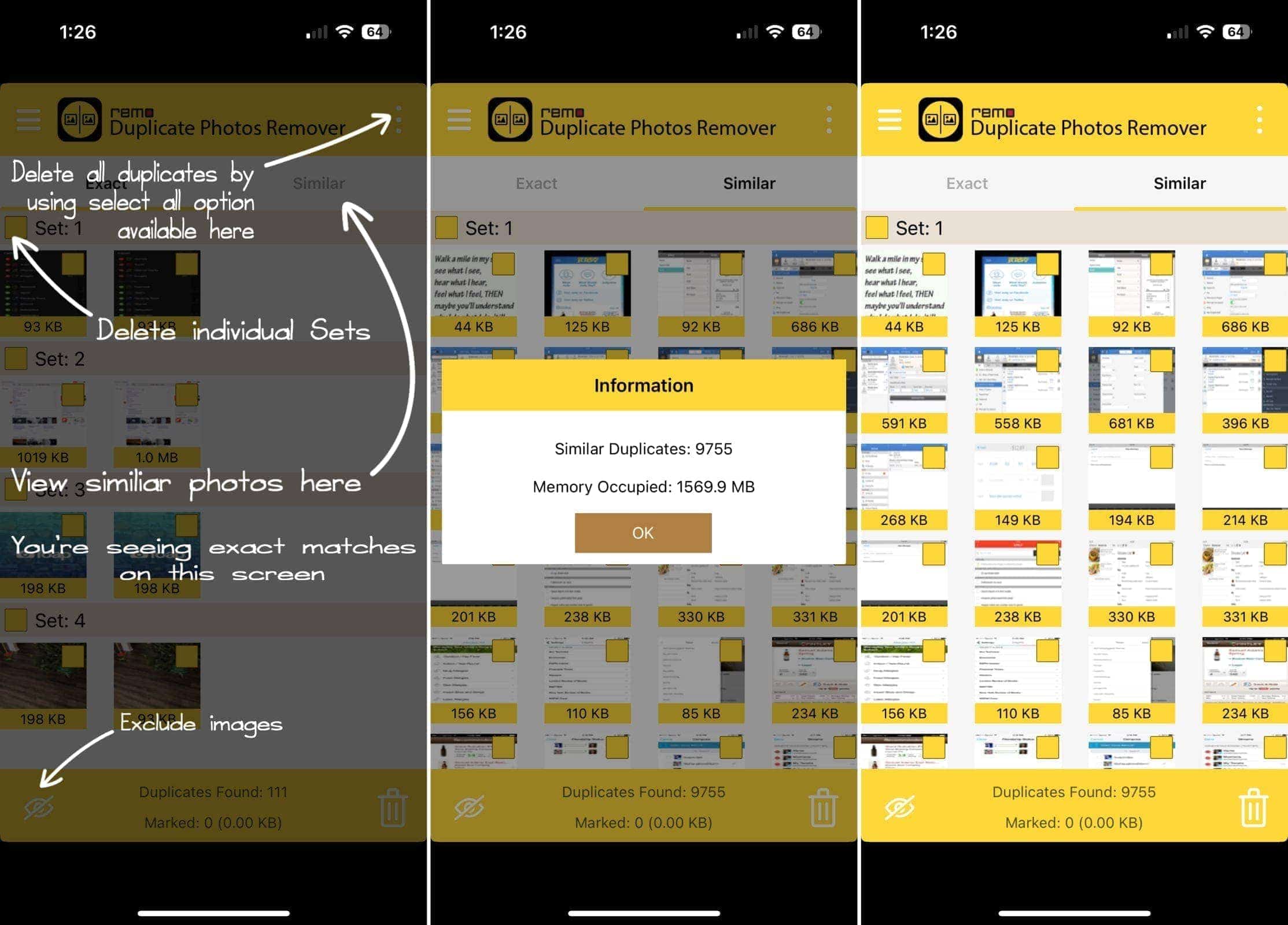 Tip: When you start the scan to find duplicates, you can minimize the app and receive a notification when it's ready with the results.
Additional features include previewing duplicate or similar images for a closer look, seeing photo details like date and resolution, and a drag option to scan for duplicates. Remo Duplicate Photos Remover is available for free.
Photo Cleaner – Album Organizer 
Another solid app to erase duplicate photos on iPhone is Photo Cleaner. With it, you can quickly see duplicate or similar photos as well as similar videos or moments and pictures with the subjects' eyes closed.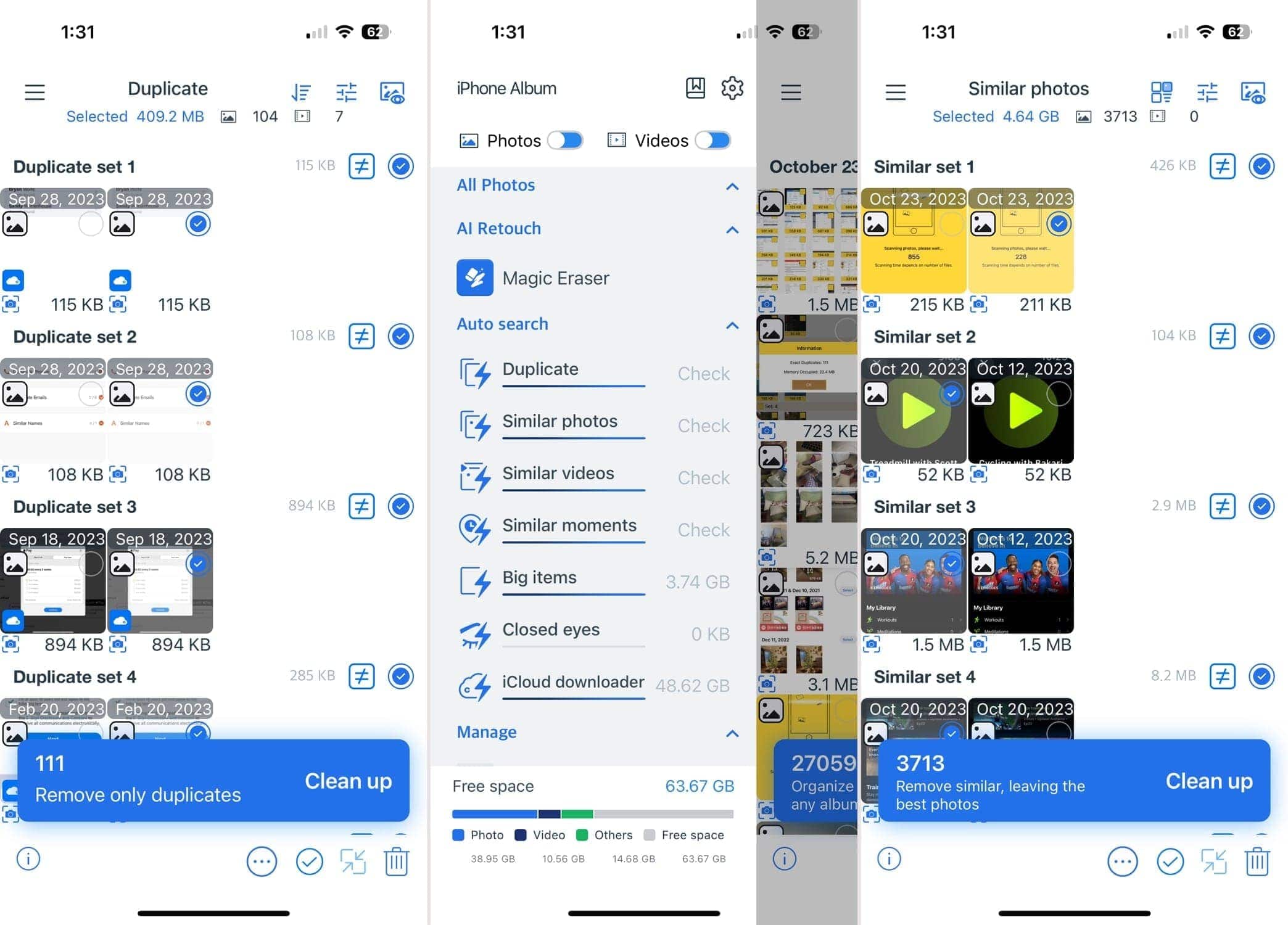 Tip: Use the Filter feature to choose a media type, date range, or albums to exclude from the scan.
Additional features include image and video compression to save space, a widget to monitor album space, and a Magic Eraser for touching up pictures. Photo Cleaner – Album Organizer is available with a free three-day trial and then paid subscriptions starting at $5.99 weekly.
Clean My Photos: Phone Cleaner
If the main reason you want to delete duplicate photos on iPhone is to regain storage space, check out Clean My Photos. You can remove duplicate pictures and videos and immediately see just how much space you reclaim.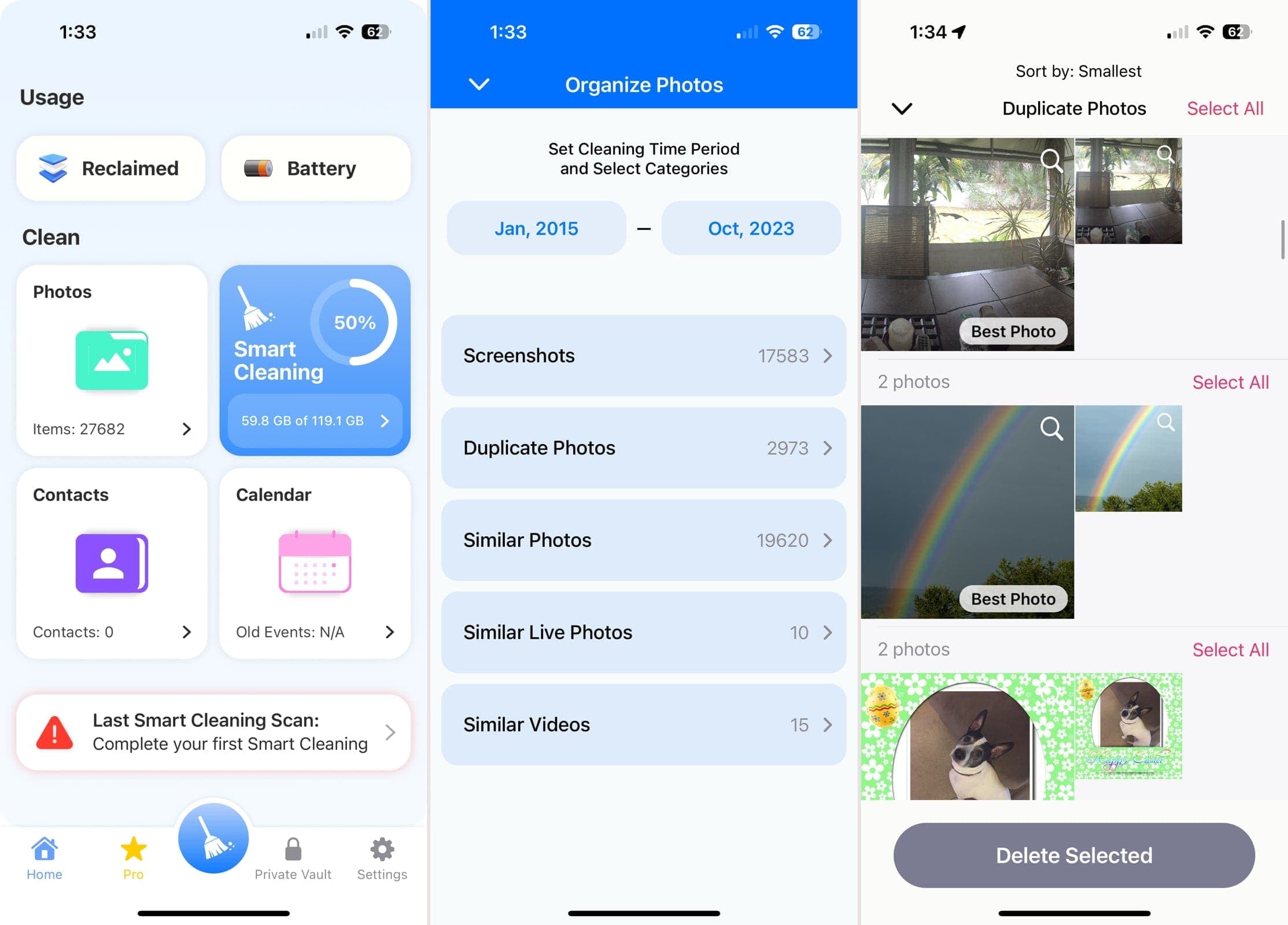 Tip: You can see the "best photo" from a set of duplicates clearly marked, so you know you're keeping the right one.
Additional features include the ability to compress photos and videos, remove cache data, and monitor your iPhone's battery. Clean My Photos is available with a free three-day trial and then paid subscriptions starting at $2.99 weekly.
How to Prevent an iPhone from Duplicating Photos
No matter how smart the iPhone is, it doesn't have the ability to duplicate photos just to annoy you. Whether a setting you can turn off or some time to manage your pictures, there are actions you can take to stop duplicates from appearing, or at least take care of them when they do.
Manage Burst Mode Photos
After you use Burst mode, take a moment to select the photo you want to keep. In the Photos app, follow the steps below.
Open the Albums tab, scroll down to Media Types, and pick Bursts.
Choose one of the Bursts and you'll see the number of photos it contains at the top.
Tap Select at the bottom and then swipe through the photos, marking the circle for each one you want to keep.
Pick Done on the top right when you finish and select Keep Only X Favorites at the bottom.
Continue this process for all of the Bursts in the Photos app to move the duplicates to the Recently Deleted folder.
Turn Off Keep Normal Photo for HDR
If you fall into the group described above who use the HDR feature for photos, consider turning off the Keep Normal Photo option. This will stop Camera from saving both the HDR and non-HDR versions and keep only the HDR photo by default. To disable the setting, follow the steps below.
Open the Settings app.
Select Camera.
Turn off the toggle for Keep Normal Photo.
Remove Duplicates Immediately
If you're someone who captures more than one shot just to be sure you have the ideal photo, try to immediately delete the one you don't want. Spending a minute or two right away can save you time later from having to merge and remove all of those duplicates.
Conclusion
When you want to erase duplicate photos on iPhone, you have a couple of simple ways to do so. From the Duplicates feature in Photos to a third-party app, you can clean up your pictures to make space for more memories in just minutes.