There are countless apps for PC designed to allow you to recover data that has been lost from your memory card. While everyone obviously hopes that they'll never need to use it, it's important to ensure that you have the best SD card software available in case something does happen.
It's easier than you think to have your files accidentally deleted, and there are several potential causes. These can range from hardware or power failures to viruses to simple human error.
You can take measures to reduce the risk of data loss, but nobody can completely eliminate the possibility. Once you've discovered that files have been deleted, you should stop using the SD card and start up one of these 5 programs – the best pieces of memory card recovery software for Windows and Mac.
SD Card Recovery Software Testing Statistics

| | |
| --- | --- |
| Number of SD card recovery tools tested | 27 |
| How long do we test software | 1 month |
| Data loss scenarios | accidentally deleted from a memory card, formatted card, file system is corrupted |
| Memory card types | SD, MicroSD, CF, SDHC, SDXC |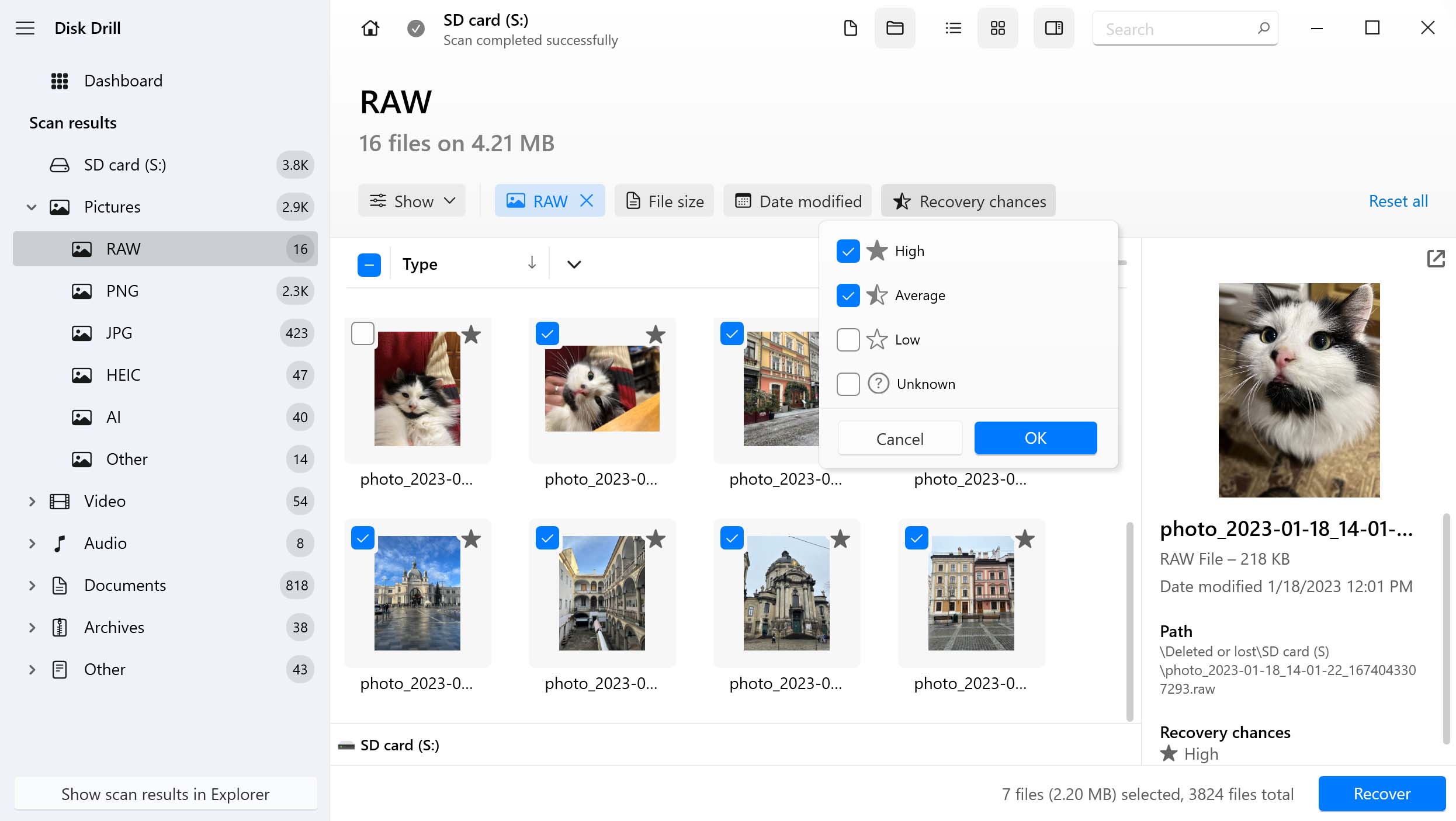 ✅ Pros:
High success rate
Supports all file systems
Verifies recovery chances with its Preview feature
RAW photo & RAW video recovery
⛔️ Cons:
Among the various free SD card data recovery programs, Disk Drill is a great place to start, and we recommend it as a must-download if you are storing anything important on your SD card.
This versatile tool for Windows and Mac can recover hundreds of file formats, including photos, videos, audio files, documents, and file archives from Windows, Mac, and Linux file systems (including FAT16. FAT32, and exFAT, which are often used to store files on SD cards).
What makes Disk Drill really stand out from other data recovery programs featured in this article is its excellent RAW photo and RAW video recovery performance.
Another hero of the day: @Cleverfiles Disk Drill! Had a corrupt SD card with timelapse footage. None of the data recovery apps could see or mount the card. I then formatted the card in a @GoPro , after that the card mounted and Disk Drill recovered everything :))

— Sybren Arnoldus (@IetsMetFilm) March 18, 2019
Raw files created by Sony (.arw), Nikon (.nef, .nrw), Canon (.cr2, .cr3, .crw), Fujifilm (.raf), or Panasonic (.rw2), among many other brands, are all flawlessly supported regardless of if they're stored on MicroSD cards, MiniSD cards, CF cards. SDHC, or SDXC cards.
The free version of Disk Drill can preview an unlimited number of files, allowing you to make sure your files are recoverable before you use the free recovery limit of 500 MB (Windows only) or purchase an unlimited license.
---
2. PhotoRec (

Windows, Mac, Linux

)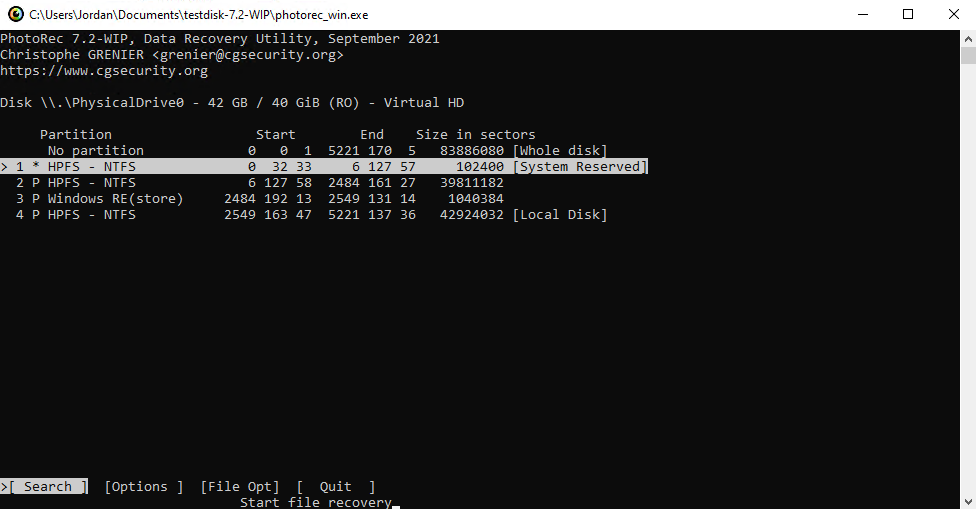 ✅ Pros:
Completely free
Open-source license
Supports all major platforms
Doesn't require installation
⛔️ Cons:
Command-line software
The optional GUI is very basic
Doesn't receive updates often
PhotoRec is unlike any other data recovery program recommended in this article because it doesn't have a graphical user interface. Well, unless you use the optional graphical user interface that's included in the file archive using which PhotoRec is distributed as a portable application.
However, the optional GUI is very basic, and the user experience it provides is miles behind Disk Drill. But if usability isn't all that important to you, then PhotoRec should be very high on your list of favorites because it's completely free and open-source.
"Don't let the DOS-like user interface fool you. This is the BEST software to recover photos from SDCard. You just select the SD Card, select a directory to place the recovered files, and BOOM, everything will be there. Can't be better than that. And it's totally free!" – danarrib, AlternativeTo
The application's signature scanner delivers above-average results when recovering raw photo and video file formats, and it performs similarly well even when recovering documents and most other file formats.
PhotoRec works well with SD cards that have become raw, and it can also scan their byte-to-byte images. These and other positive qualities make its steeper learning curve worth overcoming.
---
3. Recuva (Windows only)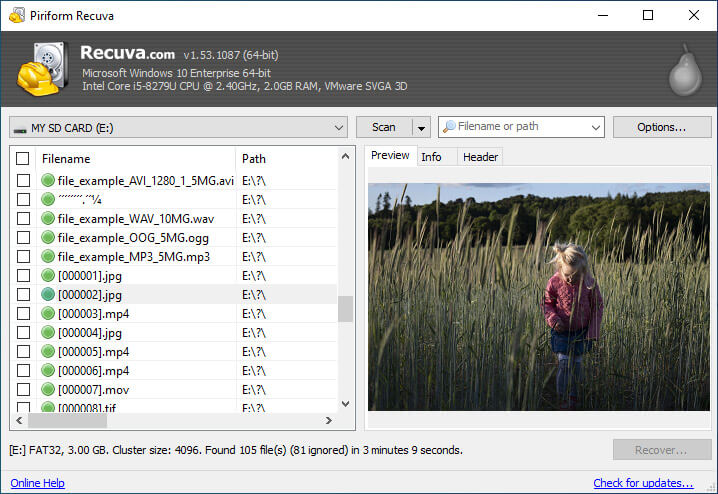 ✅ Pros:
Portable version available
Free version available
⛔️ Cons:
The free version doesn't include support
No updates since 2016
The interface is not user-friendly
Piriform Recuva includes many of the same features of the other options on this list, and it comes with its own benefits and drawbacks. Recuva offers both a free and premium version, but the set of features locked behind the paywall is slightly different, as data recovery is unlimited in both.
Instead, the premium version—available for only $20—offers a few unique features that make the experience more seamless. First, premium users are given priority technical support and automatic updates.
"Recuva is one of the best free file recovery software tools available. It's easy to use and is as effective as any other freeware or premium file recovery program on the market." – Tim Fisher, lifewire.com
Possibly more important to some users, the premium software also gives you the option of creating a backup using a virtual hard drive before making any adjustments, thus allowing you to reverse any unforeseen negative consequences.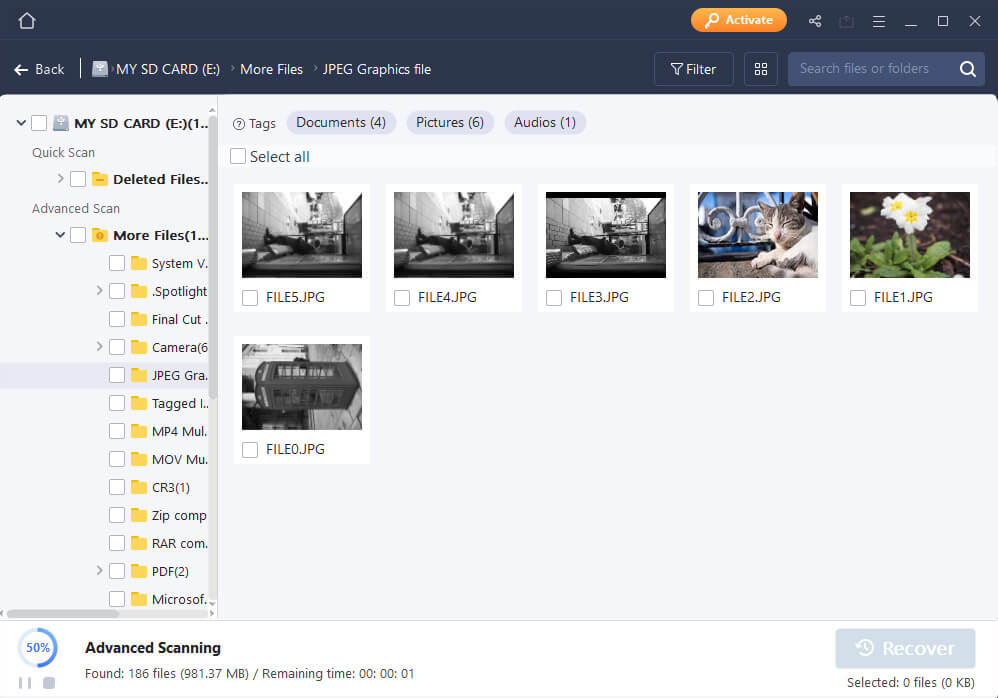 ✅ Pros:
Simple interface;
Good overall recovery results;
RAW photo & video recovery.
⛔️ Cons:
It isn't clear how long the scan will really take, the ETA is always irrelevant;
Very few file formats are supported for preview.
Like several of the other options on this list, EaseUS Data Recovery Wizard is available in both a free and paid version. It also offers standard quick scan and deep scan features, allowing you to look for recent files or conduct a more thorough check. With its premium edition costing $90, it comes in as one of the more expensive pieces of software, but it also has a trial for those who want to try before they buy.
"No data-recovery app can retrieve everything, but EaseUS Data Recovery Wizard Pro does the best job in testing at recovering lost and deleted files" – Edward Mendelson, pcmag.com
EaseUS gives you the ability to search for a specific type of file, targeting your scan to a specific set of files and thus reducing the total scan time. Since the trial is limited to a total of 500 MB of data restoration, you'll need to pay for a license before scanning your memory card for any larger files.
If you're interested in EaseUS Data Recovery Wizard, you should run its trial version first before making any purchases.
Compared to other similar pieces of software, including those on this list, EaseUS Data Recovery Wizard can sometimes run slower scans. The flipside of this is that its performance in finding corrupted and deleted files is among the best on the market, and it also takes up a lower amount of energy on your computer. If you have the time and patience to wait for the scan to finish, EaseUS is one of the best options available.
---
✅ Pros:
Deep Scan available
Clean and modern UI
⛔️ Cons:
Not all file types can be previewed
Doesn't show a file's quality before recovering it
The free version only supports recovering 100 MB of data
This option is designed for those looking for a professional data recovery solution, and while it comes with a price tag—$75.99 (macOS version – $109.99) per month, $99.99 for a year, or $159.99 for life—its features may be worth it if you need the best software available. You can recover only 100MB for free with Windows version.
If you're not sure whether to pay or to stick with one of the freeware options, Recoverit offers a free trial period in which you can test it out without a commitment.
The highlighted features of Recoverit Data Recovery include the sleek, professional interface, good rate of file restoration, speed, and ease of use. If you're looking for a specific file or type of file, you can narrow your search by file extension, and many of the more advanced options are made accessible to those with less technical experience. It's extremely easy to understand the options Recoverit offers, and its menu system seamlessly takes you from step to step.
"Recoverit is a safe and convenient tool for data recovery on PC and Mac." – Roxana Raducanu, handyrecovery.com
In the end, nobody but you can determine whether Recoverit's steep price tag is worth it's set of high-quality features. Those looking for a reliable, easy option, or for software to license throughout a business, may be willing to pay for an application with better ease of use and a simpler interface, but it may be too expensive for those willing to negotiate the slightly more complicated menus of other programs.
---
Conclusion
In conclusion, these five software solutions for SD card recovery offer excellent options for users seeking to recover data from their formatted, or corrupted SD card. Each solution provides its advantages, depending on your data recovery needs and preferences, from open-source options like PhotoRec to more user-friendly programs such as Disk Drill.
Given the potentially devastating consequences of losing essential files that may be trapped inside an SD card, it is crucial to explore all your options thoroughly. Furthermore, it is essential to learn how to protect data stored on SD cards in the first place to prevent disasters.
FAQ