Whether you're a professional videographer, a vlogger, or record video for your family or friends, chances are really good you use an SD card to save those videos on your digital camera. Those same cards (made by brands such as SanDisk, Lexar, Toshiba, Samsung, Polaroid, and Sony) can be used on pro-level Canon cameras, action cameras (like the GoPro Hero), and even some smartphones have external slots for microSD cards.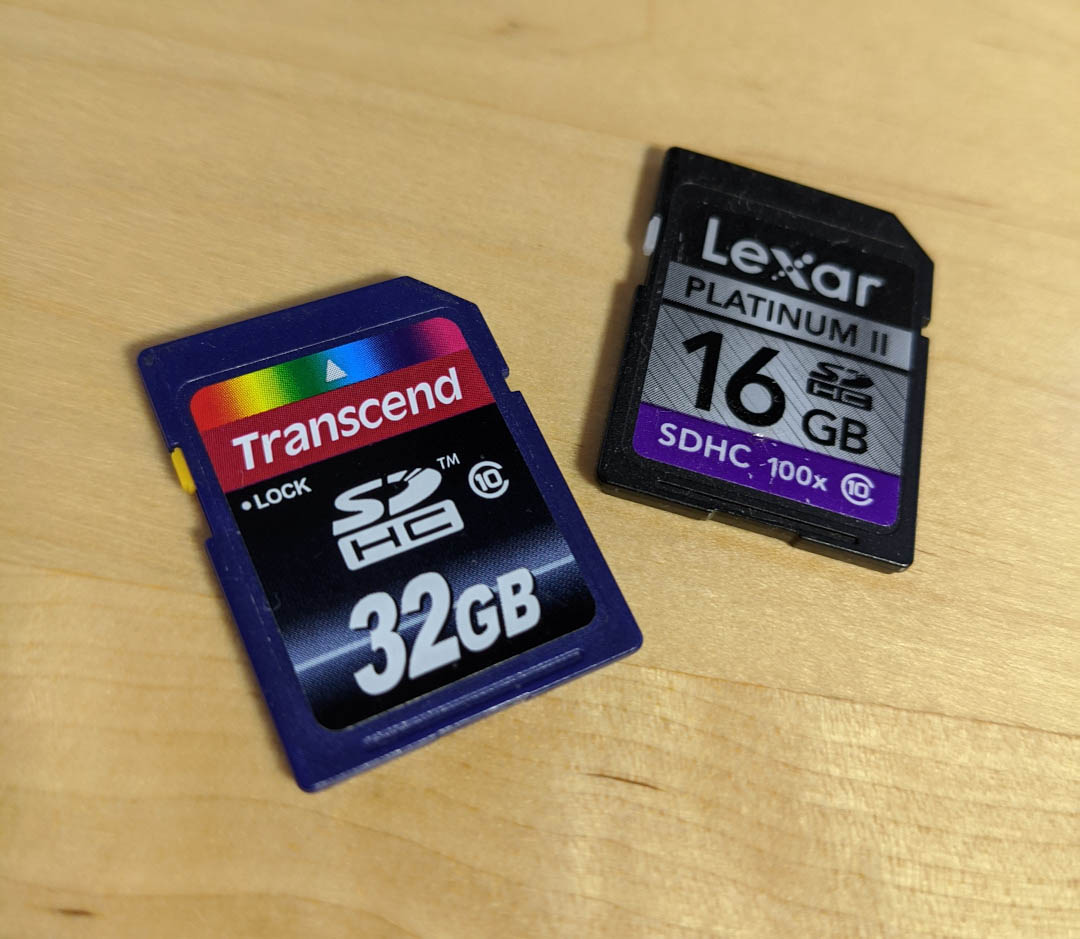 So no matter the type of camera you use, or your use-case, the formatted SD card is your best friend.
Until it's not.
There are a number of reasons why things can go wrong, but the most obvious is when you accidentally delete those precious videos from that memory card. It's that human-induced error that's always the most frustrating. When it happens, you'll be scrambling to find a way to restore those videos. 
Quickly Recover Deleted Videos from an SD Card on Windows & Mac
Are you looking for a quick and easy way to recover deleted videos from an SD card on your Windows PC or Mac? Then look no further because we've got you covered! Here's what you need to do:
Download and install Disk Drill on your computer.
Connect the SD card on which your deleted videos were stored to your computer.
Launch Disk Drill, select the SD card, and click Search for lost data.
Wait for Disk Drill to finish scanning the SD card and then select the missing videos. You can use Disk Drill's scan results filters, search bar, and preview feature to effortlessly find what you're looking for.
Click the Recover button and tell Disk Drill where you want to place the recovered video files.
Can I recover deleted video from an SD card? 
Yes you can restore video files from an SD card, but it's very important that you immediately stop using that card; don't save another photo, video, or file to it. Take the SD card out of your camera and refrain from formatting it or scanning it with a tool that isn't designed specifically for file recovery. Why? Because by reformatting the card, the chances of you recovering those videos is greatly reduced. And depending on the tool you use to scan the card, the likelihood of video recovery could also be reduced.
Let's take a look at two different ways to recover deleted video files from an SD card and then how to recover deleted video files from an Android phone. 
Method 1:

Recover Deleted Videos from an SD Card using Software

As I mentioned earlier, you'll find a lot of software that can recover deleted files from an SD card. These range from the overly simple to the complex. One such software title is Disk Drill, an app that's available for both Windows and macOS that has an incredibly high success rate with SD card video recovery.

Not only is Disk Drill Pro a very reliable tool for recovering files, but it's also quite easy to use and can recover video formats like AVI, MOV, 3G2, WMV, MKV, MP4, M4V, 3GP, ASF, FLV, SWF, MPG, RM/RMVB. And if you prefer to shoot RAW footage and need to recover such a video from your SD card, this software also has you covered.

Let's take a look at how you can recover deleted video files from an SD card on two different platforms.
How to Recover Videos From SD Card on Windows 
Step 1. Insert your SD card and locate it in Disk Drill
Let's first take a look at recovering video files from an SD card on the Windows platform with Disk Drill Pro. After installing Disk Drill, open the software and insert the SD card in question. You should see something like Generic Multi-Card USB listed in the center pane. Click to expand the Generic Multi-Card USB listing and you should see your SD card listed.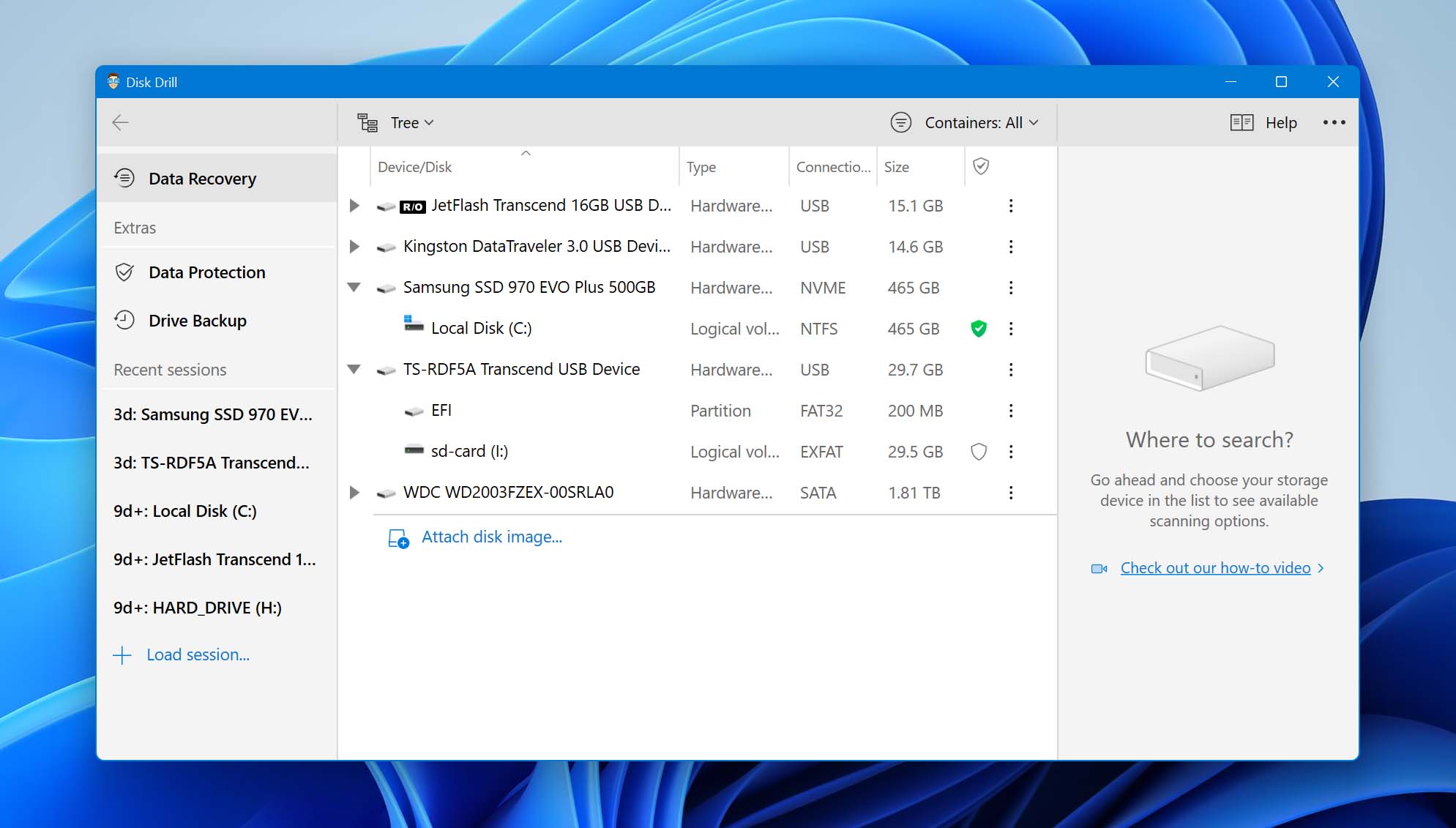 Step 2. Initialize the search
Click on the SD card listing and the Search for lost data button will appear at the bottom right corner of the window. Make sure All recovery methods is selected from the drop-down and then click Search for lost data.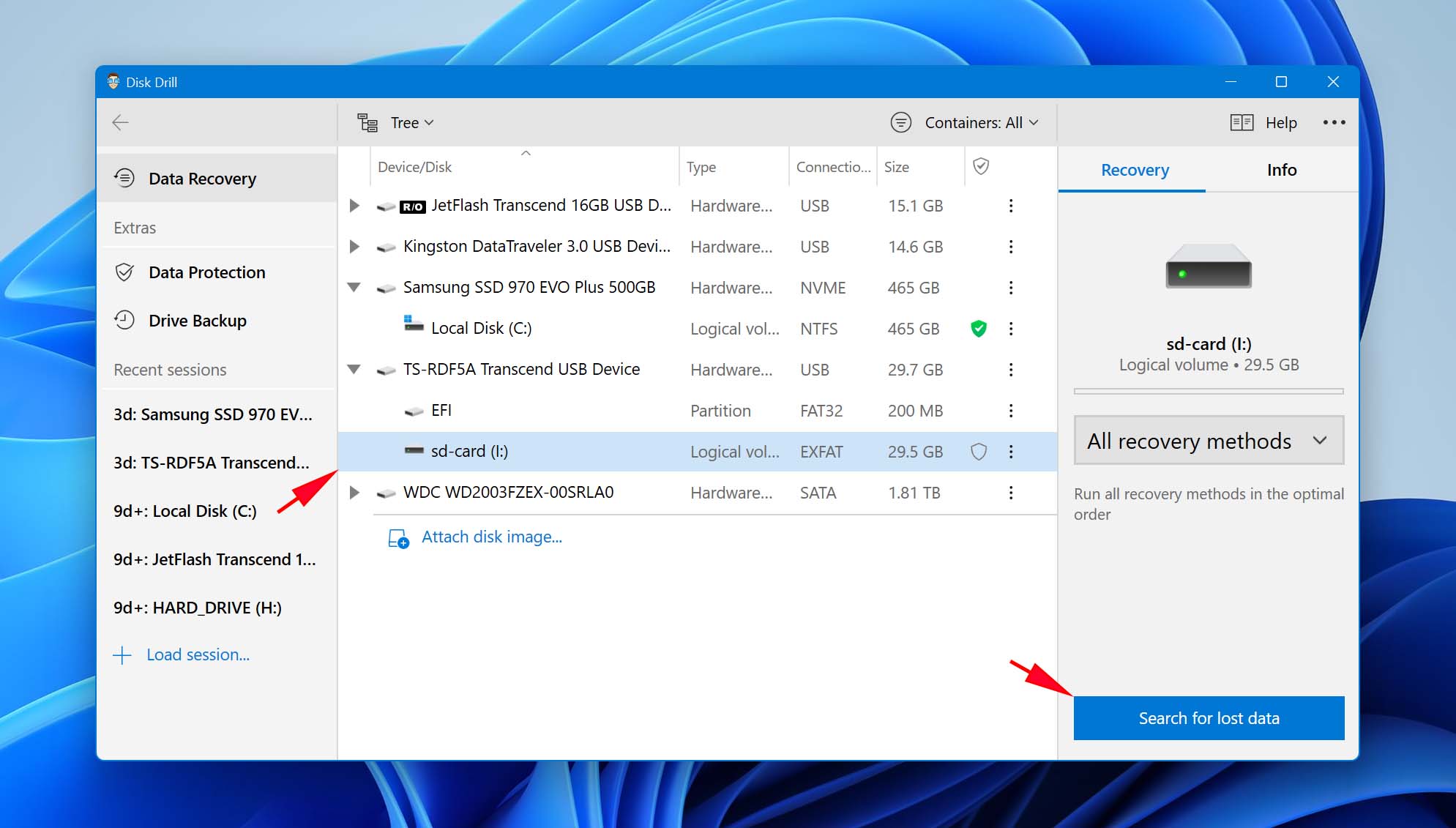 Step 3. Allow the scan to complete
As disk drill scans, it will start listing the files it has discovered (in real-time). You can either wait for the scan to complete, or you can click Review found items.
Step 4. Scan the entire SD Card
If the scan doesn't find any lost video files, click Scan entire disk for a deeper scan.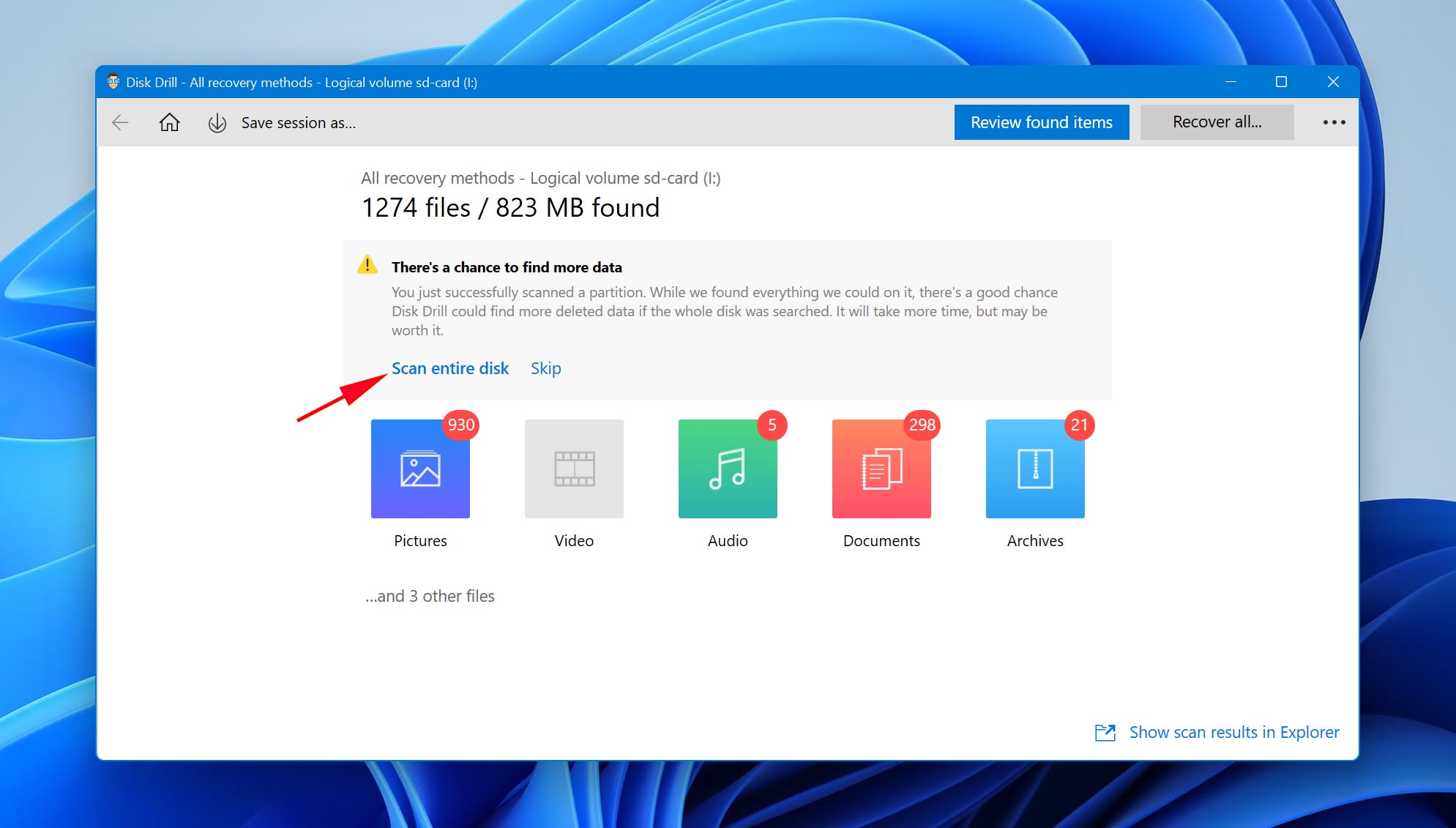 This deeper scan will take considerably longer to complete. Allow it to finish and you should see that Disk Drill has managed to find a lost video file.

Step 5. Locate the missing file
Click on the Video entry and then, in the resulting window, expand the entries until you find the missing video. Click the checkbox for that video file and then click Recover.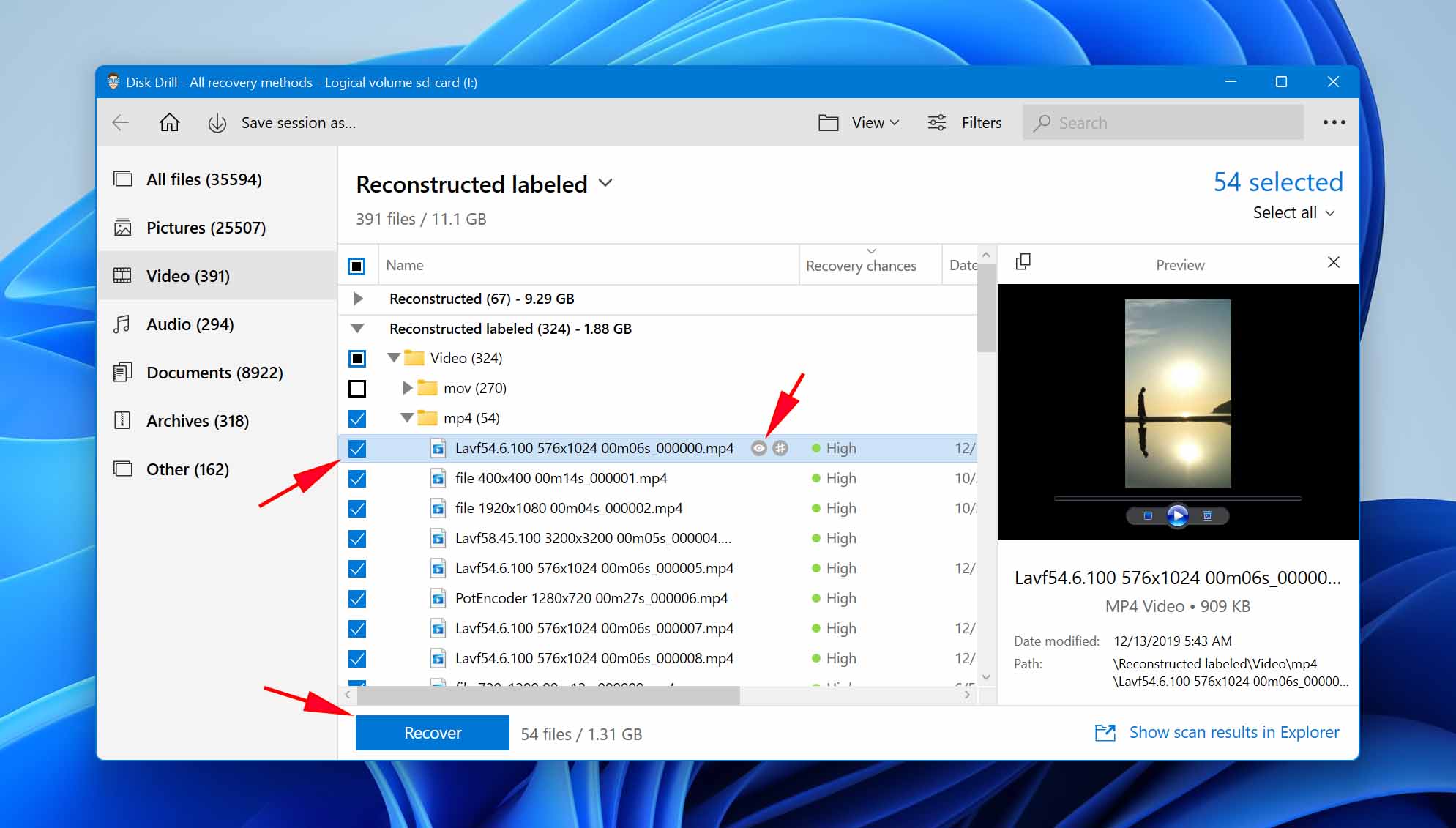 Step 6. Select a folder to house the recovered file from your SD card
You will then be prompted to select a folder that will house the recovered file. Select a folder and click OK.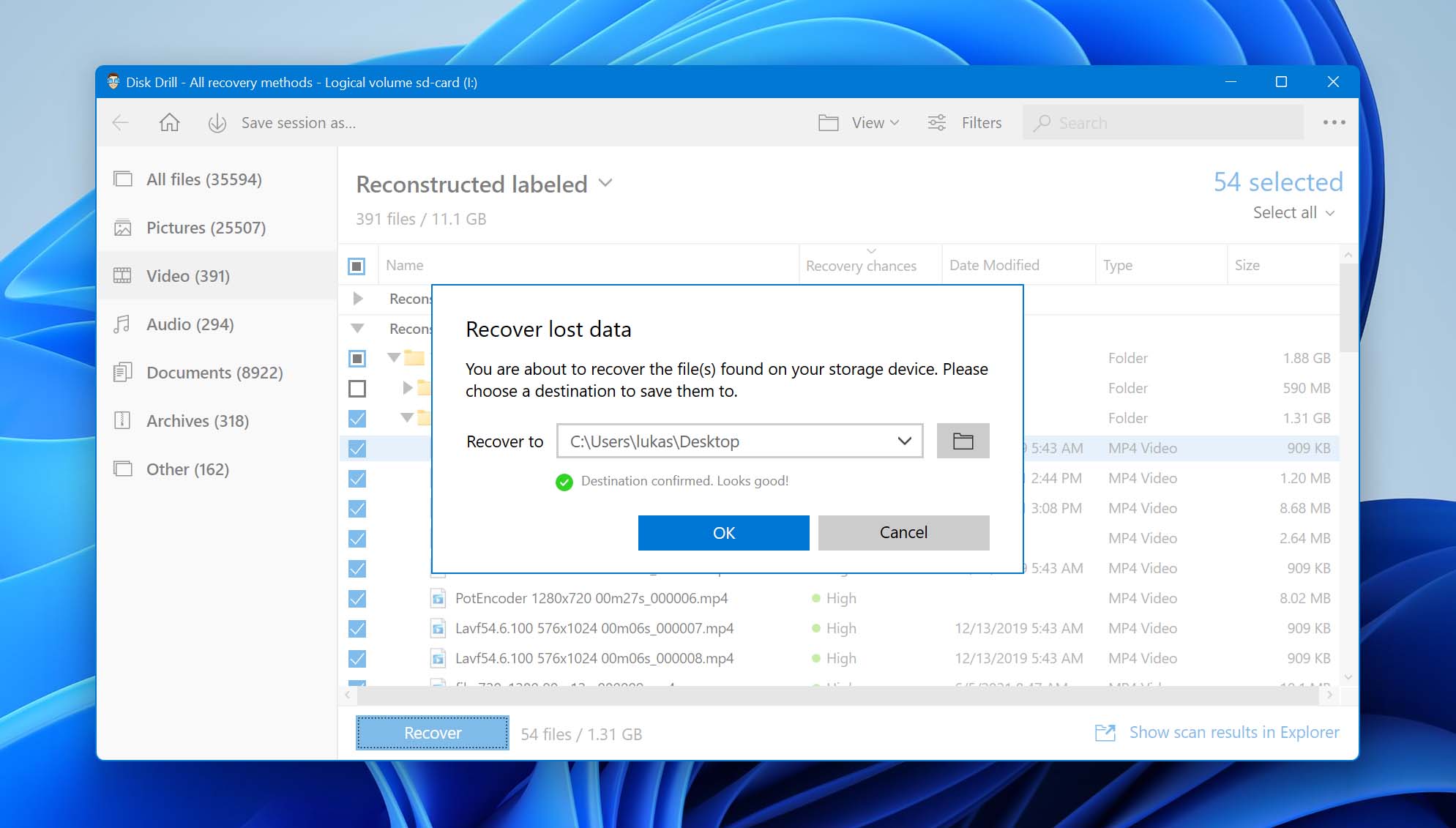 I highly recommend you do not locate the video file back on the SD card. Save it to the local drive on your computer and then you can either copy it back to another SD card or share it however you need. Once the recovery is complete, you'll find the file in the directory you chose to house the video. 
How to Recover Videos From SD Card on Mac
The process for recovering lost videos with Disk Drill Pro on macOS is similar to that on Windows.
Step 1. Insert the SD card to your Mac computer
Once you have Disk Drill Pro installed, open the application and insert the SD card in question (you'll probably have to use a card reader for this). After inserting the card, it should appear in the Disk Drill window.
Step 2. Initiate the scan
Click the recover button associated with the SD card. The file scan will begin automatically and reveal items as they are found.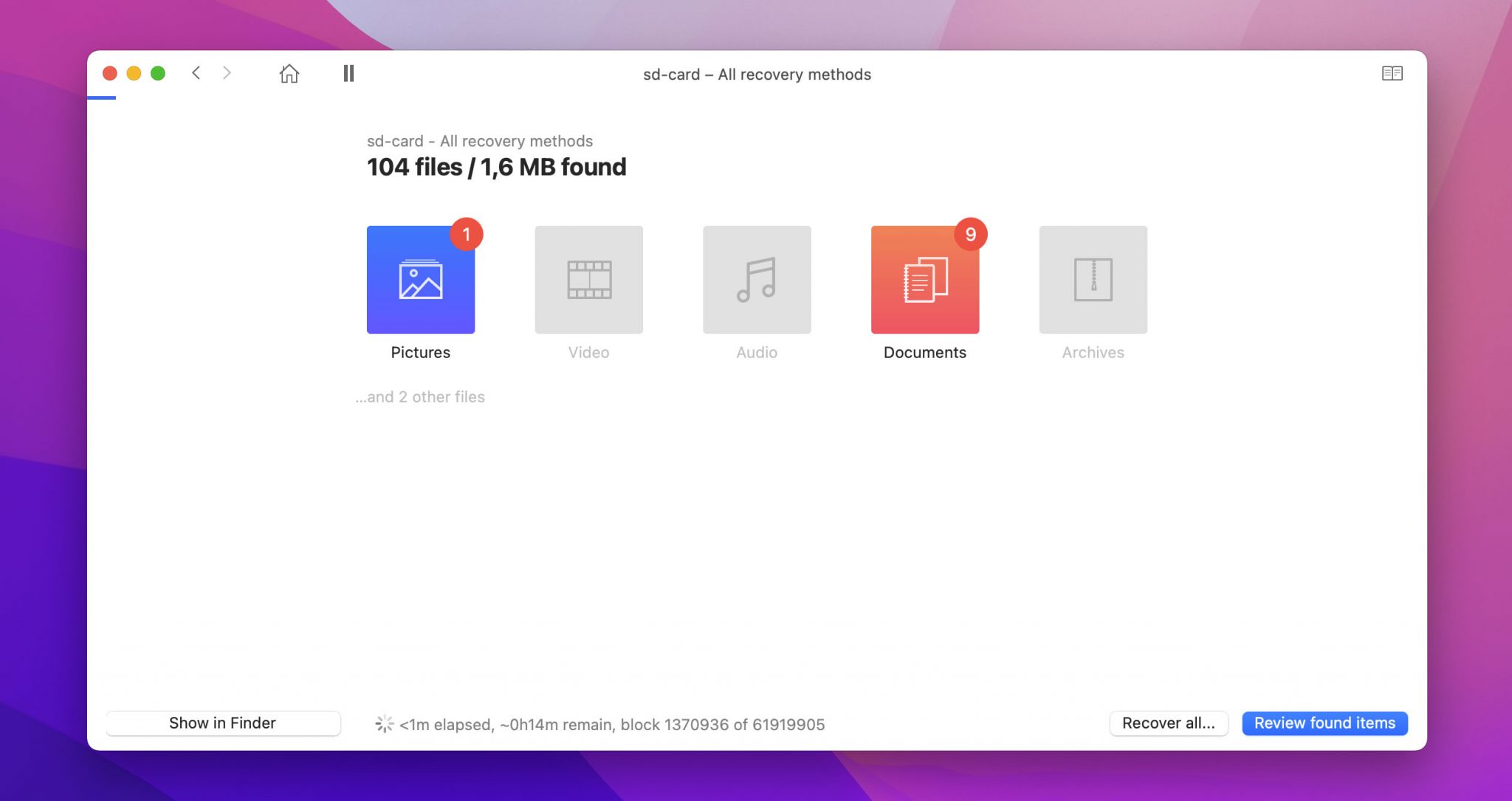 Step 3. Scan the entire SD card
Once the scan completes, if you find there are no video files listed, click Scan entire disk.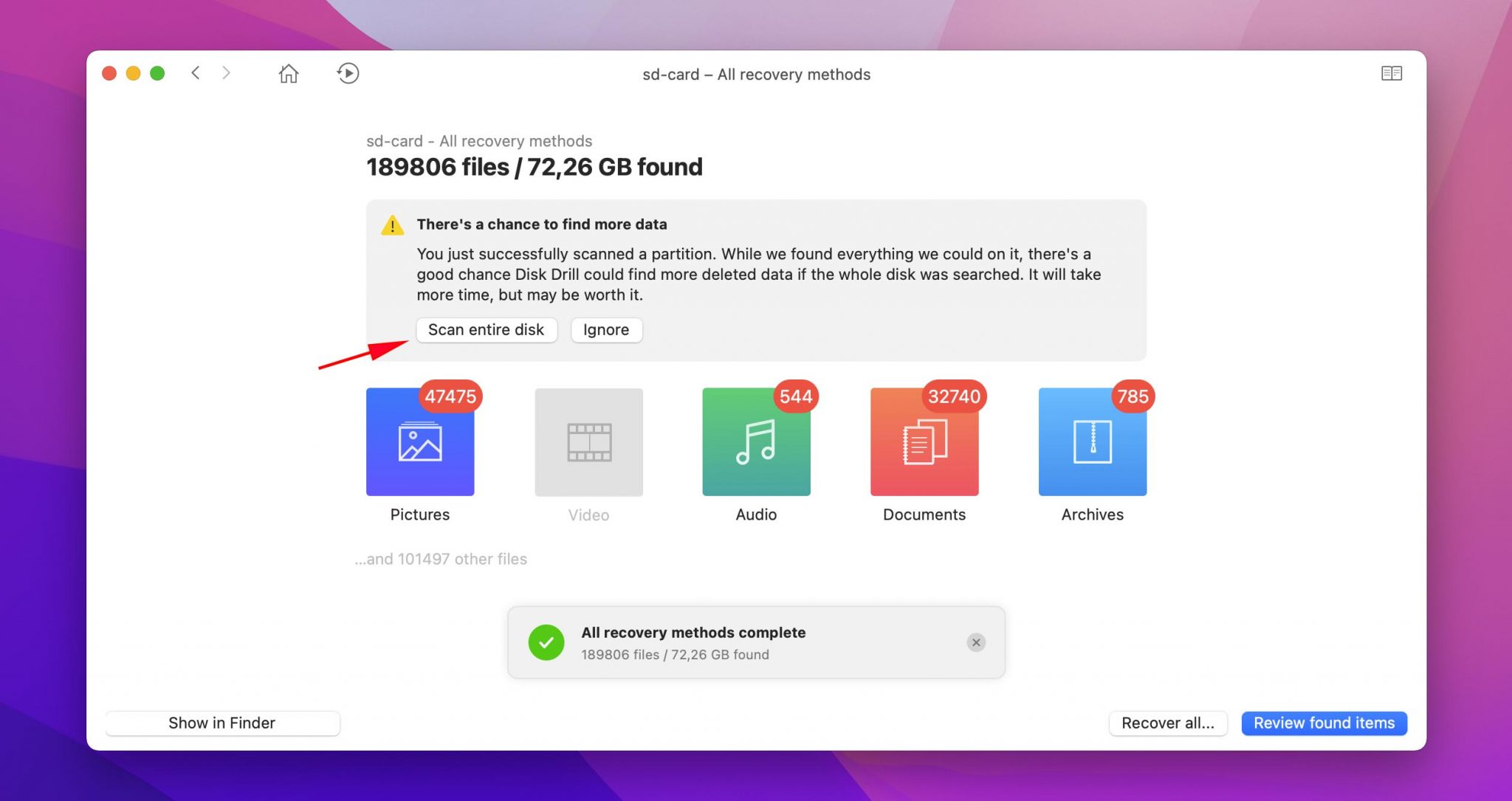 Step 4. Filter the results
Wait for the deep scan to complete, and then select Videos from the All-files drop-down.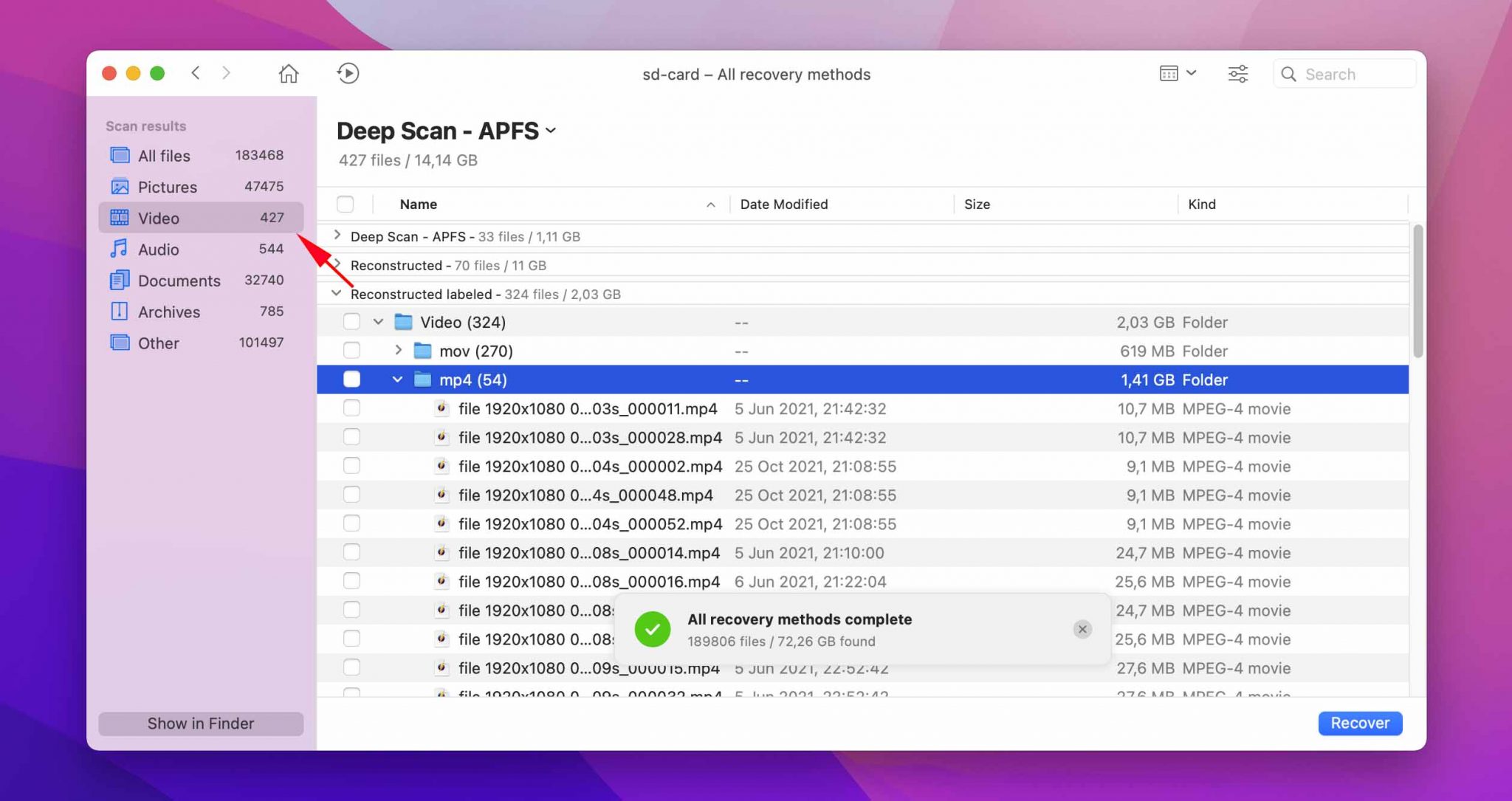 Step 5. Locate the file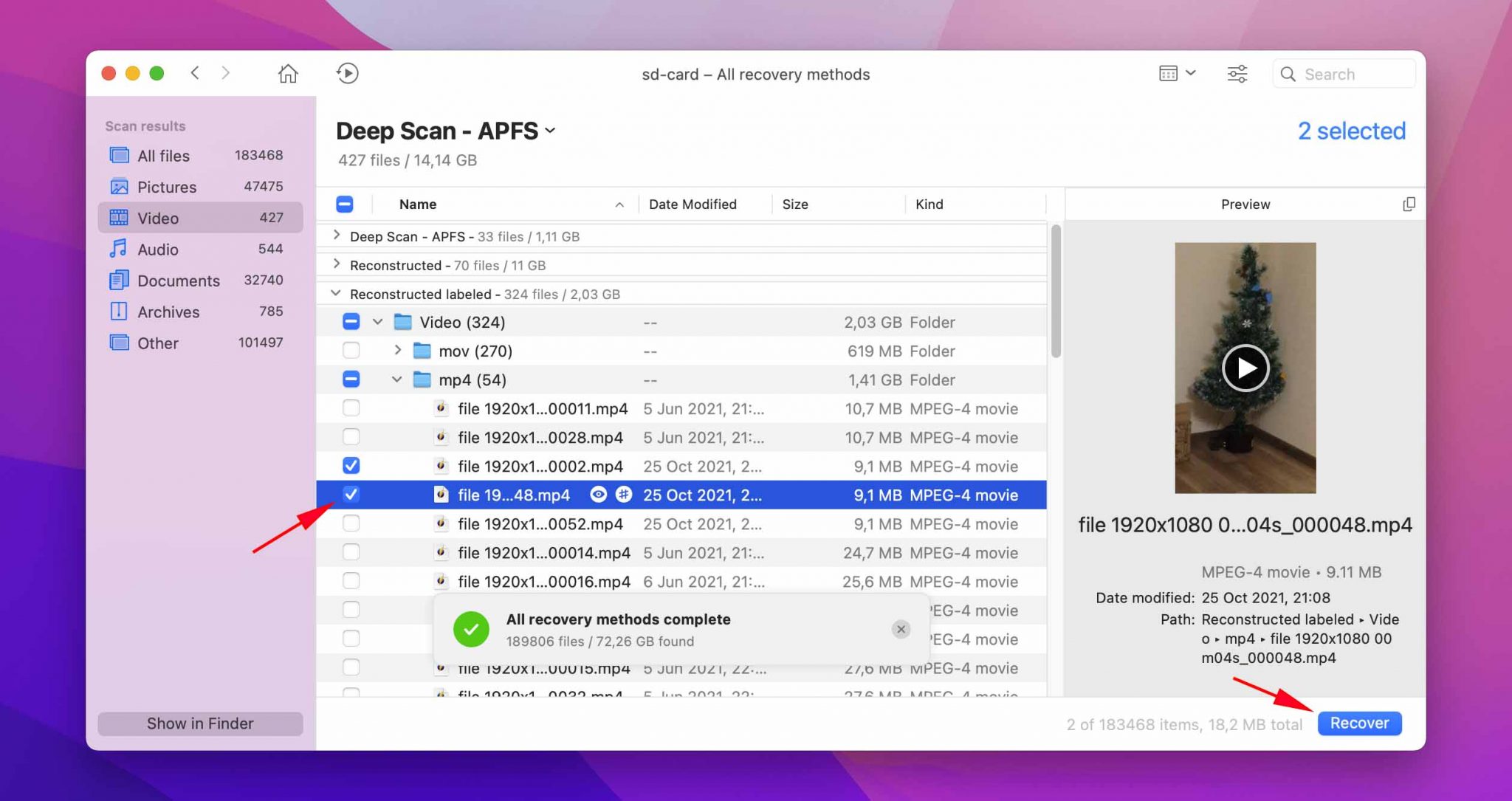 Click the checkbox associated with the video file, select the folder to save the file to by clicking the Recover to drop-down, and then click the Recover button.
That's it, you've successfully recovered deleted videos from an SD card storage device.
There are two versions of Disk Drill:
Free – which can find & preview deleted or corrupt files on an SD card.
Pro – which can recover deleted or corrupt files from an SD card.
Method 2:

Recover Deleted Videos from a Physically Damaged SD Card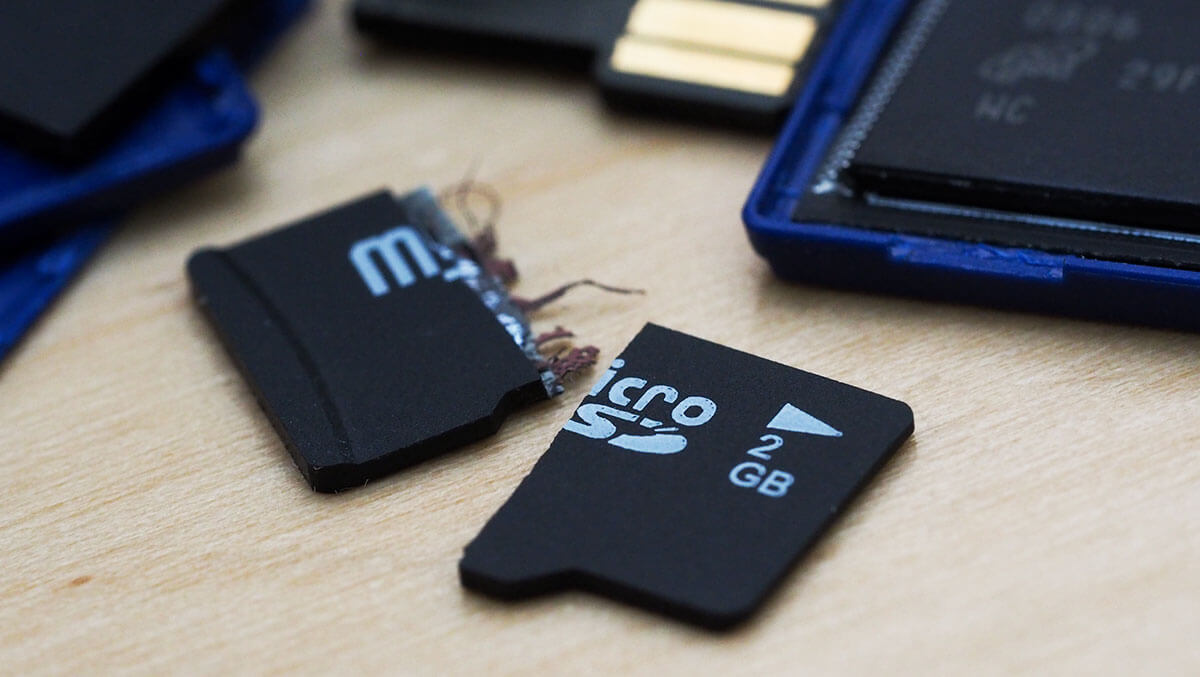 When an SD card is physically damaged (such as after being run over by a car, put through a washer and dryer, or bent in half) you probably won't have much luck using a piece of consumer-grade software to recover files. In fact, when an SD card is physically damaged, your best bet for recovering those video files if by using a recovery service.
One such service is offered from CleverFiles, who has a "No data, no charge" policy. To start a recovery order, head over to New Work Order and select the priority of your recovery. You will then ship your SD card to the company and wait for the results.
Method 3:

Recover Deleted Videos from your Phone

If you've lost video files on your mobile device, all hope is not lost. Why? In a word, the cloud. Chances are pretty good if you've recorded a video on your phone, you'll find it in either Google Photos or iCloud. If that lost video isn't found on your connected cloud account, you might then have to look into any possible backups associated with your device. But most likely, you'll find your lost video in your cloud account.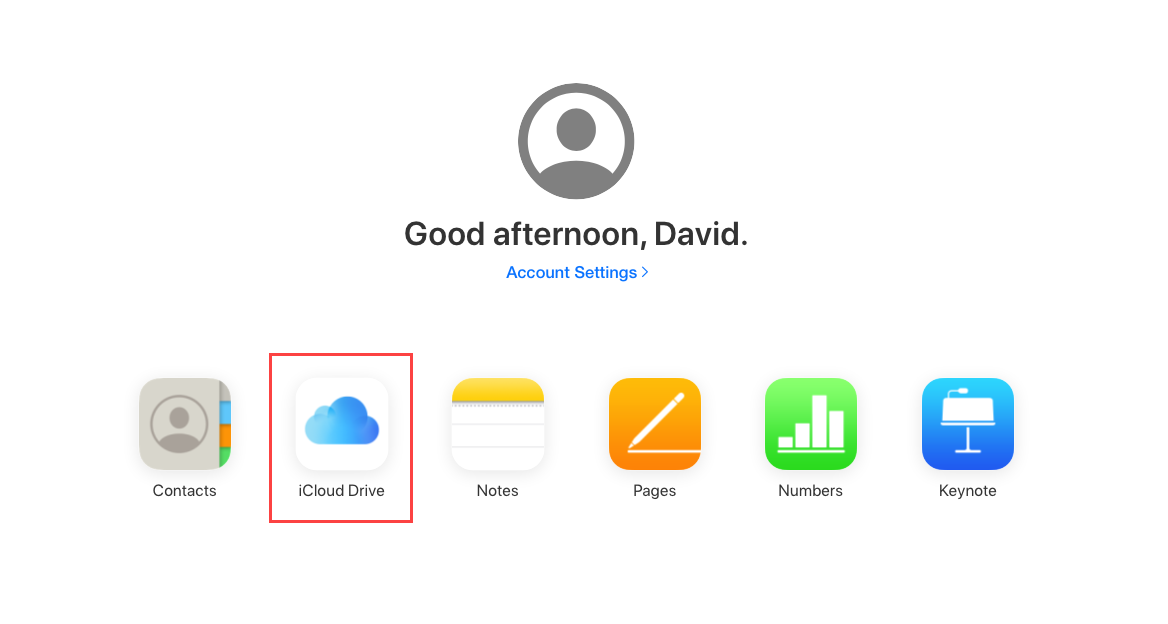 How to Recover Deleted Videos from SD Card on Android
If you've mistakenly deleted a video from your Android phone or from the microSD card on your phone, don't worry just yet. In most cases, you should be able to recover your files as long as you act fast and don't let your device overwrite the data. A quick and effective solution to such an issue is to use a specialized app such as DiskDigger.
DiskDigger is a data recovery app created for recovering lost videos from Android phones. It is capable of finding and recovering deleted photos and videos on either your phone's built-in storage or microSD card.
Here's what you should do:
Use Google Play Store to install the DiskDigger app.
Launch the app and tap Start Basic Photo Scan to search for the lost files.
When prompted, give the application persimmon to access your device's storage.
Look through the found photos and videos and select the ones that you wish to recover.
Tap the Recover button.
Choose how you want to restore the files (it's recommended to use an online storage service for the recovered data).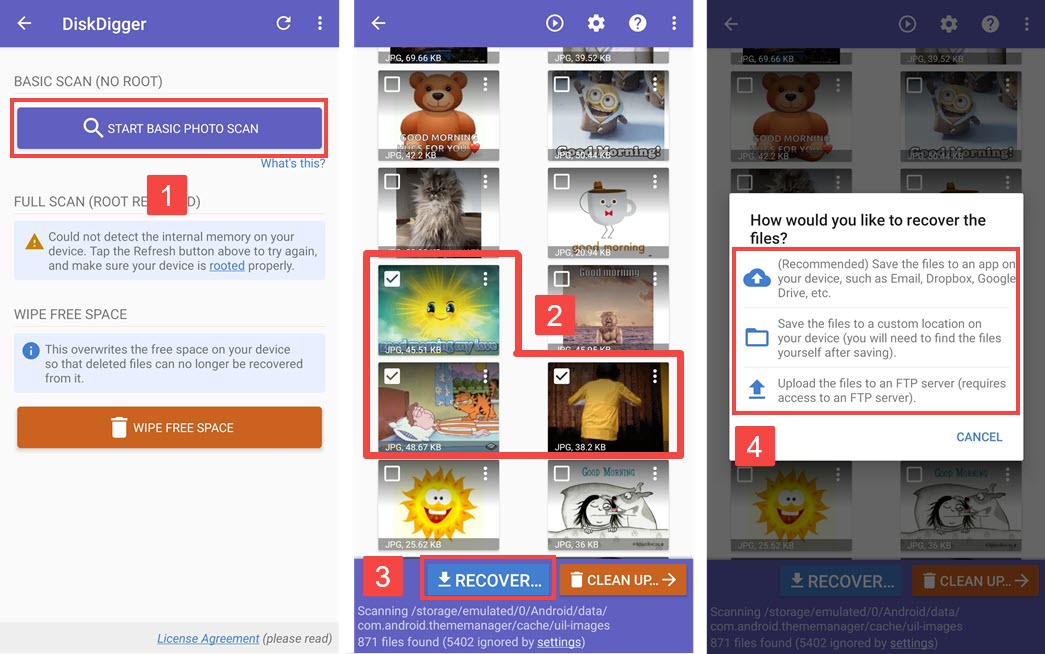 If that doesn't work, you could remove the microSD card, insert it into a card reader, attach the reader to your PC or Mac, open Disk Drill, and go through the recovery process as outlined above.
How to Recover Deleted Videos from SD Card on iPhone
In such a situation, it is best to use your computer to recover the lost or deleted photos and videos from an SD card. 
All you need to do is simply insert the SD card from your iPhone into a memory card reader to let your computer access the card data. Once you do this, launch Disk Drill and follow the step-by-step instructions covered above.
Method 4:

Reinstalling/Updating Drivers

The Windows operating system is infamous for driver issues, even though third-party companies selling rushed products are the ones we should be blaming. If you access your SD card using an inexpensive SD card reader, then you may experience issues with reading the content of the SD card due to bad drivers. The good news is that reinstalling drivers in Windows is pretty easy: 
Press Windows + X on your keyboard and select Device Manager.
Go to Portable Devices and right-click your SD card reader.
Select the Uninstall device option and reconnect the SD card reader.
Method 5:

Recover from the Recycle Bin/Trash Folder

On Windows and macOS, deleted files first go to a special folder called the Recycle Bin and Trash, respectively. The files remain there until the folder is either automatically or manually emptied. Until that happens, you can effortlessly recover them:
Open the Recycle Bin or Trash depending on whether you use Windows or macOS.
Select the files you want to recover. 
Drag them to a new location. 
Method 6:

Recover from a Backup

If you have a backup of your deleted video files, you can consider yourself lucky since you can easily recover them and completely avoid data loss. 
When recovering lost videos from a backup, you should first verify that the storage device on which they were originally stored is in good working order.
On Windows, you can use the CHKDSK utility to verify the file system integrity, while macOS has the First Aid feature in Disk Utility. If the storage device turns out to be fine, you can safely restore your files to it from your backup. 
How to Recover Deleted Videos from Camera SD Card
Unfortunately, most digital cameras don't have an equivalent of the Recycle Bin in Windows or Trash in macOS. That's why you need third-party data recovery software to recover videos that were deleted from your SD card using the camera's delete function. 
We've already described one effective data recovery software application earlier in this article, so feel free to scroll back and follow our step-by-step instructions. Just remember that your deleted videos can be recovered only until they become overwritten by new data. 
How to Use SD Card to Avoid Data Loss
Here's a simple fact for you: users themselves are responsible for most cases of SD card data loss. Why? Because they don't use SD cards as responsively as they should, exposing them to all kinds of harsh conditions and ignoring basic safety practices, such as clicking the eject button before yanking the SD card out like a stray nose hair. 
Let's take a closer look at how to use your SD card to avoid data loss: 
Always click the Eject button: There's a good reason why your operating system gives you the option to safely reject any storage device before you physically disconnect it: clicking the Eject button helps avoid data corruption caused by suddenly interrupted read/write processes. Even if you're in a hurry, it's always worth it to spend the extra second or two to click the Eject button. Sometimes, that's all it takes to prevent catastrophic data loss. 
Store the card inside a protective case: Regular SD cards are just 2.1 mm thin, and microSD cards are even thinner, with a thickness of just 1 mm. As such, they are very fragile and typically not designed to survive in harsh conditions, which includes the inside of your backpack or pocket. A cheap protective case can go a long way in protecting your SD card against physical damage, which is often impossible to recover from. 
Use multiple SD cards:  SD cards don't cost a lot of money, so it doesn't make much sense for you to put all your eggs in one basket by using one large SD card instead of multiple smaller ones. Even if one of your smaller SD cards stops working, you will still have at least some of your data on the remaining SD cards. 
FAQ