Secure digital cards, better known as SD cards, are widely used in digital cameras and mobile devices to provide additional storage capacity. Unfortunately, these versatile storage devices are prone to becoming corrupted, making it impossible to view saved data or store additional information on them.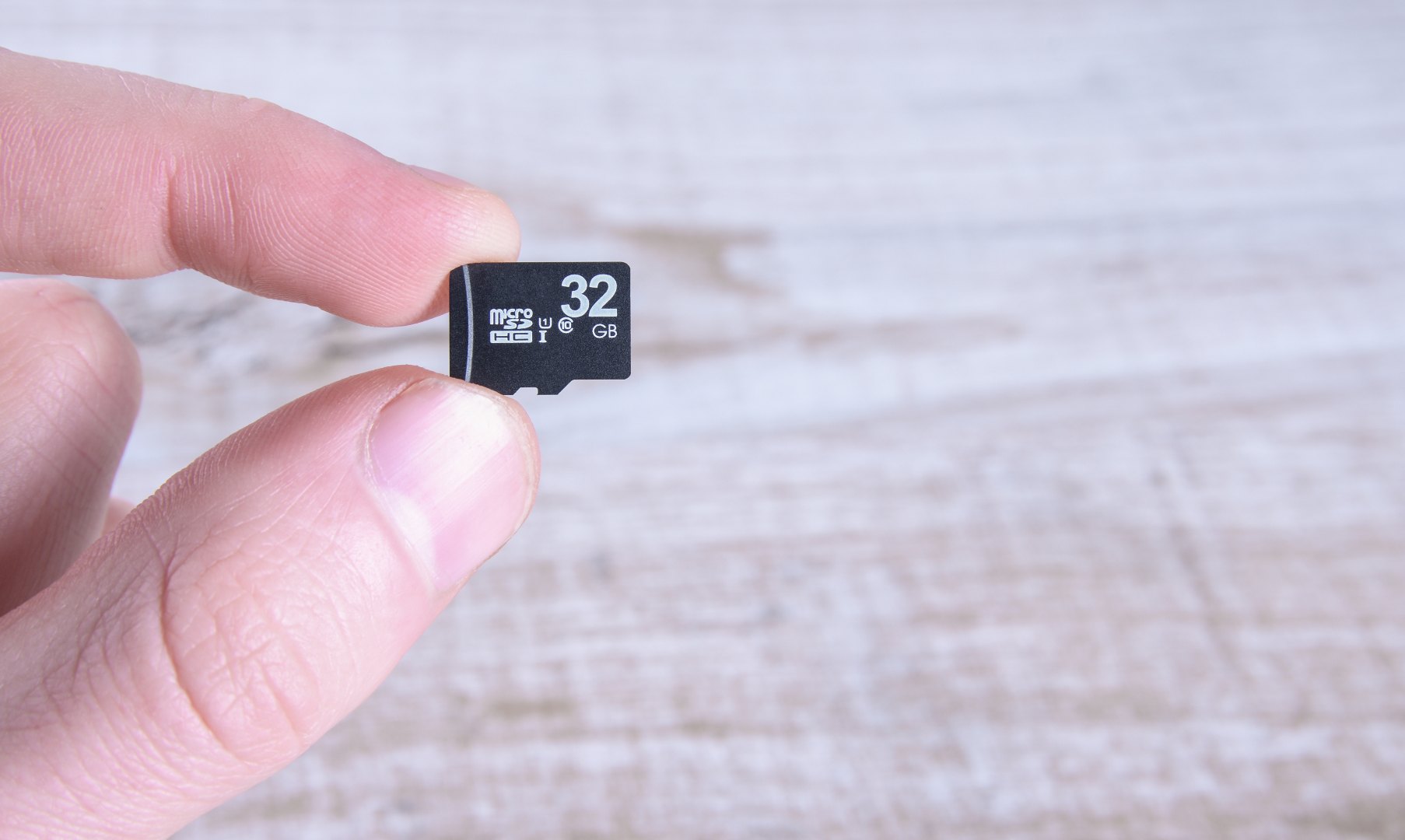 That's where this article comes in. We are going to show you the best ways to perform a corrupted SD card recovery on your Mac. With any luck, one of the procedures we provide will enable you to access the valuable data on your SD card.
Signs of a Corrupted SD Card on a Mac
Here are some of the signs that you might need to fix a corrupted SD card on a Mac:
💽 The SD card is not recognized by your Mac, camera, or mobile device.
🤔 You suddenly see strange filenames on the card.
❓ Files that should be there are missing.
⛔ The SD card incorrectly displays no files.
😧 You experience read or write failures when accessing the card.
❌ Unexplained error messages from your OS may appear when using the card.
⬛️ You get a black screen on a digital camera being used with the SD card.
💡 Note: If you have an SD card that is experiencing signs of corruption, we strongly recommend that you stop using the device immediately. Further use, especially any attempts to save new information to the device, risks overwriting or further corrupting data that may be recoverable with a Mac data recovery software.
How to Recover Corrupted SD Card Data on a Mac
Corruption is logical damage that has been done to the data or file system on a storage device. In many cases, the underlying physical data is recoverable through the use of data recovery software or a data recovery service. We are going to show you how to perform a corrupt SD card recovery on a Mac using either of these alternative methods.
Repair an SD Card on a Mac with Data Recovery Software
Data recovery software can repair the logical links that have become corrupted and made the data on an SD card inaccessible. Though it may appear as if there is no data on the card, the sophisticated scanning algorithms employed by the software find existing data and make it accessible again.
This is why you don't want to use a card if you suspect corruption. By using the card you may overwrite the information that can be recovered by data recovery software. Once the data is overwritten it cannot be recovered.
The following steps demonstrate how to retrieve data from an SD card using Disk Drill:
Download and install Disk Drill Recovery Software for Mac.

Data recovery for free
Your Companion for Deleted Files Recovery

Connect the corrupted SD to your computer and start the application.
Select the memory card from the displayed disk list.
Click the Search for lost data button to initiate the data scanning process.
Preview the recoverable files and choose the ones you want to retrieve.
Select a new location to save the recovered data and click the Recover button. Don't use the affected SD card to store anything until the recovery process is complete.
After you have recovered the data from a corrupt SD card, you should reformat it if you plan to use it again. We suggest taking care with storing important information on it until you are certain it has not been permanently damaged.
Utilize a Data Recovery Service to Restore a Damaged SD card on Mac
There may be times when the power and functionality of commercially available data recovery software will not be sufficient to restore the information on a corrupted SD card. In these cases, you may need to engage the specialized skills found at a data recovery service.
The experts at a data recovery service know how to uncorrupt an SD card in ways not generally available to the community at large. Using advanced software and hardware techniques, they will attempt to clone and retrieve the information on the card.
CleverFiles Data Recovery Center is an example of a reliable recovery service that may be able to help you get your data back when all other methods have failed.
As with all reputable data recovery centers, there is no charge if recovery is unsuccessful and they don't give you a per GB recovery estimate. Data recovery is too complex for that type of estimate and you should avoid companies that operate in that manner.
Here's a quick overview of how to use CleverFiles Data Recovery Center:
Fill out a work order that details the issues you are having with the SD card.
Pack and ship the SD card to the center with the work order.
You will receive a recovery estimate after an expert has made an initial assessment of the probability of success.
Upon completion of the recovery, you will receive your data on new media like a flash drive or DVD.
Taking advantage of the experts' experience at a data recovery center is more expensive than recovering the data yourself with software. But if the software fails to do the job, a recovery center may be able to restore your valuable information, which can be priceless.
How to Fix a Corrupted SD Card Without Losing Data on a Mac
If your SD card is showing signs that it might be corrupted, you have several methods of attempting to repair it.
Method 1.

Reinsert the Card

The first thing to try is to reinsert the card into the device or card reader. Incorrectly inserting an SD card may prevent the card from fully connecting to the port and appearing to be corrupted. Carefully remove and then gently reinsert the card firmly to see if the issue gets resolved.

While the card is removed, check for any dust or debris that may affect the connectors. With any luck, your Mac will be able to recognize the card and get to its data.
Method 2.

Repair a Corrupt SD card with First Aid

Disk Utility is installed by default with macOS. It should be located in the Other folder in Launchpad. Use the following steps to repair a corrupt SD card using Disk Utility on your Mac or MacBook.
Open Disk Utility and choose View > Show All Devices.
Select the SD card from the sidebar and click the First Aid button.
Click Run in the First Aid dialog and follow the onscreen instructions.
Click Done when the First Aid process finishes.
If Disk Utility is successful, you will be able to access the card from your Mac.
Method 3.

Format your SD Card on Mac

Formatting your SD card will destroy the logical links to the data it contains. It may be necessary to format the card in order to get it recognized by your system. A quick format leaves the data in place where it can be retrieved by data recovery software. Here's how to format a corrupted SD card on Mac.
Connect the SD card to your computer.
Launch Disk Utility.
Choose the SD card from the left panel.
Select Erase. Don't use extra security options if you want to try data recovery software to retrieve the card's data.
Name the drive and select the format you want to use.
Click Erase in the bottom right corner.
A progress bar will open and display the status of the procedure.
Click Done when Disk Utility is finished formatting the corrupted SD card.
Method 4.

Check the Card for Errors with Terminal

You can check for errors with Disk Utility which can also be launched as a command-line tool. Use the following procedure to repair an SD card with the Mac terminal application.
Open the Terminal application which should be located in the Other folder in Launchpad.
Enter this command: diskutil verifyVolume [drive identifier].
The command will execute, which may take a while. When it is done, it will inform you if the volume was found to be corrupt.
You can also try to repair the volume from the command line with this command: diskutil repairvolume [drive identifier].
How to Protect an SD Card From Corruption
You can help protect against logical damage to a micro SD card on Mac in a variety of ways. Physical damage is also possible if you mistreat an SD card which can lead to catastrophic failure where recovery is impossible.
Be careful when inserting or removing the card from a device or card reader to avoid damaging the connectors.
Store important cards in a protective case. They can easily be damaged in your pocket or a bag. Data on a crushed or snapped card may be lost for good.
Don't use the SD card on strange computers or devices that have not been scanned for viruses.
Allow all read and write operations using the card to complete before removing it from the device.
Eject the card from your Mac if that is an option rather than just removing it from the reader.
Label important SD cards to avoid inadvertently formatting them.
Avoid turning off the device while a read or write operation using the SD card is in progress.
Conclusion
SD corruption is a problem that can be resolved using multiple different methods described above. The most effective and cost-efficient technique is with data recovery software like Disk Drill. As long as the memory card can be recognized by your Mac and its data has not been overwritten, you stand a very good chance of recovery with Disk Drill. The main precaution you can take to maximize your chance of recovery is to stop using the card as soon as you suspect it has a problem.
FAQ