Data loss is always annoying, but, at least, when it happens because of a hardware or software defect, you can place the blame elsewhere. It can feel devastating, though, when you lose data like photos and videos of precious memories after an absent-minded click.
Thankfully, tools like Prosoft's Data Rescue v6 are here to help when such a catastrophe strikes. Notice the plural? Despite being a great solution in its own right, Data Rescue isn't the only tool you can use to recover your data. Depending on your priorities, preferences, or details of the data loss situation you're dealing with, it might not even be the best.
So, let's see some of the alternatives you can use to get back your lost data.
💾 Stop using the storage device where your ex-files resided as soon as possible to maximize their recovery potential.
The more you use the device, the more data is written to it, which could overwrite some of the files you'd like to recover.
Also, if you're dealing with a failing hardware device, more use means more physical wear. If the device is on its last legs, it could reach the point of total failure before you manage to pull out your files from it.
Why Not Data Rescue?
Prosoft Engineering's Data Rescue series of products is long-established and well respected. They usually do what they promise, recover your lost data without much fuss. That is, as long as you purchase a full version to do it, for their trials only work as previews of what they can pull off.
Still, one could argue that sometimes you might not have to pay. Or, at least, you could get away with paying less.
Modern operating systems come with some tools that can help in such situations.
Even if the tools that came with your OS don't end up helping, maybe a third-party solution can help. Such apps might offer more options or come with more advanced features.
Are you willing to invest the time to get familiar with their way of doing things and don't mind a lack of extras in free data recovery software? You may even get back (most of) your data without spending a dime.
Data Rescue by Prosoft Engineering has its fans, and justifiably so. And yet, for many people, some of the alternatives we'll see here would be better options.
🍎 For this article, the solutions in our list are Windows-centric. Still, we haven't forgotten about Macs. In fact, we already have a comparison of the 5 best free data recovery apps for Mac OS X which should offer you enough alternatives to the apps we'll see here.
The Best Data Rescue Alternatives
There are many alternatives to Data Rescue worth checking out. For this article, though, we've narrowed down our list to five of its peers to keep things simple.
Some of those apps offer more features, are faster, or are more affordable. It's almost a given you'll find the best one for you among them.
1. Disk Drill Data Recovery Software
Look at most "best data recovery solutions" lists, and you'll find Disk Drill among them. Some of its competitors might produce more extensive results, come with a more straightforward interface, or ask for a somewhat lower price.
However, we believe that Disk Drill is the best "all-rounder" by far. That's because it manages to offer the best combination of everything you need from a data recovery app with almost zero shortcomings.
Features
Straightforward interface.
Compatible with most major devices.
Can get back over 200 types of files.
👍 Pros
Extensive results.
Excellent interface & results presentation.
Powerful recovery engine.
Recovering your lost data with Disk Drill is an easy process:
After downloading and installing Disk Drill, launch the app, and choose the device you want to scan for lost files from its Device/Disk list. Then, click on Search for lost data at the bottom-right of the window.
Disk Drill will start scanning the selected device, initially looking for lost volumes, then for disappeared files. You can click at any time on Review found items at the top-right of its window to check what Disk Drill found up to then. However, allowing the scanning process to complete will ensure Disk Drill will locate as many files as possible.
When Disk Drill completes its scan, proceed to its found items list, and place a checkmark to the left of the files you'd like to get back. You can't tell by some files' name if Disk Drill should try recovering them? Right-click on them and choose Preview – or click on the little eye floating icon to their right – to check them out. The app can preview many image and document files. Finally, click on Recover on the bottom-left of the window.
Proceed by choosing the destination where you want Disk Drill to save the recovered files. Then, click OK to start the recovery process.
Disk Drill will inform you when the process completes. In most circumstances, it should range from mere seconds to some minutes. The time needed depends on the amount of data and the state of the device from which your files are being recovered. When the recovery process completes, you'll find your files at the destination you chose in the previous step. You can visit it easily with a click on Show recovered data in Explorer.
💡 Are you dealing with a hardware problem, with the device where your files are located getting worse by the minute? Don't try to recover but a handful of files. Your device could fail at any moment. Thus, it would be best to prioritize getting the most precious files out of it as soon as possible.
Afterward, don't try recovering the rest of your files. Instead, take advantage of Disk Drill's advanced imaging capabilities.
Right-click on the failing device and choose Backup into byte-to-byte disk image to have Disk Drill "clone" your device into a backup image file.
When done, even if the device fails, you'll be able to try recovering your files from this image.
Click on the button with the three dots at the top-right of Disk Drill's window.
Choose Attach disk image…
Proceed with recovering your files as if you'd chosen an actual device, as we saw above.
2. Wondershare Recoverit
RecoverIt is another popular data recovery solution, and by looking at its interface, it's easy to understand why. It's a straightforward app, and every element is nicely designed and arranged on its interface.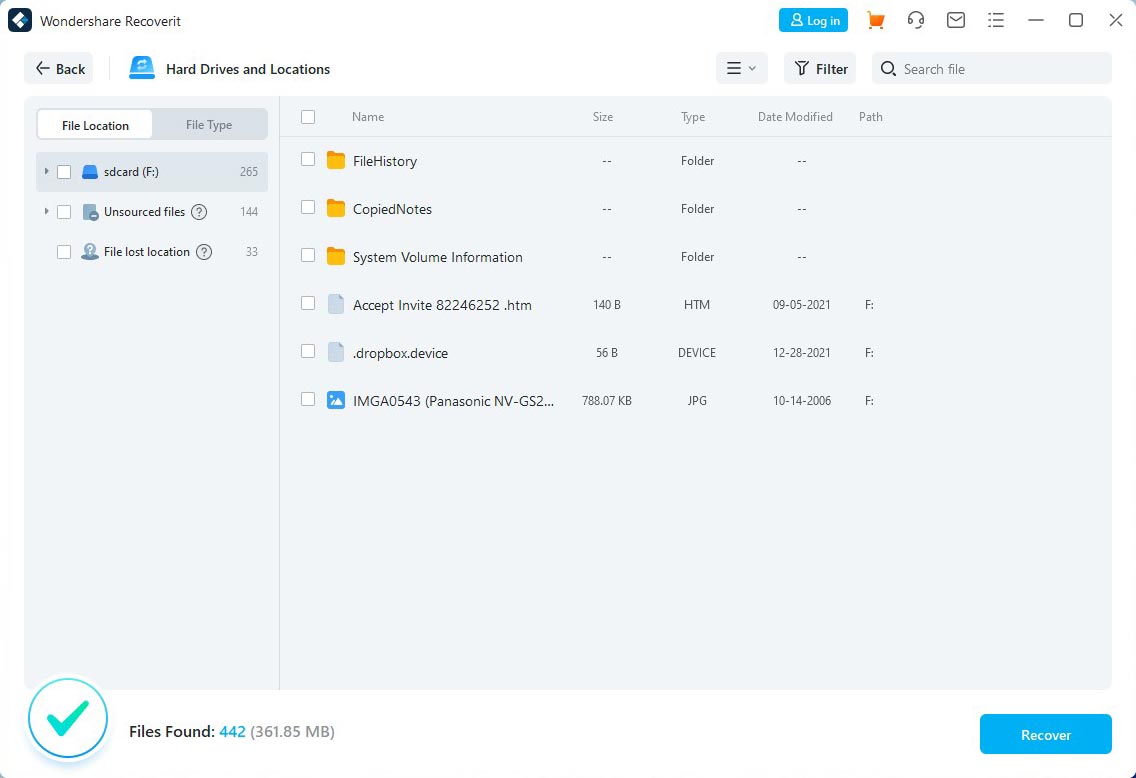 In actual use, RecoverIt also proves quite speedy. Unfortunately, its trial only works as a taste of what the full version can do. It's a demo and won't bring any of your files back until you decide to open your wallet.
Features
Supports a vast number of file formats.
Compatible with most major file systems.
Can recover data from most types of devices.
👍 Pros
Easy to understand and aesthetically pleasing interface.
Comes with extra functionality for advanced video recovery and repair.
Able to create bootable media to recover data from non-booting computers
👎 Cons
Restricted free version can't recover data.
You should ignore its suggestion to initialize a drive if it's not detected since it can make a data loss situation even worse.
3. Recuva
Recuva became the go-to choice for data recovery for many users because of, primarily, two reasons:
It's dead-simple to use.
Maybe even more importantly, it's free.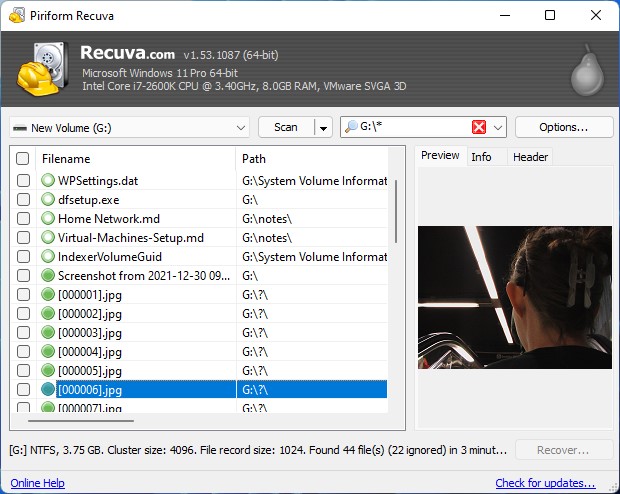 Strangely, it gets even better: Recuva's also faster than many alternatives and will probably manage to save most of your data. Still, that "probably" can be a problem.
Recuva didn't manage to bring back all of our files during our tests successfully. It recovered most, but some ended up being useless, garbled data.
Features
Compatible with most types of devices.
It can also do the opposite of its primary purpose, delete your files "securely", eliminating chances of their recovery.
👍 Pros
Unbelievably easy to use.
Free version without annoying limitations.
👎 Cons
It may not recover successfully as many files as some of its peers.
Except for secure deletion, Recuva doesn't have useful extra features like many of its competitors.
4. EaseUS Data Recovery Wizard
Do you prioritize speed over results, ease of use, aesthetics, and the contents of your wallet? Then, look no further than EaseUS Data Recovery Wizard.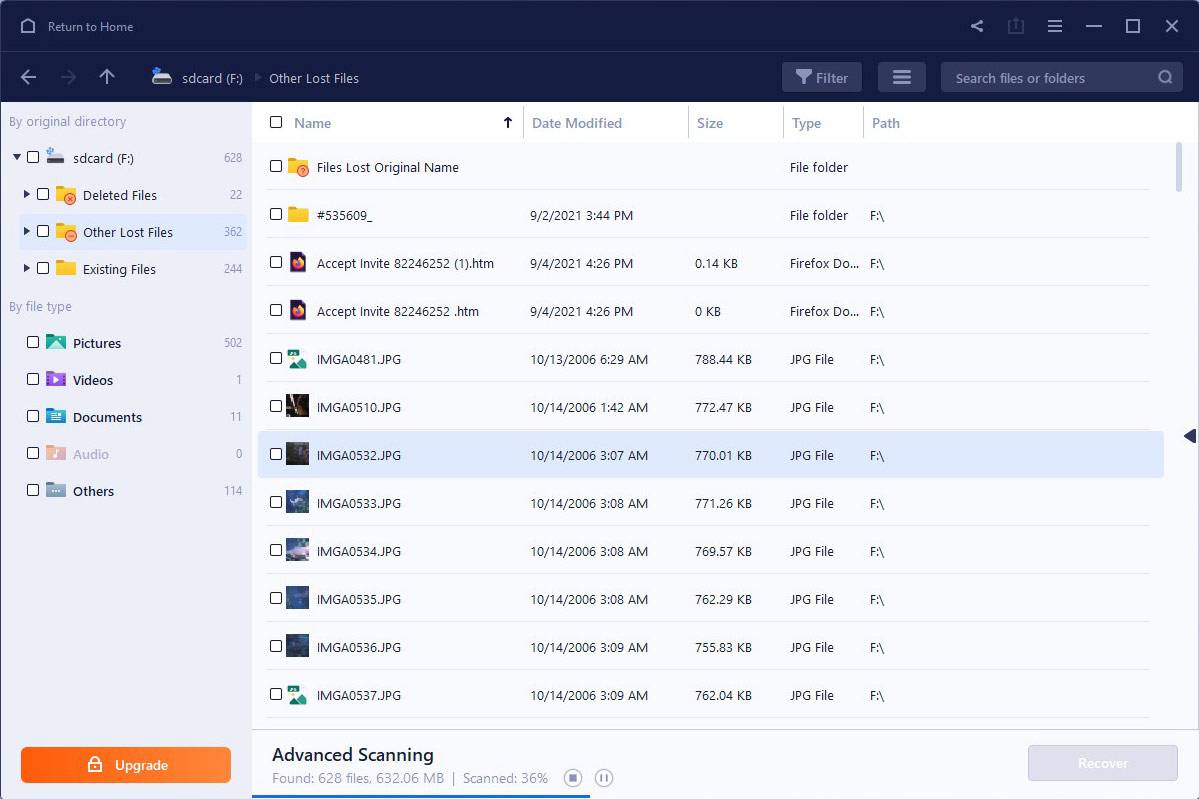 EaseUS's data recovery solution proved one of the speediest we've ever tested. Unfortunately, it's also one of the most limited. Like Wondershare's Recoverit, EaseUS Data Recovery Wizard's free version only works as a full version trial.
Features
Can work with RAW disks.
Able to recover data from damaged storage devices – as long as the computer detects them.
Can recover damaged photos.
👍 Pros
👎 Cons
Very restricted trial version, functional only as a demo of the full product.
Complicated interface compared to many other data recovery solutions.
5. PhotoRec
In many regards, PhotoRec is data recovery As It Should Be and closer to how professionals try to fish out lost data out of failing devices. This sounds like praise, but at the same time, and for the same reasons, it might be why many would prefer to avoid it.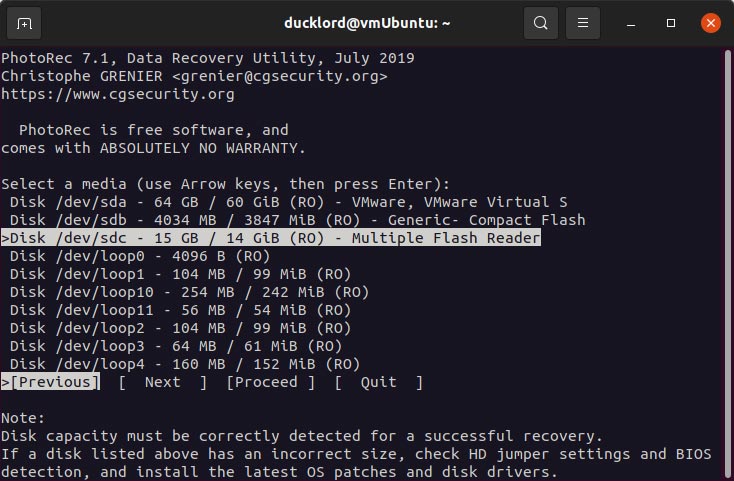 That's because PhotoRec is, first and foremost, a Linux application, and the best way to use it is from a bootable media of a Linux distribution. It's also what's known as "a shell app", as in, it runs in a terminal, with no easy-to-use graphic user interface. You have to double-check the device you unleash it upon and navigate its rudimentary interface using the keyboard and typing.
PhotoRec and its companion, TestDisk, are also available for other OSes. Still, they work the same way on all OSes, as solutions you use in the terminal.
Theoretically, you can use them from within your cozy OS and keep multitasking. Practically, if you want to scan the same device where the OS itself resides, it's best to run the app "outside" of it.
For those reasons, we can only classify PhotoRec as an advanced tool. If you don't consider the above as "problems", PhotoRec is one of the first apps you should look into since it can bring back most of your lost files for free.
Features
Can recover data from hard disks, optical media, and memory cards.
Able to recover files from devices with corrupted or no file systems.
👍 Pros
👎 Cons
Shell application / no GUI
Conclusion
You might not like Data Rescue's "no refunds" policy, or it might not detect the device from which you want to recover your files. Whatever the reason you'd prefer to look at alternatives, as we saw, you have many options.
It could be their better-designed interface that caught your eye, their zippy scanning, or their low (or non-existing) price. Some might be better than Data Rescue for your demands and particular data loss scenario.
Since they're not all equal, make sure to pick the best one for you. Especially if your device is failing, rendering data recovery a race against time before the eventual demise of all data stored there.
Choose wisely.
FAQ
That's a somewhat general question, and unfortunately, it's not possible to offer a generic catch-all answer.
On the surface, they're both data recovery apps, but that doesn't mean "they're the same". For example, Disk Drill's free version allows you to get back some of your files, whereas Data Rescue doesn't until you pay for a license.
We believe the apps we've included in this article are some of the best alternatives to Data Rescue. To recap, you can't go wrong with:
CleverFiles Disk Drill
WonderShare RecoverIt
Piriform Recuva
EaseUS Data Recovery
PhotoRec
However, remember that they're not equal, nor work the same way, so make sure to pick the best one for you.