What is Wondershare? Wondershare Recoverit considers itself a top-shelf data recovery program for Mac and Windows, promising a sky-high recovery rate and reliable security. If the name Wondershare sounds familiar, that's because they're the ones responsible for the hugely popular Filmora video editing app.
Recoverit boasts a handsome interface, but can it really make good on its promise of a 95% recovery rate? And is it really as safe as it claims to be? In this Wondershare review, we've tackled those questions and more, and we've included our impressions after trying it for ourselves.
Parameter
Value
🚄 Recovery Speed
Fairly slow, especially when performing a deep scan or recovering large files. Though it's worth noting that scanning and recovery speed depend largely on your disk size and type.
💻 Supported Platforms
Windows and Mac
☎ Support
Recoverit offers 24/7 live chat support as well as a chatbot with a variety of resources, though it can take a very long time for you to be connected with an actual rep.
✅ Pros

Eye-catching user interface
Compatible with both Windows and Mac
Supports various languages
Includes a preview feature

❌ Cons

The free version doesn't let you recover anything
The preview feature is finicky
The price difference between monthly and yearly is way too narrow
Main Recovery features
Let's take a quick look at the features Recoverit has to offer. Bear in mind that this is a mix of all three available versions – Essential, Standard, and Premium. The free trial includes everything in the Essential version but doesn't allow any actual recovery. That being said, here are Recoverit's most notable features:
File Recovery
According to the official website, Recoverit is capable of recovering more than 1000 different file formats across over 2000 different types of storage devices, all while promising an incredibly impressive 95% success rate.
Wide Language Support
Recoverit supports 15 different languages, including English, Japanese, French, Russian, Arabic, and Portuguese. 
Crashed Computer Rescue
This feature allows you to access your computer data even if your operating system fails and becomes unbootable. It accomplishes this by creating a bootable USB drive that gives you access to all storage mediums connected to the machine, regardless of the state of your operating system. This is a great tool for Windows PCs that have suffered data loss after encountering a blue or black screen of death.
Advanced Video Recovery
The software is supposedly adept at recovering high-quality videos (Ultra HD, 4K, and 8K) from a wide range of devices, such as DLSRs, drones, GoPros, etc., whether they're accidentally deleted or just very deeply hidden.
Advanced Video Repair
Recoverit can help you retrieve and repair videos even after the recording device is damaged, like if you accidentally dropped your camera or inadvertently submerged your non-water-resistance smartphone in water. The feature also comes in handy for video files that have been recovered but just won't play.
How to Recover Data
Now that we have an idea about what it can do, let's take a look at how to use Wondershare. Keep in mind that we're using the free version of Wondershare for Windows 10. For the purposes of this test run, we've deleted five picture files from the E: drive of our PC and five text files from our recycling bin. Let's see how well the program does at recovering them.
To start things off, you can grab the free Wondershare download from their official website.
Next, you open the downloaded installation file and follow the on-screen instructions until the program is successfully installed. How long this takes varies depending on how fast your internet connection is, since the files are downloaded from the internet. Once that's done, launch the app.
You'll immediately be taken to Recoverit's home screen without any tutorial wizards or anything of the sort. On the left side of the window, you'll see that "Hard Drives and Locations" is automatically highlighted, which shows you all the storage mediums currently connected to your machine, as well as some quick access options for your Recycling Bin, Desktop, and a specific folder search. Underneath "hard Drives and Locations", you'll find Recoverit's other features, including the crashed system recovery, advanced video recovery, and corrupted video repair.
Once you click any of the storage mediums, Recoverit will immediately start scanning. Since our picture files were deleted from the E: drive, that's the one we scanned.
Our E: drive is just shy of 100 GB and it took less than five minutes to scan, though it's worth noting that the drive is an SSD so it will probably take longer on a regular hard drive. Once the scan is complete, you'll be prompted with a message telling you how many files were found.
By default, the results are shown by file location, though you can change this to file type by clicking on the corresponding button on the left side of the window. You can also change the view, add filters to the results, and search for the file by name through the options found right on top of the search results. You can try previewing the file by double-clicking it, though this didn't work during our test run. We were greeted with an error saying that the preview failed because the file may have been overwritten, though that was not the case.
When you've located the files you want to recover, you can select them by clicking on the empty checkbox located immediately to the left of the files. Once you're all set, click the "Recover" button on the bottom right to start the recovery process.
Regrettably, this is as far as we were able to go with the free version, as we were prompted to purchase the program in order to actually recover any files. This was a bit confusing since the FAQs section on the official website stated that we could recover up to 100 MB using the free version. Though it is worth mentioning that Recoverit did manage to locate the deleted files on the drive that we scanned.

It was undoubtedly a disappointing end to our test run and one that felt very misleading considering it was clearly shown on the official website that the free version would be capable of recovering a certain amount of data. It certainly wasn't due to the size of the files we were recovering since the total size of the pictures was just barely over half a megabyte.
Interface and User Experience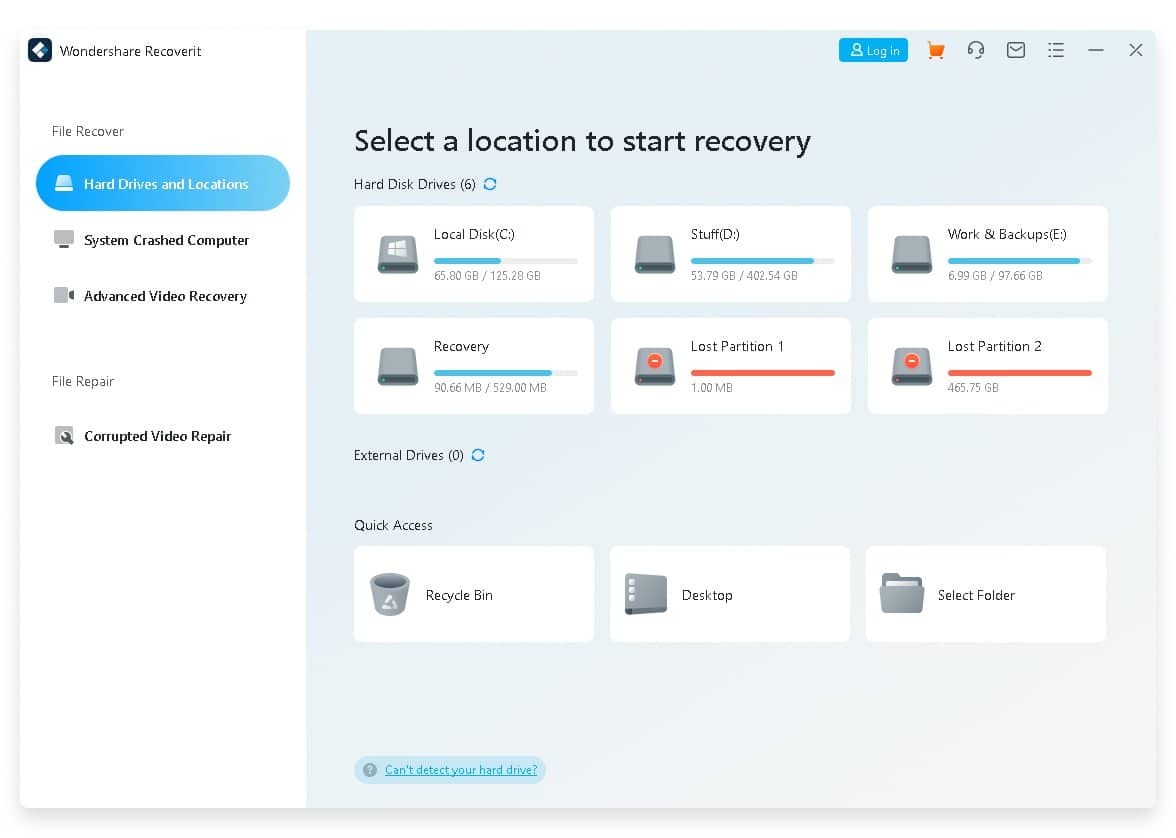 Wondershare Recoverit's user interface is its best feature by far. It's very easy on the eyes on account of its blended light-blue hues and rounded window edges, and the icons all look pleasantly modern, with the dropdown menus matching the overall aesthetic perfectly. It's not all looks either. 
Recoverit's layout is exceedingly functional, spreading out all the necessary information right in front of you from the get-go. Storage mediums are immediately shown along with the amount of space used and the total capacity per drive, and you have easy access to scan your Recycling Bin and Desktop at the click of a button.
If you want to use the program's other features, they're easily accessible from the left side of the window. One gripe we had, however, was the "Disk Tools" option that can be found in the dropdown menu along the top of the window. Clicking this launches the Windows Disk Management tool which we found kind of needless.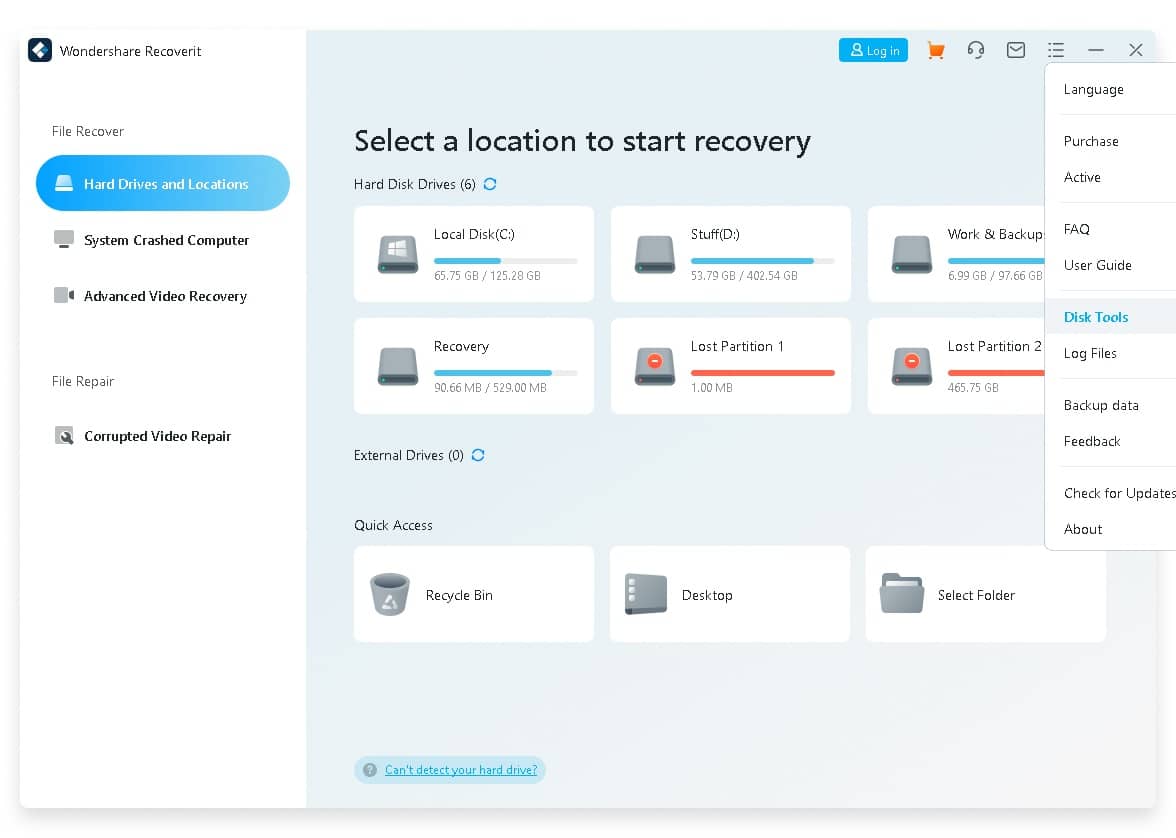 Security and Privacy
Wondershare data recovery clearly states on its website that its product is 100% safe. While it's difficult to ascertain if this statement is true beyond a shadow of a doubt, what we can tell is that the app is completely virus and malware-free so it's definitely safe from that standpoint.
As for privacy, Wondershare collects the usual information you'd expect from apps these days, such as the product serial number and your local device information. It's a bit concerning, however, that Wondershare shares your personal information with affiliated companies and service providers, which include the companies that provide their third-party cookies and tracking tools as well as several marketing platforms.
Sounds like another way to end up getting bombarded by unwanted ads. You can look up the app's privacy policy on their website. 
Pricing and Plans
Recoverit keeps it simpler than most when it comes to pricing. You have three paid plans to choose from: Essential, Standard, and Premium – each with an increasing number of features. You can opt for a monthly or yearly subscription, or you can pay a one-time fee for lifetime service. Here's a quick over you of the different plans:
Essential
This plan includes Recoverit's basic recovery features which allow you to recover thousands of different file formats from various kinds of devices. It includes "Deep Scan" and file preview capabilities and you'll have access to 24/7 support. It costs $59.95 for a monthly subscription, $69.95 for a yearly one, and $119.95 if you prefer a one-time payment.
Standard
The Standard plan includes everything you would get from the Essential one, in addition to the bootable toolkit that lets you create a bootable disk or USB flash drive. This grants you access to a machine whose operating system has failed and can no longer boot up. This plan will set you back $69.95 per month, $79.95 per year, or $139.95 for a one-off payment.
Premium
Finally, there's the Premium plan which is Recoverit's top-shelf offering. Here, you'll get everything included in the previous plans, as well as the program's advanced recovery features. These features are advanced video recovery, corrupted video repair, and the scanning and merging of video fragments. Furthermore, you'll be able to install Wondershare Recoverit on two separate PCs, whereas the other plans only allow you to install it on one. The monthly price tag is $79.95, the yearly one is $89.95, and the lifetime subscription sits at $159.95.
Plan
Features
Monthly Price
Yearly Price
Lifetime Price
Essential
Data Recovery Features
$59.95
$69.95
$119.95
Standard
Data Recovery Features
Bootable Rootkit
$69.95
$79.95
$139.95
Premium
Data Recovery Features
Bootable Rootkit
Advanced Recovery Features
$79.95
$89.95
$159.95
You've probably noticed how disproportionate the difference is between the monthly and yearly subscriptions. It's a mere 10-dollar price hike for twelve times the service length, which feels pretty unreasonable. At that price point, why offer a monthly service at all? 
It's also worth noting that the Premium plan allows the program to be used with two PCs so it's a pretty good deal if you want to split the purchasing costs with someone else. It's also the only plan that includes advanced recovery features.
Support
No matter which version you're using, the Wondershare Recoverit app includes a built-in support feature that lets you contact online support whenever you need it. A little pop-up window appears on the bottom-right corner of the screen that starts you off with a chatbot. If the automated responses aren't enough to handle your concern, you'll be given the option to contact a live rep.
Before speaking to a rep, you'll be asked to fill in a few details, namely your email address, name, and a message to begin the chat with. It took quite a while for us to get hold of a rep – over an hour, to be more specific – but the fact that you have access to 24/7 customer service is definitely reassuring. There's also a queue position counter that tells you how many people are ahead of you in the queue, so you won't be waiting blindly, at least.
Customer Reviews
Christopher Chew from Trustpilot says:
"Some recovered files indicated as pdf, excel, winwords, cannot be opened and some photos can be seen clearly as indicated on the folder, but when opening the file, the photo is distorted only can see part of the photos. Some files are named incorrectly therefore you have to open nearly all files to confirm that it is the correct files as named. Sadly, there will be files even though pull out but indicated with funny names, and most of them cannot be opened. Overall I am still happy because nearly 70% of the files are retrieved."
Techradar says:
"Wondershare Recoverit is a great backup and data recovery software that works on practically any device. Even if you want to restore video on your old camcorder, you can use Recoverit to do so. If you want to protect data because you work from home, or just want to know your photos and videos are safe, then you can easily try the free download to see if it's the right software for you."
Techjury says:
"Scanning is fast and doesn't slow down your system, while every feature can be carried out with a few clicks. The video recovery and repair features are ambitious and do not deliver the best results, but it's a feature that can only improve with future releases. The only thing holding it back from a top score is promoting a Recoverit free data recovery option that doesn't really do anything. And, having prices so close together that paying monthly isn't worthwhile."
Emil from Trustpilot says:
"Unfortunately I had a lot of problems with the advanced video repair. It managed to salvage some of my videos, but only around 70% of the playtime. However, it needs to be said that my files were greatly damaged."
Final Verdict
If the user reviews are anything to go by, Wondershare Recoverit certainly is capable of recovering your lost or damaged files, albeit not at the 95% recovery rate that it loves to flaunt. We'd have loved to try it out for ourselves, but the free version only allows you to go as far as scanning your drives, contrary to the FAQs on the official website.
It did manage to find the deleted files we were looking for, which is a plus, and the handsome user interface is definitely one of its highlights, but the lack of innovative features coupled with the steep price tag makes it difficult to recommend Recoverit over some of the better data recovery solutions on the market.
The Competition With Other Tools
Given the stiff competition in the data recovery space, it's tough to recommend Wondershare Recoverit over the likes of Stellar Data Recovery, Disk Drill, and EaseUS Data Recovery Wizard, all of which include a lot more features and come at a lower price point. The fact that Recoverit is missing a save scan feature is also notable, given how many other data retrieval solutions offer it. 
If you're interested in giving the excellent Disk Drill PRO a try, they offer a 50% competitive discount which cuts their price tag in half if you're already using a different data recovery solution.
Moreover, Recoverit's free version only allows you to go as far as scanning your drives, with the actual recovery requiring you to purchase or subscribe to the product. This is a pretty big letdown considering most of the competition gives you a certain amount of data to work with for free.
FAQ: