Having quality data recovery software is something you may never have thought about. But then one day you realize that you just emptied your recycle bin after deleting some important documents. Or maybe you get informed that the new guy just formatted the wrong partition on your laptop. If you are even a casual user of Windows computers you will undoubtedly experience a data loss event at some inopportune time.  
Rather than panic, you need to stay calm and immediately stop using the hard drive, memory card or partition where the data loss has occurred. This is to preserve the disk so that you can use data recovery software to attempt to restore your lost or damaged files.
There are a number of options available in free data recovery software for Windows users. We are going to take a look at 5 best free data recovery tools to help you recover from data loss scenarios.
---
Let's take a closer look at what these free file recovery software tools offer.
Cost:
Free to download and recover 500MB. The Pro version lists at $89 and allows one user to protect up to three computers.
Supported Windows Versions:
Windows XP/Vista/7/8/10
Download Free version: www.cleverfiles.com/download-disk-drill-windows.html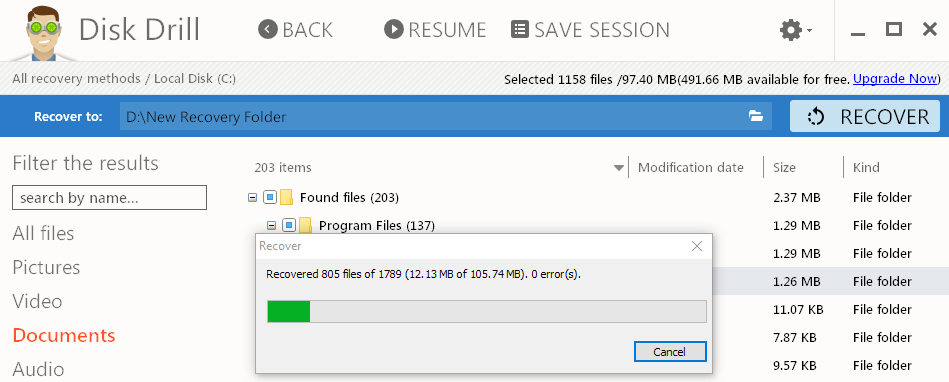 Disk Drill for Windows is a comprehensive data recovery application that includes advanced data protection features that take data protection to a new level. It can help you recover from lost and deleted files that occur due to hard drive damage, virus attacks, and emptied recycle bin.
You can download the software for free and use it to restore up to 500MB of data as well as use it for unlimited previews of restorable data before investing in the Pro version.
Disk Drill is a great choice to protect the data on your Windows machine and its peripheral devices. Use it to recover deleted photos, pictures, videos, word and excel documents, music files, notes and any other type of file that resides on your computer. It can also be used to recover files from external storage devices like sd cards, USB flash drives, digital cameras.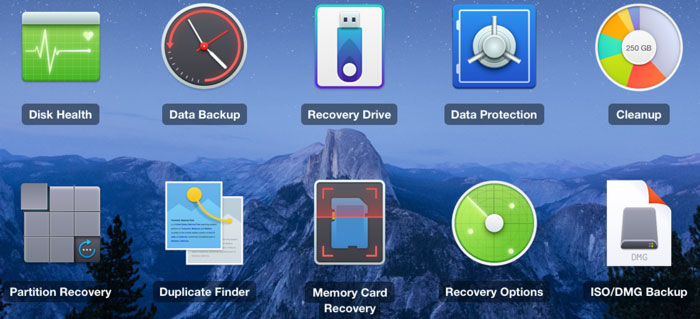 Product features:
Multiple scanning options – Disk Drill provides multiple scanning options to satisfy various data recovery needs. Quick Scan will help you retrieve recently deleted files. If your files were deleted some time ago or your disk experienced severe damage, Deep Scan will comb your disk bit by bit to recover your files.
Deep Scan has knowledge of more than 350 different file types and can reconstruct them during the recovery process.
Powerful session management – Users have the flexibility to stop scans and immediately recover found files. You can pause a scan and return later to finish the job. An intuitive user interface makes it easy to work with the tool. Filters allow you to scan and recover specific files or file types.
Advanced data protection – Disk Drill is more than just excellent free file recovery software. Its Recovery Vault feature keeps track of the meta-data of all of your deleted files, acting like an extended Recycle Bin. It makes it easy to quickly recover any files that are accidentally deleted from your system.
---
Cost:
Freeware with no cost to the user.
Supported Windows Versions:
Windows NT4/2000/XP/2003/Vista/2008/7/10
Download Free version: https://www.cgsecurity.org/wiki/TestDisk_Download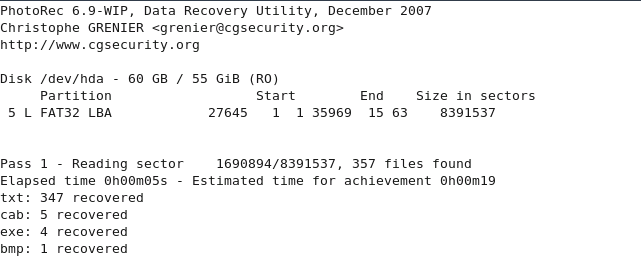 TestDisk is OpenSource software that is licensed under the GNU General Public License. It was originally designed to assist in the recovery of lost partitions and to correct issues that prevent bootable disks from actually booting. It can also be used as file recovery software with its companion product PhotoRec.
Product features:
Rebuild partitions and boot sectors – The strong point of this software package is its ability to fix, rebuild, and recover deleted partitions and corrupt boot sectors.
Undelete files – Files from FAT, exFAT< NTFS, and the ext filesystems can be undeleted.
Support for novice users – TestDisk can be used to generate information regarding non-booting drives that can be used by tech support to diagnose the problem.
---
Cost:
Freeware with no cost to the user.
Supported Windows Versions:
Windows 2000/XP/VISTA/Windows 7/2003 or 2008 Server
Download Free version: http://www.undelete360.com/download.html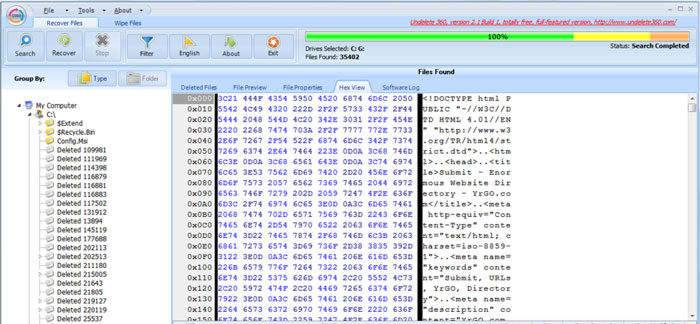 Undelete 360 is a freeware software application that can be used to recover many types of accidentally deleted files on older versions of the Window operating system. The program can be used to recover files from your computer's hard drive as well as USB drives, camera, and smartphones.
Product features:
User interface – Results from your disk scans are displayed in both a folder and file list view. Filter files for recovery rather than scanning a complete drive and preview files before you restore them.
Multiple file types supported – This free file recovery tool supports many file types and can recover compressed and encrypted files that were deleted from an NTFS drive.
---
Cost:
Puran is free for home users. A commercial license for up to 3 computers is available for $39.95 and a site license for 10 machines costs $149.95.
Supported Windows Versions:
Windows XP/2003/Vista/2008/7/8/10
Download Free version: http://www.puransoftware.com/Puran-Utilities.html

Puran is a suite of over 20 different utilities for the Windows OS. Among those utilities is free file recovery software.
Product features:
User Interface – Puran provides users with a simple interface that complements its powerful recovery engine.
Multiple scanning options – Quick, Deep, and Full scans can locate undercover files in over 50 data formats.
Full path recovery – You can save recovered files while retaining their path structure
---
Cost:
Free for personal use. Business licenses are available starting at $69.
Supported Windows Versions:
Windows 2000/XP/Vista/2003 Server/2008 Server
Download Free version: http://www.officerecovery.com/download/freeundelete.exe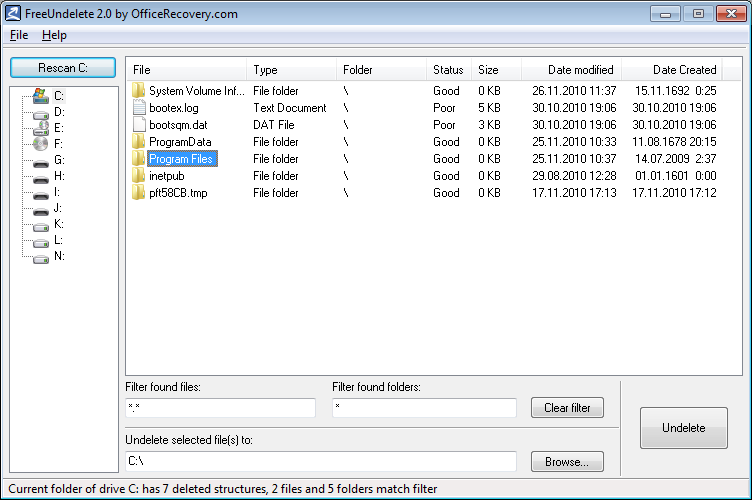 Last in our review of free data recovery software applications for Windows is FreeUndelete. As the name suggests, it is a free product that can restore deleted files on older versions of Windows on your home computer. Business users need to purchase a license.
Product features:
Simple user interface – Easy to use with no special disk recovery skills required. Users define the recovery location to avoid overwriting the original files during recovery.
---
Verdict
As you can see there are several products available that offer you the ability to restore deleted files on your Windows machine. Not all of the choices are created equally. Some only support older versions of Windows and will not work on your new Windows 10 machine.
Disk Drill stands out for its advanced data protection capabilities and the ability of users to recover up to 500 MB for free. It fully supports the most recent Windows 10 versions and is the perfect tool to bail you out of trouble when you run into inadvertently deleted files. Download it today and start protecting your data for free!

Data recovery for free
Your Companion for Deleted Files Recovery