Useful tips for recovery and protection your HDD
The best way to recover HDD data is to follow these steps:
Stop using the device. This is a critical step as further changes may hamper the hdd data recovery.
If the damage is physical, and the HDD cannot be connected, the work of a specialized HDD data recovery firm may be necessary. Package the HDD in a manner that will suffer minimal damage before sending it for repairs.
If possible, make an image copy of the hdd.
If the HDD can be connected, try to retrieve the files with the HDD data recovery software such as Disk Drill. Preferably, use the image file obtained in step 3.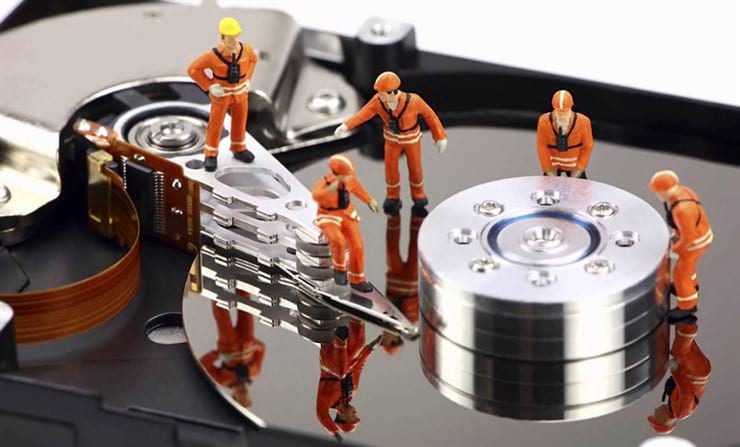 Data recovery for free
Your Companion for Deleted Files Recovery
Disk Drill can be obtained from the company's website. This HDD data recovery software is available for Mac and Windows. There is a free download version with the basic functionality.
Once downloaded, just follow the steps indicated in the installer. It is very user friendly.
How to recover HDD data with Disk Drill?
Recovering HDD data with Disk Drill is very easy. This app comes with two types of scan: quick and deep.
Quick scan uses the data available in the file system. It is fast, and therefore useful for cases such a recent unintended file deletion.
Deep scan performs a more sophisticated HDD data recovery. It performs a binary level search, and therefore it can help even in cases such as unintended formatting or corrupted partitions. However, if metadata is not available, it may return files named in a generic manner, such as file001.docx.
Besides, if Disk Drill was running with Recovery Vault or Guaranteed Recovery on, HDD data recovery can be done by retrieving the files with Disk Drill.
Scan options
If the data loss includes one or more specific file types, the scan can be narrowed by using the "Preferences" option. This choice shows all the file signatures handled by Disk Drill. The right one(s) can be selected, and the scan will ignore what is unnecessary.
In cases of Mac HDD data recovery, the app will detect if it is necessary to rebuild the Catalog File, and it will place a button next to the partition labeled "Rebuild" instead of "Recover".
The HDD data recovery results are presented in a friendly manner, with filters in the form of a menu. Data can be sorted according to file type, size and date. There is also a file preview option.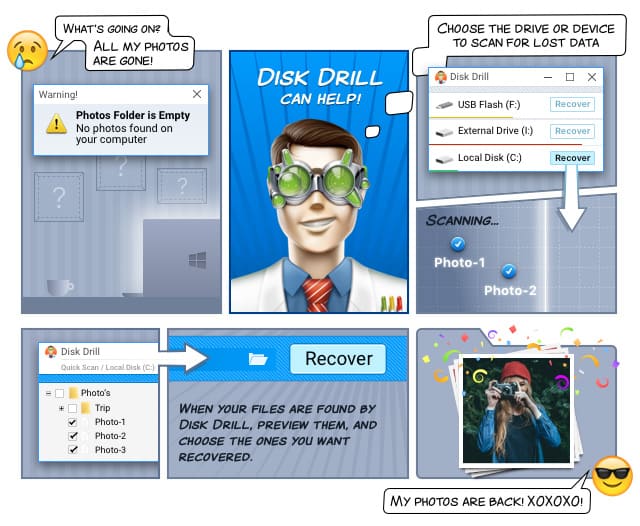 How to make an image of the HDD with Disk Drill?
Making an image file with Disk Drill is a one-step procedure. The "Extras" option provides the "Backup into recoverable disk image" choice. Select it, and proceed as indicated by the app.
As backing up a full HDD may take time, depending on its size, Disk Drill offers the "Save Session" option. This selection allows to stop the process and to continue with the HDD data recovery later on, without losing any work already done.
The obtained image file can later be used to extract files, either with Disk Drill or another app that opens image files.
How to prevent critical data loss in HDD With Disk Drill?
When it comes to HDD data loss prevention, this app is very effective. It presents two alternatives:
Recovery Vault
Guaranteed recovery
Recovery Vault adds an extra layer to the Recycle Bin. It keeps the metadata of all deleted files, allowing for later data retrieval. It must be turned on and runs in the background as an HDD data recovery service.
Recovery Vault
Guarantee recovery is more efficient, as it keeps a copy of any file moved into a selected folder. Although it consumes extra storage space, it guarantees that the last version of the file is accessible. It runs in the background and is available for HFS+ only.