Here is a situation that we all hope we do not ever have to face. You find that an important hard drive has been formatted and now the data is inaccessible. Perhaps the drive was formatted inadvertently, or it could have been done purposely before you realized that you needed files that were resident on the drive. In some cases, you may have formatted to change file systems, run into issues, and now have to recover files from a formatted hard drive.
No matter how you arrived at this point, the fact is that now to regain access to the data you need to recover data from a hard disk after formatting. Don't panic, there are some options available to you that can restore your system to full operational order.
What Does Formatting do to Your Files?
Let's take a minute to understand what exactly formatting your hard drive does to your hard disk. When you format a hard drive, the operating system loses its ability to reference the data on the disk. Until the particular drive sectors are overwritten, there is still a chance to recover a formatted hard drive.
The files and data are still there, but just cannot be accessed by your operating system. The only thing that formatting accomplishes is to eliminate the pointers that exist that tell your operating system where the files are physically located. If you can recover those pointers then you can access your data again.
If you find that you have inadvertently formatted a drive that you want to recover, you should immediately stop using that drive to avoid having the system overwrite sectors that may contain data that you are attempting to recover. Your best chance of recovering all of your files is to begin the restoration process as soon as possible.
The Importance of Backups
Viable backups of all of your internal and external hard drives can lead to a simple recovery in the case of inadvertent or problematic formatting. Backups are a critical component of keeping your computing environment safe and should be done regularly. Depending on the nature of your data, you may need to adjust your backup schedule to allow you to restore the data required.
In cases of static data, backups can be performed periodically. More dynamic data needs to be backed up at least daily, and in the case of mission-critical data such as from brokerage houses or banks, may be constantly backed up and mirrored to another location for immediate recovery purposes.
Backups can be restored to your formatted drive with complete success as long as the backups were completed without errors. In fact, this is the preferred method of recovering large installations during disaster recovery tests. Clean, formatted disks are used as the foundation for large-scale recovery operations.
Facilities that perform disaster recovery continually reuse the same hardware, including disk drives. After one customer's recovery is complete, all drives are formatted and overwritten. The next customer arrives with their backup media and can restore all of their files and data, enabling their system to get up and running. This procedure can work on your individual system as well.
If you are restoring all or part of your hard drive from previous backups that you have taken, these are the steps to follow using your backup software package.
To recover data from a formatted hard drive using your backups:
Identify the file systems, files or the complete HDD that you want to recover.
Find the correct backup image to use for your recovery. In many cases, this will be the most recent backup available, but in some instances, you may want to revert to older versions of your files.
Start recovering by initiating the recovery procedure from within your backup/recovery tool, and have it retrieve the list of files that you have identified.
When the process is complete, check your files to ensure that everything is as it should be. In the case of a damaged file, you may need to run another recovery on that file using a different or older set of backup media.
Here you can find a tutorial on how to create and recover data from a Disk Image on Mac OS X.
Formatted Hard Drive Recovery Without Backups
Backups are great to have and can be instrumental in recovering files from a formatted hard drive, but good backups are not always available. In some cases, a user may never back up their computer at all. What can you do if you find you need to recover data from a hard drive after formatting the device? Are your files lost forever?
There is a way to enact a formatted hard drive recovery without using backups. You will need to employ a software tool that can assist you in recovering your data. Such a tool can look at the data that is still physically present on your hard drive and re-create the operating system pointers, making your files available to the system and applications.
There are a number of data recovery software tools available for recovering on both Mac and Windows platforms.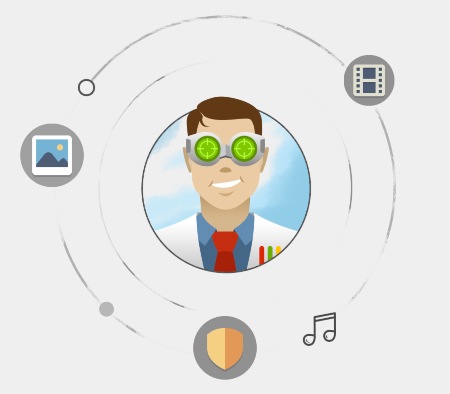 Disk Drill is an excellent option when looking for an answer as to how to recover a formatted hard drive.
There is a free download available so you can try the tool and see what it can do for you. Let's take look at how you would use Disk Drill to regain access to your drive and files.
How to Recover Data From a Formatted Hard Drive Using Disk Drill
When you are in need of a data recovery tool, the last thing you want to do is to be faced with a complicated recovery process. The fact that you are trying to recover potentially lost files is stressful enough without having to deal with unwieldy instructions and procedures.
Disk Drill offers a very simple, yet effective, way to identify the files that can be recovered and to actually recover them.
Follow the steps below to put Disk Drill to work recovering your data. We will be focusing on a Mac recovery, but similar steps will work to recover files on your Windows operating system as well.
To increase file recovery chances or in case your system partition is corrupted, you can create a bootable recovery drive with Disk Drill. Here you can find a detailed tutorial.
To Recover Deleted Files from a Formatted Hard Drive:
Download the free version of Disk Drill. Click on the diskdrill.dmg file to install the tool and then move Disk Drill to your application folder. Click on the Disk Drill icon to launch the software utility.
❗You need to be an administrator as the tool will install a new driver and needs full control to do its work.

Data recovery for free
Your Companion for Deleted Files Recovery

Make sure that the drive that you want to recover is attached to your machine. Once you launch Disk Drill, it will display the drives that it can access.
Click on the 'Recover' button for the drive you wish to work with. Disk Drill will inform you if you need to make changes before proceeding, such as Granting Full Disk Access in the latest version of macOS Mojave. It will then go through all of its scanning options to find any files that can be recovered.
Preview the files you found. Click on the 'eye' icon next to your file to preview.
Recover your deleted files. Simply choose the files that you want to recover from the potentially recoverable files that are displayed by Disk Drill. The tool will restore the files if possible.
In the case of physical damage to sectors on your drive, some files may not be able to be recovered. In most other cases, Disk Drill can recognize and recover files in over 200 different file formats.
---
Disk Drill is not just for emergency use and can make protecting your data easier with the free tools that are included with the application. Utilities that are included can check your disks' health, clean up unwanted files and duplicates, and protect your data with recovery vault for guaranteed recovery. Download Disk Drill for free today and see how it can help you keep your data safe and recover it when necessary.
FAQ
If you've accidentally formatted a hard disk with important data, then you need to use a data recovery software solution like Disk Drill to scan it and retrieve the lost files. Keep in mind that your data can be recovered only until it becomes overwritten, so act quickly and don't write any new data to the formatted hard disk.
Recovering data from a formatted hard disk on Mac is easy thanks to data recovery applications like Disk Drill:
Download and install Disk Drill.
Launch it and scan the formatted hard disk.
Recover your data.
Recovering data from a formatted external hard drive is just as straightforward as recovering formatted internal hard drives. The trick is to begin the data recovery process before the deleted data become overwritten and use a reliable data recovery software application.