Disk Drill for Mac & Windows: One Stop Computer Data Recovery Software
What if there was one computer data recovery software that could help you easily recover your lost or deleted data and, at the same time, prevent future data loss? And what if you could also use this software for free? Sounds too good to be true? It isn't. Disk Drill by CleverFiles is a tried and tested Mac OS X data recovery software that is now available for Windows.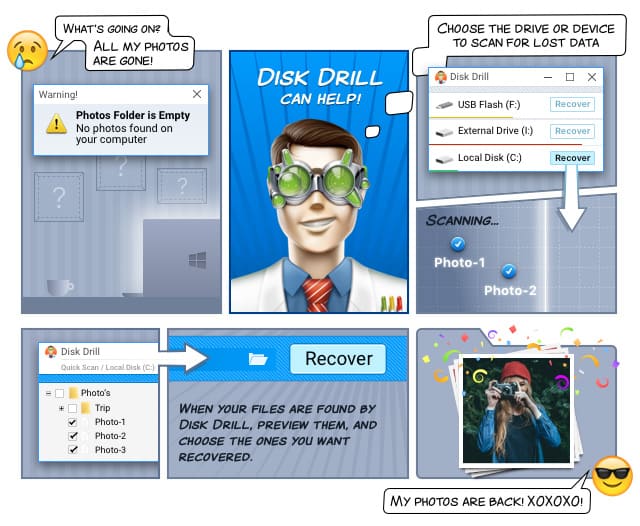 Data recovery for free
Your Companion for Deleted Files Recovery
Simple yet Powerful Computer Data recovery
When you are in a pinch and need to recover that important document that you've somehow accidentally deleted just a few hours before it's time to present it to your superiors, the last thing you want to do is jump through hoops and fight with bad user interface design.
Disk Drill values your time by presenting all its features in an intuitive, user-friendly way. Within a few seconds, you will know exactly how to use the software to recover data from your hard drive, memory card, USB flash disk, or iPod.
A single button click launches not one but several different data recovery algorithms that will go over every last bit of data until they find what you're looking for. You can then simply choose which files you would like to recover and Disk Drill will take care of the rest.
Advanced Computer Hard Drive Recovery
While simple to use, Disk Drill for Windows comes with advanced computer data recovery algorithms, including Undelete Protected Data, Universal Partition Search, Quick Scan, and Deep Scan. It also supports all common file systems – not just those used by Windows. From NTFS, FAT, and exFAT to Mac OS X HFS+ and Linux EXT4, Disk Drill does it all.
Are you in a hurry and just want to find your files as fast as possible? Use the Quick Scan feature. Do you want Disk Drive to meticulously scan your entire storage medium and look for even the tiniest pieces of deleted data? The Deep Scan feature will do just that. Or, perhaps, you just want to recover all data on your computer and don't care how Disk Drill does it? In that case, you can choose to run all recovery methods one by one and just sit back, grab a cup of coffee, and wait for the results.
Computer hard drive data recovery can sometimes take a long time, depending on the size and speed of your hard drive. With Disk Drill you won't even have to wait for the software to finish its job. You can simply pause it whenever you need to shut down your computer and resume scans as needed.
Beyond Computer Data Recovery
CleverFiles believe that any good computer data recovery service or software should proactively help users prevent data loss – not just minimize the damage after it's been already done. That's why Disk Drill for Windows comes with Recovery Vault, a unique data protection algorithm that, unlike most backup solutions, requires minimal additional space and processing power.
When active, Recovery Vault keeps track of selected folders and memorizes the exact location of all deleted files, even after they have been deleted from the Recycle Bin. It then takes just one click on the Undelete Protected Data button to restore all deleted files.
If that's not enough, you can even backup your entire drive or selected partition into ISO or DMG image. This image will contain everything stored on your hard drive, allowing you to effortlessly restore or archive its content.