Choosing the right data recovery tool can be difficult if you're not sure what to look for. The ability to recover data isn't the only factor to consider, you must also consider how well the tool can recover data.
To save you the time (and possibly money) of testing the range of data recovery tools available to you, we've compiled a list of our top picks. If you've tried R-Studio Data Recovery and found that it doesn't meet your needs, check out our list of the best alternatives.
What Is R-Studio Data Recovery
The R-Studio Data Recovery software is feature-rich and supports all major operating systems, including Windows, Mac OS X, and Linux. The free version allows you to scan your computer to see how the software works. You can recover files that are 256KB or smaller in demo mode. Recovery of larger files will require an upgrade to one of the five different paid versions ranging from $49.99 to $899.
In addition to data recovery, here's a list of its other useful features:
Network recovery – With the R-Studio Network or R-Studio Technician licenses, you can perform data recovery on network-connected drives rather than drives that are connected directly to your computer.
Great compatibility – R-Studio Data Recovery is supported on Windows, Mac OS X, and Linux. It also supports all main file systems, such as NTFS, ReFS, FAT12/16/32, exFAT, HFS/HFS+, APFS, and Ext2/Ext3/Ext4.
Disk imaging – Create an image of your entire hard drive or partition. This is useful when you want to take a snapshot of your drive to perform recovery at a later time, or for backup purposes.
Overall R-Studio Data Recovery comes packed with lots of useful features, but for some it might not be a good fit. If that's the case, it's time to look at some RStudio alternatives that might satisfy your needs.
Top 5 Alternatives to R-Studio Data Recovery
If you've made the decision to make a change from R-Studio Data Recovery, there must be a reason. The data recovery tools below have been picked based on their efficiency, cost, usability, and speed. You're bound to find an RStudio alternative for Mac or Windows that suits your needs.
Disk Drill is an industry-leading data recovery tool that comes jam-packed with features that help you recover your data and protect it going forward. With support for over 200+ file types and all major forms of storage media, you can recover data from your Windows or Mac OS X computer in just a few clicks.
Let's preview the data recovery process using Disk Drill:
Download Disk Drill. Install then open it.

Data recovery for free
Your Companion for Deleted Files Recovery

Click on the drive that has suffered data loss, then click Search for lost data.
When the Disk Drill scan has finished, click Review found items.
The Recovery chances column will indicate your chances of successful recovery. You can also expand the preview panel to check if it's the correct file. Select what files you want to recover by checking their box. When ready, click Recover.
Choose where you want your files restored. Click OK.
Main features:
Byte-to-byte backups – Create full, byte-to-byte backups that can be used in data-loss situations or for recovery at a later time.
Data protection – If you have files that are too important to risk losing, Disk Drill's data protection feature can safeguard selected files against data-loss situations.
Active disk health monitoring – Disk Drill will monitor your drive's S.M.A.R.T. data and alert you of any problems that arise.
Preview panel – Previewing your files before recovery ensures you're recovering the correct file and that you know it's not damaged.
Filter search – Instead of searching through a large list of discovered junk files, use the search box to filter through the results fast.
👍 Pros:
Clean, easy-to-use interface that's beginner-friendly.
Recover up to 500MB before upgrading to a paid version.
Disk monitoring that regularly scans for threats or potential concerns.
The data protection feature keeps your data safe from data loss.
👎 Cons:
No portable version is available for Windows users.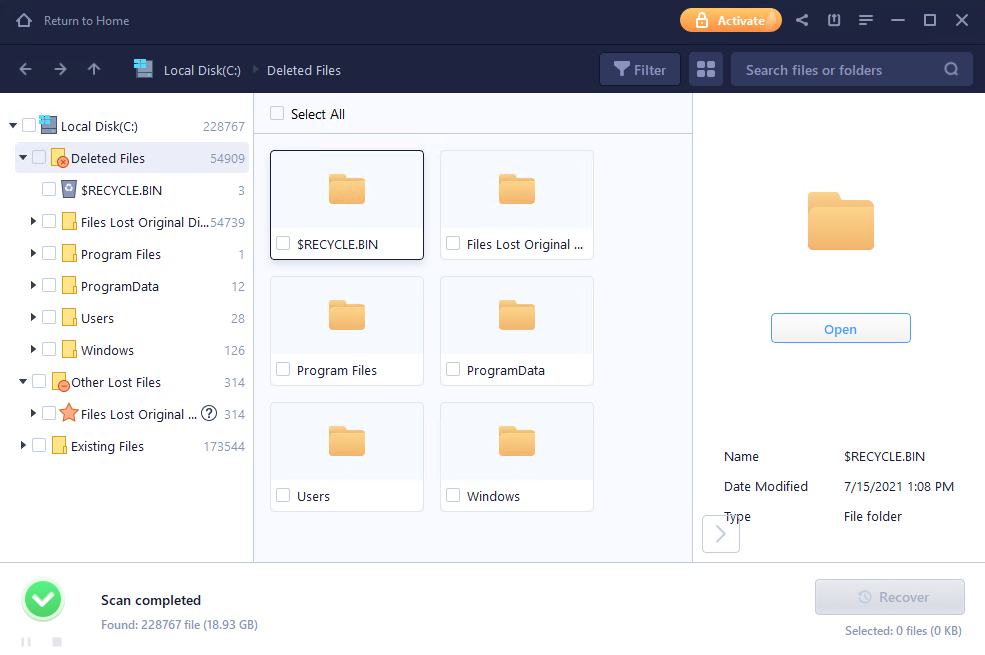 EaseUS is another data recovery tool that's popular among users. Since being released in 2005, it has garnered 72 million downloads and boasts a recovery rate of 99.7%. You can download it for Windows and Mac and recover lost or deleted files from a wide range of storage media. Alongside their desktop application, they have MobiSaver, an app you can download to your Android device and recover directly to it.
Main features:
Three scanning modes – You can choose between a Quick, Deep, or Raw scan – each with a higher chance of success at the cost of longer scan times.
Save scan results – Rather than scan your drive multiple times, you can export your scan results and import them again at a later time if you don't have time to go through the whole list.
Preview panel – Preview the data before you recover it to ensure it's exactly what you need.
👍 Pros:
Includes a lot of useful features.
Easy-to-use interface with a clean design.
Recover up to 2GB for free on the free version.
👎 Cons:
Fairly expensive paid licenses.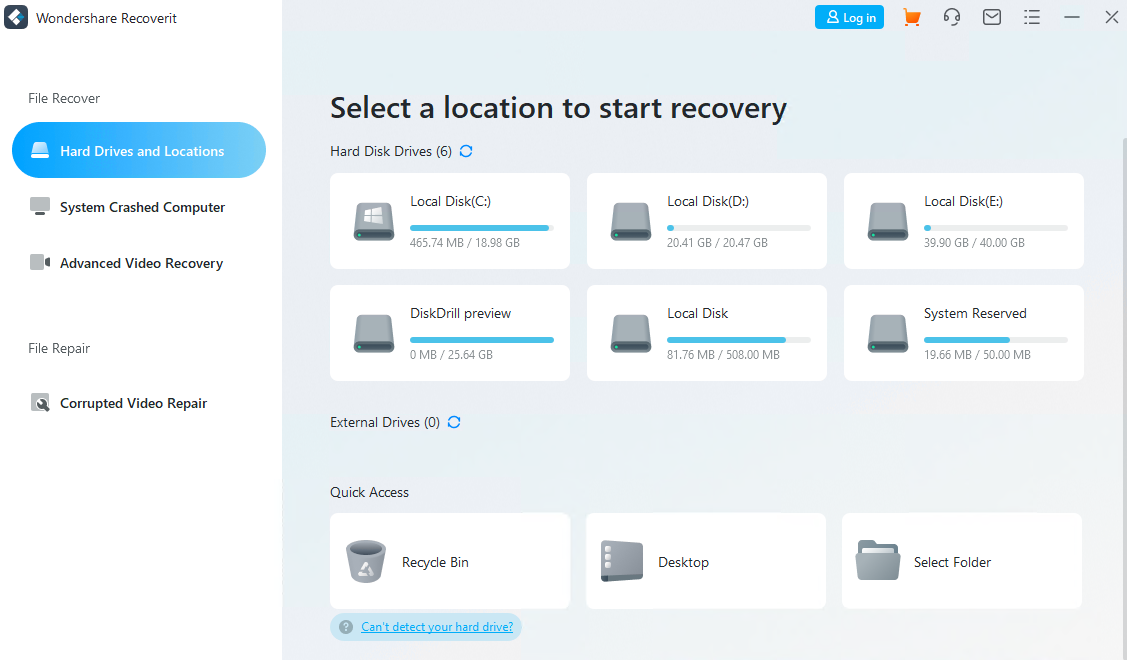 Recoverit by Wondershare is a data recovery tool available on Windows and Mac OS X that supports over 1000+ file types and 2000+ different types of storage media. With a 95% success rate, you can expect to recover your photos, videos, documents and other files with ease from almost any form of storage device.
Main features:
Advanced video recovery – This feature focuses on the recovery of video files and attempts to repair them if they've suffered from corruption.
Preview window – Preview your data before recovery to ensure you're recovering the correct file and that it's intact.
Filtered scan/search – Rather than scour through endless results, use the filter to only scan and show files that you want to recover.
👍 Pros:
User interface is easy to understand and navigate.
Accessible support through email, live chat, and phone.
👎 Cons:
Slow scan times.
Backup feature, UBackit, requires a different paid license.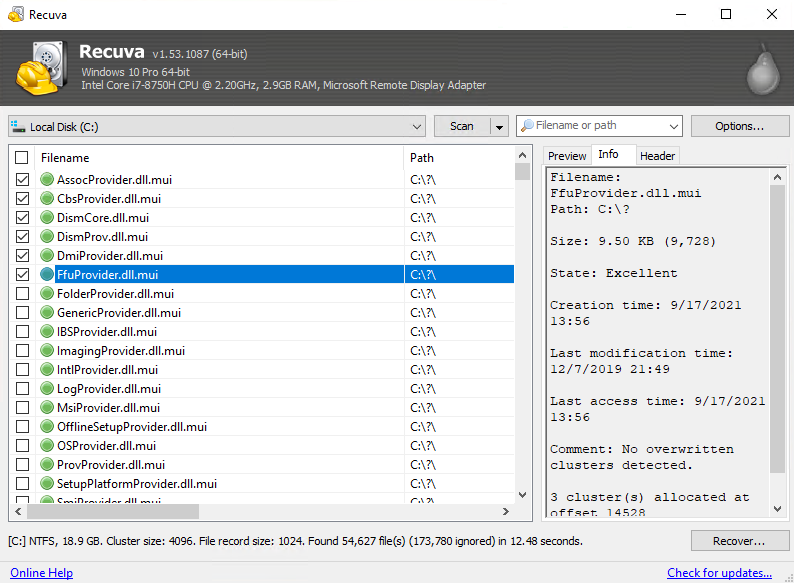 Recuva is a data recovery tool created by Piriform, the same team who brought us the popular cleaning utility, CCleaner. It's popular among freeware users as it allows unlimited recovery for free. Upgrading to the paid version for $19.95 opens access to automatic updates, support for virtual disks, and official support. 
Main features:
Portable – The portable version of Recuva can be used if you didn't have the software installed at the time your data was lost. Using a portable version ensures your data isn't overwritten if you were to install the software.
Secure deletion – If you want to secure delete sensitive data so it can't be recovered, the secure deletion feature allows you to choose a number of times Recuva will overwrite the data. Each overwrite pass makes your data harder to recover.
Deep scanning – If the regular scan didn't yield the results you wanted, a deep scan will perform a more extensive search of your disk to find data that would usually be overlooked.
👍 Pros:
Generous data recovery and very affordable paid license.
Portable version available.
Wizard-like recovery process.
👎 Cons:
Data recovery isn't as reliable as other alternatives.
Windows only.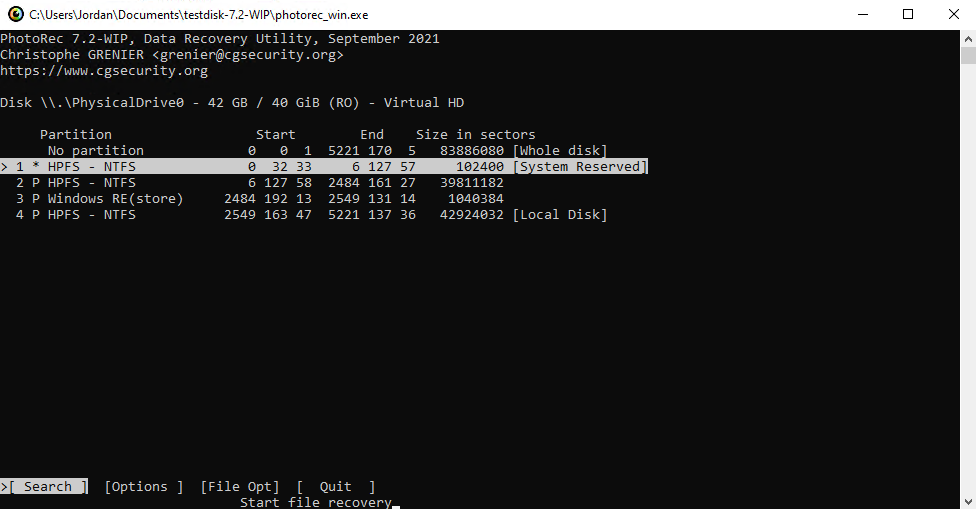 PhotoRec is the open-source companion app to TestDisk, a partition recovery tool. PhotoRec ignores the file system and works with the data directly, so it can be used on Windows, Mac OS X and Linux operating systems. The tool is completely free and is supported by donations so it's popular for those who are looking to recover data on a budget.
Main features:
Widely compatible – PhotoRec can be used with all major operating systems and supports recovery from almost all file systems.
QPhotoRec – PhotoRec has a GUI option that can be used to replace the command-line interface with a more user-friendly design.
👍 Pros:
Free and open-source.
Great compatibility.
👎 Cons:
Command-line interfaces can be difficult to navigate.
Interface distorts if you resize the window.
No official support.
Conclusion
If you weren't satisfied with R-Studio Data Recovery, chances are one of our top picks from this list will be able to satisfy your needs. A good data recovery solution will be easy to use, affordable, and effective at recovering data from various data-loss scenarios. 
FAQ
Both are data recovery tools, but the difference stems from their features. Disk Drill allows you to trial its recovery capabilities by recovering up to 2GB of data before needing to opt for a paid version. It also includes features that help protect your data going forward rather than always trying to recover what was lost.
As mentioned in our list, there are a few good alternatives to R-Studio Data Recovery. Ultimately it will come down to your personal preference when choosing a data recovery solution. Here are out top alternatives:
Disk Drill
EaseUS Data Recovery
Wondershare Recoverit
Recuva
PhotoRec