Kroll Ontrack data recovery software and it's best alternative
Have you ever experienced a situation whereby your hard disk suddenly crashes, and you are left with no access to your important files? Well, this occurrence is common and happens when the hard drive overheats, manual deletion of files, improper Shutdown of the PC, etc. With a data recovery app such as Disk Drill and Kroll Ontrack data recovery alternatives, you can recover your lost files, using several recovery methods.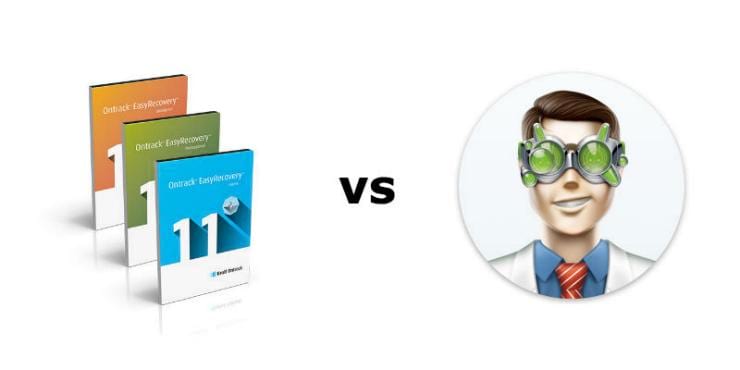 Depending on the impact of your data loss, Disk Drill data recovery software and other Ontrack data recovery software alternatives can help retrieve lost data and files. Disk Drill free version allows you to scan lost files and only pay if your lost files are recoverable. Disk Drill will let you know about your lost files in advance, and this allows one to make the decision of whether to have the software or not.
Kroll Ontrack data recovery software and recovery solutions take several days to work. While the company offers a simple Ontrack easy recovery process, imagine that you've accidentally deleted your project files or documents that must be presented the next day!. What will you do? Will you have the time to go through a process that might take days? Of course, that is impossible for you. With Disk Drill, you can simply download the software and follow simple steps of retrieving back you lost files. Unless you are not a regular PC user, Disk Drill offers a simple file recovery process that is very convenient and hassle-free. In case you have any reasonable doubts; you can contact Disk Drill customer support for assistance and technical support.

Data recovery for free
Your Companion for Deleted Files Recovery
Disk Drill Pro offers a DIY process that is easy to follow and besides this, if there are any recoverable files found by the software, you will be able to save them immediately. The Pro version has more features than the free version, and you can use it to recover deleted files such photos, videos, documents, etc. It works well on both internal and external media storage devices.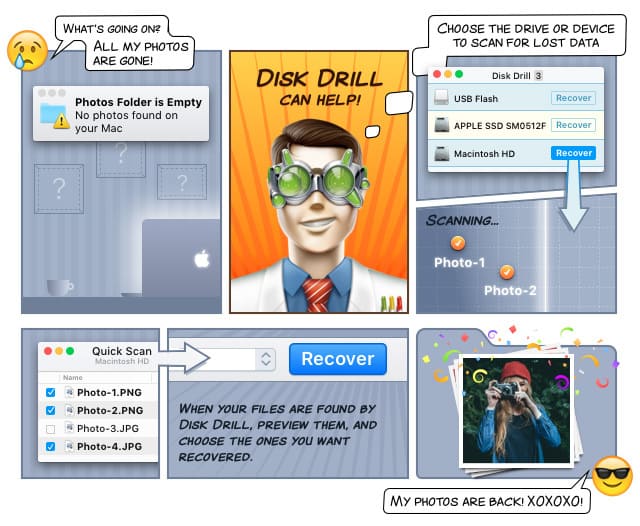 Features of Disk Drill Pro
Recovery Vault. Disk Drill Recovery Vault tracks all your computer file history which makes it easier to retrieve accidentally deleted or damaged files.
Easy-to-use user interface. With just a one-click "Recover" button, the software lets you save all recoverable files to your computer.
SMART monitoring for external drives. With Disk Drill, you can easily monitor the state of your PC external Drives.
Available Free Space. The app lets you see how much space is available on each disk.
Guaranteed Recovery. Disk Drill makes a copy of all deleted files from your PC recycle bin which gives an option of recovering back your files after you empty the recycle bin or trash.
What to do in case of hard drive failure or crash
If you happen to incur any physical damage to your drive, it's good to seek professional help from a data recovery company. Some low quality manufactured hard drives last for a few years before showing any signs of failure or damage. If you are not an expert in IT, it might be so hard for you to differentiate between an original hard drive from a counterfeit. While data lost through this scenario may still be recoverable, we recommend you to use the best data recovery company that can assist you in retrieving back your files. If you are not sure on what has happened to your internal or external drive, you can contact Disk Drill or Kroll Ontrack data recovery software customer support, for more help and guidance on how to recover from this scenario.
If you are looking for data recovery programs and Ontrack hard drive recovery alternatives, you need to be aware that there are other sites that spread malware and virus when pretending to offer you crack versions of Disk Drill and Ontrack Easy Recovery alternatives.  If you want to get Disk Drill registration code or serial key, please contact Disk Drill customer support for help and assistance on how to upgrade your free version. Downloading torrents files and pirated software might cause irreversible damages to your computer OS. Always buy genuine software to avoid being victimized as a counterfeit software user. If you are looking for a reliable data recovery software that is hassle-free to use, download Disk Drill free or pro version today.