Recuva Alternative — Disk Drill Data Recovery Software
In the event of missing files, Disk Drill can recover your data from hard drives, partitions, and basically any connectable storage device. This data recovery application is available for Mac and Windows computers.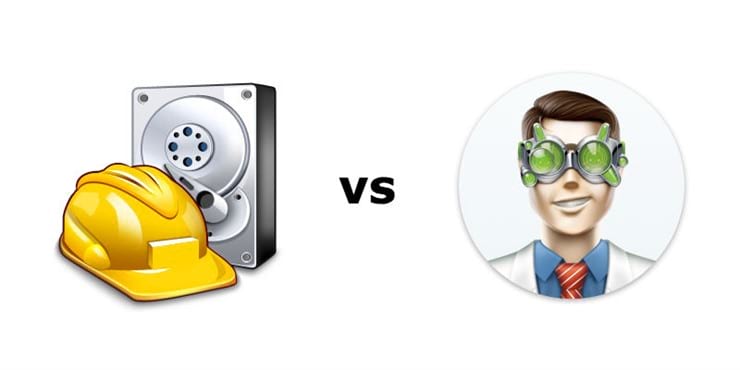 It comes in two versions: free and commercial. The free version has a few limitations, such as a maximum total file recovery of 2GB. But, in case of a small accidental loss, it is ideal for a do-it-yourself recovery.
Sometimes, Mac users are misinformed by thinking that other apps, like Recuva recovery software, are available for their computers. However, this is not the case. Recuva Mac does not exist. Recuva data recovery is only available for Windows.
What is the Best Recuva Alternative for Mac?
Disk Drill is very easy to use. From the installer, to the user interface and the help content. Just one click on the icon. Once opened, Disk Drill has already detected all the connected devices and their file systems.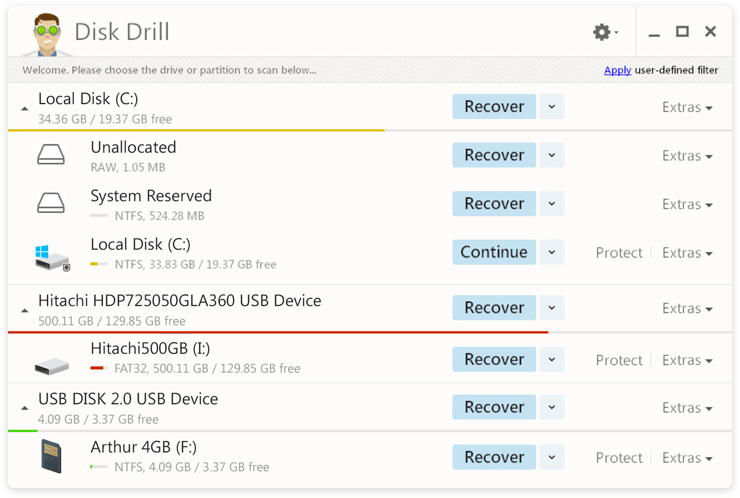 This is not the case with Recuva data recovery software. Recuva's download page is slow. Its interface is less intuitive. Recuva free download basic features are not very clear.
Disk Drill file search is offered in two levels: Quick scan and Deep scan.
Quick scan needs information from the file system. It is therefore useful when the deletion was quite recent.
Deep scan drills deeper, at binary level. Therefore, it can work without metafile information available. The downside: it may take long, depending on the drive's size. The advantage: it comes with a session manager that permits saving an unfinished scan, and continuing later on, without any loss of work.
Session management is not available in Recuva tool. Besides, Recuva's menu is not very clear when it comes to differentiating between different types of scans.
What about Solid-State Devices?
With SSDs, Disk Drill cannot guarantee a successful recovery, because this particular type of hardware may be paired with the TRIM function. After a deletion is registered in the file system, TRIM fills the storage space with zeroes. Thus, all data is permanently deleted. But, if the loss was very recent, you may try. You never know your luck. 
What about High Storage Capacity Devices?
If you need more than 100MB, the commercial version is available at an affordable price. The payment can be done online. Once paid, you will receive an activation key that gives you full access to the app. No need to download another app, like in the case of Recuva recovery software.

Data recovery for free
Your Companion for Deleted Files Recovery
Is there Any Way to Get it All for Free?
You can find many things: keys, key generators, serials, cracks, registration codes and torrents. But be careful, they usually have some extra "free" stuff, such as viruses, trojans, botnets, or other forms of malware. The result: your hard drive may end up in a worse condition. So be clever, do the honest thing, and get the legal version. In addition to the software, you will get a warranty and support. It's much better to use the licensed version of Recuva or it's alternative — Disk Drill.
So, ok, I buy the app, recover my files, learn a lesson, and wait until it happens again?
No, Disk Drill has more help available. You can use two functions: Recovery Vault and Guaranteed Recovery.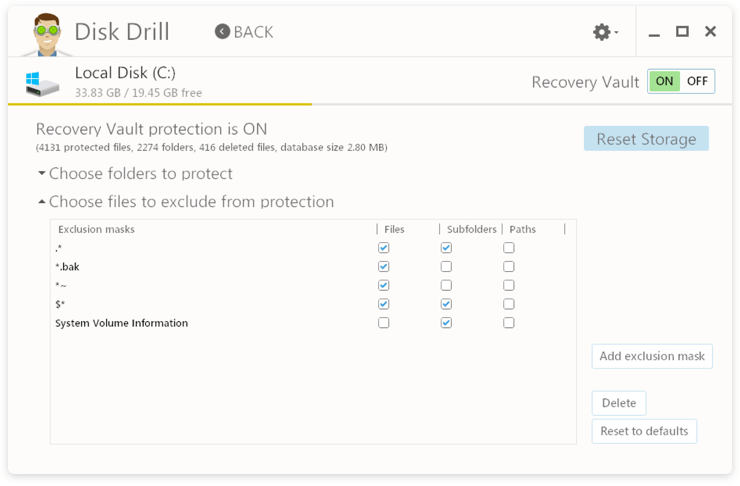 Recovery Vault adds a layer to the Recycle Bin, and keeps the meta-information of any deleted files. In case you had decided to clean the Recycle Bin, your file's data is still there, ready to be recovered. However, it only keeps a reference to the file. If the data was overwritten by another file, it may be only partially recovered, or not recovered at all.
Guaranteed Recovery gives you more: an actual copy of any file moved into a folder of your choice. That is, the certainty of never losing your important information.
And you can also use Disk Drill to perform one of the most important data loss prevention practices: regular backups, as this data recovery software can be used to create image copies of entire drives.
Notably, any of these functionalities are available in Recuva data recovery software.
So, Disk Drill is Really Good Alternative to Recuva?
Yes, Disk Drill is a comprehensive, affordable, and user-friendly data recovery software, designed with the user in mind.