The choice of quality data recovery tools for macOS is in fact limited to several high-end players you have probably heard about: Disk Drill by CleverFiles, Data Rescue by Prosoft, DiskWarrior by Alsoft, Data Recovery Wizard by Easeus, TechTool by Micromat, Stellar Phoenix and R-Studio. There are plenty of other less well-known solutions and even a bunch of tools provided by hardware manufacturers specifically for their type of storage, in many cases being just a white-labelled third-party app.
In this honest article we'll make an attempt to explain why we believe Disk Drill has the right to be placed on the same shelf with the best of data recovery solutions, if not to be named the best one. Our team has put an enormous amount of resources into researching data recovery on various storage systems and platforms, approaching all the forensic aspects involved with deep knowledge and meticulousness. After years of scientific research we started the development phase and released the first beta version of Disk Drill in 2009. With the support of our premium users, the product matured unbelievably fast. But there are several undeniably important sides of Disk Drill few actually know about.
Data Protection
Neither Data Rescue, nor DiskWarrior offer data protection in their apps. Neither does R-Studio, or Easeus apps, etc. We believe, data recovery and protection are the different faces of the same coin. Thus we included 2 high-end data protection methods in all editions of Disk Drill: Recovery Vault and Guaranteed Recovery. They are explained in details on our knowledge base and were reviewed by many third-party websites and verified by hundreds of thousands of our active users. Usually a person starts searching for a data recovery software after the fact of a data loss. After a successful recovery we see people keeping Disk Drill's protection algorithms enabled ensuring they no longer have to worry about losing their data again.
Yes, you can always choose a cloud-based storage with virtually endless data loss protection, but it's not always as easy to accomplish as it sounds, it all depends on the volumes, the way you work with your data, access rights, your own and your data flexibility, and more. Even with proper backup solutions in place, you may still find the additional layer of Disk Drill's data protection important and very helpful.
Completely freemium
Unlike some of our competitors, Disk Drill has a clear pricing model. Disk Drill Basic is free and anyone can use it to verify their data recoverability, or recover protected data without any limitations. Once your data is found and its recoverability verified, one may upgrade to Disk Drill PRO or Enterprise to complete the recovery. There are no volume limits in any price tier. And you can in fact recover your data for free if you were running one of our protection methods before the data was lost.
User experience
Disk Drill version 3 is definitely the best Disk Drill we released ever, and we are already working on another bold move to Disk Drill 4th redesign. Data recovery is not an easy task, it's not photo sharing, or managing friend requests, or sending a chat message. It's a highly technical process we want you to enjoy.
We realize how stressed many of our users are at the moment they reach out to downloading Disk Drill. All their hopes are aimed at the successful outcome of the scanning and recovery process. And we can't let them down with a crappy UX. We try to make Disk Drill's UI as pleasant to work with and as clear as the best apps ever designed for Macs. Just look at it, and compare to other solutions mentioned above. Isn't it beautiful? When you enjoy using critical, technical, system-level software, that's what we call a great user experience.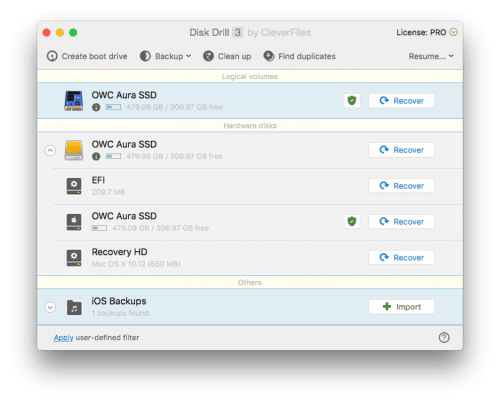 Recovery chances you can't underscore
Of course, talking data recovery we cannot just discuss all the bells and whistles and not dive into the core – the quality of data recovery itself. This is where Disk Drill is a true leader with more recovery methods offered than any other affordable data recovery solution you can run right now. Here are just a few tiny highlights:
Quick Scan that supports native recovery of FAT, NTFS, HFS+, ExFAT, EXT4
Deep Scan with 300+ file signatures to reconstruct (more than any other competitor) and counting!
4 HFS+ healing algorithms including blazing fast Catalog Rebuild
Lost partition search and recovery by locating its meta info and reconstructing the whole data structure with immediate file recovery on a newly located area
Proprietary disk reading mechanism to extract existing data when regular apps, like Finder, can't access your storage
Disk Drill usually scores in the top 2% when it comes to scanning results, and the number of competitive upgrade discounts we send out daily proves we are among the top. Our new clients are often disappointed with the amount of data retrieved by other data recovery apps, and get a good deal on Disk Drill PRO when switching.
Tolerant damage-proof approach
Unlike other data recovery apps, Disk Drill emphasizes the idea of fault-proof data recovery. Here's what we mean by that. Instead of altering the data on the scanned drive in one way or the other, Disk Drill will always ensure it's working in read-only mode without modifying anything. No temporary files, no preview cache, nothing of that kind. You can even remount your target partition into read-only mode with Disk Drill when possible. To stay bullet-proof, we recommend creating your own bootable drive with Disk Drill to guarantee it's not even installed on the system you need recovered.
The only time when Disk Drill goes into writing stuff to your recovery source is with HFS+ Catalog Rebuild algorithm that is similar to what DiskWarrior does. However, when DiskWarrioir fails for any reason and you end up with unbootable Mac or unmountable external drive, Disk Drill will not only let you preview the rebuilt partition, it will let you copy your data out of it without the need to make an attempt to overwrite the existing (potentially damaged) disk structure.
Scanning results mounted as a virtual drive
One of the unique features Disk Drill offers to its PRO users is the ability to manage recovered data without actually recovering it. Here's how it works: you scan your drive for lost data, and instead of reviewing recovery results inside Disk Drill, you mount everything that was found as a separate disk in your system. Now, you can use Finder or your other favorite file manager, or even your data analysis software to work with the newly discovered data as if it's already recovered, even when you don't have another drive to copy it out at the moment. How cool is that?
Some thoughts on recovery speed
Randomly we are hearing some speed comparison results of Disk Drill against Stellar or R-Studio, and we always wonder how possible it is to compare data recovery solutions by the speed. No doubt, data recovery is not a fast process. But the biggest factor that would impact data recovery speed is in fact the condition of the scanned device, and not the speed of the algorithms applied to locate your lost data. If your drive has multiple bad sectors, it will read slower than a healthy drive. If it's an SSD, or flash memory, it will recover faster than the classic hard drives. So on.
Here are just a few statements you should consider before comparing data recovery tools by their speed:
Fast scanning for lost data usually means less data recovered
Faster data reconstruction most probably means less known file signatures in the database
Excluding some file types from the scan does not mean faster completion
More data recovered is always better than quicker scans
Even Quick Scan may take long, because it's not named that way because of its speed but rather based on its core algorithm
Instead of wasting time configuring your data recovery settings, go on and recover everything you can asap. While you are playing with filters and sorting recovery results, your drive may die; and sending it to a lab might quickly become the only possibility to get your data back.
Device recovery
Right, and #onelastthing: it is only Disk Drill who does iPhone data recovery and Android data recovery in one user-friendly package along with the regular data recovery. Other vendors may offer this functionality as a separate product, meaning separate purchase, separate app, separate code to store, extra slot on your Launchpad, etc.
Additional tools
Unlike every other data recovery software mentioned in this article, Disk Drill adds value to its name and multiple data restoration methods. Here are a few major features you will only find in Disk Drill and not other data recovery apps that do just that:
Proactive disk health monitoring
Bootable drive creation for data recovery
Byte-to-byte disk backups for damaged media
Visual disk clean up mode
Feature-wise…
We know, it turned out to be a long read. We apologize for that. Here's everything we wanted to say and even more in a much more compact view:
| | Disk Drill | DiskWarrior | Data Rescue | R-Studio |
| --- | --- | --- | --- | --- |
| Downloadable | Free version | No | Demo | Demo |
| OS support | OS X 10.6.8+ | OS X 10.5.8+ | OS X 10.7.5+ | OS X 10.5+ |
| Bootable drive | Create for free | No | Buy only | No |
| Native quick scan of HFS/HFS+/HFSX | Yes | No | Yes | No |
| Native quick scan of FAT/FAT32/exFAT | Yes | No | Yes | No |
| Native quick scan of EXT3/EXT4 | Yes | No | Yes | No |
| Native quick scan of NTFS/NTFS5 | Yes | No | Yes | No |
| FireWire/USB Drives | Yes | Yes | Yes | Yes |
| Recovery from RAID1/10 | Yes | No | Yes | Yes |
| Classic iPods (non-iOS) | Yes | No | Yes | Yes |
| iOS data recovery | Yes | No | No | No |
| Android data recovery | Yes | No | No | No |
| Network recovery | Coming soon | No | No | Separate edition |
| Formatted Drives | Yes | No | Yes | Yes |
| Forensic features | Yes | No | No | No |
| Deep Scan: file signatures | 300+ | None | 192 | 250 |
| Data loss prevention | Yes | No | No | No |
| Built-in Duplicate finder | Yes | No | No | No |
| Built-in Disk Clean Up | Yes | No | No | No |
| Disk Health Monitoring | Yes | No | No | Yes |
| Partition Repair Tools | Yes | Yes | No | Yes |
| Repair File System / Disk Errors | Yes | Yes | No | No |
| Convenient file-to-file preview | Yes | No | Yes | No |
| Data view (HEX) | Yes | No | No | Yes |
| Mount recovery results | Yes | No | No | No |
| File labeling by meta-data | Yes | No | Yes | Yes |
| Preview with thumbnails | Yes | No | No | No |
| Filter by file types | Yes | No | No | Yes |
| Search in results | Yes | No | Yes | Yes |
| Automatic convenient update process | Yes | No | Yes | Yes |
So, is Disk Drill really better than the competition? We confidently answer YES!
Stay tuned to see what else we are getting ready to roll out in the upcoming months!
Disclaimer: all product names, logos, and brands mentioned here are property of their respective owners. All company, product and service names used in this website are for identification purposes only.
.updated:
June 3, 2021
author: