The launch of Disk Drill 2.2 brought some major improvements to the Rebuild HFS+ Catalog File function. Sometimes an HFS+ partition becomes unreadable because the catalog file has become corrupted. Disk Drill's "Rebuild" function uses the existing partition header to locate the B-tree catalog of the partition and then rebuild it. The rebuilt directory will allow you to access your files normally.
Improvements to the Rebuild function include:
A more sophisticated algorithm that will be able to detect many more cases of corrupted directories and prompt the user to rebuild.
Users can now write the recovered directory directly to the damaged disk. This avoids needing to have double the disk space in order to mount a virtual disk image to complete the recovery process.
How to Rebuild Your Directory
1. You'll know if you need to rebuild a directory, because when your disk shows up in Disk Drill, it will show the "Rebuild" button next to that drive or partition, instead of the usual "Recover" button.
2. Click "Rebuild" and Disk Drill will run the catalog rebuild algorithm.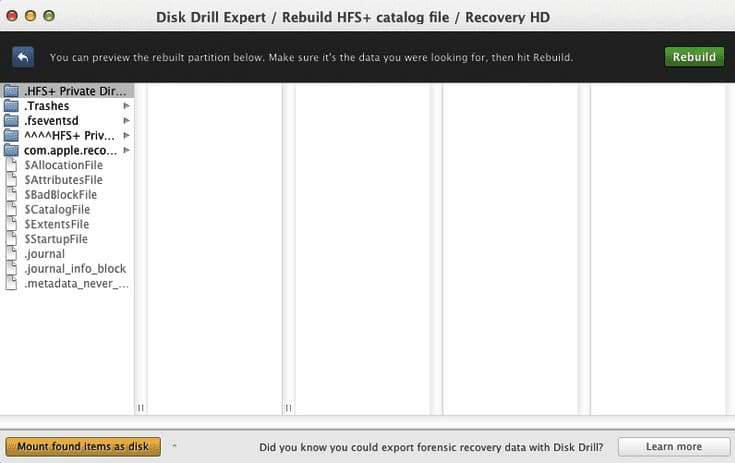 3. When it is done scanning, Disk Drill will show you a preview of the rebuilt file directory for you to review. Take a look at it to make sure your file and folder structure looks
like you expected. At this point you have three options:
Rebuild – Choose this option if the file structure looks correct and you want to rebuild the directory directly onto the existing drive.
Mount Found Items as Disk – Choose this option if the file structure looks correct, but you would rather mount the rescued files to a virtual disk image, rather than overwrite the existing directory. Learn more about mounting to virtual disks.
Back Arrow – Click the back arrow in the upper-left corner if the file structure does not look correct and you want to try other recovery options instead.
.updated:
June 3, 2021
author: