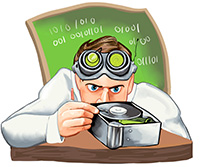 Today is a big day over at CleverFiles HQ. Another awesome upgrade of Disk Drill is here just on time for Cyber Monday 2013. And it's a major one. Disk Drill 2.1 (build 376) has already been uploaded to our servers. Get it now.
If you already played with Disk Drill 2, you would know that we added long-awaited Directory Rebuild recovery algorithm in April. This time, version 2.1 brings a major overhaul to this feature, and wraps up a number of exceptional improvements:
new

when rebuilt, partition directory can now be written directly to the scanned disk

new

additional disk image formats can now be attached in Disk Drill: .raw, .dd and .img

new

extended disk health monitoring for I/O errors (internal drives only)

new

Deep Scan and Universal Partition Search will now find lost NTFS partitions

new

Deep Scan learns new file signatures: EMF (Enhanced Windows Metafile), LNK (MS Windows Link), DPX (Cineon image file)
new way to highlight disks with hardware issues

new

internal Disk Drill's daemon (responsible for Recovery Vault, S.M.A.R.T. stats and Guaranteed Recovery) is now 64-bit ready

improved

partition's directory rebuilding canceling and restarting

improved

detection of correct disk size on some older USB external drives

improved

recovery of Adobe InDesign (.indd) and Nikon Raw Image files (.nef)

improved

Recovery Vault file statistics

fixed

random crash during the scan of the volumes connected via FireWire
updated UI translations
Recover your lost data, monitor your disks for hardware issues, prevent unexpected loss of your data today: download Disk Drill 2.1 now!
.updated:
June 3, 2021
author: