Surprise! We've cooked up a new version of Disk Drill for you. Version 2.4 brings a brand-new feature to the app: disk space visualization. This allows you to scan your drive and see which files are taking up the most space. It's a great tool for freeing up space on your hard drive (we recommend you leave at least 20% of your drive space free at all times to enhance recovery chances).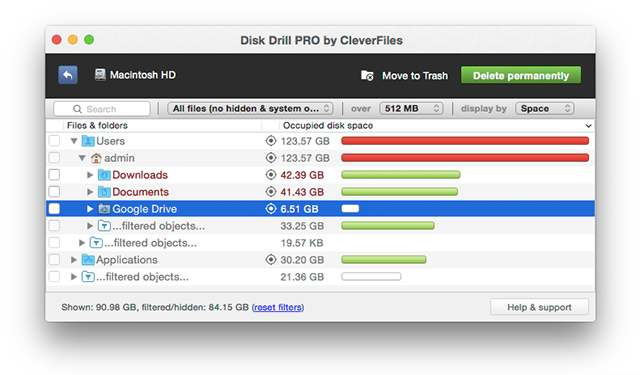 In addition, those of you who have requested being able to preview files with a hex (binary data) view are in luck, because version 2.4 brings that capability as well. For those who have already upgraded to Mac OS 10.10 Yosemite, you'll be pleased to know that this version improves support of the new Core Storage volume.
Here's what Disk Drill 2.4 has under the hood:
new

disk space visualization (or disk mapping mode): easily locate space drainers and get rid of them – FREE!

new

recoverable files can now be previewed with hex view (highlight a file in scan results and use the Alt+Space keyboard shortcut or click the special hex view icon)

new

mounted disks and disk images can now be ejected right from Disk Drill (use the Extras menu)

new

lost partitions are now automatically expanded into readable file structures in the scan results

new

"Allocate existing file system data" is a new scan type that shows existing data on a drive using Disk Drill's unique reading algorithms

improved

Core Storage volume manager support in OS X 10.10 (Yosemite)

improved

Disk Drill looks even better on retina screens — we improved absolutely all in-app graphics

improved

large MOV file recovery (up to 60GB+)

improved

S.M.A.R.T. disk monitoring

improved

new folder and file exceptions for Recovery Vault and general data protection polishes

improved

data recovery from disk images on external drives

improved

found DMG disk image preview is now replaced with the offer to mount the disk image and copy its contents

improved

Disk Drill PRO and Enterprise can now be auto-activated when purchased from inside the app (no need to wait for or enter the activation code)

fixed

random crashes when running Disk Drill in Portable Mode
Download Disk Drill 2.4, we bet you enjoy it!
.updated:
June 3, 2021
author: