We are ready to unveil our new shiny Disk Drill 1.1! We've added a whole lot of new features, powered up the user interface, polished a number of data recovery aspects, changed scanning and recovery dialogs, and made a ton of smaller improvements and fixes. A lot of ideas were inspired by our beta users. And many of active participants of our beta campaign are getting free lifetime licenses for Disk Drill PRO within a day or two. Here's a peek to Disk Drill 1.1: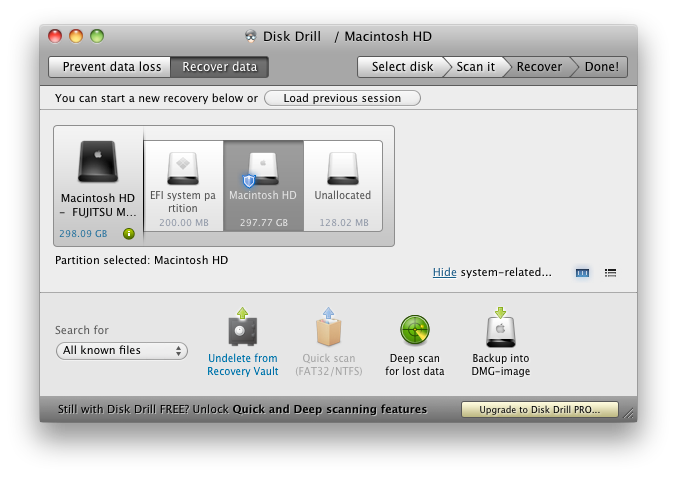 You can get the update right now, and read on to learn the specifics of the new release.
Here's what kept us busy all these months:
new

totally new Deep Scan algorithm

new

a number of file signatures added to known ones (NEF, CR2, MOV, PAGES, PST, AI and many others among them)

new

recovery and scanning sessions management

new

any media can now be backed up into a mountable DMG image for further scanning and recovery

new

searching and filtering in scanning results for simpler selection of recovery items

new

S.M.A.R.T. disk diagnostics added for better pre-failure hard disks monitoring and reporting

new

Portable Mode introduced, so that you can install Disk Drill without Recovery Vault and anywhere you like, launching it from a Flash drive for instance

new

recovery from Classic iPod's is available now

new

scanning and recovery dialogs are now interactive and provide real-time preview of found files

improved

recovery progress bar is now much more informative

improved

total recovery size is now calculated and displayed

improved

found folders now show total size during scanning

improved

background scanning and recovery is now implemented, you can minimize Disk Drill any time

improved

Deep Scan is much faster now

improved

much better BMP files recovery

improved

better handling of incorrectly unmounted disks and USB drives

improved

Recovery Vault database last update date is now available in the disk's info

improved

more notifications in Growl

improved

detection of an outdated Recovery Vault and correct notification about this

improved

support: greatly improved recovery of raw image formats of various cameras (CR2, RW2, NEF, etc)

fixed

another bunch of minor and major issues, crashes and exceptions
We hope you find the new Disk Drill effective and simple as always. Many users who tried the new release during a beta phase, or when testing fixes for reported issues outlined essential improvement in scanning speed, and we are truly proud we managed to accomplish this. Along with improved data recovery quality, this makes it a worthy update.
As always, we are just a click away from you, get in touch.
Download the all-new Disk Drill now, or go directly for one of our paid Editions.
Thank you
P.S. Hm. Are you still interested in using the old buggy beta version? No problem, we don't mind. Here you go. No support though.
.updated:
June 3, 2021
author: