Data loss can be completely devastating. The sudden realization that years' worth of photos have vanish, or that you have lost months of work is a heart-stopping moment. But even in the moment of panic that immediately follows the discovery, try to remain calm as all is probably not lost.
✅ There are various methods you can use to get your data back, and it is even possible to recover files from external drives which are not detected by Windows.

Recover Data from an External Drive that Doesn't Appear in Windows
By external drive, we mean both a standard hard drive in an external enclosure, and smaller options such as USB drives. You might well wonder "how is this going to be possible? How can I recover data from a drive if it is not even detected?"
There are two stages to getting back data from a drive which does not show up in Windows, starting with getting the operating system to detect it. Then you can turn to data recovery software to begin gathering files from the drive and saving it in a safe location.
We're going to take a look at how you can use Disk Drill data recovery tool to recover data from an external hard disk not recognized. It does not matter whether you have an external drive from Adata, LaCie, Samsung, Seagate, Silicon Power, Western Digital or any one of dozens of other brands – the process for recovering data is the same.
Why is My External Hard Drive Not Showing Up?
💽 As with so many computing problems, the potential reason for an external hard drive not showing up are numerous. Of course, it could be the case that the drive in question is physically damaged and is not working, but there are plenty of other reasons too.
If you are connecting a drive using a USB cable, it could be the case that the cable itself is faulty. It is also possible that the USB port you are connecting to is damaged, and this would also lead to problems with a smaller USB drive. You may have run out of USB ports and had to resort to using a USB hub in order to be able to plug in more peripherals, and this can cause problems with power.
Other reasons for your drive not showing up include it not being formatted using a file system that Windows can read, or it may not have been assigned a drive letter. It is also possible that there is a driver that is missing or faulty, or it could even be that your drive is corrupt.
How to Fix a Hard Drive Not Being Detected by Windows
There may be numerous causes for an external drive failing to show up in Windows, but thankfully there are also numerous things you can try to make it visible.
#1 Try Another USB Port
Determining if a USB drive or port is to blame is a very simple matter. Start by trying a different USB cable, or plug the drive into a different port. If you're still not having any luck, try connecting the drive to a different computer entirely.
#2 Try to Connect to Another PC
If you are connecting your external drive to your computer using a USB hub, it is possible that it is not getting enough power. Try connecting the drive directly to your computer, bypassing the hub, even if only for the recovery process.
#3: Troubleshoot on Windows
If Windows doesn't detect your hard drive, you can use the default Troubleshooter to scan and resolve some hardware issues. Before going to other methods that can become slightly complicated, run the troubleshooter to try and fix the problem automatically. 
Press the Windows Key + S and search Command Prompt. Select the Run as administrator option. 
Run the command msdt.exe -id DeviceDiagnostic for the troubleshooter to appear.

Click Advanced and ensure that you've selected the Apply repairs automatically option. The troubleshooter will now start scanning your system for potential issues.

After the scan is complete, you shall receive a 'Troubleshooting Report' that'll list any detected problems and whether they were resolved.
#4: Initialize the Hard Drive
If your hard drive is new, it's likely that Windows can't detect it because it hasn't been initialized. However, we only recommend this step for new hard drives because once a drive is initialized, it loses all data. 
Click Start and navigate to Disk Management.
Right-click the external drive that says Not Initialized and click Initialize Disk.

Now, press OK.
⭐ After this step, you'll be directed to the New Simple Volume Wizard. You can follow the on-screen instructions to format the drive or create new partitions. Your system should now be able to detect the drive, and you can start using it.
#5 Use the Disk Management Tool
To check to see whether there is a problem with a drive not having been assigned a letter, you can make use of the Disk Management tool.
Press the Windows key, type diskmgmt.msc and press Enter. You may see an entry for a device that has not been showing up in Explorer.
Right-click the bar representing your external drive and select Change Drive Letter and Paths.
Click the Add button and then use the drop-down menu to choose the drive letter you would like to assign to the drive before clicking OK.
#6 Update a Driver
There is also a quick and easy way to check to see whether there are problems with the driver required by your external drive using Device Manager. Follow these steps:
Press the Windows key – type devmgmt.msc and press Enter.
Double click Disk drives to expand the group, and then double click on the entry for your external drive. In the properties dialog that appears, move to the Driver tab and click the Update Driver button.
In the Update Drivers window that appears, click Search automatically for drivers and sit back and wait while Windows searches for and installs any new driver that may be available.
If nothing is found, click Search for updates drivers on Windows Update and then click Check for updates. If all of this fails, it is worth using the Uninstall button back on the properties screen to delete the current driver. After doing this, restart your computer and you should find that Windows automatically detects your drive and installs the necessary driver.
#7: Disable the USB Selective Suspend Setting
Windows' USB Selective Suspend setting allows it to power down individual USB ports. It is primarily used to save power when the ports are not in use.
However, sometimes the port remains powered down even when we need to use it. This could be why your hard drive isn't showing up on the PC. You can disable this setting entirely to eliminate this problem.  
Press the Windows Key + S and type in Control Panel.
Click Hardware and Sound, then go to the Power Options.

Next, go to the Change plan settings option, then click Change advanced power settings.

Find the USB settings dropdown, and change the USB selective suspend setting to Disabled. 
Now, click Apply. 
#8: Format the External Hard Drive
If none of these methods work, you can try formatting your hard drive to a file system compatible with your system (say, NTFS). However, performing a format means all your existing data will be lost, and the hard drive will be restored to factory settings. So, before you format your drive, make sure to recover your data with reliable data recovery software. 
Click Start and navigate to Disk Management.
Right-click the volume of your drive and select Format.

Specify a name for the drive and the file system. Now, you can choose the Perform a quick format option or go for a full format. 
Finally, click Ok.
How to Recover Data from an External Drive 
When the time comes to start recovery data from your external drive, look no further than Disk Drill. The free version of the program lets you recover up to 500MB of data. 
Step 1. Download and Install Disk Drill.

Data recovery for free
Your Companion for Deleted Files Recovery
Step 2. Connect your external hard drive to the PC. Now, launch Disk Drill.
Step 3. Select the external hard drive from the list of drives, then choose All recovery methods. While this should be selected by default, you also have a choice between other scanning options as well.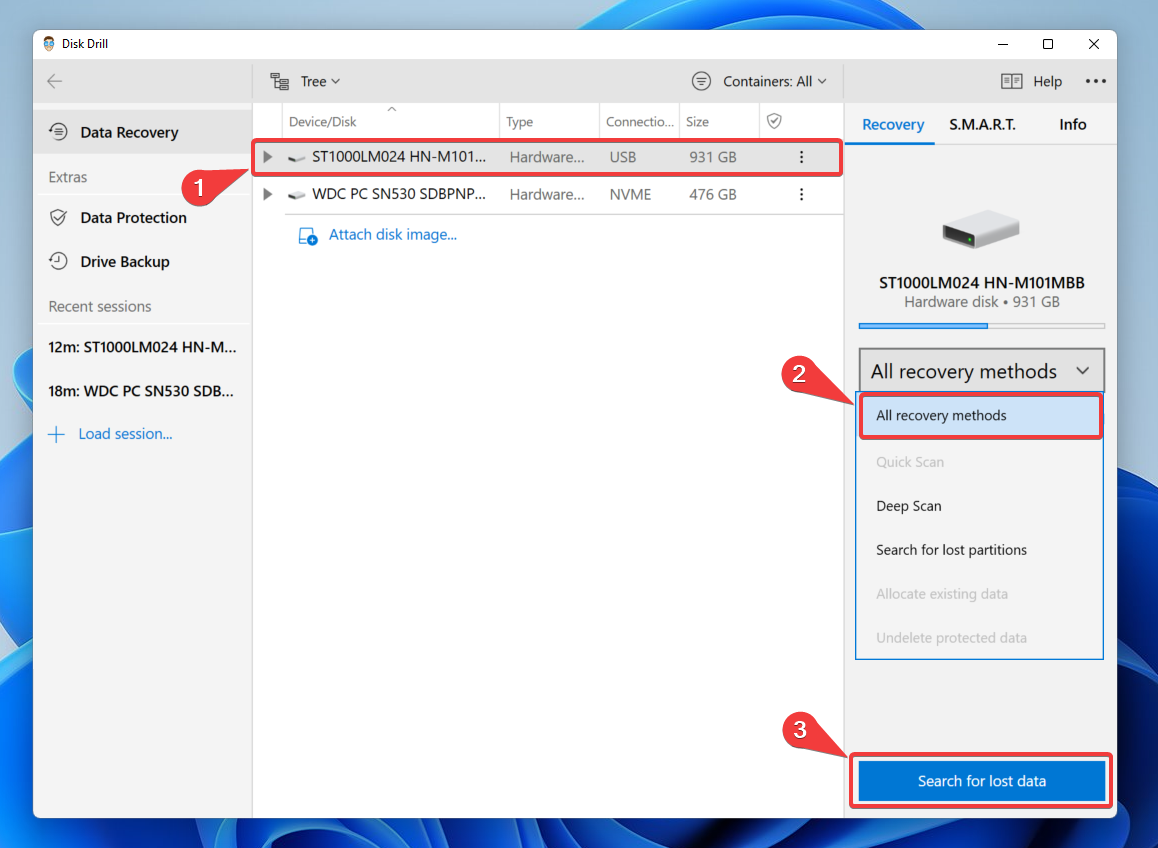 Step 4. Click Search for Lost Data. Disk Drill will now start to scan the selected drive or partition for recoverable data. You can monitor the scan's progress from the progress bar in the lower-left corner.
Step 5. Once the scan is complete, click Review found items.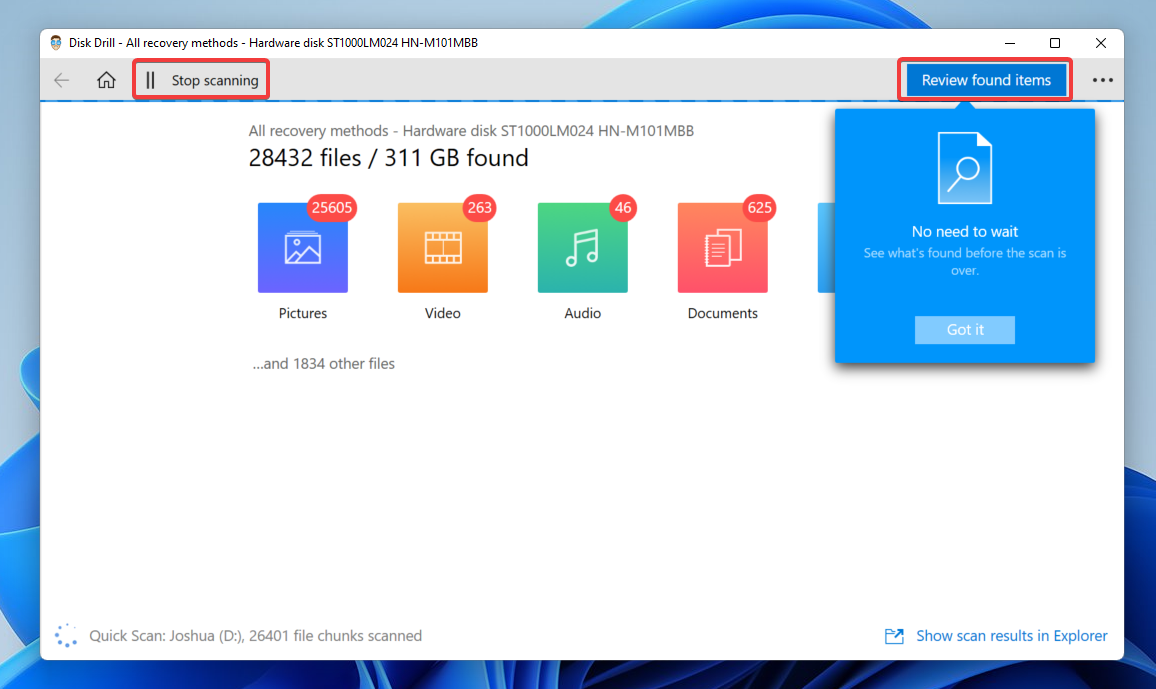 Step 6. Preview the files you want to recover. You can opt to recover every single file found or browse through the list of what has been detected and select just a few files and folders for recovery.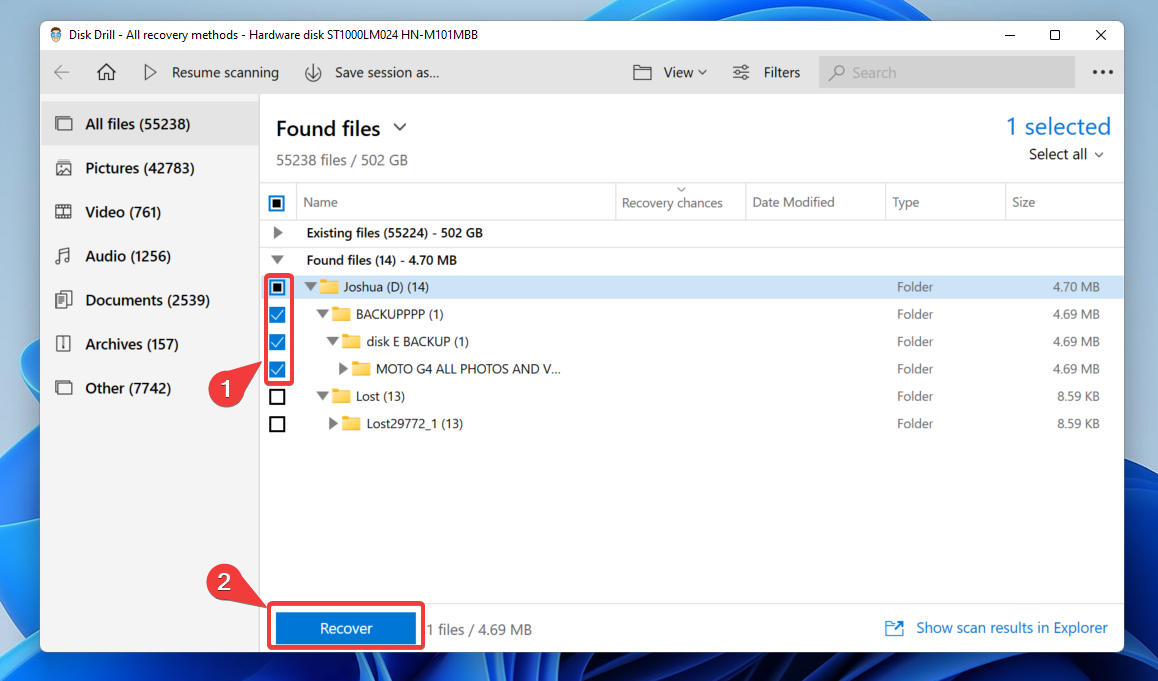 Step 7. After you've made your choice, select the Recover button. Disk Drill will ask you to choose the recovery location. Be careful with this selection, and ensure that you select a location other than the drive from which you are recovering data. Finally, click Ok.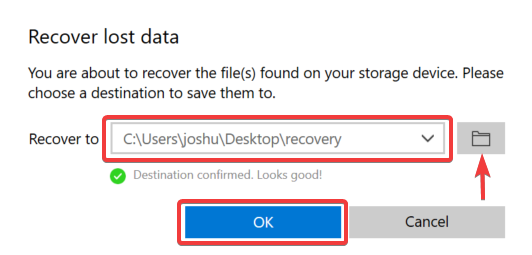 When to Choose a Professional Data Recovery Service to Fix Your Hard Drive
As great as Disk Drill is, there will be extreme cases in which the software is not able to help. It could be that a drive is physically damaged quite badly, or there may be a problem with its power supply. In situations like these, it makes sense to call in data recovery experts.
🔎 Specialist teams have access to professional tools that can go beyond the capabilities of home data recovery software, including physically examining disks and extracting raw data directly from them.
While using a data recovery service might prove to be a little expensive, the value you place on the data you are trying to retrieve will determine whether you are willing to part with the money.
We have collected together a list of the five best recovery services for you to consider, with all of them offering free assessments of drives so you know the chances of successful recovery before you have to pay anything.
Conclusion
If Windows doesn't detect your external hard drive, one of these solutions is sure to be helpful. These methods can resolve most problems you'll face with drive recognition. However, if you've tried all these solutions and the drive still doesn't respond, it's probably time to invest in a new hard drive. 
FAQs