External Hard Drives are becoming extremely common. They are ideal for work and storing important items. They are equally easy to utilize. This is because all you need to do is connect them to your Windows PC and it will show up with ease. For this reason, lots of individuals tend to store their important items on Hard-drives so that they would be able to access them later on.
This is why it can be a frustrating experience when you connect your hard-drive into your windows PC to access all the files you need only for you to find out that your external hard drive is not showing up. Lots of people must have dealt with this at some point, and it is not something anyone looks forward to experiencing.
So what do you do if you face an issue like this? Well, if you are here, you are in the right place as we will be taking a look at some steps you can take when your computer is not recognizing your external hard drive.
Ways to Fix a Drive That Won't Show Up in Windows:
Before you begin to learn how to repair a hard disk that is not detected, you need to find out what could have caused this issue. This issue may be due to a host of factors. Some of this may consist of:
Making use of the incorrect system file
 An issue with your driver on windows
Damaged USB outlets
Damaged Hard-Drives
Ensure the Drive comes on
You would be surprised how easy it is to miss this obvious step. Plug in the hard drive and see if it powers on. If it does not, then there could be a problem with the Hard-Drive cable.
Try using another cord or plugging it into another system. If it comes on, then your cable is the issue. If it still doesn't show up, move to the subsequent step.
Use Disk Management To Check The Drive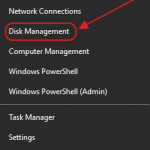 Connect your hard-drive to your Windows PC. Then open the Disk Management. You can do this using:
Windows Key + X button. Then select disk management from the list.
With this tool, you will be able to see all the drives attached to your computer. You will be able to review sizes, see the partitions, alongside other statistics about the disk.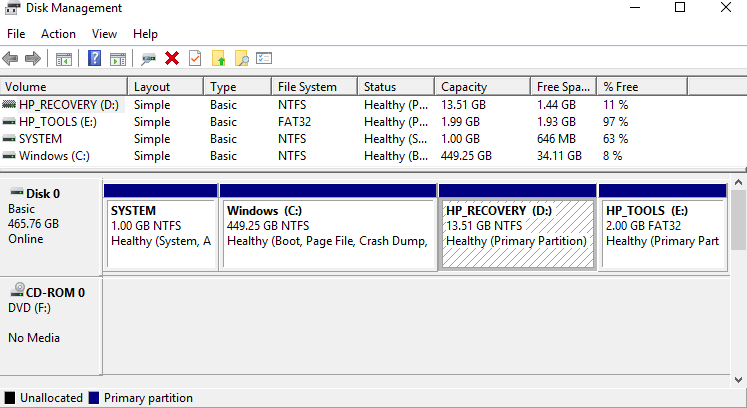 You would also be able to view your hard-drive in the included in the Disk Management window. Even if you are unable to find it in this Window because it has no partitions, you should be able to see it a Removable.
If the drive comes up here, you would then be able to create another Volume and Assign a Drive Letter. Here, you will be able to format it correctly or create a partition. This will ensure you will be able to get into the hard-drive using your Windows PC.
If your computer won't s recognize external hard drive still, you need to move to the next step. You will have to find out the reason why your hard-drive is not showing up. There is a prospect that you have concerns with your driver, hardware or that your drive is bad.
Use an Alternative Windows PC
Try connecting the hard-drive to another USB port on your PC. If it comes up, your issue may be a bad USB port.

If you the hard-drive does not still come up on Disk Management after doing all of these, you can use another computer if you have one close to you. If this does not still work, move to the next step.
Create a Partition and Format
You can make the hard drive show up by partitioning it. This would be possible using the Disk Management tool. But, if the hard drive is battling from an issue of partition loss, you would have to create a new partition. This would allow you to recover your lost data. Here, you need to do a lost partition recovery before you do anything else.
Recovering Lost or Removed Partition
It is not possible to restore a partition that has been lost or removed utilizing Disk Management. However, with the help of software for partition recovery, you can get back any volume you have lost with ease.
We suggest you use Disk Drill for Windows to help you with this. This solution can help you restore your partition to the way it was before it was lost. This implies you will be able to recover your folders and files in the partition simultaneously. The instant you are through recovering lost partitions, you will be able to access them from Windows.
The solution also allows you to support a host of systems. These include:
| | | |
| --- | --- | --- |
| NTFS | FAT12 | FAT32 |
| Ext4 | Ext4 | ExFAT |
| FAT12 | Ext3 | FAT16 |
To use Disk Drill for recovering your data:
You need to head to the website to download the solution.

Data recovery for free
Your Companion for Deleted Files Recovery

Ensure you pick the Pro version.Next, make sure the hard drive you are trying to restore is attached to your PC, and open up Disk Drill.
You will view the devices and drives attached to your Windows PC when you launch the device.
Look for the Hard-drive you plan on recovering and select the button tagged "Recover".
Disk Drill will do a Quick Scan or a Deep Scan. Here, it scans from corrupt image files, deleted files, and hidden data.
All the files you can recover will come up on your screen after this. You will have the choice of saving them in a safe location on your Hard Drive. Save the folders and files you want to recover and close the application.
Troubleshoot Devices and Hardware
The hardware troubleshooter is a tool that comes in Windows 7 devices and above. If the flash drive is not showing up, you can utilize this tool in finding out if the device has errors.
To use it you need to:
Head to the Start Menu. Click on Control Panel. It will open up the Control Panel window.Look towards the left side and click on the Troubleshooting icon.
A window will open up where you will locate "Hardware and Sound" on the right part.
Click on "Hardware and Devices" and then "Next" button
After doing this, a window would come up to aid in analyzing the issue; then you can finish the process by utilizing the wizard.
Format the Hard Drive
This may be your next option if all else fails and windows doesn't recognize your external hard drive. There is a possibility it is partitioned in a file system windows is unable to recognize.
If the hard-drive is in a format different from FAT32 or NTFS, your Windows PC would not be unable to recognize the hard-drive.
If you need to format a particular partition using the Disk Management Utility, launch it, right-click and pick Format.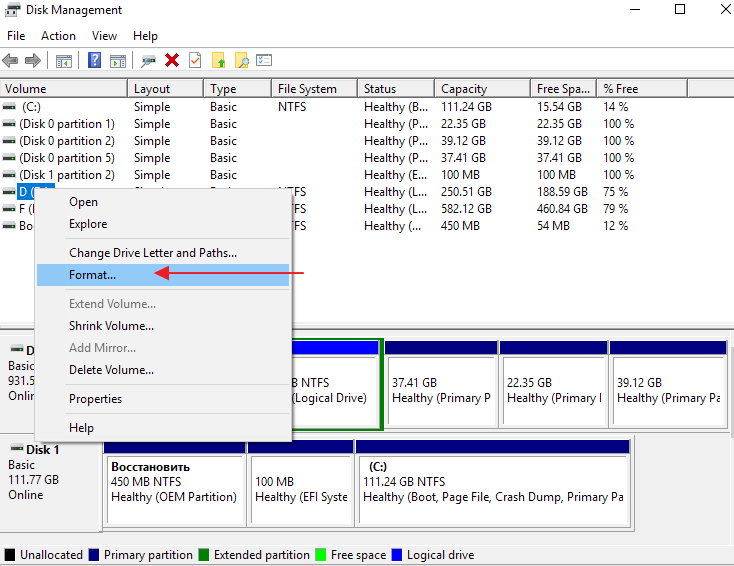 ❗Note that formatting your device would erase everything you have on it. So its best you have a backup before you take this step.
---
Conclusion
The processes above are sure to help you solve the case of a hard-drive not showing up on your PC. However, if you have tried everything above without any headway, then you most likely need a new hard-drive.