What is CompactFlash?
CF or CompactFlash is a type of flash memory mass-storage device used by most portable digital electronic devices. The first CF was developed and manufacture in 1994 by SanDisk. Over the years CompactFlash has become so useful and have surpassed other storage media devices such as SmartMedia and Miniature Card. Other subsequent media formats such as memory stick, MMC/SD, and XD-Picture cards have offered stiff competition, but still, CompactFlash remains as the most used media storage device for electronic gadgets.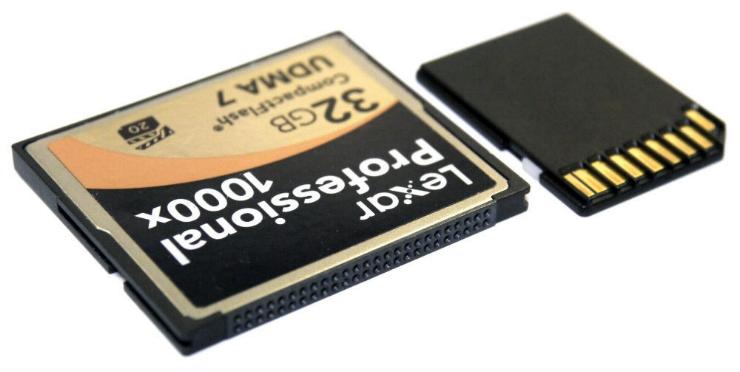 Currently, there are only two main subdivisions of CompactFlash cards that are being supported by SanDisk; type II (CF2) 5mm thick and type I (CF1) 3.3mm thick. The type 2 slot is commonly used by miniature hard drives and medium format camera devices. CompactFlash cards are available in four speeds of; CF High Speed, original CF speed, faster CF 3.0 and faster CF 4.0 standard. CF cards can be easily connected to a PC using a plug adapter or CF reader that is plugged into a computer's USB port.
CompactFlash data recovery software
Compact Flashes are very vulnerable to data loss and file corruption. Most mass media storage devices can save data for a long period only to lose it under unclear circumstances. Data loss scenarios on CompactFlash can occur through accidental deletion, malware infection, drive damage and system crash. Disk Drill Compact Flash recovery software can be used to recover lost files on a CF card.
Learn how to recover deleted files on a CompactFlash Card with Disk Drill full version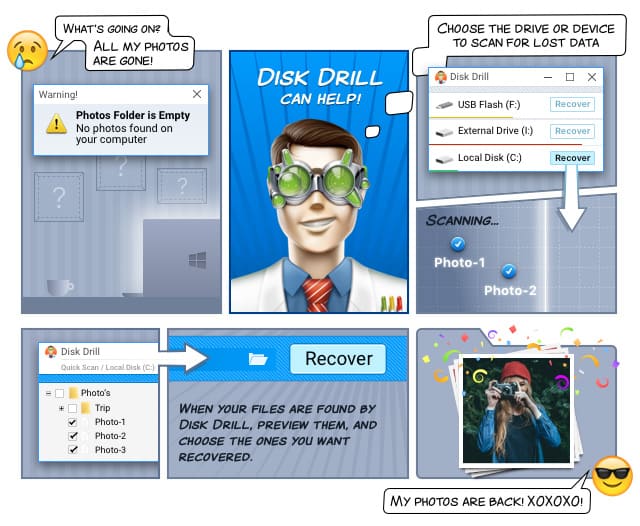 Data recovery for free
Your Companion for Deleted Files Recovery
Depending on your PC operating system, you can download Disk Drill for Mac OS X or Disk Drill for Windows and perform the data recovery process on your computer.
To create a data recovery environment on your PC, download Disk Drill and install it on your computer.
Connect your CompactFlash card that you want to recover files from with your PC using the appropriate adapter or CF card reader.
Launch Disk Drill on your PC. The program will display all storage devices connected to your PC.
Locate your CompactFlash drive and click on the "Recovery" button to start the scanning process.
Disk Drill will try to restore back your lost files by performing a quick scan and a deep scan on your device drive.
Once the scanning process is over, Disk Drill will display all recoverable files on your PC. Choose all the files that you would like to recover back and save them on your PC hard drive.
 After successfully recovering back your undeleted and deleted data, close Disk Drill data recovery app and continue with your tasks.