Finding the right data recovery tool to suit your needs can be a challenging task. You need to find a good balance between price, speed, and efficiency. PC Inspector File Recovery may be a good fit for some, but all.
If you fit into the category of users who aren't a big fan of PC Inspector File Recovery, we've handpicked our favorite alternatives so you can make an informed decision on which data recovery tool to try next.
What Is PC Inspector File Recovery?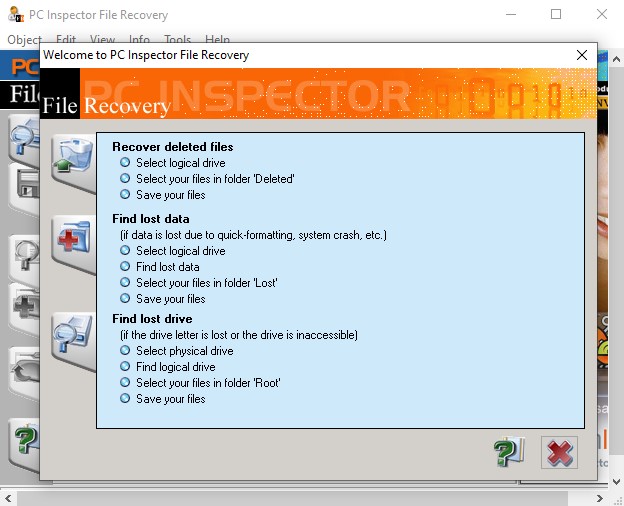 PC Inspector File Recovery is a free data recovery tool developed by Convar. It serves as a free way to recover lost or deleted photos and videos from your Windows computer. However, it's lacking in many areas when compared to most data recovery solutions on the market.
Here are a few reasons why PC Inspector File Recovery is a recovery tool of the past:
😞 Outdated user interface – The first issue you'll discover is that the user interface is severely outdated. Without reading the documentation, performing a simple task like a basic scan is difficult as most buttons aren't labelled, resulting in a lot of guesswork.
🪟 Windows only – It's also only available on Windows, so Mac and Linux users will have to look elsewhere. Looking at its built-in documentation, there's no mention of support for Windows versions above Windows XP.
💡 FAT 12/16/32 and NTFS only – It only supports recovery from FAT 12/16/32 and NTFS file systems. Support for newer file systems is doubtful considering this tool hasn't been updated.
🤝 Limited support – If you're stuck, you need to make use of the internal documentation to get by. Being a free tool, there is no official support.
All of these discoveries combined make it clear that PC Inspector File Recovery can no longer compete with what's offered on the market today.
5 Best Alternatives to PC Inspector File Recovery
After looking at the drawbacks, let's shift our focus to our top 5 alternatives to PC Inspector File Recovery, complete with summarised pros and cons for each.
Disk Drill sits at the top of our list as it has the whole package. It has a beginner-friendly user interface that makes data recovery accessible to users of all levels. Additionally, it's trusted by the community for its reliability and efficiency for recovering lost or deleted data from almost any form of storage media. It can also serve as a PC Inspector alternative for Mac.
Let's take a quick look at what the typical recovery process looks like with Disk Drill:
Download Disk Drill. Install it, then open it.

Data recovery for free
Your Companion for Deleted Files Recovery

Click on the disk you want to scan. Click Search for lost data.
Click Review found items when the scan is complete.
Mark what files you want to recover, using the Recovery chances column as a guideline for what files have a better chance of recovery. Click Recover when ready.
Choose where you want the files restored to. It's best practice to choose a separate physical partition to avoid corrupting the data.
Main features:
Byte-to-byte backups – Create full byte-to-byte backups of your drive and perform recovery on them rather than risk losing the data you're trying to recover.
Active data protection – Choose what data is the most important to you and Disk Drill will protect it in the event of data loss.
S.M.A.R.T. monitoring – Disk Drill can monitor your drive's S.M.A.R.T. data and alert you when any irregularities are detected.
Saved scan results – Rather than scan your entire drive again, Disk Drill will save your most recent scans and give you the option of manually uploading scan results so you don't have to wait.
Recovery chances – Before you recover a file, you can see what your chances are like of recovering that file. Green indicates you have a high chance of success, while red means recovery may be unlikely.
👍 Pros:
Free recovery up to 500MB.
Easy-to-use user interface.
Compatible with Windows and Mac.
👎 Cons:
No portable version available.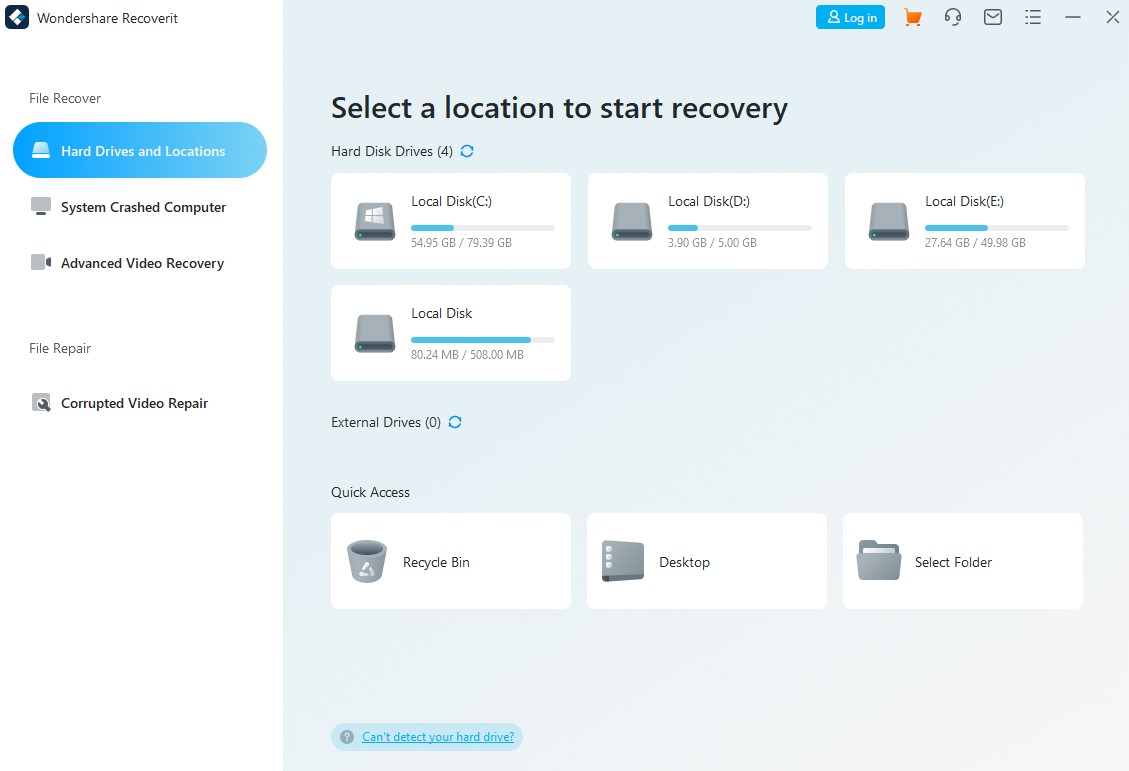 Wondershare Recoverit is a feature-rich data recovery solution. It has a clean, refined user interface that makes it easy to use. It can search and recover over 1000+ file types, including photos, videos, audio, and more. It also boasts a 95% recovery rate, but this is circumstantial. If you're ever stuck, you can also make use of the extensive support center available online that's complete with a chat bot.
Main features:
Advanced video recovery – Wondershare Recoverit can scan and gather fragments of your corrupted videos and piece them together.
Preview function – Before you recover your files, preview them to make sure you're recovering exactly what you need to.
Support for Windows and Mac – You can use Wondershare Recoverit on Windows and Mac systems. Both versions also include 100MB of recovery for free.
👍 Pros:
Free recovery up to 100MB.
Support for 1000+ file formats and 2000+ devices.
Refined user interface.
👎 Cons:
No portable version available.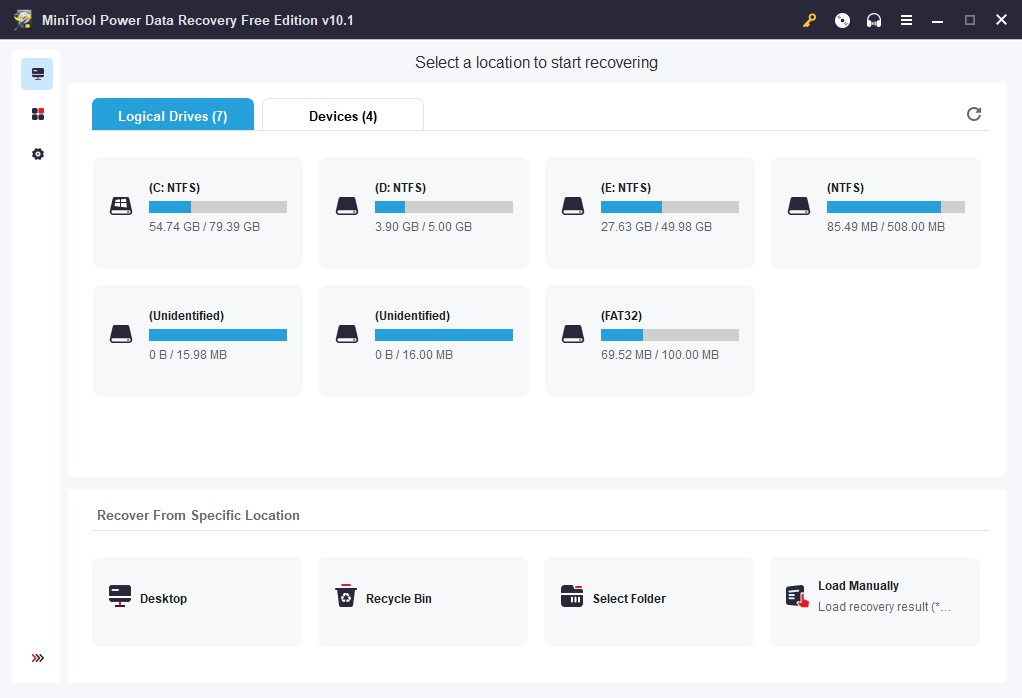 MiniTool is a great PC Inspector alternative that gives you the ability to recover data from almost any data-loss scenario. It's compatible with Windows 11 and supports over 100+ file extensions. It also includes some useful features, like the ability to create a bootable drive for crashed operating system recovery, as well as MiniTool Video Repair which can repair corrupted video files.
Main features:
Preview function – Check the integrity of the file you're recovering beforehand by previewing it.
Save scan results – Instead of scanning your entire drive again, MiniTool can save the results so you can recover at a later time.
Create WinPE media – Create bootable WinPE media that allows you to boot into your operating system and perform recovery.
Support for Windows and Mac – MiniTool can be used on Windows and Mac systems.
👍 Pros:
Up to 1GB of free recovery.
Simple interface.
Create bootable WinPE media.
👎 Cons:
Recovery process can be slow.
Scans bad sectors which further increases scan times.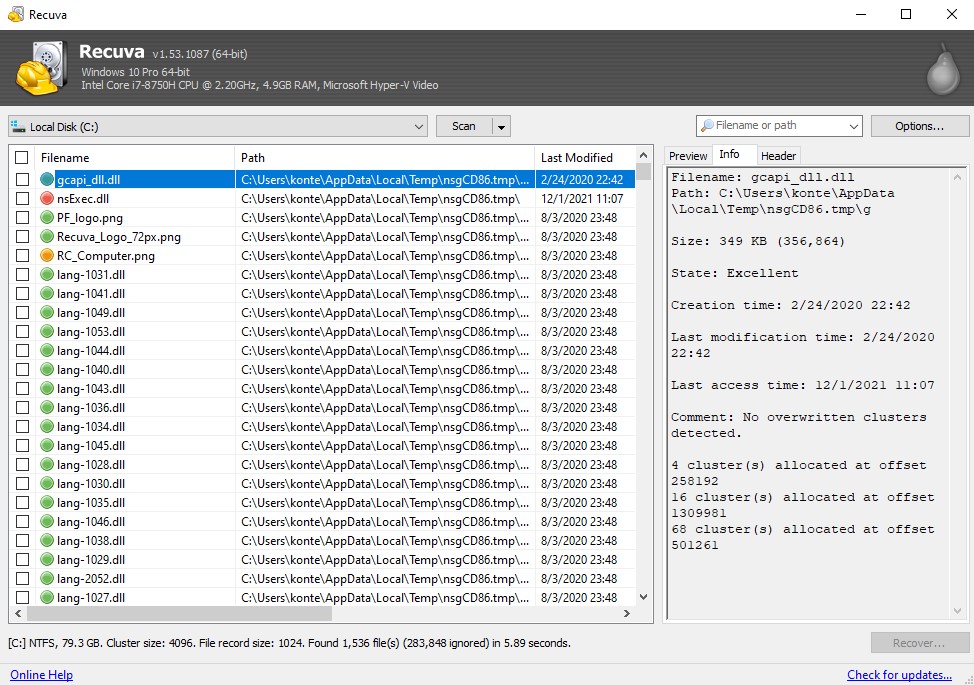 Recuva was developed by Piriform, the same crowd who gave us CCleaner, the popular computer cleaning and maintenance tool. It's an attractive option for many as it's one of the few recovery tools that offers free unlimited recovery. A paid version is available at a reasonable price which provides access to support for virtual hard drives, automatic updates, and priority support.
Main features:
Guided recovery – The wizard-like interface guides you through recovery, allowing you to choose what sort of recovery you want to perform and what files to target.
Secure deletion – If you have files you need to ensure are thoroughly deleted, use the secure deletion feature to overwrite the data with a chosen number of passes to ensure it's near unrecoverable.
Deep scan – If the basic scan didn't find your data, use the deep scan to pull data that's hard to find (while increasing scan times).
👍 Pros:
Unlimited free recovery.
Affordable paid licenses.
Beginners can recover using a user interface wizard.
👎 Cons:
Not as reliable as paid alternatives.
Hasn't been updated since 2016.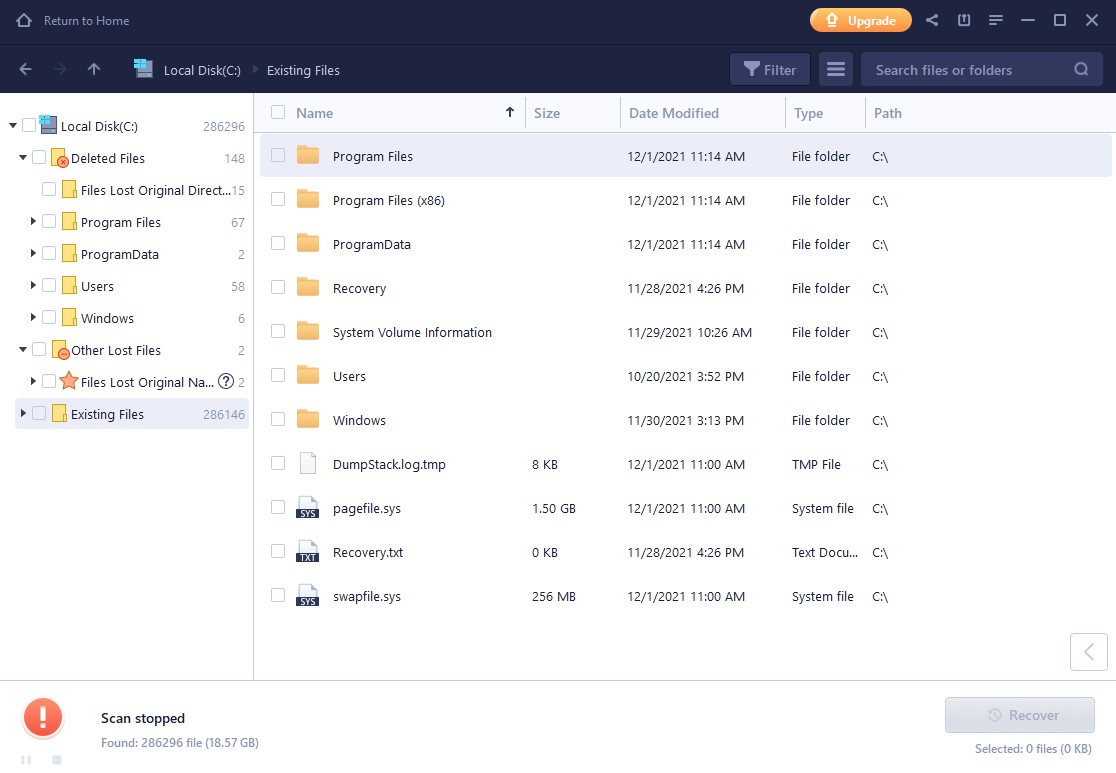 Main features:
Save scan results – EaseUS will keep record of your last scan and allow you to load it at a later time to save you the time of waiting for another full scan.
File preview – Examine the contents of your file before recovering it to ensure it's the correct one.
One-on-one remote assistance – Pro users can receive one-on-one remote recovery assistance from a recovery professional.
👍 Pros:
Free recovery up to 500MB (increased to 2GB if you click the share button in the wizard).
Available in multiple languages.
👎 Cons:
No support for the free version.
Backup feature requires separate installation.
Conclusion
PC Inspector File Recovery isn't for everyone. It has a dated interface as it's lacking important features that complement data recovery. After looking at our five recommended alternatives, you're bound to find a recovery solution that suits your needs.
To wrap up, it's important to remember that choosing a good data recovery tool is important. However, it's just as important that you implement a reliable backup solution to keep your data safeguarded. A regular backup schedule may even eliminate the need for recovery software entirely.
FAQ
PC Inspector File Recovery is a very old recovery tool. Its documentation doesn't even mention support for any Windows version above XP. While it is completely free, it's sorely lacking when compared to a tool like Disk Drill, which is regularly updated and contains data management features alongside the ability to recover data.
If you simply want to recover data for free, try PC Inspector File Recovery. If you want to give yourself the best chance at recovering your data, as well as protecting it, go with Disk Drill.
There are a myriad of data recovery tools on the market today. It's hard to make a choice with so many options. Here are our handpicked alternatives to PC Inspector File Recovery:
Disk Drill
Wondershare Recoverit
MiniTool
Recuva
EaseUS