PC Inspector data recovery software and it's best alternative
Now, it's undeniable that we live in a particularly rapidly developing world in which staying on top of trends is paramount if you are to succeed. This is especially true when it comes to computer technologies. Unfortunately, computer technologies are not always as comprehensive and a lot of people tend to make mistakes. Accidental loss of information from different storage devices is something rather common.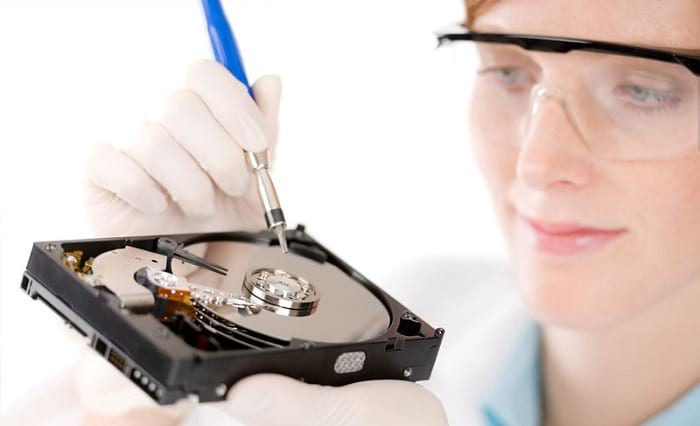 But, in the competitive corporate environment sometimes a single document could cause unimaginable damages. With this in mind, companies and individuals need to be armed with the right tools to recover accidentally lost information. There are different types to unwillingly delete a certain file. You could delete it by mistake, you could conduct an inappropriate formatting of a certain device – there are all kinds of possibilities. What is more, someone could even willingly and deliberately delete information from your computer.In events of the kind, it's particularly important to act fast. The sooner you take the necessary recovery steps, the better your chances of complete recovery are. Just on the contrary – the more you wait, the slimmer your chances get. Luckily for you, there are different tools available online, for your convenience, that are going to help you out in the matter. Of course, there are both free and paid tools. However, for the sake of full disclosure is worth noting that the free tools are usually rather limited. Sure, they can get the job done but it's going to be through a lot more hassle and the results are not as guaranteed and quick as they are with paid solutions.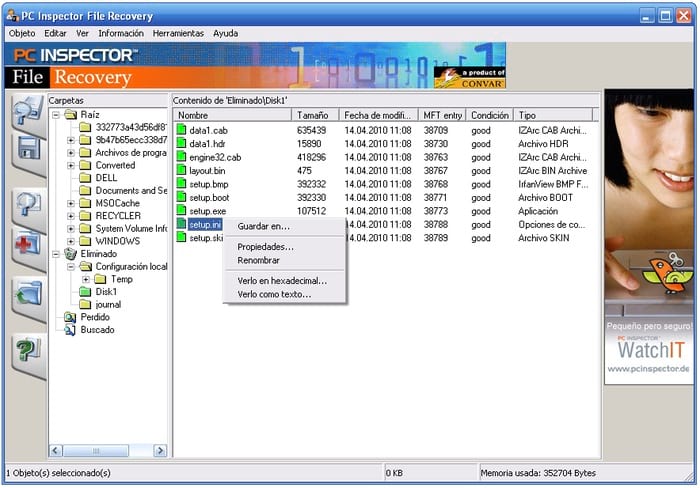 Now, the PC inspector file recovery tool is completely free and you could easily download it from their official website. It's assessed as not bad from the majority of users which is definitely impressive. However, as it is with any free tool, there are limitations for you to consider. The most important and restrictive one is the amount of supported file systems. The PC inspector, unfortunately, supports only two file systems – FAT 12/36/32 as well as NTFS. This means that if you are using any other than that you'd be incapable of using this particular piece of software.What is more, your operating system is also to be accounted for. The PC inspector recovery review shows that you could only use this tool on Windows 7. Considering that the most current version of Windows is Windows 10, you can see how this could be an inconvenience. What is more, Mac users are completely cut off from access.Even though the tool is pretty easy and convenient to use and it offers a reasonable amount of utility, these restrictions are always there when it comes to free software. However, luckily for you, if you want sterling and flawless results, there are things that you can do about it. For an inconsiderable subscription fee, you'd be given access to Disk Drill Pro, which is a data recovery tool with particularly high utility.
Disk Drill vs PC Inspector and the Things to Consider
Right off the bat, Disk Drill is compatible with the newest and the older versions of both Windows and Mac OS. The developers are well aware of how important compatibility is in terms of customer base and that's a segment that they aren't compromising with.Furthermore, unlike PC inspector file recovery, Disk Drill offers solutions for over 200 file systems which is pretty much covering the majority of possible options. You are also capable of recovering files from a wide range of storage devices. The most common and popular ones are USB, HDD, SSD, Pen Drives, Micro SD but there are many more which are included. This ensures that you could recover your important information regardless of the storage device you've used.
Comprehensive Recovery Process
This is likely to be the biggest asset of Disk Drill. There are some other pieces of paid software out there which offer approximately the same amount of comprehensiveness but Disk Drill manages to pull ahead a bit. The entire process, regardless of the device you are going to target, is not going to take more than 5 easy to follow steps. To make matters even simpler, here they are:
Plug in the target device (if necessary)
Select the required recoverable directory
Choose scanning method
Select the desired files to be recovered
Hit "Recover"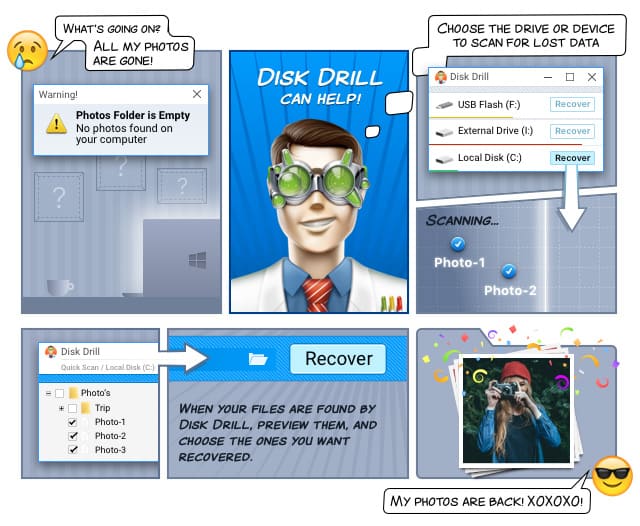 Data recovery for free
Your Companion for Deleted Files Recovery
That's it. There are no complex procedures, coding or whatever you can think of. Regardless of the device you are going to recover, these are the five steps that you would have to take.As you can see, Disk Drill does offer a lot of potential. Sure, there are other tools out there but this one manages to pull a great usability to price ratio with the pro version costing as less as $49 subscription fee (for Windows) and $89 (for MacOS). In return, you are also getting flawless customer support, regular updates and access to tremendous amount of helpful information.Another thing that you would need to consider is staying away from pirate software. Now, if you browse the internet without protection, chances are that you are in this situation because of a virus which has deleted your data. Going after a free serial key, registration code, key generation, crack or whatever else there is, is only going to make the matter worse. The last thing that you need is to lose more information than what you already had lost so far. Not to mention that this kind of software is also illegal.Regardless of whether you choose to go for Disk Drill or any other alternative offered on the market, the reasonable thing to do is to pay the necessary amount, provided that the software is paid for. You should always use the legit and official pages of the software that you want to download, regardless of what kind of software it is.