Connect this Mac to another Mac
Difficulty: Easy
Time required: 15 min or less
Extra: another Mac; USB-C, FireWire or Thunderbolt cable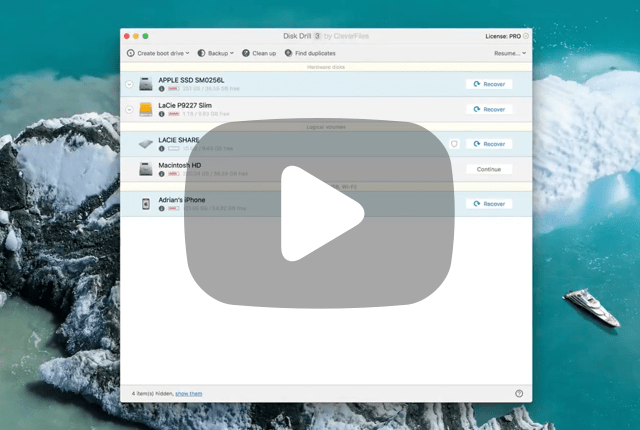 Connect this Mac to another Mac in Target Disk Mode

YouTube | CleverFiles
Problem Overview
Starting with macOS 10.13, Disk Drill can no longer access the startup disk of your Mac for data recovery directly. One of the workarounds is to make the startup disk work as an external (or secondary) disk to another Mac. This method is called Target Disk Mode. Please note, this is the safest and most reliable option for getting as many files recovered as possible.
Note: Target Disk Mode is Apple's official recommended method for high-speed data transfer and emergency file access on macOS 10.13-10.15, as well as the preferred connection option for Migration Assistant. Also, this method won't work on Macs with T2 security chip or the ones running on Apple Silicon (M1).
Here's How
Step #1: Cable connection
To make your Mac appear as an external disk on another Mac, connect both Mac computers with a FireWire, Thunderbolt, or USB-C cable.
Step #2: Go to System Preferences
On your Mac requiring data recovery (the one you'll be using as a disk), go to System Preferences and click Startup Disk and then – Target Disk Mode. If you see a closed padlock on the lower left (Activation Lock), click it and type in your administrator password to make the Target Disk Mode button available. Confirm by clicking Restart.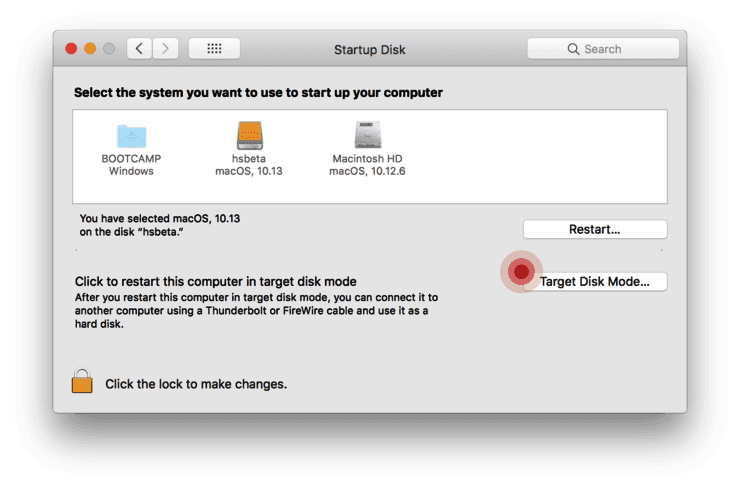 Alternatively,
press and hold the T button
immediately after pressing the power button to turn on your Mac, or immediately after your Mac begins to restart. Keep holding it until it boots in Target Disk Mode.
Step #3: Run Disk Drill on the other Mac
After your local Mac starts up in Target Disk Mode, it appears as a disk icon on the desktop of the other Mac. Run Disk Drill on the host Mac and select the target Mac's disk in the disk list to start the scan normally, as if you are recovering lost data from an external drive.
Step #4: Complete scan & recovery
Proceed with data recovery normally. Once done, eject the disk by dragging its icon to the Trash (the Trash icon changes to an Eject icon).
Congratulations! It's a success.
Final step: Disconnect your Macs
To exit Target Disk Mode, press and hold the power button on the Mac you used as a disk. Then disconnect the cable and return to normal operation.
.updated:
June 3, 2021
author: