When your Mac is running low on disk space it may begin to act unusual, slow down or lock up. The solution sounds easy, right? Delete files to free up space! However, it can be tedious to find files to delete on your Mac, especially if you have a large hard disk. One of the easiest ways to free up space on your Mac is to delete duplicate files. When using the right tools this doesn't have to be a complicated task!
Below, we have put together a list of 7 popular duplicate file finders for Mac which will make finding and deleting duplicates on your Mac much easier:
Disk Drill is a well-respected, powerful data recovery app that offers many additional features for free! One of the best bonus features Disk Drill offers is the free duplicate finder for Mac. This feature allows you to analyze internal and external drives and find duplicate files on Mac. You can find duplicate files such as songs, videos, images, and documents, just to name a few.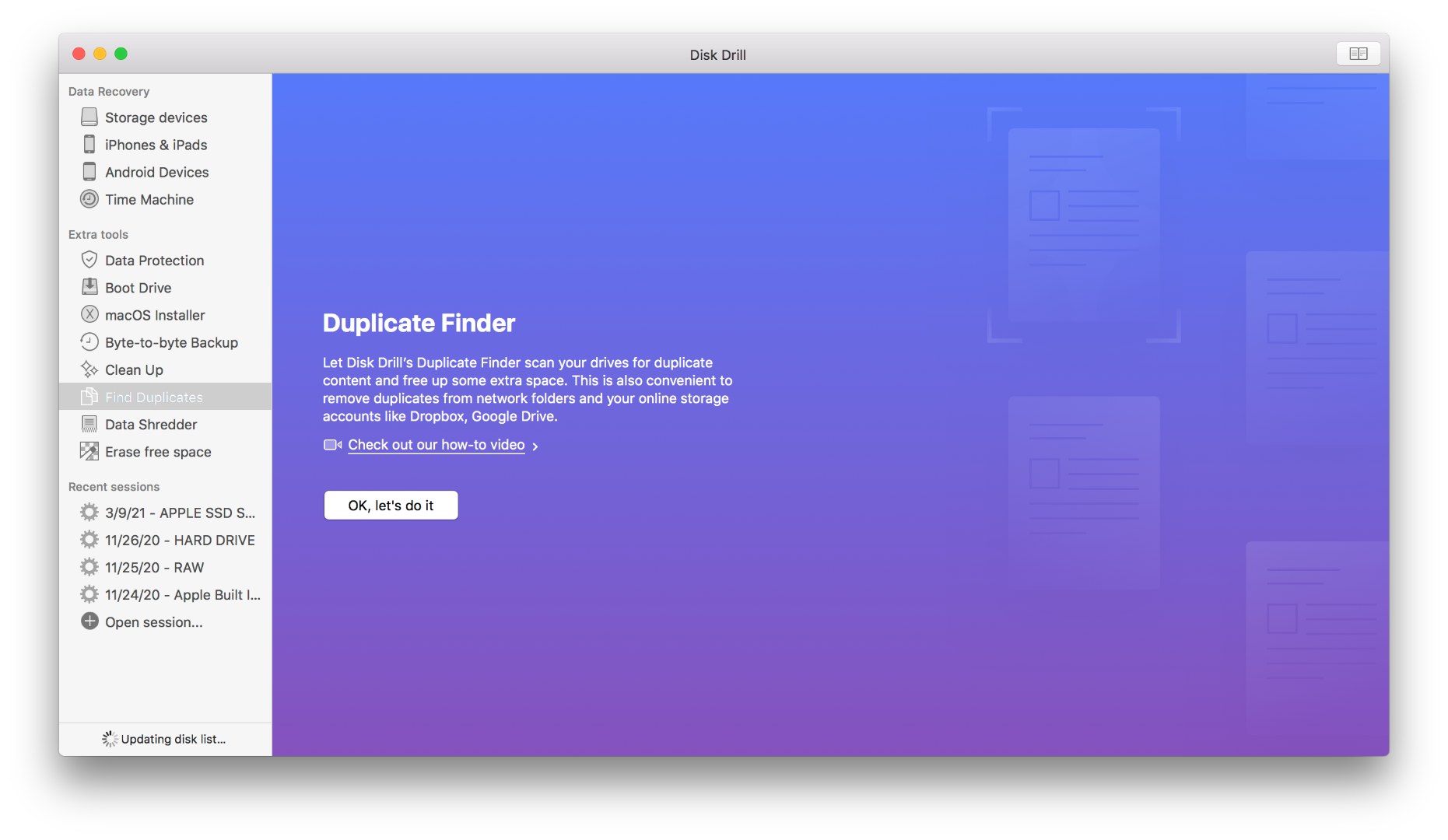 Disk Drill is one of the best duplicate file finders available free for Mac. Disk Drill only requires a small amount of disk space to run and a computer that supports Mac OS X 10.8.5 or later. Using Disk Drill is quite intuitive and easy, even if you are not a computer expert.
All you need to do is download the app from Disk Drill's website, double-click on it and follow the installation steps. Once installed, launch the app and select "Find duplicates".
Locations can be selected either by dragging folders into the Duplicate Finder or by selecting "Add folder" and then browsing through your computer until the folder is found. Several folders can be selected at a time. Once the folders are selected, you can select "Scan" and Disk Drill will show a list of duplicate files. Selected duplicates can then be removed quickly and easily.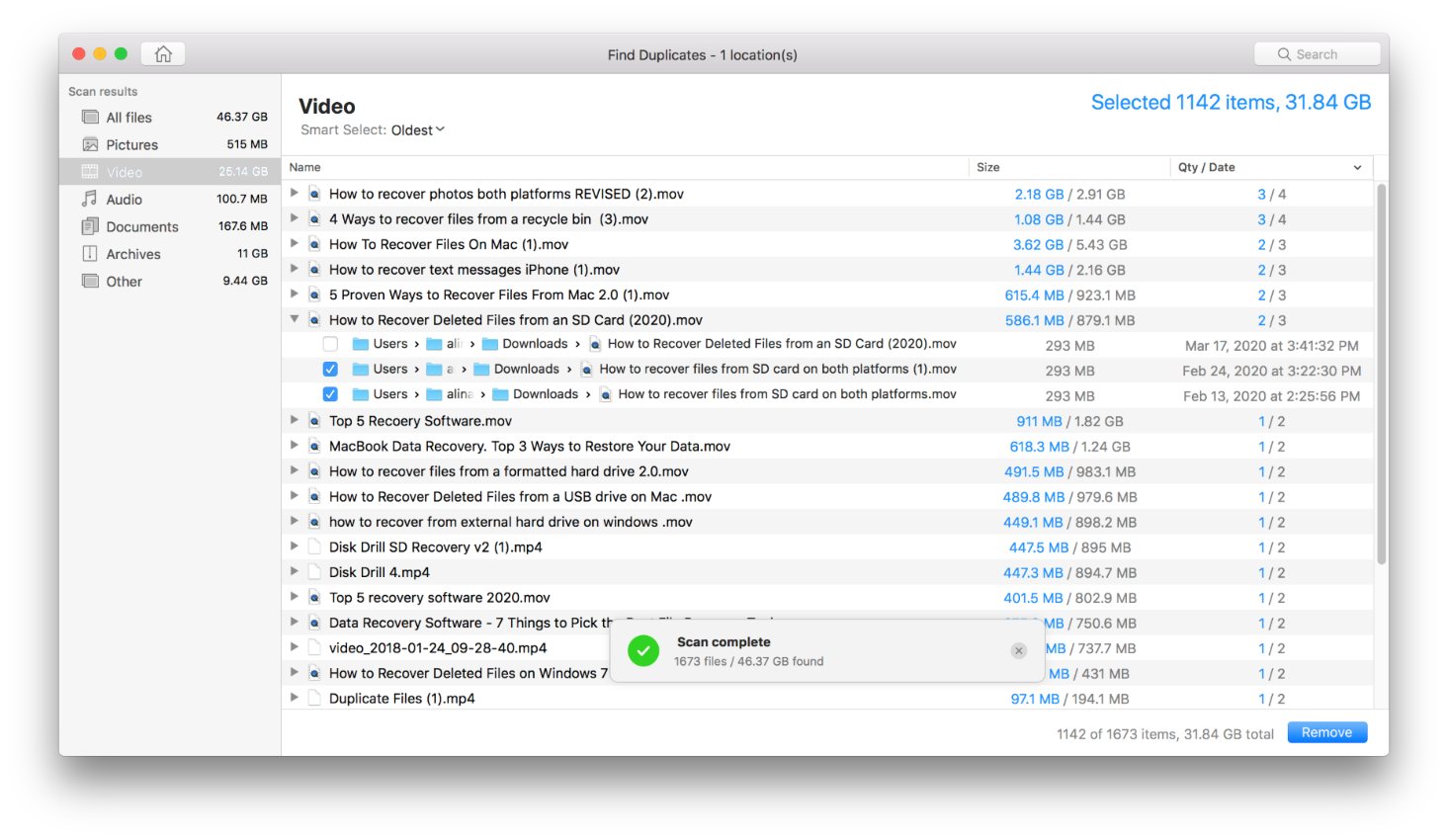 Bonus: If you make a mistake and accidentally delete the wrong file, Disk Drill has an added advantage over other apps as it's designed for powerful file recovery. Disk Drill can scan and recover files quickly with support for most files and partitions.
✅ Pros:
Completely free duplicate file finder

Bundled with a bunch of other useful tools
Powerful data recovery capabilities 
Compatible with M1 Macs
❌ Cons:
You can download the Basic Edition of Disk Drill for free from the CleverFiles Website.
2.
As far as dedicated duplicate file finders for macOS go, you can't do much better than Duplicate File Finder Remover by Nektony, the developers of MacCleaner Pro, Disk Space Analyzer, and other handy utilities intended to help Mac users keep their machines in the best shape possible.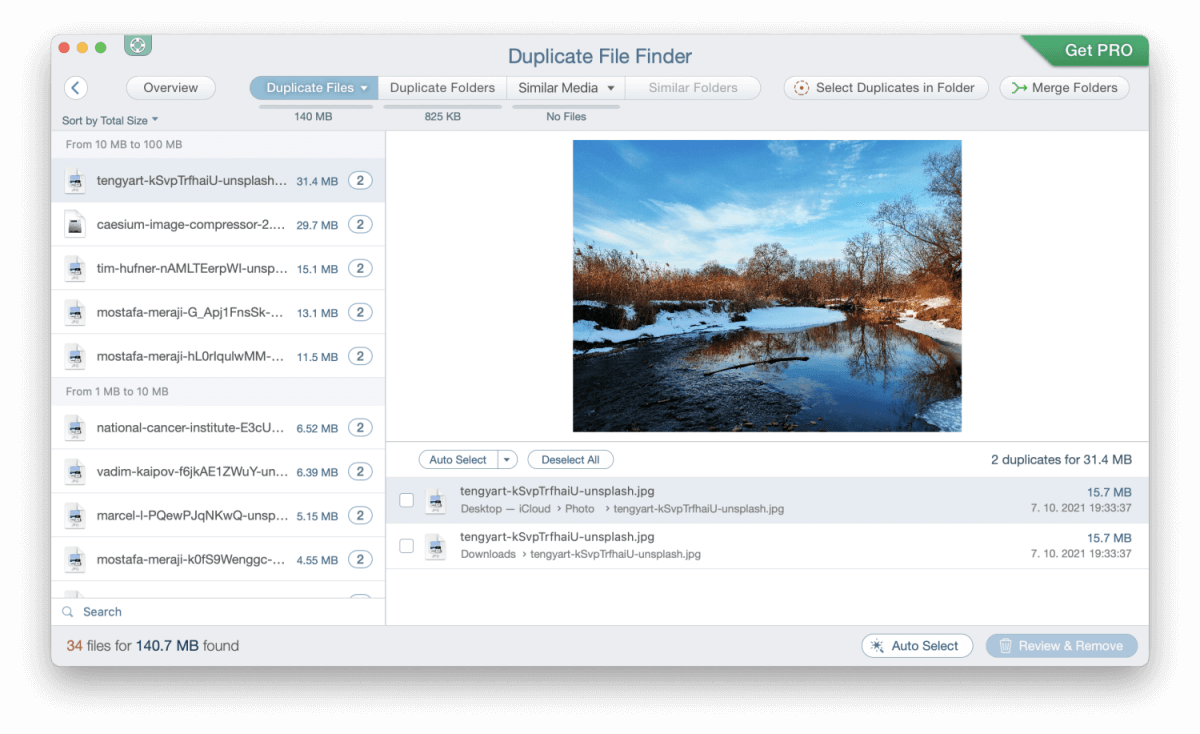 Duplicate File Finder Remover is fully compatible with the latest version of macOS, and it quickly delivers byte-to-byte accurate results in just one click on both Intel-based and Apple Silicon Macs. The app can find all kinds of duplicates, from software you've accidentally downloaded twice to pictures, videos, and audio files that exist in more than one location, regardless of whether that location is your main hard drive, an external storage device, or a cloud storage service.
To help you go through scan results quickly and painlessly, Duplicate File Finder Remover can intelligently auto-select duplicate files and even entire folders based on customizable rules. In addition to perfect duplicates, the app can also recognize partial duplicates, such as pictures taken in quick succession.
✅ Pros:
Makes it easy to compare similar photos

Compatible with M1 Macs 
Polished user interface 
❌ Cons:
Doesn't remove duplicates without a license
3.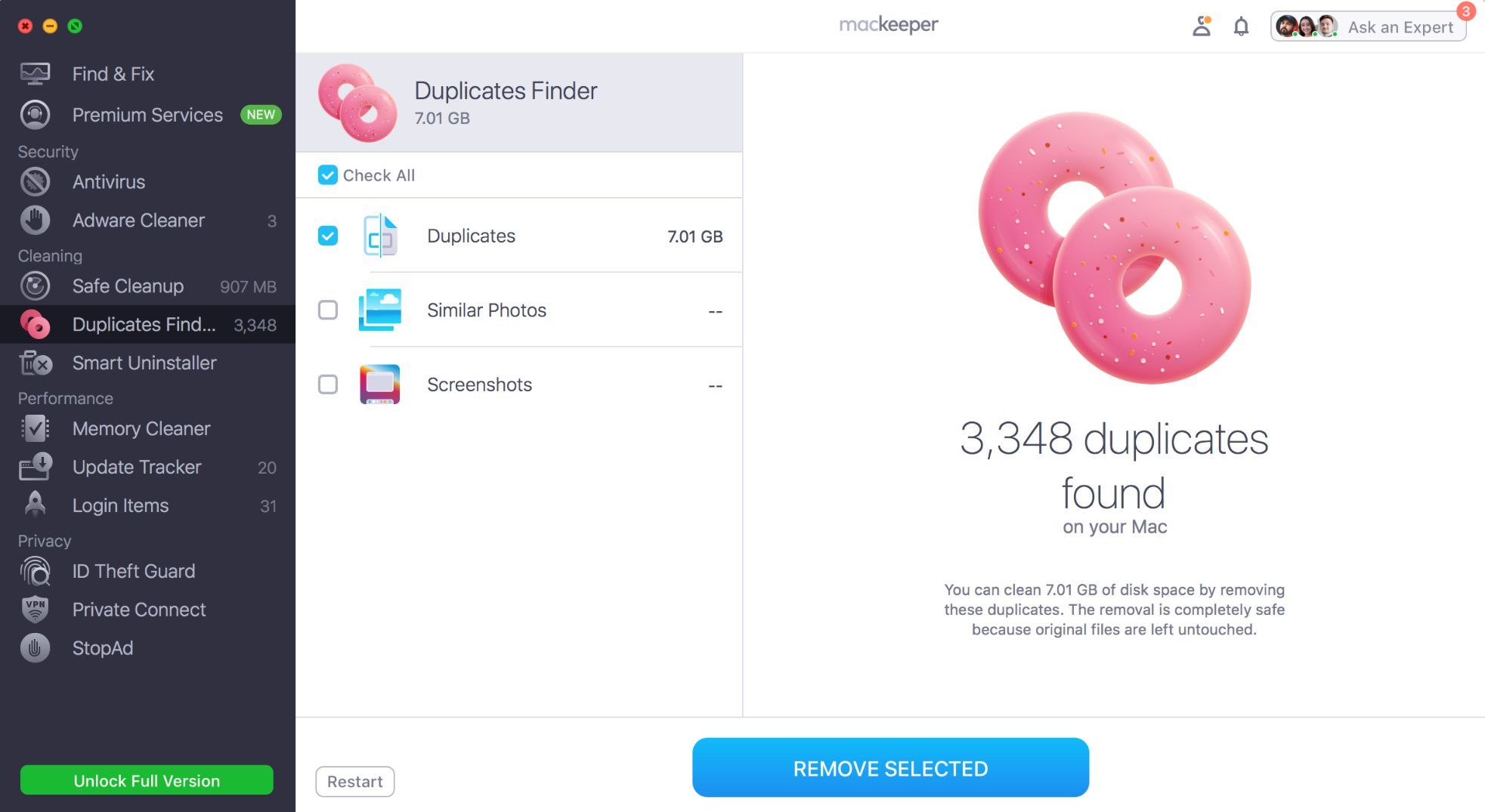 MacKeeper is so straightforward that it takes just one click to start a scan and find duplicates that are stealing your storage space. You can then either manually review the found files and decide which of them you want to keep, or you can leave it up to MacKeeper and let it automatically remove all the duplicate files for you.
In contrast with some of the other applications listed in this article, MacKeeper can do a lot more besides finding duplicate files. That's because it's actually a collection of 11 system cleaning and optimization tools. With their help, you can detect and remove malicious files, get rid of outdated caches and logs, free up system memory, and more.
Having so many useful tools conveniently included as part of one easy-to-use package is great because it means you don't need to search online for the right app to solve your problem and then waste even more time downloading and installing it. You can simply fire up MacKeeper, fix the issue, and continue from where you left off.
✅ Pros:
Comes bundled with 10 other useful tools

Quick and easy to use

Can find similar-looking photos
❌ Cons:
Subscription-based pricing
Duplicate files — ugh! Here is another tool to help find duplicate files and delete them in seconds, an easy task for Easy Duplicate Finder! This is a comprehensive tool that helps users free up disk space on their Mac and increase overall system performance.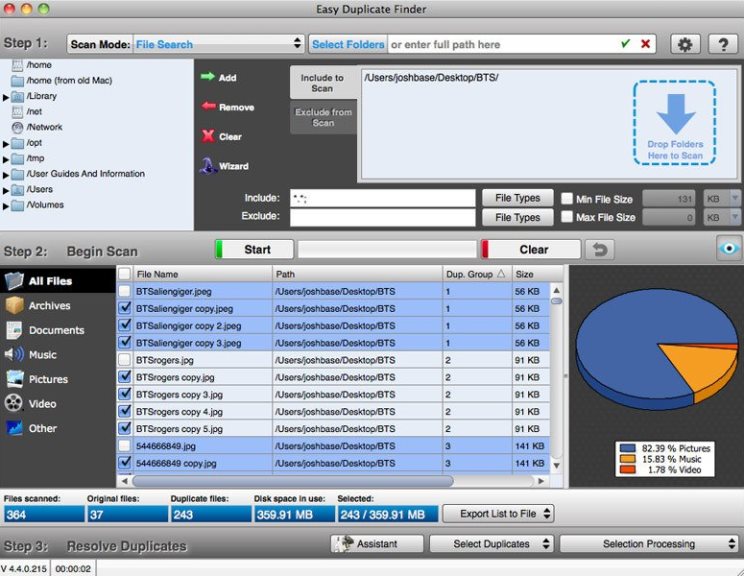 You can easily manage and organize duplicate files with the help of Easy Duplicate Finder. This duplicate finder tool can help to delete duplicate photos, docs, music, videos, spreadsheets and even emails! It is fast and easy to use by simply dragging and dropping folders you wish to scan onto Easy Duplicate Finder. This app will then delete the unnecessary files from your Mac. You can even undo the files deleted by mistake with just a few clicks.
Easy Duplicate Finder has numerous distinctive features such as a find and replace duplicate file mode, multiple custom scan modes and an interactive mode to help organize your files.
If your goal is to find and remove duplicate files, Easy Duplicate Finder is free to use for a limited period, after 10 uses there is a $40 fee for this app.
✅ Pros:
Powerful duplicate file finder

Multiple custom scan modes

Free to use for a limited period
❌ Cons:
MacClean is a free tool that helps you locate and remove duplicate photos, songs, apps, documents and other files from your Mac. This duplicate file finder for Mac is available in English, Spanish, German, French and Japanese.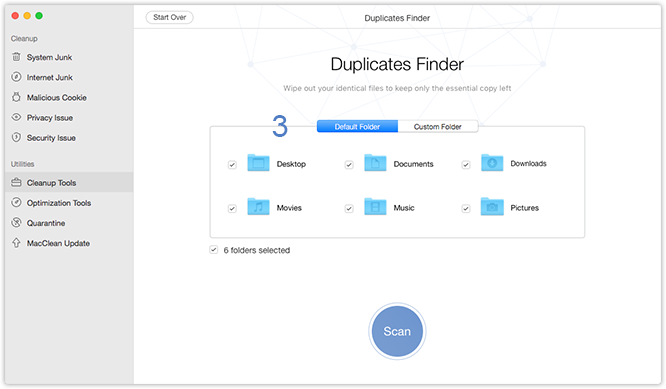 MacClean is easy to use with simple built-in drag and drop support for selecting the folders you want to scan. Once you select the folders, MacClean scans for duplicates, which can be previewed, removed or left unmodified. Search results can be narrowed with the aid of filters that group the results according to type, such as songs, pictures, etc.
✅ Pros:
Available in multiple languages 

Intuitive user interface 

Makes it easy to narrow down search results 
❌ Cons:
dupeGuru is a duplicate file finder for Mac available for free online. This app has a simple design and is made to be easy to use. dupeGuru requires OS X 10.7 or later and is available in more than ten languages including French, English, German, among others.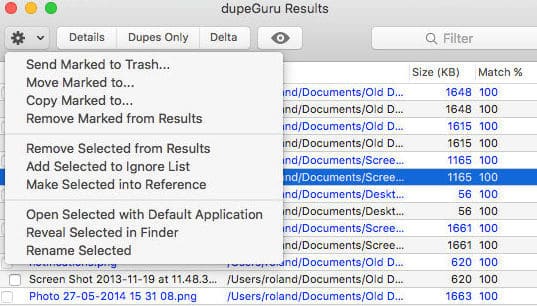 Scanning can be done according to filenames or contents. As the app uses a fuzzy matching algorithm, file names don't even need to be exactly the same. In addition, its customizable scanning engine helps the user to find almost exact matches in addition to exact matches.
dupeGuru also includes a music mode that can scan tags and show music-specific information. Other notable features include a duplicate photo finder Mac with a fuzzy scan algorithm that can select pictures that are similar, but not exactly identical. Searches can be performed for one or more folders, and the results are presented in a window, with the option of exporting them into an HTML file.
✅ Pros:
Completely free

Fuzzy scan algorithm 

Also works on Windows and Linux
❌ Cons:
Bonus: Duplicate File Finder is an extra tool we are including which offers powerful duplicate file finder capabilities for Windows! Most of our selected apps above have been Mac specific but the next tool really shines on Windows!
7. Duplicate File Finder
Developed by Ashisoft, Duplicate File Finder is a free app that can find and remove duplicate files on your Windows computer.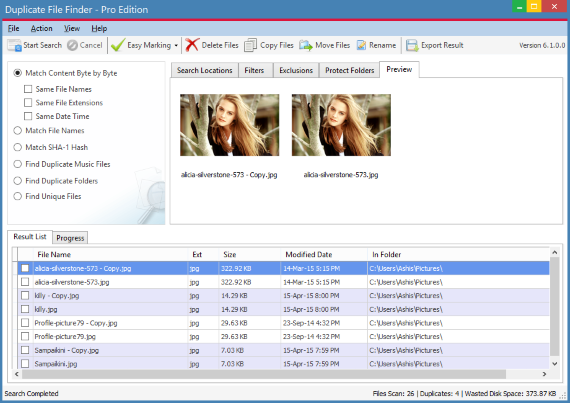 Its powerful search engine can find files based on different criteria, such as filename or byte-by-byte. Duplicate File Finder even includes a binary level comparison which can find duplicates regardless of file names. Each search can be done on an entire drive or on a selected set of folders. Once started, the search session can be stopped and saved for later use. Search results can easily be filtered and sorted by multiple fields such as name, size, total size(s), type and duplicate count.
Scan results can be exported in HTML or CSV format as a list and pictures can be previewed directly in Duplicate File Finder. Duplicate removal is easy and offers the option to move the files to the trash or delete them permanently. In addition to scanning your internal hard drives, Duplicate File Finder also works with removable media devices like USB drives and external hard drives.
Duplicate File Finder also offers a Pro version which contains added features, such as an advanced search which can show hidden files.
✅ Pros:
Powerful search engine

Scan results can be exported

Extensive filtering capabilities
❌ Cons:
FAQ