Today, there are several data recovery solutions available on the market. Such software helps protect and recover our files from different data loss situations. While these tools can retrieve deleted or corrupted files, choosing the right fit might seem like a tough job.
What is AnyRecover?
AnyRecover is a data recovery software developed by iMyFone that offers easy file retrieval from various storage devices. It claims to support about 1000+ file formats such as videos, audio files, documents, etc. Moreover, the software can help recover files lost due to accidental deletion, device crashes, or other unexpected situations.
The AnyRecover data recovery software supports both Mac and Windows operations systems. It is available for free download but also has paid versions that are available in monthly, annual, and lifetime plans.

Key Features
Inclusive Data Recovery – AnyRecover helps retrieve files from various internal and external storage devices like digital cameras, USB flash drives, memory cards, SSD/HDD, etc. The software also supports multiple file formats and extensions.
Efficient Scanning – The AnyRecover software offers a combination of a fast and deep scan. It allows users to apply filters to file searches and resume scanning at their own pace. The preview option also helps make the recovery process smoother.
Free Tech Support – The official AnyRecover website has detailed guides and FAQs to assist users in navigating their issues. You can also contact them via a support form on their website. The software's tech support has received positive reviews from several users.

🚩 On the whole, despite the AnyRecover software's note-worthy features, it has certain limitations.
Significant Shortcomings
AnyRecover software's free version only allows the recovery of up to 8 files. This is significantly less compared to other data recovery software within the same price range.
The Mac and Windows versions of AnyRecover have to be purchased separately. Moreover, AnyRecover for Mac is on the pricier end.
Users have complained about facing problems while scanning large drives, which can cause issues during the data recovery process.
Customers have also reported the software's inconsistency and inability to retrieve lost files.
💻 These drawbacks can become significant roadblocks in the data recovery process. Thus, there are better, available alternatives to AnyRecover that can help retrieve files effectively.
Top 5 AnyRecover Alternatives
Here are our top 5 picks that serve as amazing alternatives to AnyRecover
Disk Drill is one of the most popular data recovery software, and it comes loaded with additional, new features. It promises easy data recovery, has a user-friendly interface, and is a flexible tool for any data-loss scenario.
The Disk Drill data recovery software supports most file formats, and it can recover files from a long list of storage devices. The software is available for both Windows and Mac operating systems and on iOS and Android.
Let's review the data recovery process with Disk Drill:
Download and Install Disk Drill from here. The free version allows recovery of files up to 500 MB and grants access to the extra disk tools.


Data recovery for free
Your Companion for Deleted Files Recovery

Once you've installed the software on your device, choose the location from which you wish to recover data. Now, select the recovery method.


Pro tip: Disk Drill selects all recovery methods by default before scanning your device. However, it also provides the option to customize this setting. Depending on the situation, you can choose a specific recovery method.

Next, click on Search for Lost Data. This will initiate the scanning process and allow the software to discover lost files.
As the software scans the device, you can see the size and number of the files found. The progress bar also indicates the pace of the scan.

Once the scan is complete, select the files you want to recover. Disk Drill also has the preview option that allows you to check your file. Now, click Recover.

Choose a recovery location for your file. Make sure you don't store your recovered files on the same disk as their original location. Finally, click OK to retrieve your data.

Unique Value Proposition
💯 Effective Data Recovery – Disk Drill allows you to retrieve multiple file-formats from internal and internal disks or storage devices. Moreover, the software can help recover entire partitions that have been accidentally deleted or lost. It protects partitions from future data loss scenarios.
🔧 Data Recovery ToolKit – The Disk Drill data recovery software comes with an array of novel features such as S.M.A.R.T. disk health monitoring, RAW file recovery with the deep scan feature, byte-level backups, and other such tools.
🚑 Superior Data Protection – One of the most notable features of Disk Drill is its data protection capability. The software uses the Recovery Vault to keep your data safe by saving your file's metadata.
🔎 Preview and Filter – The preview and filter options make the data recovery process quicker and more efficient. While you can use the preview option to view your files before recovering them, the filter button can help you search for and retrieve specific files.
👍 What We Like:
Disk Drill has a clean, intuitive interface.
It offers extra tools such as disk health monitoring that scans for potential issues and gauges the disk's status.
Additional data protection features like the Recovery Vault help protect data.
The software supports various file formats like audio, video, documents, etc.
👎 Cons:
The free version only allows up to 500 MB data recovery.
Disk Drill doesn't support the Linux operating system.
#2: Recuva
Recuva is a feature-rich, reliable data recovery solution that has been around for years. Developed by Piriform, it is a fast, lightweight tool that can help retrieve your lost data.
The software offers advanced file recovery — notably from formatted or damaged disks — and is available for free download on Windows. While the unpaid version accommodates most additional features packed with Recuva, its Professional version is quite affordable.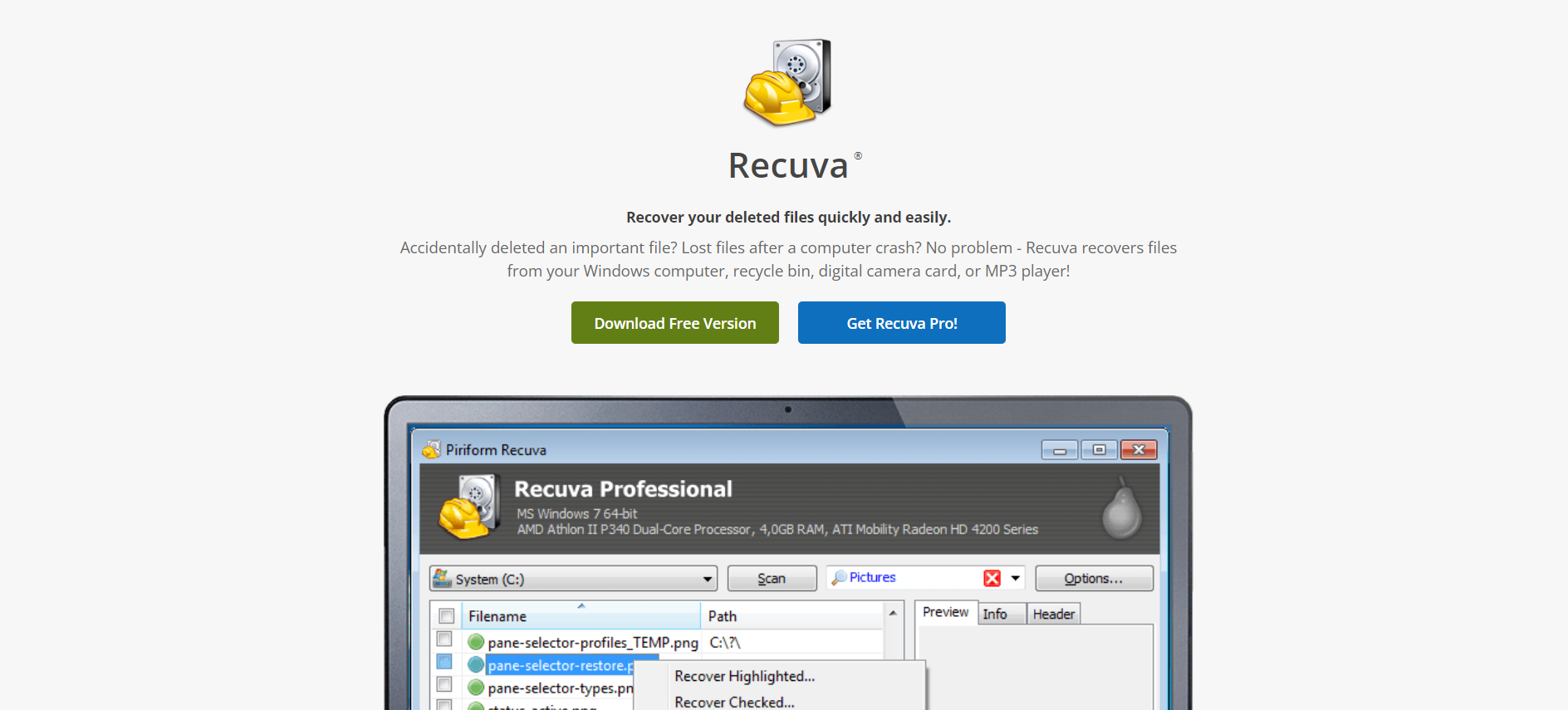 Main Features:
Smooth Data Recovery – Recuva provides an efficient data recovery process to its users. The software supports most rewritable media, including memory cards, USB connections, and external hard drives. It works to retrieve file types such as music, videos, documents, emails, etc.
Deep Scan – Recuva's deep scan feature helps find buried files that regular scans might not detect. While it may take longer than usual, it increases the chances of successful data recovery.
Security Features – One of Recuva's most prominent features is its claim of military-grade security techniques. If you want to delete a file permanently, the software's overwrite feature ensures secure, advanced deletion.
Portability – The software doesn't require heavy file space, allowing users to boot it from a USB or external disk. This assists with faster file recovery and prevents files from being damaged or corrupted in the process.

👍 What We Like:
Recuva is a budget-friendly recovery tool, and the paid versions are also easy on the pocket.
The free version allows unlimited data recovery.
Its portability feature makes file retrieval quite efficient.
👎 Cons:
Recuva is only available for Windows.
The free version doesn't grant access to additional features like premium tech support and advanced data recovery.
Recovery isn't 100% guaranteed.
#3: EaseUS Data Recovery Wizard
EaseUS Data Recovery Wizard is one of the leading software available on the market today. It ensures safe and efficient data recovery in a three-step process. The tool is available for Windows and Mac operating systems. It boasts of professional features to assist with effortless file retrieval.
The EaseUS recovery software has a free trial version that allows up to 2 GB of data recovery. Its paid versions offer additional features to help with data recovery. While the Pro version comes at $69.95 for the yearly subscription, the Technician version is available for a steep price of $299 annually.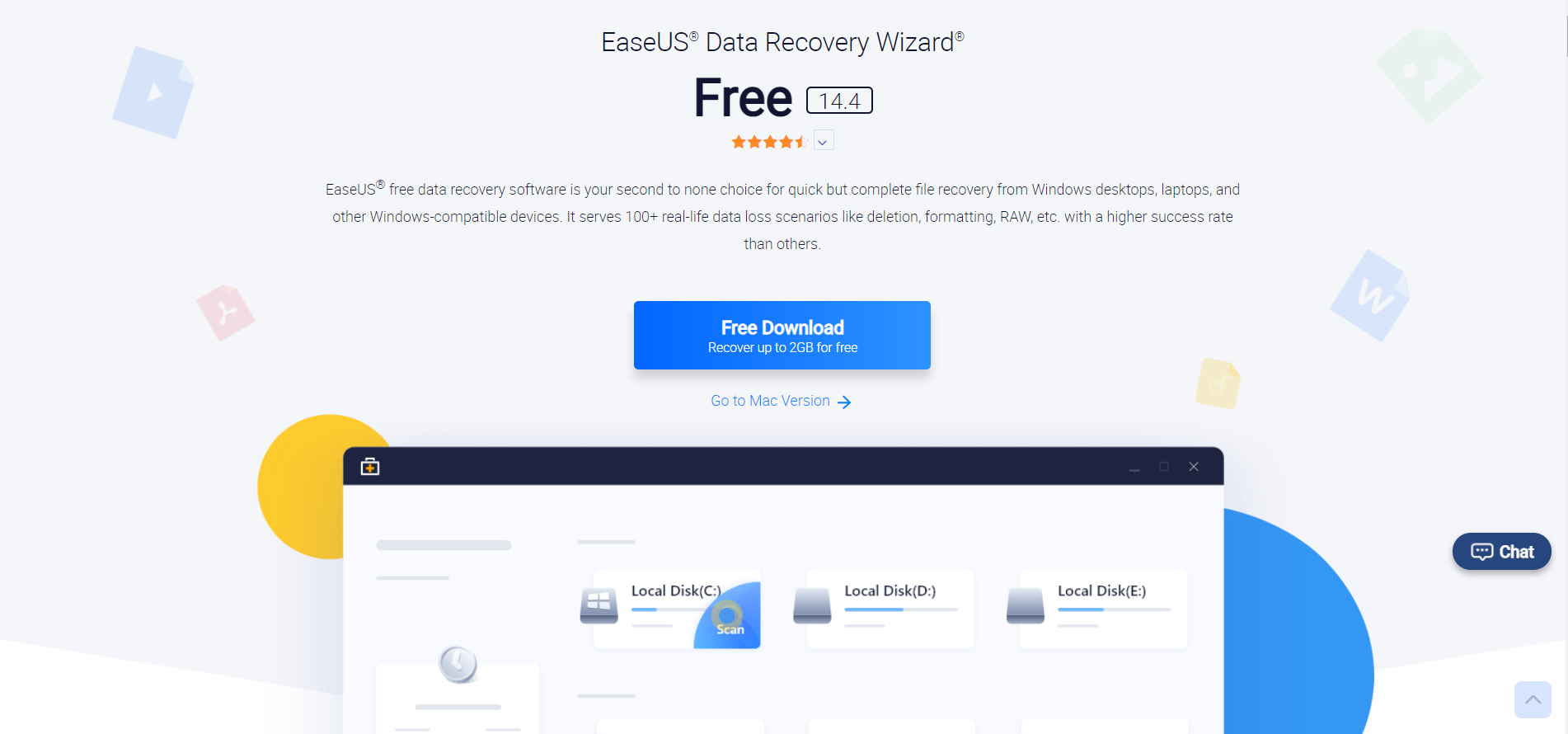 Main Features:
Proficient File Recovery – EaseUS Data Recovery Wizard guarantees recovery in several data loss situations. It supports retrieval from formatted devices, partition recovery, deleted file recovery, system crash, or media error, among other such cases.
Precision Search Features – The software's filter feature makes sorting through the thousands of search results more manageable. You can filter through files by name, type, date, etc.
Powerful Scan Algorithms – EaseUS data recovery flaunts a superior scan algorithm supporting both Quick Scan and Deep Scan. These options help find deep-buried files, and you can initiate, pause or restart these scanning processes at will.

👍 What We Like:
The software has an excellent data recovery rate and specializes in data recovery from different formats like HDD/SDD, formatted disks, etc.
EaseUS can help recover RAW files or disk partitions.
👎 Cons:
You have to download different tools from EaseUS for data recovery on iOS or Android.
The Pro and Technician versions of the software are quite heavy on the pocket compared to other recovery tools.
Software bugs even with the PRO version.
#4: R-Studio
R-Studio by R-Tools Technology Inc. is a sophisticated data recovery solution targeted at professionals and experts. It comes with advanced supplementary tools and offers flexible settings for effortless data file recovery. Most significantly, it is one of the few data recovery software that supports all major operating systems – Windows, Mac, and Linux.


The software's demo mode is available for free download on the R-Studio website. While it gives users a glimpse of the look and feel of the software, it can only recover files less than 256 KB. To retrieve these files, you must purchase one of the licensed versions, priced at $49.99 for Windows and $79.99 for Mac or Linux.
Main Features:
Superior Extra Features – The R-Studio data recovery software is packed with several advanced features S.M.A.R.T. monitoring that alerts you to possible disk failures, disk imaging, a hexadecimal editor, among many others.
Specific File System Support – The software supports data recovery from ReFS (Resilient File System) file systems. These include HFS/HFS+ (Mac), FAT/NTFS (Windows), and Ext2/Ext3/Ext4 FS (Linux), etc.Virtual RAID Recovery – One of R-studio's complex, superior features is RAID recovery. It allows virtual RAID reconstruction to help retrieve lost data files.
Emergency Version – R-Studio can run from a compact disk or USB drive in emergency-like situations –like data crashes or system failures — when it becomes imperative to recover data.

👍 What We Like:
It offers additional, advanced features to help recover data effectively.
The software has an intelligent algorithm that allows in-depth file analysis and scans.
It works well for professionals and experts.
👎 Cons:
The software has a learning curve and isn't easily accessible for beginners.
The user interface is quite intricate and appears complicated.
#5: Wise Data Recovery
Wise Data Recovery is an easily navigable, straightforward software. It can help recover lost files from different data-loss scenarios and provides fast results. While you can also run the software on Mac for basic recovery, it only supports Windows. The software has a free version that accommodates file recovery with restrictions.
Users must upgrade to the Pro version to unlock premium features, which are available for $44.96/month and $67.46/year.

Main Features:
Good Compatibility – Wise Data Recovery offers reliable data recovery on Windows. It supports several file types and formats such as documents, graphics, videos, etc.
Fast Scans – The software takes considerably less time to perform both the Quick and Deep Scan. However, the Deep Scan feature is only available with Wise Data Recovery Pro.
Portable Version – Since it's a smaller software, there's a portable version available. You can install Wise Data Recovery to a USB drive and run it on your system by writing the program to the main drive. This makes the recovery process more efficient.

👍 What We Like:
Wise Data Recovery is fast, efficient, and lightweight.
You can recover recently deleted files for free.
It has a clean interface and helps recover data quickly.
👎 Cons:
The software is only compatible with Windows.
It has a low data recovery rate, and its paid versions are quite expensive.
AnyRecover Alternatives for Mac
While many software is available to assist with data recovery on Windows, only a select few work equally well on Mac OS. Not every software can adapt well to different operating systems. To make this choice more accessible for you, we've selected software that works as great alternatives to AnyRecover for Mac.
Some that stand out based on their efficiency and ease-of-use are:
R-Studio
EaseUS Data Recovery
Pro tip: Disk Drill allows you to create byte-to-byte disk image (DMG) backups on your Mac. This increases your chances of data recovery from a failing or damaged hard drive, thus making file restoration more convenient!
Conclusion
While there's an array of data recovery software to choose from, the final selection depends on user specifications. However, productive software should fulfill certain basics like being cost-effective, user-friendly, and ensuring successful file recovery in different data loss situations.
If AnyRecover doesn't make the cut for you, you can select the software that meets your requirements from the list we've compiled above.
FAQ