Wise Data Recovery by WiseCleaner claims to be able to easily and quickly recover lost or deleted photos, videos, documents, and other file types from most forms of internal and external storage media. This is typical of a data recovery tool, but what makes it different?
What are its strong points? And, what are its drawbacks? We're going to take a very close look at everything in this Wise Data Recovery review so you can make an informed decision if you're thinking about trying it.
Free trial:Yes. Deep scan not available with a free version
Feature
Performance
Recovery speed:
Fast. This will depend on the type of scan you choose and the size of your drive.
Supported OS:
Windows only.
Price:
$44.96/month or $67.46/year for Wise Data Recovery Pro.
Customer Support:
Email support only. Those with a paid license will receive priority support within one business day, while regular replies are within 72 hours. You can also refer to the FAQ page.
Pros:

Search box and preview panel are useful features.
Quick search times for both Quick Scan and Deep Scan.
Portable version available.
Clean and easy-to-use user interface.

Cons:

Average reliability – only some of our files were recovered and all of them were corrupted.
Expensive compared to other tools that can offer higher success rates.
Windows and Mac versions are different which can be confusing as a consumer.
A preview panel doesn't resize images to see the entire file.
Main Recovery Features
Let's look at what features come packed with Wise Data Recovery. I've included features from the Free version, as well as Wise Data Recovery Pro.
📁 File recovery – Supports over 1000+ filetypes for recovery from a variety of storage devices, including hard disk drives, solid-state drives, USB drives, and memory cards (SD cards, SDHC cards, micro-SD cards, etc).
🔍 Deep scanning – If the Quick Scan didn't cut it for you, the Deep Scan can take a closer look at your drive to find and recover data that was previously overlooked.
💼 Portability – Installing new software on the same drive that has lost data can cause that data to be overwritten and lost. A portable version can be downloaded from the WiseCleaner Download Center that can be loaded onto a USB and used directly from it.
Compared to other recovery solutions, Wise Data Recovery lacks features that help go beyond data loss, like protecting your data against potential data-loss situations. However, for those that only want data recovery, Wise Data Recovery supports just that. 
How to Recover Files with Wise Data Recovery
Before we break down the different sections of the Wise Data Recovery software, let's trial the recovery process to see how easy and effective it is. For this trial, I've permanently deleted four JPG files and three TXT documents containing lorem ipusm by deleting them from my computer, then the Recycle Bin.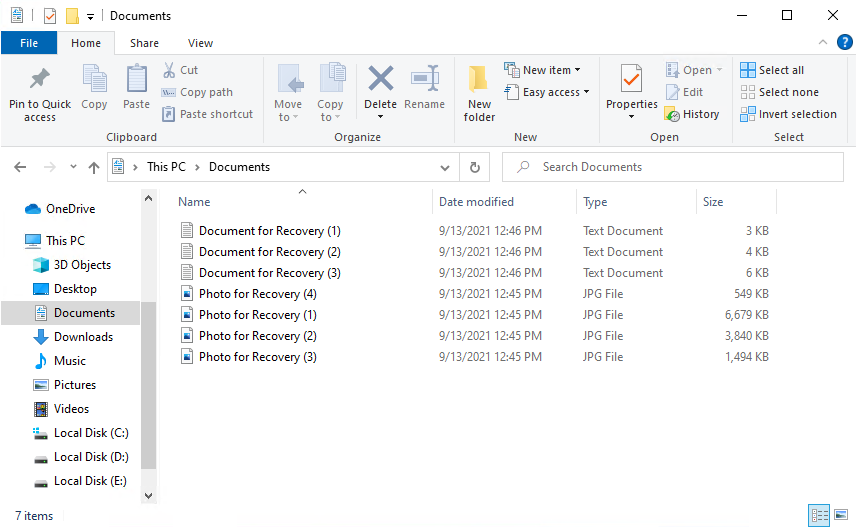 Despite the WiseCleaner website stating the latest version is 5.2.1, the latest downloadable version of Wise Data Recovery is 5.1.9.337, which was released on April 26, 2021. You can download and use the free version, or you can upgrade to the Pro version and receive access to Deep Scanning, Automatic Updates, and Premium Tech Support. 
Download the installation file from the WiseCleaner website. Open it.
Read and accept the License Agreement. Click Next.
Click Install. When finished installing, open the program.
Select the drive you want to scan and recover from using the dropdown list. Then, click Scan.
Click on Quick Scan to start the search for recoverable files.
To filter through the unnecessary files it found, I'll use the search bar to filter by file type. To do this, I simply typed *.jpg|*.txt. I'm also going to enable the preview panel to see the contents of the discovered files.
Some of the files were found, but the preview panel doesn't resize image files to an appropriate viewing size so I'm going to recover all of the files to check them. To do this quickly, right-click anywhere in the results screen and click Select All. Then, click Recover.
Specify where you want the files restored. If you select a location that's on the same drive that the files are being recovered from, you will be instructed to use choose another drive to avoid corrupting the data.
When recovered, the files retain their old folder structure. Disappointingly, none of the files were recovered successfully (despite the preview panel showing the correct images prior to recovery). The single text file is corrupted, making it unreadable, while the photos cannot be accessed.
Overall, Wise Data Recovery found four files that I had permanently deleted from the Recycle Bin. However, after recovery, none of the files were usable. When previewing some of the photos, they did actually appear intact prior to recovery, so I was surprised when they weren't accessible afterward.
Interface and User Experience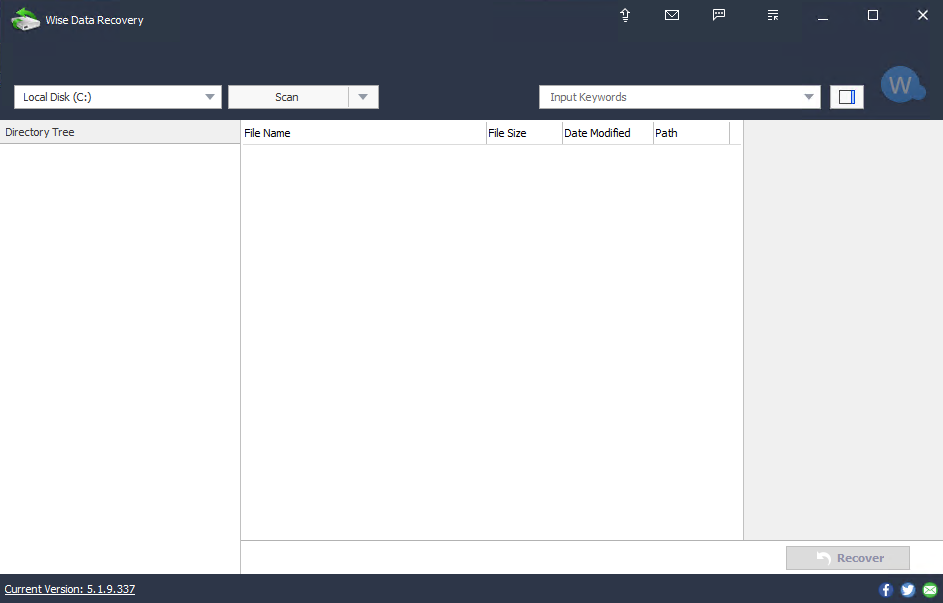 When you open Wise Data Recovery, you're met with an attractive, lightly-branded interface with everything you need. At the very top, you'll find small icons that can be used to register, check the latest product news, provide feedback and access a menu that has links to the WiseCleaner website and the option to change your language.
The main interface has everything conveniently situated, ready to scan. The columns can be resized to your liking and all areas fit nicely without feeling too cramped. If searching for files, you can manually do so by exploring the directory tree where the file was found or by using the search function. If you're unsure if a returned file is the correct one, expand the preview screen on the side to see the contents of it.
Security and Privacy
Wise Data Recovery doesn't include any features that help protect your data from future loss, like the Data Protection feature offered by its competitor, Disk Drill. Another welcomed feature would be secure deletion, similar to the feature offered by Recuva that overwrites your data by a provided number of passes to protect it against being recovered.
Payment for paid versions of the software is secure. The WiseCleaner website is regularly scanned by McAfee and they work with a third party to receive payments. Additionally, you're protected by SSL during the checkout process. This combination results in a safe and secure transaction should you ever decide to upgrade.
Pricing and Plans
There is an obvious difference in pricing between the Windows and Mac versions. This is because the Windows version is produced by WiseCleaner while the Mac version, Data Recovery for Mac, is actually produced by Stellar. This partnership is the reason why the pricing model for each version varies wildly.
Non-profit organizations, as well as educational institutions and government agencies, are eligible for a
20% off discount
when buying Disk Drill.
The below table shows you what features you can expect in the two Windows versions.
| | | |
| --- | --- | --- |
| Feature | Wise Data Recovery Free | Wise Data Recovery Pro |
| Scan and restore recently deleted files | ✅ | ✅ |
| Deep scan and restore RAW files | ❌ | ✅ |
| Automatic updates | ❌ | ✅ |
| Priority support | ❌ | ✅ |
| Price: | Free | $44.96/month or $67.46/year |
Support
If you have a question, you'll first be referred to the WiseCleaner FAQs. This is the FAQ page for all of their products, so you will need to scroll down to the Wise Data Recovery section. You can also refer to the Wise Data Recovery Online Help Center which includes information about the tool and its features, though it is in need of updating. If the answer to your query can't be found here, you will need to contact their support team.
You can contact the support team for Wise Data Recovery using the email contact form on their website. The website advises that you can expect a reply within 72 hours, while in some areas it mentions you'll receive a response within 1 business day. You also have the option of buying the Ultimate 24×7 Email Help service for $9.90/year to receive guaranteed replies within one business day and professional support.
You automatically receive priority support with any paid product, the Ultimate 24/7 Email Help add-on is only useful for users of the free versions.
Customers Reviews
TechRadar says:
"Wise Data Recovery is a good choice for file recovery if your main goal is to save recently deleted files. It works with almost every common file type and Windows file system. Wise Data Recovery is simple to use, although that simplicity may be frustrating if you're not able to find the files you want to recover."
John on Software Suggest says:
"One of the best free data recovery software available online. Just scan in drives or attached USB for deleted files and vola recover the lost deleted files. Interface of the software is pretty simple and does not have advanced options like other data recovery softwares do but then again most of them don't provide this advanced options to free users."
Lisandro on G2 says:
"Wise Data Recovery gives the files folder recovery from the FAT, ExFAT and NTFS devices. The scan is very fast and you can work while the software executes it. Pleasant and useful. The report after the hard disk scan is sometimes inaccurate and sometimes it shows as recoverable some files that can not be recovered."
Final Verdict
Wise Data Recovery generously allows you to recover an unlimited amount of recently deleted files using their Quick Scan feature. Both the Quick Scan and Deep Scan executed swiftly, both taking well under five minutes each (this may vary based on your drive size). The interface is clean and basically everything you need is available from one screen.
However, during our tests, Wise Data Recovery was only able to find four out of the seven files we had recently deleted. And, after recovery, all of the files that were found were corrupted. Overall, the recovery process was actually very disappointing. This may have been different if we had a chance to try the Deep Scan, but this feature, as well as automatic updates and priority support, are only available to those with a paid license.
To summarise: if you're looking for a free recovery solution, Wise Data Recovery is worth giving a shot. There are other recovery tools on the market that have better success rates of recovery and more affordable paid licenses.
FAQ
Wise Data Recovery by WiseCleaner is safe and legit. To avoid potential malware or false copies, always download from the official WiseCleaner website.
Yes, the free version of Wise Data Recovery allows you to recover recently deleted data. You will nee to upgrade to Wise Data Recovery Pro if you want access to the Deep Scan feature, as well as automatic updates and priority customer support.
The Wise Data Recovery makes data recovery super easy thanks to its clean interface. Follow the below instructions to perform a Quick Scan on your drive:
Download and install Wise Data Recovery.
Select the drive you want to scan from the dropdown menu and click Scan.
Click Quick Scan.
Select the files you want to recover then click Recover.
Specify a location that's not on the same drive you're recovering from. Click OK.