Data recovery software might not be uppermost on your mind when you consider computing tools, but it is critically important when you need it. Data loss can be crippling to any individual or organization. Data recovery software offers a method of recovering from multiple data loss scenarios without engaging expensive data recovery centers.
The data recovery experts at CleverFiles have just released version 4 of their Disk Drill data recovery software application. The updated application improves on an already superior data recovery and protection solution. Let's take a closer look at why Disk Drill 4 is among the best choices in Windows data recovery software for both professionals and casual home users.
We'll break down our investigation into four parts
Features of Disk Drill 4 for Windows
Disk Drill 4 provides exceptional data recovery and protection tools. It offers an intuitive and simple method of restoring deleted files and folders on your Windows machine.
You can download a free trial of the software that allows you to test out its features and
recover up to 500 MB of data
without upgrading to the Pro version. Here's a rundown of the features and capabilities of this powerful data recovery software solution.
---
#1 Data Recovery
---
Operating system and file format support

The data recovery capabilities of Disk Drill 4 are considerably more sophisticated than in previous versions of the app. When the file system's internal structures are damaged or absent, the advanced scanning algorithms which are responsible for finding deleted data are capable of reconstructing files in over 400 different file formats. Recovering deleted data from a live file system is format-agnostic, in most cases. Disk Drill 4 supports Windows 7 systems as well as all subsequent versions of the operating system, including Windows 10.
Storage device support

Disk Drill 4 can successfully recover data from a wide array of disk-based storage devices. These include the internal disks in your Windows computer as well as just about any kind of storage device that can be connected to the machine. Lost data can be restored from external drives, USB drives, memory cards, and SD cards, to name just some of the supported devices. You can even recover data from the external memory of Android devices.
Recover data from formatted drives

Disk Drill 4 enables you to recover data from formatted drives and disk partitions as well as from an emptied Recycle Bin. If you can store data on a storage device and it can be attached to your machine and recognized by Windows OS, Disk Drill can recover its deleted files and folders.
Advanced scanning algorithms

The advanced scanning algorithms that power Disk Drill can perform quick or deep scans depending on the particular data loss scenario being addressed. These algorithms are used to recover data in more than 400 file formats from a variety of file systems. The HFS/HFS+/HFSX, FAT/FAT32/exFAT, EXT3/EXT4, and NTFS/NTFS5 file systems are all supported by Disk Drill's native smart scans.
Simple scan review

Scan results are quickly displayed and thumbnails make it easy to preview the recoverable data. Mount your scan results as a disk for streamlined data recovery. Easily filter the scan or search results with filters and masks to reduce processing time. Interactively monitor the progress of scans and recoveries. Previous scans can be reloaded to allow for further analysis and recovery efforts.
---
#2 Data Protection
---
Disk Drill provides enhanced data protection with its updated Recovery Vault feature. The Recovery Vault protects you against accidentally deleted files and offers a streamlined method of recovering them. It acts as a kind of supplemental Recycle Bin that enables you to quickly find and recover deleted data without the necessity of performing a disk scan. Recovery Vault can save you a lot of time recovering lost files and gives you peace of mind that your data is truly protected.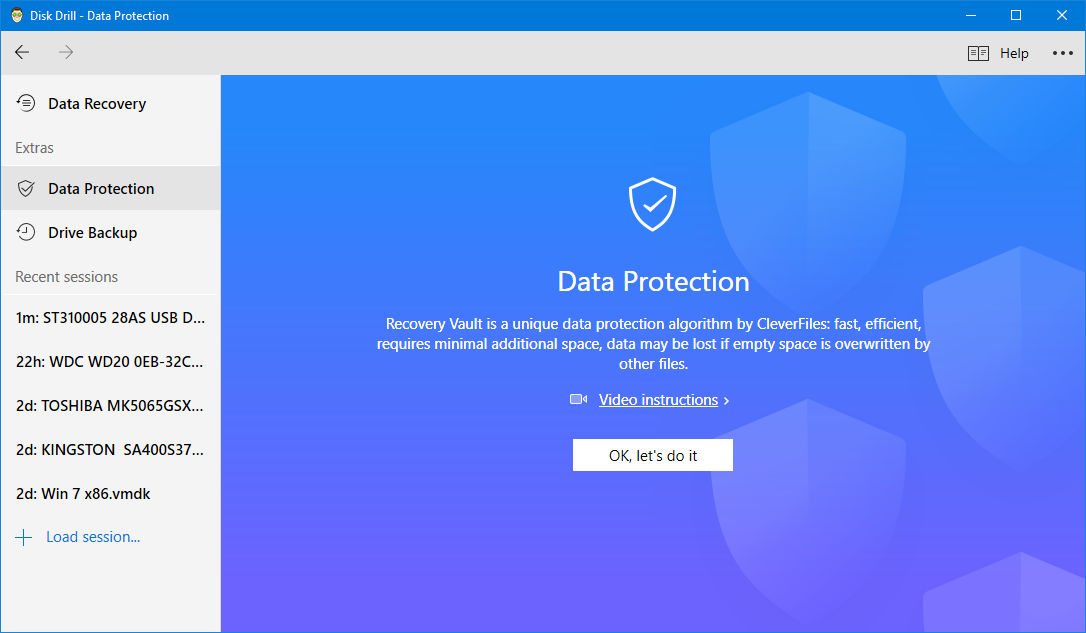 ---
#3 Drive Backup
---
When faced with a disk or drive that exhibits signs of imminent failure, Disk Drill provides a means of preserving its data for the purpose of future recovery. This is accomplished by the Drive Backup feature. You can create a byte-by-byte disk image that includes sectors which contain deleted data. Using this process subjects your drive to only one final read operation and then allows you to perform data recovery from the backup. Attempting to recover directly from the crippled disk risks further damage that may make data recovery impossible and can be avoided with this practical feature.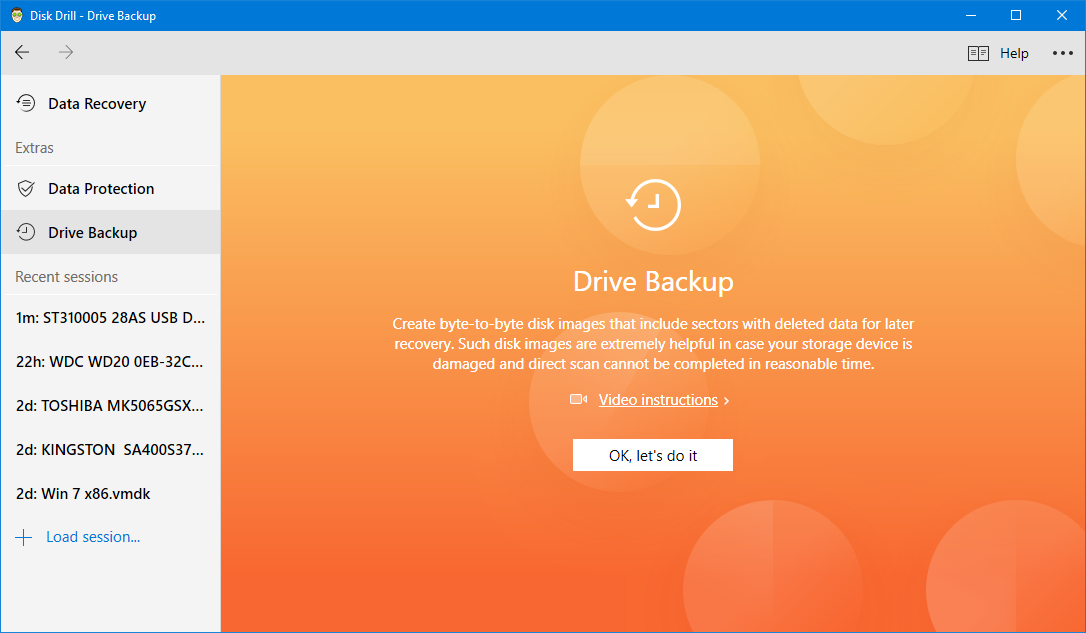 ---
#4 Ease of Use
---
Disk Drill furnishes its users with a completely overhauled new intuitive interface which makes recovering and protecting data a task that can be performed with only general computer knowledge. You don't need to be a data recovery expert to take advantage of the powerful features of the tool. It's also easy to install with just a single click.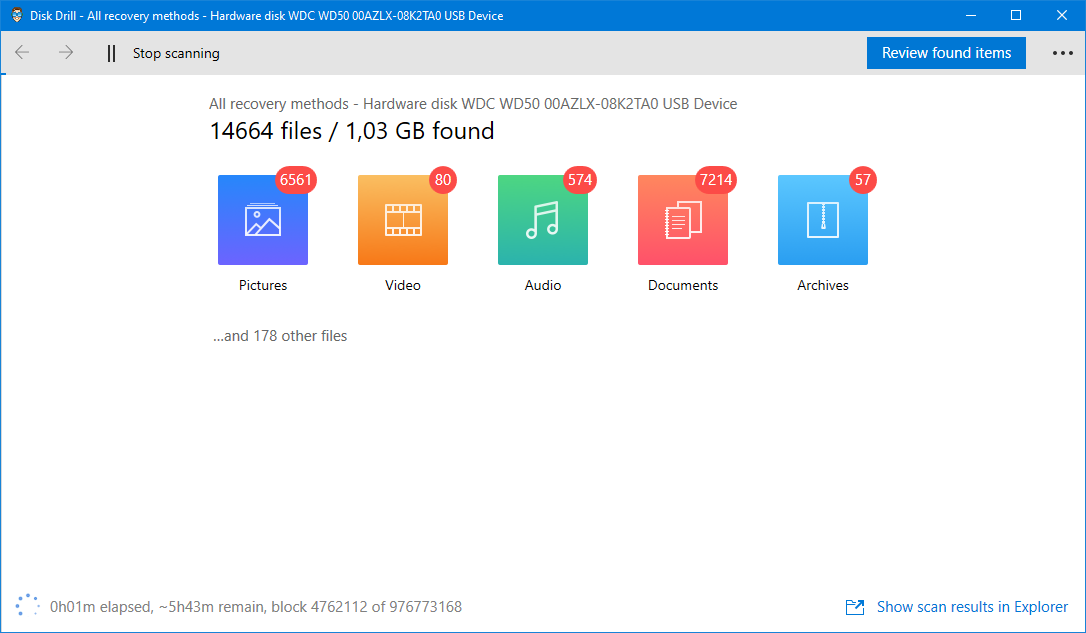 Improvements Made to Disk Drill 4 Compared to Its Previous Version
The development team at CleverFiles has made multiple improvements to Disk Drill 4, making it an even better solution for Windows data recovery and protection. Here are the ways that Disk Drill 4 has been polished to provide a more powerful and streamlined data recovery application.
User Interface
If you are familiar with earlier versions of Disk Drill, the first thing you will notice is the enhanced and user-friendly interface. It's more intuitive and easier to navigate than the previous version of the tool and displays all of the functionality of the program in its main window. A panel on the left side of the window directs you to the main choices offered by Disk Drill.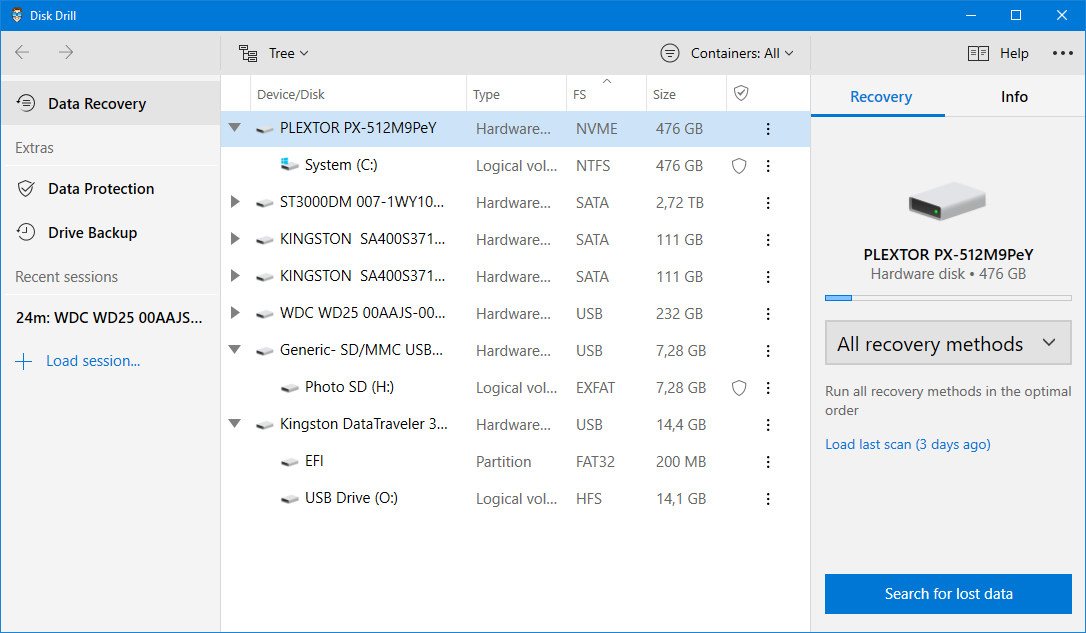 Data Recovery is at the top of the list as it is the primary function of the app. Clicking on this option displays the disks that are available to be scanned for lost data. Selecting a disk presents its details and recovery options in a panel on the right side of the window. You can choose the method of scanning that you would like to use for recovering your data. After making your selection, simply click on the Search for lost data button to initiate the recovery.
Below Data Recovery are selections for the extra features that are part of this comprehensive application. You can choose from Drive Backup and Data Protection. Clicking on either leads you to video instructions on how to use the selected feature. You also have an option to review recent scanning sessions and load them to conduct additional data recovery. The windows that open when one of these options are chosen intuitively guide you through the process of backing up your disk or enabling the data protection found in Recovery Vault.
Data Recovery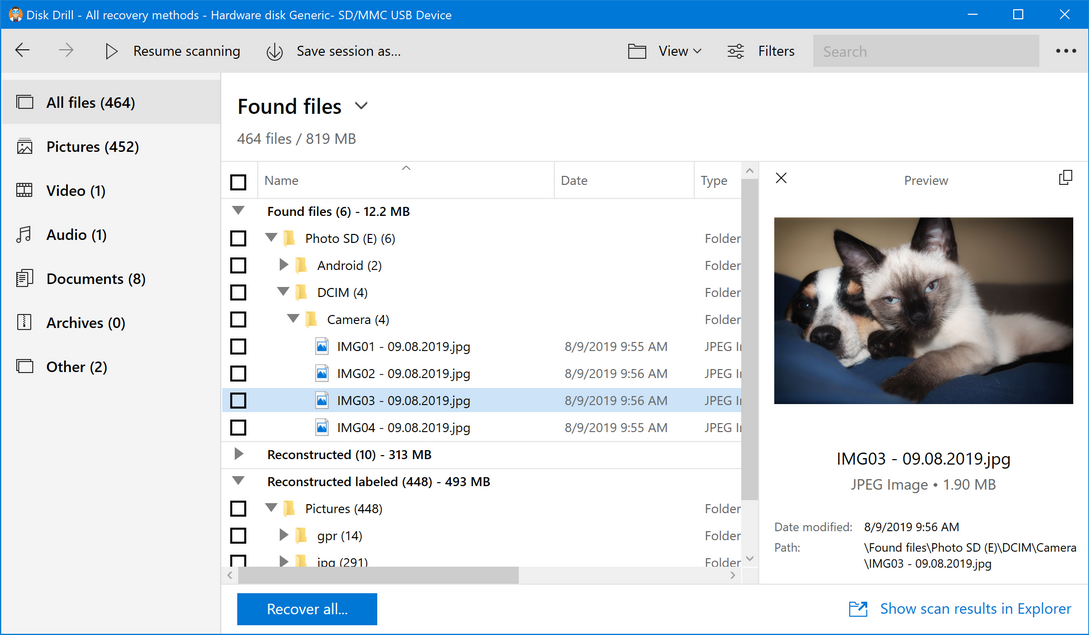 Disk Drill 4 offers enhanced data recovery capabilities over its previous versions. The additional functionality afforded by Disk Drill 4 for Windows includes:
Support for files that have been encrypted with the native Windows BitLocker data encryption tool;
The ability to recover over 100 more file formats than earlier versions, bringing the total to over 400 distinct formats that can be reconstructed and restored;
Advanced detection of lost partitions;
File labeling capability when performing a deep scan;
Improved Recovery Vault functionality;
Faster display of scan results;
Thumbnail preview of recoverable data;
Detailed information regarding all disks accessible by Disk Drill;
The ability to mount results of a scan as a disk;
Improved recovery destination verification;
Enhanced search capabilities in scan results using masks;
The ability to interactively monitor the progress of scan and recovery processes.
Pricing
When you purchase Disk Drill 4 you obtain licenses for both the Windows and macOS versions of the data recovery tool. This is a major shift from our previous offering and enables you to protect the data on your Mac and Windows machine for the price of one data recovery application.

These features and improvements result in a more robust tool and increase the utility of this excellent data recovery application.
Disk Drill 4 vs Competitors
Disk Drill 4 stands out from its competitors in multiple ways. Here are the results of extensive testing from our team.
| | Disk Drill 4 | EaseUS Data Recovery Wizard | iBeesoft Data Recovery | Wondershare Recoverit | R-Studio | Stellar Data Recovery Premium |
| --- | --- | --- | --- | --- | --- | --- |
| OS Support | Windows 7/8/8.1/10 Windows XP+ in v2 | Windows 10/8/8.1/7/Vista/ XP | Windows 10/8/8.1/7/Vista/ XP | Windows 10/8/8.1/7/Vista/ XP | Windows 10/8/8.1/7/Vista/ XP/2000 | Windows 10/8/8.1/7/Vista/ XP |
| Free version limit | 500 MB | 500 MB 2GB with social media share | None. Preview only | 100 MB | 256 KB file size limit | None. Preview only |
| Usability rating | High | High | Low | High | Low | High |
| Multiple file system recovery | Yes | Yes | Yes | Yes | Yes | Yes |
| BitLocker support | Yes | Yes | No | Yes | Yes | Yes |
| Recover Lost and Formatted Partitions | Yes | Yes | Yes | Unstable | Yes | Yes |
| Deep Scan file formats recognized | 400+ | 1000+ unlisted and unconfirmed | 200+ | 200+ | N/A | 200+ |
| Data loss protection | Yes. Recovery Vault | No | No | No | No | No |
| File preview | Yes | Few formats | Almost no supported formats | Only basic image file formats | Few formats | No |
| Filter results | Yes | Yes | Yes | Yes | Yes | Yes |
| Mount scanning results | Yes | No | No | No | No | No |
| Save scan results | Yes | Yes | No | No | Yes | Yes |
| Intuitive user interface | Yes | Yes | Yes | Yes | No | Yes |
| Price and licensing | Both Windows and macOS Pro licenses for $89 | $89.95 Windows only/1 PC | $45.95 personal version Windows only | $59.95 Professional Windows only | $79.99 Windows only | $99.99 Premium Windows only |
Here's a quick summary of the reviewed competitors' products.
EaseUS Data Recovery Wizard

EaseUS Data Recovery Wizard provides acceptable recovery capabilities but leaves much to be desired concerning ease of use. Inexperienced users may have difficulty navigating the scan results and the app makes numerous requests that you share the scan results and rate the program. The app needs to be manually ended in Task Manager to fully shut it down. Few file formats are supported for preview and the estimated time of the scanning process is never accurate.
iBeesoft Data Recovery

This product is closely related to EaseUS Data Recovery and suffers from many of the same problems. You cannot preview files with this app until the scan is complete and very few file formats are supported for this function. We experienced excessive app freezes while scanning our disk. The interface is dark with no customization available which may not suit some users. On the plus side, the scanning results are presented in an easy to understand manner.
Wondershare Recoverit

Our testing with Recoverit discovered a number of issues that reduce its usefulness as a data recovery tool. It recovers files that are not in the NTFS or FAT file system format in binary mode making them hard to identify. An extremely limited preview mode makes it difficult to adequately test the trial version. Scanning results were inconsistent with duplicate file entries and empty found partitions.
R-Studio

R-Studio was developed with data recovery professionals in mind. It is not recommended for use by the general computer user who will find it overly complex. It limits the number of file formats available for preview. Professional users will enjoy the speed and scanning capabilities of the tool. R-Studio provides extensive file system support and advanced tools for use by a dedicated IT team.
Stellar Data Recovery Premium

Stellar Data Recovery lacks the speed and functionality of other data recovery tools. The disk list is hard to navigate with scanning and recovery speeds that are excessively slow. Results are presented in a tree format but the interface is not very intuitive and the app's window cannot be resized. Scans cannot be paused once initiated and in our testing, we were subjected to multiple program crashes, as can be seen in the following screenshots.
Coming Attractions and Future Enhancements
The developers at CleverFiles are continually updating Disk Drill with new features and improvements.
Some of the soon to be available coming attractions include:
The ability to create a bootable drive for data recovery;
More scanning capabilities for APFS and ReFS file systems;
Built-in disk cleanup and disk health monitoring tools;
Tools to manage bad or damaged disk sectors.
These additional features enhance the already superior functionality of Disk Drill. They indicate the innovative philosophy of the team at CleverFiles. When you purchase Disk Drill, you can be confident that any new developments in the way Windows handles data will be addressed in application updates. Disk Drill will serve as your go-to data recovery tool now and in the future.
Conclusion
We believe that Disk Drill 4 is your best choice in data recovery software for a number of reasons. It has the most powerful and intuitive interface of any data recovery tool. Its extensive preview capabilities let you validate data recovery and the ability to mount recovery results as a disk to make it even easier to restore your data. Pausing and restarting scans lets you retrieve data at your own pace. Including data protection tools and the macOS version of the application for free ends the conversation. If you want powerful and user-friendly data recovery software, Disk Drill 4 is the right way to go.
---
Download Disk Drill 4 for Windows now and see what it can recover for you!
.updated:
June 3, 2021
author: