Disk Drill Supports Better Education
Here at Disk Drill we are dedicated to technology, file recovery and most important our outstanding customers. It's often easy to overlook the importance of software and technology in Education but here at Disk Drill, we have not.
Disk Drill is obliged to announce that we recently participated in a coordinated effort with San Jose State University (sjsu.edu) to donate 100 Disk Drill licenses to faculty and students of the university at no charge. Disk Drill allowed both students and faculty to recover and protect their files including important school documents, exams and even lost records.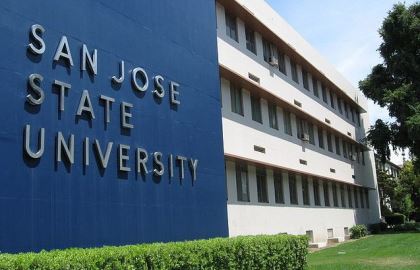 While it is hard to measure the exact impact of Disk Drill on Education in cold, hard numbers, we would like to think that the stellar reviews and feedback from the staff and students is a good marker of just how much of a difference Disk Drill made. Losing important files is always stressful but when combined with the existing stress and pressure of being a student (or a faculty member!) at a University it becomes much more than that.
Having a tool like Disk Drill enables students and faculty to recover files that were accidentally lost, deleted or overwritten due to a simple mistake, file system issues or dozens of other possible scenarios. The challenges of file loss in a classroom or dormitory environment are no simple matter when computers are used by many distinct individuals for extended periods throughout the day. Without a doubt, this is one of the most trying scenarios for data recovery and Disk Drill.
Disk Drill did outstanding! Data was recovered, students were happy and faculty had their day saved, time and time again. You could take our word for it when we say just how successful of a collaboration this was, when we talk about how great Disk Drill worked, but where would the fun be in that? Instead, we are proud to share some valuable and much appreciated feedback and comments from actual faculty and students of San Jose State University.
Real Faculty & Student Testimonials
---
Angelique begins by telling us a bit about what she is studying at San Jose State University and why she thinks protecting data with Disk Drill is important:
My name is Angelique I am currently a student at San Jose State University, studying Management Information system. In my field of study, data is important so protecting it is crucial.
She goes on to tell us about her experience with other data recovery software and how successful Disk Drill was for her:
I have tried many recovery tools but they were either inadequate or very expensive. During a class discussion, I was introduced to Disk Drill by CleverFiles and I decided to give it a try. Not only have I been able to recover most of my lost files, but also clean up my current hard drive.
We are obliged to read and share this stellar feedback from Angelique, she also touches on a very interesting point: Disk Drill is more than just file recovery! Disk Drill provides many valuable extras such as disk cleanup, duplicate file scans and removal and even tools to help protect from future data loss such as Guaranteed Recovery and Recovery Vault.
Thanks Angelique, we appreciate your feedback! Angelique went on to conclude her comments with the following,
I love the program. I have been having a lot of fun with it and surprisingly recover files from a lot of different things that I thought I had lost forever.
---
We have always been pleased to offer a leading, cutting-edge data recovery solution which is known for outstanding recovery on both Mac OS X and Windows. Disk Drill's powerful Quick Scan feature can detect just about any type of file, fast! The Deep Scan feature is a powerful scanning algorithm which dives deep into your disk and recovers over 350+ file types even if the disk structure (partition) is damaged. This is a leading feature of data recovery, Deep Scan is a Disk Drill only feature.
Let's keep the good times rolling by taking a look at what Derek Antti had to say about Disk Drill. Derek is a student at San Jose State University who studies Business Management Information Systems. Derek sent us his feedback and we were thrilled to read the very first line of his message:
This software is simply amazing.
It's hard to beat an introduction like that! He goes on to tell us a bit more about why he needed Disk Drill,
I needed to recover some lost photos from an old MacBook Pro hard drive. I had searched around the web for a solution but did not feel confident in the products I came across. A Professor of mine suggested that I use Disk Drill to recover this data, with ease, I had my lost data quickly and easily secured.
Derek's situation is quite common, more than we would like to admit sometimes! We've all accidentally lost or deleted important files like photos. The word delete often sounds so definitive and while that may be the idea, Disk Drill changes the definition! Lost and deleted files can often be recovered, especially important things like photos! Derek went on to let us know what features he was thrilled with,
One great feature was the ability to immediately start searching through the recovered files during a quick or deep scan. The files I longed for were populated almost immediately, and could be opened even before the scan was completed.
Derek's feedback was very detailed, we were pleased to hear that our scan results were effective and more importantly fast! We say Quick Scan because results are available quickly and easy, mission complete!
He went on to wrap up his review quickly with some flattering last words,
I cannot wait to share the benefits of this software with my friends and family —truly magic and highly recommended!
---
Generally when we produce articles we like to discuss some key features of Disk Drill to keep our readers and fans informed however this time around we don't even have to write about Disk Drill's features! These highly detailed reviews from San Jose State University students do just as good a job or better than our own content writers. Let's jump to the next and final review we'd like to share from Prathvin Gunasekaran from San Jose State University.
Prathvin does a great job highlighting a great use case for Disk Drill and giving some very valuable feedback,
Disk Drill is a perfect safeguard for those who choose to keep their personal files local. Also can be an awesome addition to iCloud users who are frequently traveling.
Prathvin goes on to mention why he needed Disk Drill and what he was able to do with our powerful data recovery software,
I personally used it on an older MacBook Pro to recover files I have not had access to for almost half a decade. These files I thought lost forever were able to be salvaged thanks to Disk Drill.
It sounds like he had some outstanding results getting back lost files. Individual results do vary and while there is no "normal" recovery, many Disk Drill users report outstanding results. Disk Drill offers a free Basic Edition which allows users to preview our software and scan for lost files at no charge. Once the scan is complete files can be fully previewed to determine if they are actually recoverable before any purchase is required.
Prathvin concludes his review and feedback with a few additional comments which we'd like to share:
This is a perfect tool for those who would like to save money and recover files themselves without the hassle of dropping personal devices at Greek [sic] Squad.
---
We are always glad to support Education and help students, professionals and everyday users recover files. Disk Drill provides a powerful set of features at a very modest price. When you consider the ease of use and effectiveness, Disk Drill quickly becomes an outstanding deal.
We encourage Educational establishments to reach out to us directly by email [pr@cleverfiles.com] for information about participating in similar impact projects. We are always pleased to work with Educational establishments to measure just how important data recovery and protection is for students, faculty and everyone else!
.updated:
June 3, 2021
author: