Meet the All-New Disk Drill for Mac v.4: Up to a 200% Recovery Efficiency Increase
The data recovery experts at CleverFiles have just released version 4 of their Disk Drill data recovery software for macOS. The updated application improves on an already superior data recovery and protection solution. Let's take a closer look at why Disk Drill 4 is among the best choices in Mac data recovery software for both professionals and casual home users.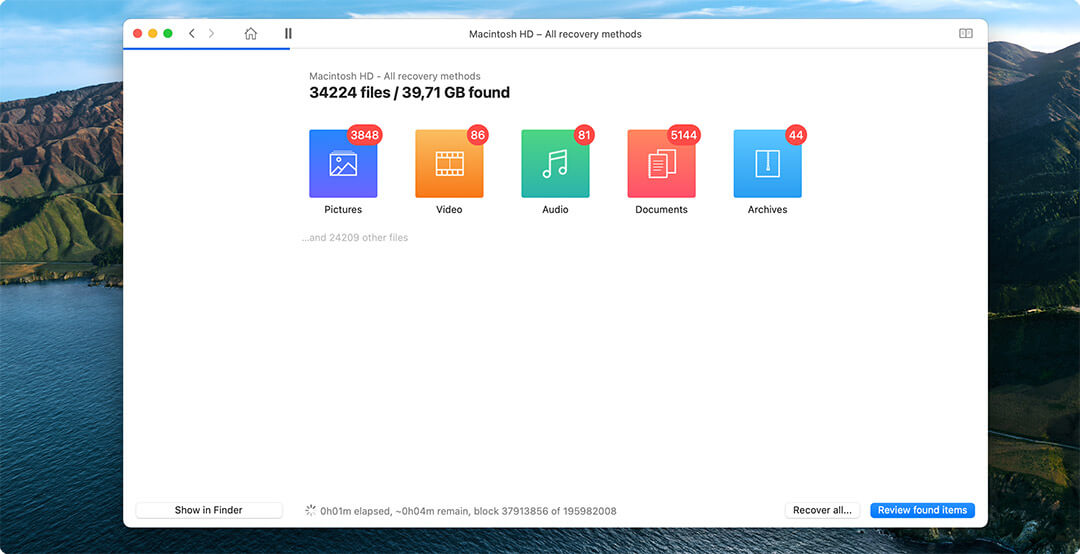 Table of Contents
🙌 Disk Drill 4 for Mac – Enhancements
The developers at CleverFiles have added some exceptional new features to Disk Drill 4 for Mac. In addition to enhancing its data recovery capabilities to deliver a more reliable and thorough recovery process, the tool's new functionality makes it useful in an even wider range of usage scenarios.
Support for scanning and recovering data from devices with the T2 encryption chip
Almost all new Macs produced by Apple since 2018 are equipped with T2 security chips. These additional controllers are here to prevent unauthorized access to your system SSD drives and information on them. It's also affecting the data recovery industry in a big way. While it's still close to impossible to recover deleted data from T2-protected storage devices, and SSD recovery can be tricky, Disk Drill 4 goes beyond T2 protections and ensures the users no longer get empty scans on such drives. It is now possible to extract the existing data in case of its accidental corruption or partition issues.
RAW photo and video formats recovery
One of the biggest improvements in Disk Drill 4 is RAW media formats. CleverFiles team invested a lot of resources into researching and implementing unique search and recovery algorithms aiming bring back many raw images, like 3FR (Hasselblad), ARW (Sony), CR2 and CR3 (Canon), DNG (multiple mobile devices and cameras), GPR (GoPRO), HEIC (Apple), and many others. The same level of effort was devoted to videos: RLE (QuickTime videos), CVID (Cinepak), H263 and H264, MP4V, and other MOV-container-based formats are now recovered more reliably.
Here's a quick overview that might help visualize the progress delivered by Disk Drill 4 for macOS:
Disk Drill 4
Disk Drill 3.8
EaseUs
Recuva
Stellar
Recoverit
R-Studio
Raw photos (DNG CR2/3 FFF KDC etc)
99%
68%
67%
5%
12%
Not tested
Not tested
Raw videos (MOV-based container)
96%
51%
56%
Not tested
83%
85%
41%
As well as many video and audio formats:
BRAW: professional video recordings
CinemaDNG: reconstruct deleted digital cinema files
Canon CRM: Cinema RAW Light HD videos
Ground-breaking improvements in QuickTime-based video recovery (MOV and similar containers)
MPC: compressed audio files based on MPEG-2 algorithms
and others
Wide range of supported file systems
Thanks to the introduction of state-of-the-art scanning methods and updated recovery algorithms for FAT32, NTFS, HFS+, and APFS file systems, users of Disk Drill 4 for Mac get to enjoy superior data recovery performance and an increase in recovery efficiency of up to 200%.
Apple's Time Machine as part of the scan
Disk Drill 4 adds Time Machine analysis and recovery. Time Machine backups are scanned in order to safely find, filter and extract deleted data without the need to restore the entire backups.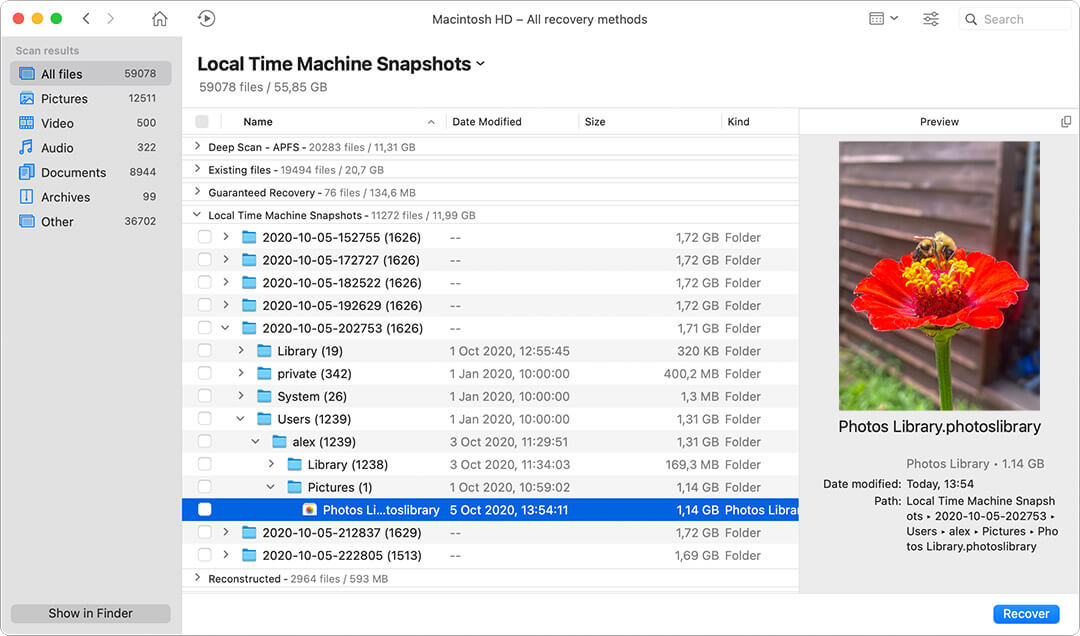 The convenience and flexibility of Disk Drill's scanning process
Disk Drill features the best scan session management tools at the market. While most of the competing apps don't let you pause or resume your scans, Disk Drill does it all while ensuring the best recovery quality, seamless saving, loading, transfers of saved scanning sessions at almost any stage of the recovery process.
Start your recovery before finishing the scan
Unlike most competing apps, Disk Drill lets anyone manage the recoverable items in real-time as they are being detected during the search for lost data. Even before a scan is finished, one can preview and select found files for recovery, and even initiate the actual recovery at any moment. The scanning status is automatically safely saved in the background.
Native Quick Look support
Disk Drill offers Apple's brilliant native macOS Quick Look to ensure the maximum number of file formats can be previewed before the actual recovery. Disk Drill can preview at least twice more file formats than its closest competitors.
Ready for macOS 11 Big Sur and iOS 14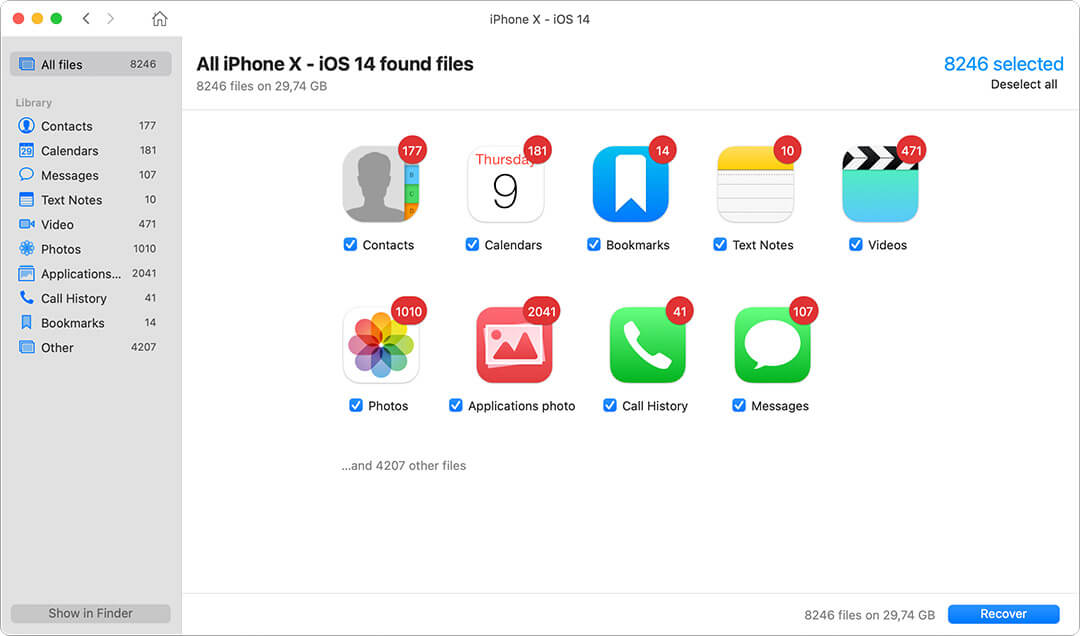 ---
Other New and Improved Features in Disk Drill 4
Data Shredder and Free Space erasure
These tools securely delete your data so it can't be recovered by Disk Drill or any other recovery software solution. Use them to erase sensitive files and storage devices that may still contain recoverable data.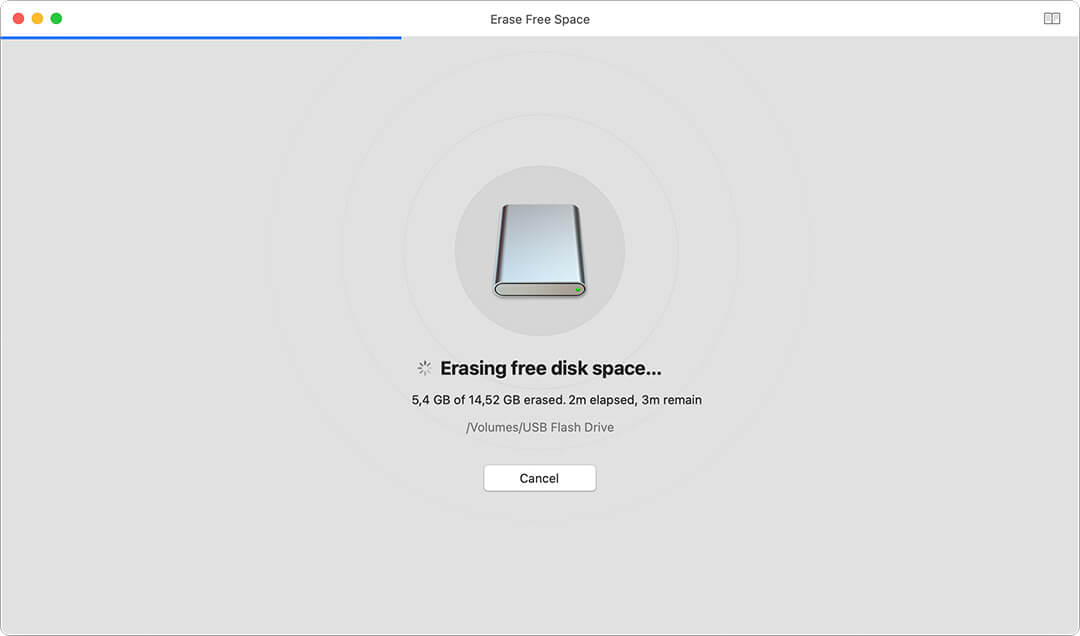 Simply the best UI among do-it-yourself data recovery apps on Mac
Even though the previous version of Disk Drill for Mac was widely praised for its ease of use, the newly redesigned user interface manages to take usability to the next level by providing the most intuitive data recovery experience currently available on Mac.
Disk Drill finally delivers the full Dark Mode support, and it's simply gorgeous. The new pop-class UI of version 4 improves user onboarding and includes many tips for beginners.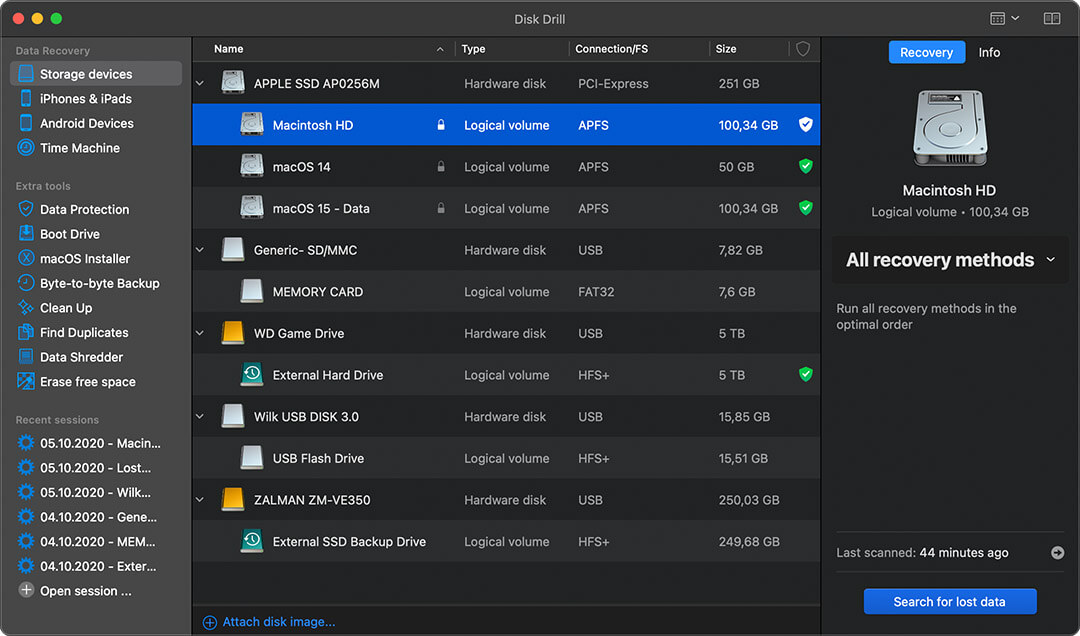 Updated data protection features
No other data recovery app also features protection from accidental data loss. Disk Drill 4 redesigns and improves its both data protection modules: Recovery Vault and Guaranteed Recovery, providing reliable protection of the most important user data.
Improvements to the S.M.A.R.T. disk monitoring. Disk Drill 4 for Mac actively helps users prevent catastrophic loss of data due to hard drive failure by including S.M.A.R.T. disk monitoring and real-time hard drive health alerts.
---
💎 Disk Drill's Interface In-Depth
Let's take a closer look at Disk Drill's user interface and discuss each of the available options.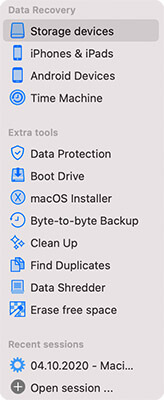 Data Recovery
This section of the interface enables you to select the storage device or partition that will be used for data recovery.
Storage devices – View all available storage devices, including internal disks and external devices that are connected to the computer.
iPhones & iPads – Disk Drill can recover data from iOS devices if they are attached to the machine.
Android devices – Connected Android devices will be displayed with this selection.
Time Machine – Disk Drill can extract data from Time Machine backups that are available to the system.
Learn more about how to recover deleted files on your Mac ->
Extra Tools
All of Disk Drill's additional tools are accessible from this part of the user interface. Here's a brief description of each tool:
Data Protection – Two free tools are available to protect your valuable data. Recovery Vault saves meta-data of specified files to streamline their recovery if they become deleted. Guaranteed Recovery saves complete copies of deleted data and works as an extended Trash Bin. Both solutions are fully configurable to allow you to protect the files and folders that are most important to you, giving you complete confidence in your ability to recover them.
Boot Drive – This feature enables you to create a bootable recovery drive if desired, allowing you to recover lost data even from a Mac computer that refuses to boot properly. As an alternative strategy, Disk Drill can be run directly in Recovery Mode to achieve the same result, and a video link is provided that illustrates this procedure.
macOS Installer – The macOS Installer option lets you create an emergency macOS bootable installation drive. Having this drive available can be a lifesaver when your system becomes critically damaged and unable to start or function properly.
Backup – This option allows you to create a byte-level image of any storage devices connected to your Mac. You can later use this image for data recovery purposes, which is why it's such a good idea to create it as soon as a storage device starts showing early signs of corruption or failure.
Clean Up – This option creates a disk space map for the selected device, displaying all files on the storage device, their sizes, and when they were last modified. With this tool, users can quickly and easily identify obsolete data that can be deleted to provide your system with more disk space.
Find Duplicates – Disk Drill's duplicate finder functionality makes it easy to control disk sprawl by scanning connected devices, network drives, and even online storage accounts like Dropbox for duplicate files that can be safely deleted without any loss of valuable information.
Data Shredder – This privacy-oriented tool allows you to destroy sensitive files so they cannot be recovered with any data recovery software—not even with Disk Drill. Data Shredder can permanently erase individual files as well as entire folders and storage devices. Even if you don't have anything to hide, you should use it before putting old storage devices on sale.
Erase free space – Using this feature enables you to securely erase free disk space that may contain deleted data. Once the space has been freed, any data that was present can no longer be recovered by any software tool. Erasing free space is a great practice for securing storage devices that have been quickly formatted but not overwritten.
Recent sessions – This portion of the interface allows you to access recent scan sessions that have been paused or completed. The ability to pause and restart a scan lets you perform data recovery at your convenience.
---
⚙️ Technical Requirements
Disk Drill 4 runs on a wide range of macOS versions from 10.11 up to the newest Big Sur (11.0) and later.
Disk Space: 150 Mb minimum free space
CPU: at least with x86
RAM: at least 128MB
There is always a special version of Disk Drill at cleverfiles.com, which allows you to run your data recovery on older releases of Mac OS X.
---
🕵🏽‍♀️ Disk Drill for Mac vs Competitors
User experience and price
Disk Drill 4
Stellar Mac Data Recovery
Recoverit for Mac
EaseUS Data Recovery Wizard for Mac
Data Rescue for Mac
Price
$89 (Windows & Mac)
$79.99 + $20 for advanced features
$99.95 + $20 for advanced features
$119.95
~$399?
License
Unlimited recovery for one-time fee
1-Year Subscription
1-Year Subscription
1-Year Subscription
1 drive recovery
macOS 11.0 Big Sur full support

Yes

No
No
No
No
System requirements
macOS 10.11-11.0
macOS 10.7-10.15
macOS 10.9-10.15
macOS 10.9-10.15
macOS 10.10-10.15
Ease of use
Easy
Moderate
Easy
Easy
Moderate
Recovery speed
Fast
Slow
Fast
Fast
Average
Tutorials & onboarding in the app

Yes

No
No
No
No
User guide
Online knowledge base & video tutorials
Online knowledge base
Online knowledge base & video tutorials
Online knowledge base & video tutorials
Online FAQ
Data recovery
Disk Drill 4
Stellar Mac Data Recovery
Recoverit for Mac
EaseUS Data Recovery Wizard for Mac
Data Rescue for Mac
Deep Scan: number of file formats supported
400 verified
200 claimed
200 claimed
1000 claimed
150 claimed
Rebuild HFS+ corrupted drives

Yes

No
No
No
No
Search for lost partitons

Yes

Partial
Partial

Yes

No
Clever automated scans

Yes

Partial

Yes

Yes

No
RAW devices scan

Yes

Partial
Partial

Yes

Yes

RAID data recovery

Yes

Partial
No

Yes

Yes

Corrupted device scan

Yes

Yes

Yes

Yes

Yes

iOS 14 support

Yes

No
Separate paid app required
No
No
Data extraction from T2-secured SSD drives

Yes

No
No
No
No
Android data recovery

Yes

No
Separate paid app required
Separate paid app required
No
iOS data recovery

Yes

Separate paid app required
Separate paid app required
Separate paid app required
No
Fusion Drive Recovery

Yes

Limited
Limited

Yes

Limited
Recover from Time Machine backups

Yes

No
No
Limited
No
Apple Time Machine local snapshots as part of automated scans

Yes

No
No
No
No
Automatic scan resume on device disconnection (very helpful for damaged or unstable drives)

Yes

No
No
No
No
Auto-switch devices into Read-Only mode before scanning (prevents further data loss)

Yes

No
No
No
No
Advanced RAW photo recovery

Yes

Limited
Limited
Limited
Limited
Advanced RAW video recovery

Yes

Limited
Limited
Limited
Limited
Extended archive detection and recovery

Yes

Limited
Limited
Limited
Limited
Other features
Disk Drill 4
Stellar Mac Data Recovery
Recoverit for Mac
EaseUS Data Recovery Wizard for Mac
Data Rescue for Mac
S.M.A.R.T. disk health monitoring

Yes

Yes

No

Yes

Separate paid app required
File preview (the must before recovery)
Everything supported by macOS & extendable via QL plugins
Limited
Limited
Limited
Limited
Hex file viewer

Yes

No
No
No

Yes

Preview during scan

Yes

Yes

Yes

Yes

No
Create and recover from disk images

Yes

Yes

No

Yes

Yes

Scan sessions: recovery pausing and resuming

Yes

Yes

No

Yes

No
Mount recoverable items as a virtual drive

Yes

No
No
No
No
Additional data protection features

Yes

No
No

Yes

No
Filter recoverable files

Yes

No

Yes

Yes

No
Data recovery without stopping the scan process

Yes

No
No
No
No
Bootable data recovery in macOS Big Sur

Yes

No
No
No
No
Free Disk Space Eraser

Free

No
No
No
Paid version
Data Shredder

Free

No
No
No
No
Duplicate Finder

Free

No
No
No
No
Disk space visualizer and cleaner

Free

No
No
No
No
MacOS Installer Boot Drive creator

Free

No
No
No
No
💚 Disk Drill loved by Mac nerds and regular users
@Cleverfiles OMG. I took pictures of my sons baseball team on their LAST game. I get home and the SD card was wiped! There were no pictures on them! After I shelled out the money for a lifetime subscription, I retrieved ALL the pictures from the baseball game AND 4th of July 😍

— The Melugin Life (@FriscoPhotoMom) July 13, 2020
"I have to say, I'm really impressed with this software. I absolutely love the UI, I love the way it functions… especially on Big Sur – the way it handles, it's really clean so far."

– Andrew Evans, youtube blogger.
"Disk Drill is the kind of magic you need. Make it a part of your toolkit. You won't be disappointed."

Jeffery Battersby, imore.com
FAQ
What is Disk Drill 4 for Mac?
Simple enough for casual users but more than capable of delivering professional results, Disk Drill 4 for Mac is the ultimate data recovery and protection app for macOS.
From permanently deleted work documents that took many hours to create to accidentally formatted USB flash drives and SD cards with irreplaceable family images and videos, Disk Drill 4 for Mac can quickly solve all data loss situations, regardless of how serious they may seem to be.
The intuitive user interface of Disk Drill 4 for Mac makes it possible to deploy sophisticated scanning algorithms with a single click to identify and reconstruct hundreds of file formats, including all commonly used document, video, audio, image, and archive formats.
Additional features help users keep their Macs running smoothly by addressing issues such as duplicate files and insufficient disk space. Included with Disk Drill 4 for Mac is also a variety of free data protection and removal tools to protect valuable data from accidental deletion.
Is Disk Drill for Mac v4 free?
If you purchased Disk Drill PRO (Windows or Mac) on or after July 1st, 2019, the upgrade to Disk Drill 4 is free for you. This is our gift to all our loyal customers who supported us in the past. With Disk Drill, data recovery from protected storage is free, as it has always been. More info
I have some feedback about the app. How can I share it with you?
For all tech questions, you can contact our support team at help@cleverfiles.com
Press page: https://www.cleverfiles.com/press.html
.updated:
June 29, 2021
author: