Disk Drill is not your regular app. It belongs to system utilities and requires elevated permissions to run properly and access your data, unlike some of the apps that you might be used to downloading from the App Store. It's "slightly" more powerful, and thus needs some of your admin approvals to get started.
This is especially true if you are planning to attempt data recovery on your system drive and other storage devices or locations protected by Apple's SIP (System Integrity Protection) layer. Granting Disk Drill access to the system and its disks is crucial to accomplish the data recovery process. The steps you will need to take to give Disk Drill the necessary permissions may differ depending on the macOS version you are running.
This article describes these steps, and guides you through the process of granting required disk permissions. Once the necessary steps are completed, you will be able to scan and start the actual recovery. Don't worry, Disk Drill itself will guide you through with helpful hints and step-by-step instructions within the app. It takes just a couple of clicks and a few minutes of your time, maybe less.
Table of Contents
System Permissions – Video Guide
To ensure proper access, scanning and data recovery Disk Drill running on the latest versions of macOS requires three levels of permissions: Full Disk Access, approved kext (short System or Kernel Extension) and Direct Device Access (which is literally just an extra click).
Here is our official video tutorial that will guide you through the process:
If you follow the instructions in this video, feel free to skip the rest of this article. If you prefer readable instructions on how to run Disk Drill on macOS 11 Big Sur, just continue reading as they are right below.
#1 – Full Disk Access
Full Disk Access is a security feature introduced in macOS Mojave. It allows selected apps to access protected files and folders such as your Home folder, Time Machine files, and email storage.
If you are on macOS 10.13 or older, this step can be skipped.
For macOS 10.14 and newer, however, it is necessary to enable this permission so Disk Drill can access your computer drives and scan them for deleted data.
Disk Drill will show a dialog with detailed instructions to help you quickly add itself to the Full Disk Access category of System Preferences.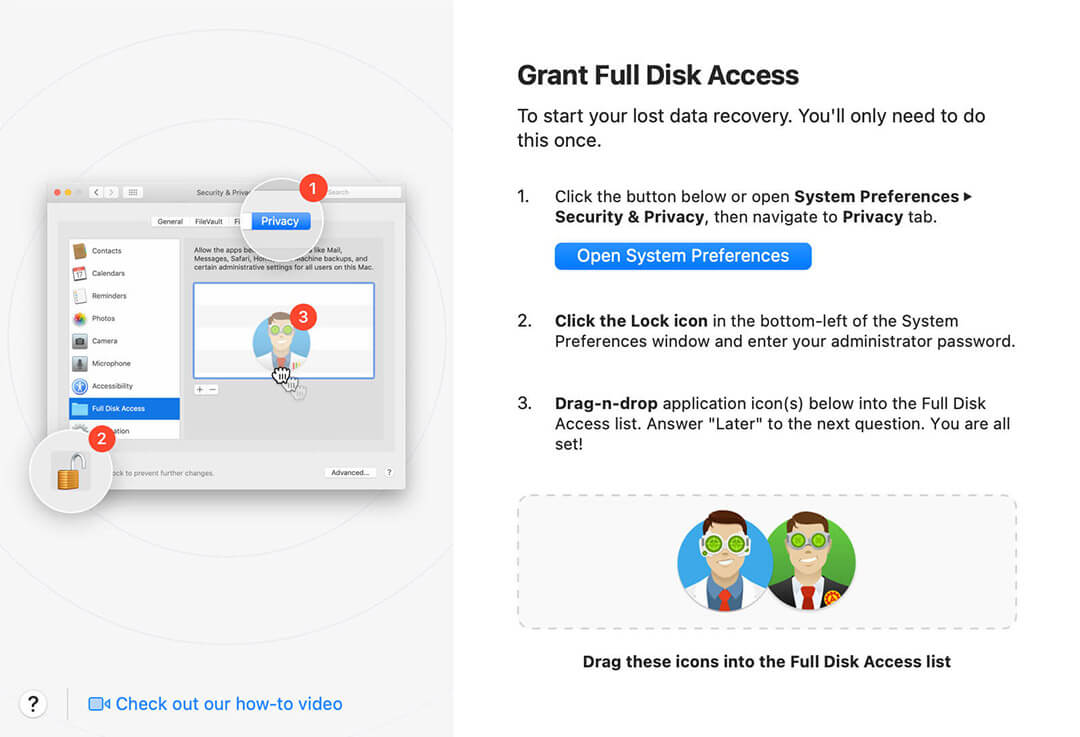 Here are the steps you will need to take:
Press Open System Preferences button in Disk Drill window.
Unlock the settings by pressing on the lock icon and entering your admin password.
Drag and drop two Disk Drill icons from the dialog in the app to the Full Disk Access folder in Security & Privacy window.
This will grant Disk Drill the permissions to access your data on internal and external drives and run most of its features.
#2 – Disk Drill's System Extension, or kext
To simplify data recovery from system-protected areas of your storage devices and avoid any of the previously required lengthy actions to grant access to those areas, starting with Disk Drill 3.7 you will need to allow Disk Drill's system extension first. It's a completely safe operation and takes 5 clicks.
System extensions are the type of software that extends the functionality and native capabilities of your Mac, enabling new functions or processes. They are most commonly used in anti-viruses, external hardware drivers, and system utilities.
For macOS 10.13 and newer, system extensions need to be enabled separately in order to recover files from system drives (like the main disk that houses your macOS). If you want to recover files from an external device, such as a memory card, or external hard drive, enabling Disk Drill's system extension is not necessary. You will only need to do this once, as your Mac will remember your choice for Disk Drill's system extension.
✅ System extensions are safe to use and authorized by Apple.
Enabling Disk Drill's system extension step-by-step:
After you have enabled Full Disk Access, Disk Drill will ask you to open System Preferences once again.
You can do that by pressing Open System Preferences button.
Unlock the settings by pressing on the lock icon and entering the password.
In the bottom of the General tab locate the Allow button next to the system notice about system extension by "Justin Johnson". Press Allow.
Go back to Disk Drill. Now you have successfully allowed its system extension to proceed with data recovery.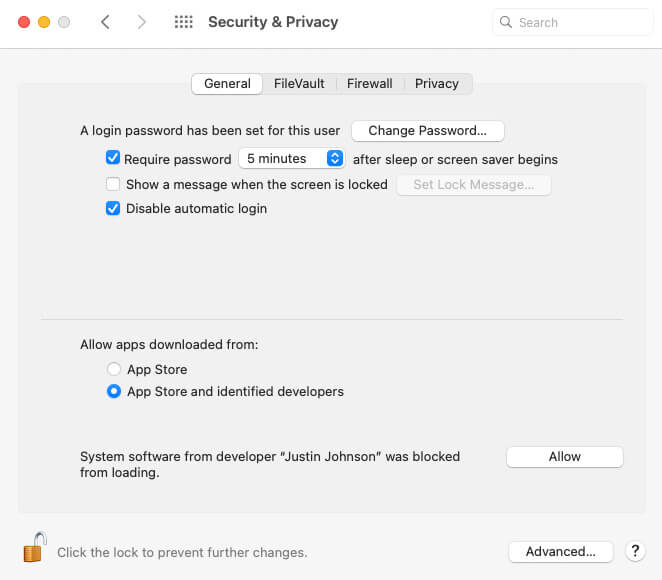 Disk Drill's system extension is not running in the background all the time, it's only enabled when Disk Drill actually scans your SIP/T2 protected devices for lost data. Once the scan and recovery are over, the extension is automatically unloaded.
If you don't see the request to allow Disk Drill's system extension, you may need to close System Preferences and restart our app.
🔔 Starting with macOS 11 Big Sur, you'll need to reboot your Mac to complete the system extension's installation.
Alternatives to installing a kext
If you still want to try alternative routes, you may lower your System Integrity Protection for the time of your data recovery operation, or use Target Disk Mode, create a bootable drive with Disk Drill, or simply run Disk Drill in your Mac's Recovery Mode.
#3 – Direct Device Access
After Disk Drill's system extension has been enabled and the reboot was completed, the last thing to do would be enabling Direct Device Access. In order to do that you will need:
Open Disk Drill.
Navigate to Storage devices and highlight your system disk or one of its partitions.
Press the blue Continue button in the bottom-right corner of the app window.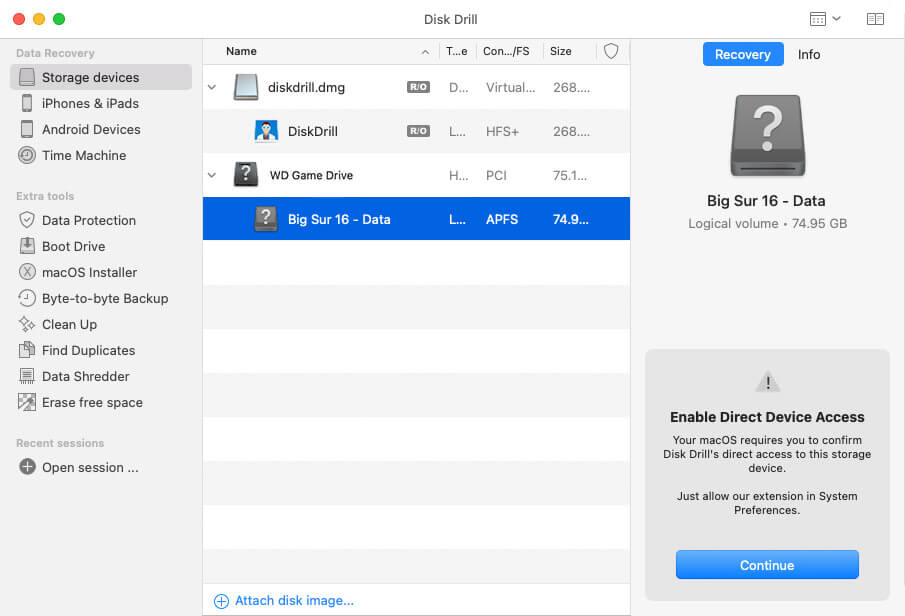 Now, you are all set to begin your first scan and retrieve lost data with Disk Drill even from your system drives.
Thank you for using Disk Drill as your preferred data recovery and protection solution. If you have any further questions or suggestions, you can contact us here. We wish you to stay safe and the same to your data!
.updated:
June 3, 2021
author: