The Microsoft Word document format is extremely popular and is considered the de-facto standard by many users. Many document requests include a reminder to send the work as a DOC or DOCX Microsoft Word file. An inability to create documents in this format can definitely hinder your ability to get your work done.
There are some features of Microsoft Word that make it more useful in certain collaborative situations and some users find easier to work with than Pages. You might also have Word files on your Mac if you are an Office 365 user.
You might need to recover a Word document on a Mac for a number of reasons:
❌ Accidentally deleting files from your hard disk.
💥 The application crashes while you are working on a file.
🔨 Damage to your hard disk or storage device that leads to corrupt or missing files.
🦠 Infection with a virus or malware that causes data loss.
#1 Recover Unsaved Word Docs on a Mac with AutoRecovery
Microsoft Word for Mac has an AutoRecovery feature that can help you recover unsaved Word documents. This option is turned on by default when you install the application and automatically saves a copy of open documents every 10 minutes.
You can modify this setting to have the app save at a shorter or longer time interval if you like. If the application or your computer happens to crash while you are working on a Word document, you can recover it to the state it was in when the last automatic save was performed.
Steps to recover an unsaved Word document on Mac:
Step 1. Open a Finder window on your Mac.
Step 2. Select the entire computer as the location.
That will be searched and enter 'AutoRecovery' in the Search field. You will be presented with a list of files. It begins with 'AutoRecovery save of' followed by the name of the Word document you are trying to recover.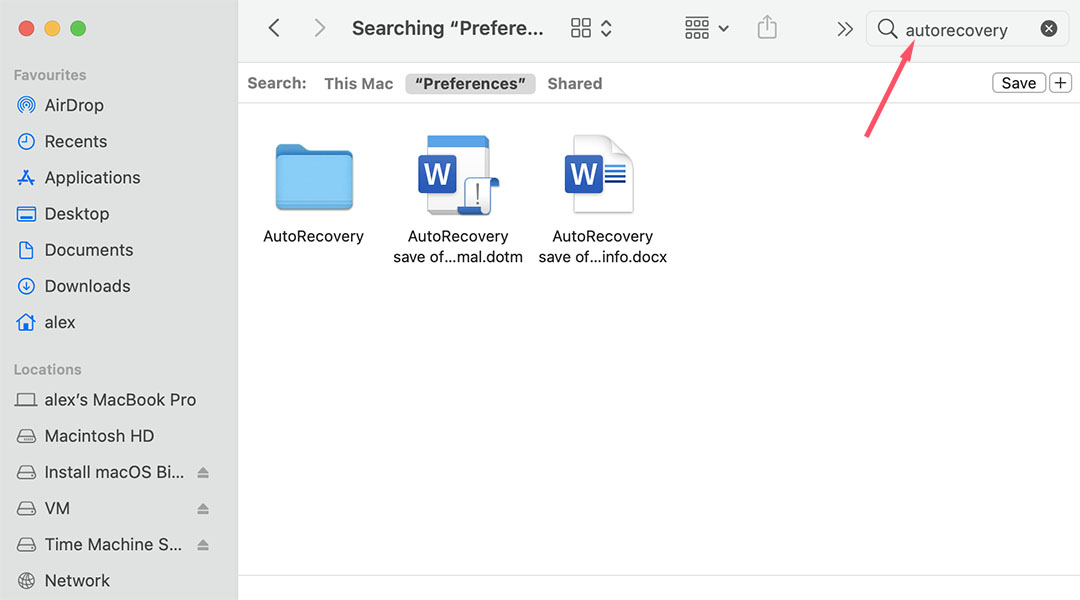 Step 3. Double-click on the file to be recovered. This will open the file in Microsoft Word.
Step 4. Select the File menu and choose Save As. Pick a new name for the document and a folder in which it will be stored and click the Save button.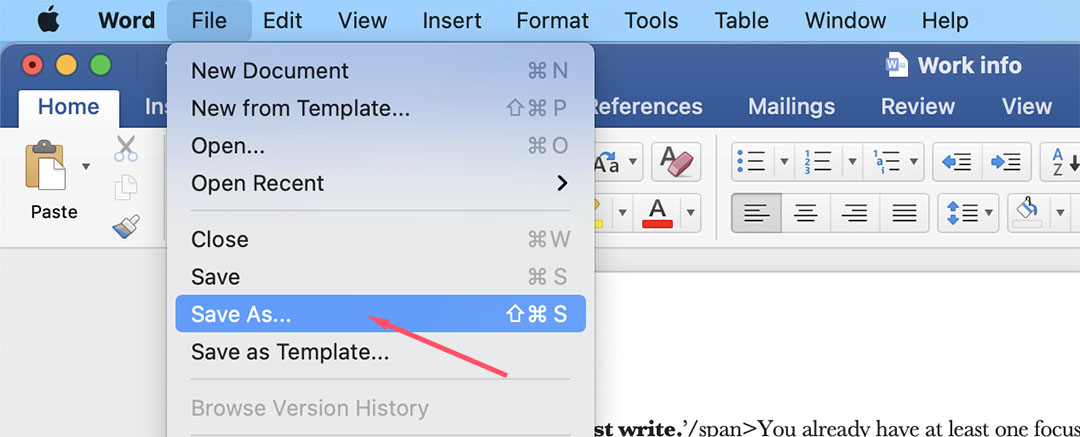 💡 This procedure should allow you to restore Word documents on a Mac as long as you have not turned off the AutoRecovery option. This method will only work for files that are in the process of being worked on when they disappeared. Other methods must be used to recover Word document on Mac OS X systems if they have been deleted from your computer after they have been completed.
#2 Recover Deleted Word Files from a Backup or the Trash
Once you have exited Microsoft Word and saved your document there are no longer any means to automatically recover a lost or deleted file. If you accidentally delete some files or are subject to a data loss scenario due to a faulty disk, there are ways that may allow you to get your files back.
Way 1. Recover deleted Word documents from a Trash Bin
Files that have been deleted from the folder will no longer be visible in that location. They are, however, not totally removed from your Mac until you empty the Trash.
Open the Trash folder by clicking its icon in the lower-left corner of your Mac's screen.
Right-click on the file name and select "Put Back". This will return the file to its original location.
Way 2. Recover deleted Word documents from a backup
Hopefully, you are in the habit of taking regular backups of your Mac. You can use your backup to recover lost Word documents as long as the backup was made prior to the file deletion. You will need to use the media on which you save your backups and the program, perhaps Time Machine, that you use to back-up your computer.
⚠️ Recovering from a backup or the Trash is only effective if the file actually exists on the backup or is still resident in the Trash bin. If you have recently emptied the Trash, your files will no longer be visible there and cannot be recovered with this method.
There is still a way to recover deleted Word files even if you do not have a backup of the file in question, and it is not available through AutoRecovery or your Trash bin, by using data recovery software.
#3 Recover Deleted Word Documents using Disk Drill
Word document recovery software can prove to be instrumental in recovering those important Word files that have mysteriously vanished from your computer. It employs deep scanning technology to find deleted files and file fragments that are still physically on your computer's storage but are no longer visible to the operating system.
🛑 Stop using your machine as soon as you find that files are missing to prevent the system from overwriting the files before you can recover them.
Follow these steps to recover a Word document:
1. Download and install the free version of Disk Drill.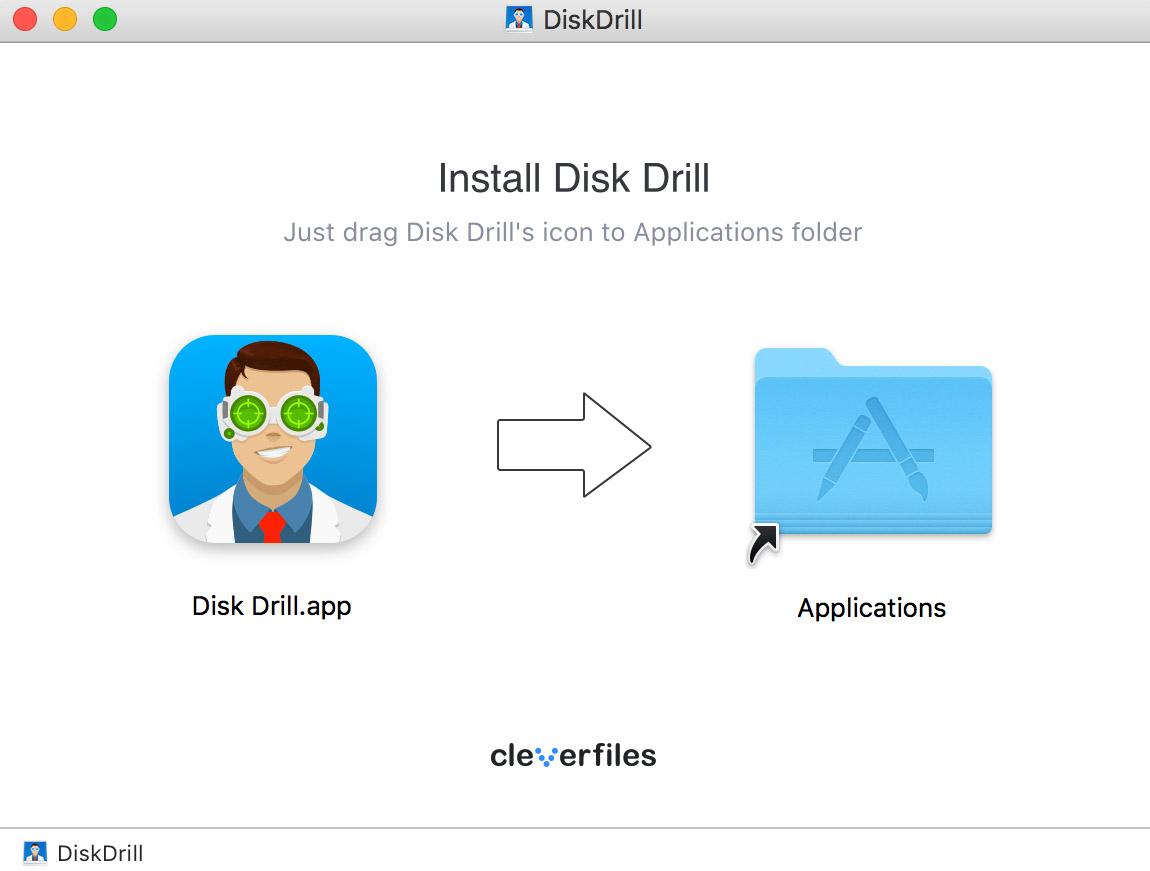 💡 We suggest you install it on a USB drive to minimize the chances that the installation will overwrite your files.
2. Launch the application and select the disk on which your lost files were last seen.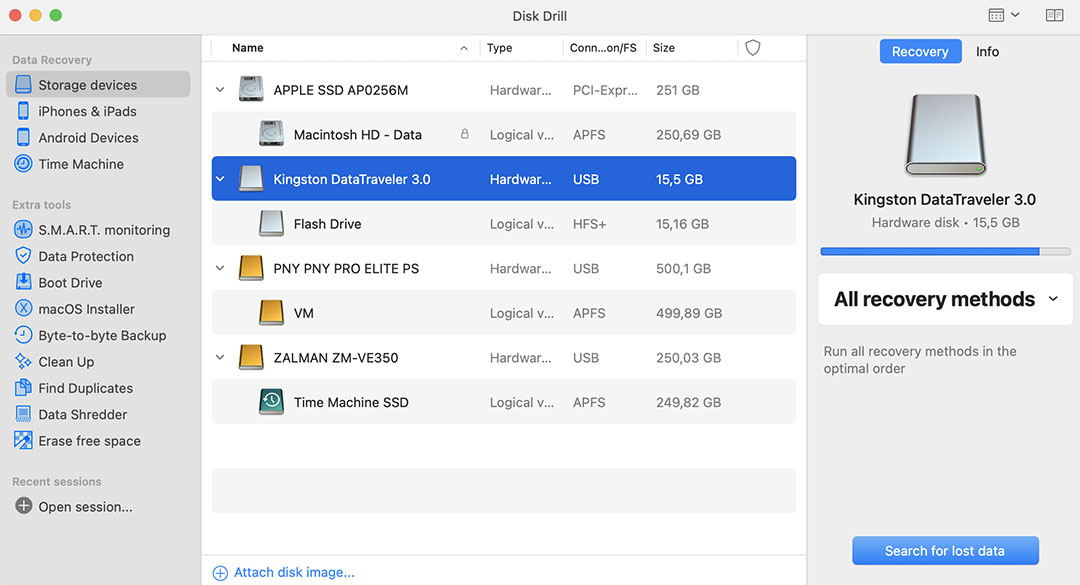 3. Click the 'Search for lost data' button to start a scan of your storage device.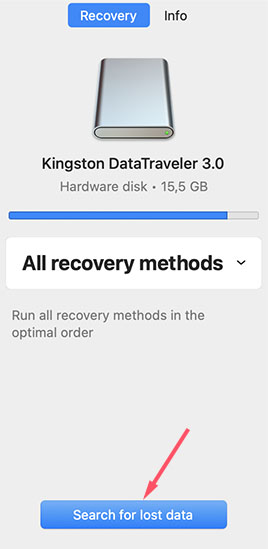 4. Use filters to search for specific types of files and speed up the scan. The application will return a list of the files that can be recovered using the tool.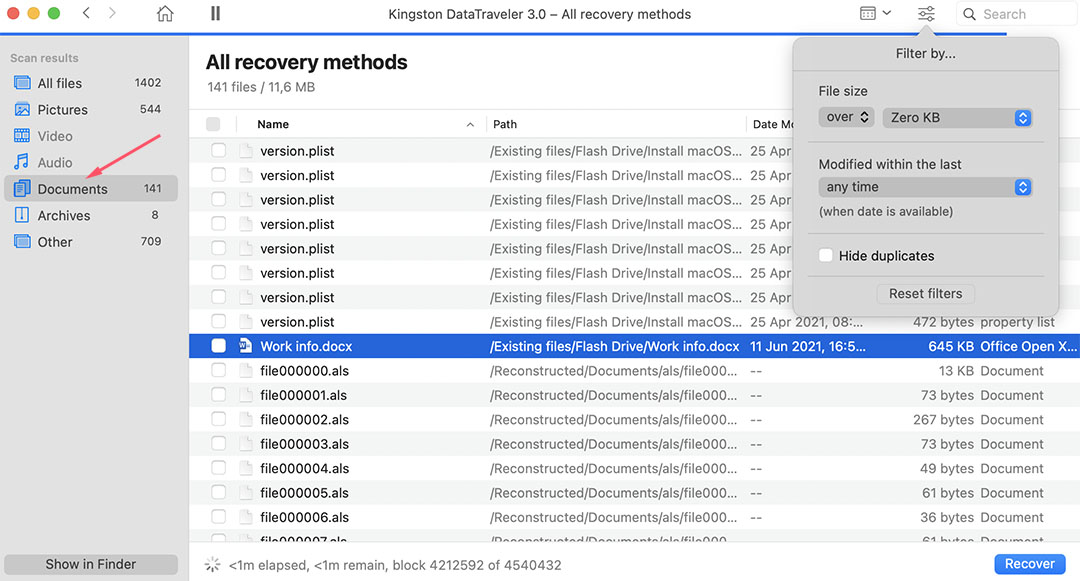 5. If the preview indicates that the files you need can be recovered, you need to upgrade to the Pro version of Disk Drill to perform the recovery.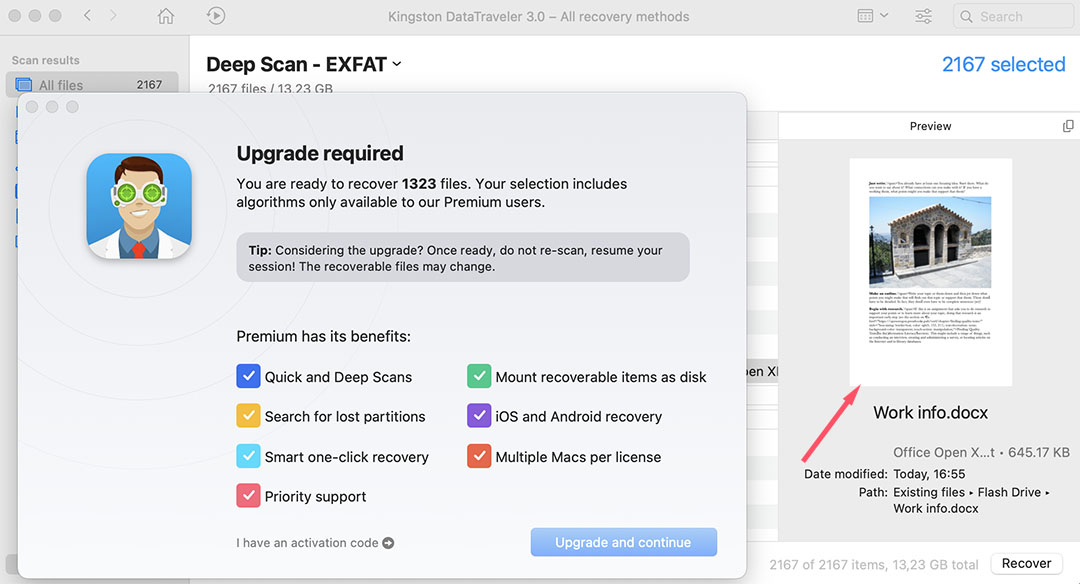 6. Select a location where you will store the files.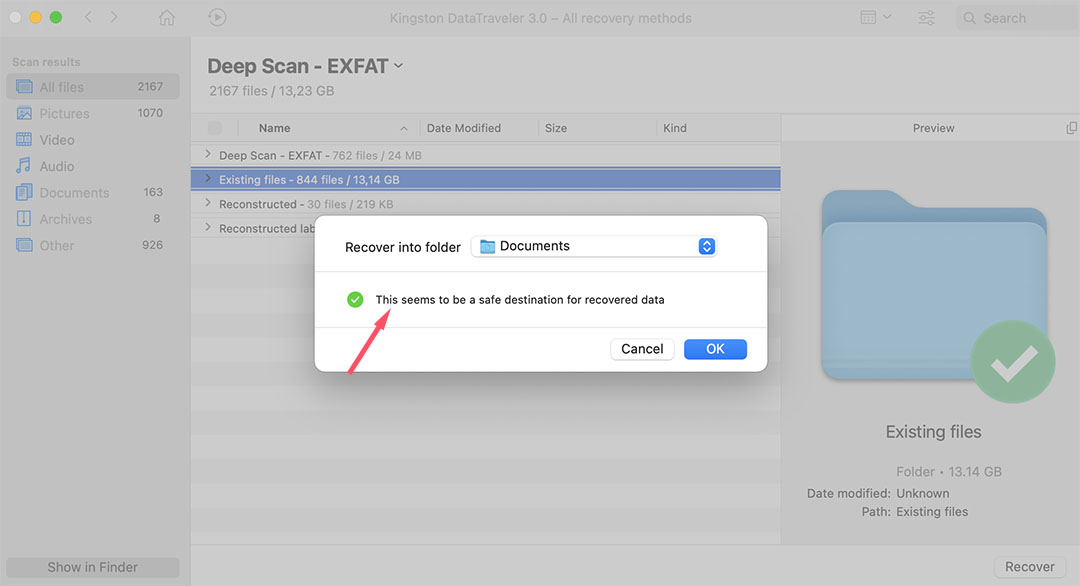 💡 Do not use the original location as this may overwrite the files as they are being recovered.
7. Click 'Recover' a second time to restore your lost Word files to the new location you have selected.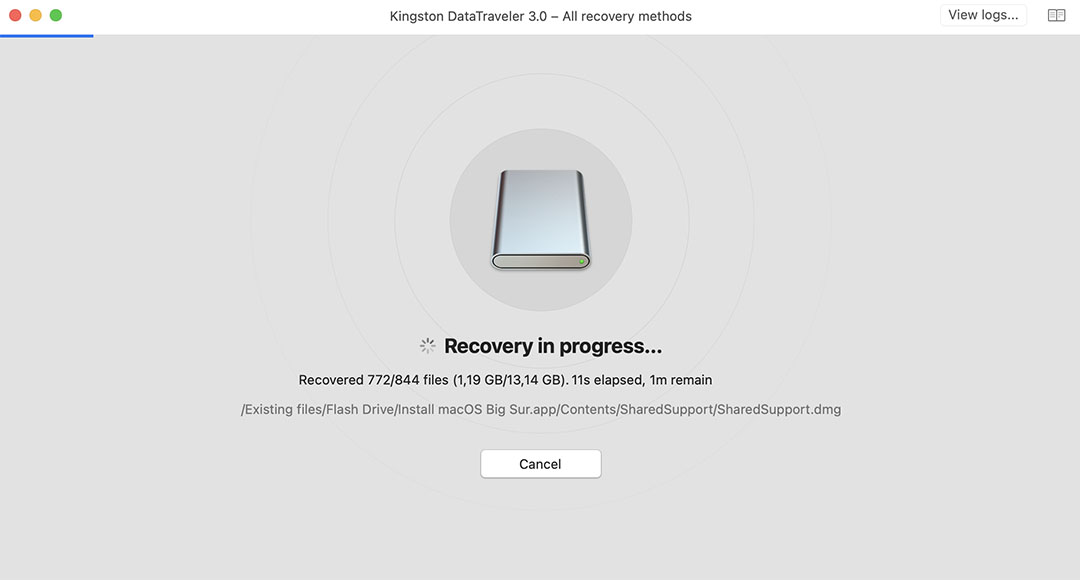 ---
#4 Recover Lost Word docs from the Mac Temporary Folder
Your Mac's temporary folder may have the lost Word file you need. Try the following procedure to check the contents of the temporary folder.
Open Terminal.
Type: cd $TMPDIR.
Type: ls to display the files. Look in the TemporaryItems subfolder for your document.
Search for the lost file. If you find the Word doc you are looking for, protect it by saving a copy to a new storage location.
#5 Restore a previous version of a Word file from within the Word app
☁️ OneDrive Method
The following steps outline the procedure you should use to attempt a recovery of a previous version of a file from within Word using OneDrive.
Use these steps to perform the recovery : 
Open the most recent version of the Word file you want to recover.
In Word go to File > Browse Version History.
You will see a panel displayed that shows all previously saved versions of the file.
Select the previous version you wish to recover and choose Restore to complete the process.
🩺 AutoRecovery Method
If Word crashes you have not saved the file and AutoRecovery is turned on, use these steps:
Restart the Word application.
The app will automatically recover and display the saved document.
#6 Recover a Lost Word Document From a Time Machine Backup
If you're using Time Machine to back up your Mac, you may be able the recover your lost Word doc from the backup media.
Use the following steps to recover a lost Word file from a Time Machine backup.
Connect the storage device that contains the backup files created by Time Machine to your computer.
Open a Finder window in the folder that previously stored the lost Word file.
Launch Time Machine by clicking the Time Machine icon on the menu bar.
Search through the snapshots and backups with the timeline and arrows to find the Word doc you want to restore.
Highlight the file you want to recover and click the Restore button. The doc will be restored to its original location.
💡 If you are not already using Time Machine to backup your data, we strongly recommend you start as soon as possible.
Recover text from a damaged file in Word
You can attempt to force Word to try to repair a damaged file. Use the following steps to try this recovery method.
In Word, click File > Open.
Select the damaged file from the dialog box.
Click the arrow on the Open button to display the submenu.
Click Repair or Recover Text option.
Check out this Microsoft support page for more information on handling damaged Word documents.
Tips to Help Avoid Losing Important Word Files
Here are a few tips that might help you avoid losing Word files. If the files contain important data and hold value for you, we suggest you take the necessary steps to protect them against accidental loss.
⏸️ Pause before manually emptying the Trash – Take a minute to see what items you are about to delete. It's very possible that you can rescue a mistakenly deleted file easily from the Trash at this point, rather than with data recovery software after it has been emptied.
🛡️ Run Antivirus software – Malware and virus infections can lead to data loss. Run a reputable antivirus tool and make sure it's always kept updated.
🔋 Consider a surge protector – Power spikes and surges can lead to unexpected system crashes that cause you to lose data. Using a reliable surge protector can help eliminate that source of lost Word documents. 
💾 Turn on AutoRecovery – This Microsoft document explains everything you need to know about this feature. You should turn it on and use it to automatically protect your Word files.
💎 Configure Guaranteed Recovery – Guaranteed Recovery is a free data protection tool available with the trial version of Disk Drill. It allows you to configure specific files and folders for additional protection from accidental deletion and provides a one-click data recovery method.
Video Tutorial:
Disk Drill will find any lost files that can still be recovered, in some cases, even overwritten data can be recovered. It's an excellent data recovery tool that will allow you to restore those lost Word files to your machine and let you get on with your work.
FAQ