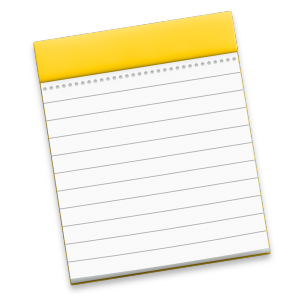 One of the characteristics of the macOS that makes it attractive to all kinds of users is the inclusion of many apps and applets designed to facilitate the use of your Mac or MacBook. One of these apps which can be used to make your life easier is Notes. It's a great way to jot down some ideas or information without going through the exercise of opening Pages or another word processor.
During the course of a busy day, you might create any number of notes for various reasons. You probably delete some of them from time to time as well. Everything is fine until you look for the notes you made regarding an important project and realize they have been deleted. You are not sure when these notes disappeared from your Mac but you definitely need to get them back if at all possible.
We are going to show you several ways to restore notes that have been deleted from your Mac running Yosemite or any other iteration of the macOS.
1

How to Recover Deleted Notes on macOS With Disk Drill
Disk Drill data recovery software is a comprehensive application that is designed to protect your data from incidents such as the disappearance of your Notes from your MacBook Pro. You can download the tool for free to take advantage of its data protection capabilities.
The free version also can be used to scan your storage devices for deleted files that can be recovered by the tool. It runs on macOS Mojave, macOS High Sierra, and all other versions of the macOS. Only after being satisfied that you can restore the files you need are you required to make an economic investment in the application.
Steps to recover your lost Notes on Mac
Stop using the disk that contained the deleted Notes to prevent the files from being overwritten by the operating system during normal operation.
Download and install Disk Drill. You should refrain from using the disk that contains the deleted Notes for this purpose to avoid accidentally overwriting the files.

Data recovery for free
Your Companion for Deleted Files Recovery

Launch Disk Drill and select the disk on which recovery is to be performed from the list presented by the program.
Click the "Recover" button to initiate the scanning algorithms that are at the heart of Disk Drill.
Preview the list of files returned by the app and determine if the files you need are among those listed.
At this point, you can upgrade to the Pro version of Disk Drill to perform the actual recovery of your Notes files.
Select the files you wish to recover. Choose a storage location for the files. Do not use their original location as this may cause the files to be overwritten during the recovery process.
Click the "Recover" button again to begin the data recovery process. Disk Drill will recover all of the selected files to the location that you have selected.

The powerful and advanced scanning algorithms employed by Disk Drill interrogate your disk sector by sector to find any files that can be salvaged. It can reconstruct files that were deleted long ago, even files that were removed from the Trash Bin.
---
2

How to Recover Deleted Notes on a MacBook or Mac Using iCloud
Making use of iCloud to sync your various Apple devices may enable you to recover notes that are disappearing from your machine due to a problem with an upgrade or any other unforeseen event. 
Steps to Recover Deleted Notes using iCloud
Go to System Preferences > iCloud and uncheck the box next to Notes. This will prevent your computer from syncing with iCloud and potentially deleting the files you want to recover.
Log into iCloud.com with your Apple ID and password.
Select Notes and save the desired files to a location on your computer.
❗ Remember to enable the function in iCloud that syncs your Notes after you are finished with your recovery.
3

Recovering Deleted Notes from a Time Machine Backup
All computer users should be aware of the importance of backing up your computer on a regular basis. It is one of the most fundamental methods of protecting your valuable data from the dangers of a catastrophic loss. Apple understands this and has built a powerful backup tool into its operating system. It's called Time Machine and you should be using it or some alternate means to backup and protect your data.
When faced with a data loss scenario such as deleted Notes, you can use Time Machine to recover files if they have been captured in a previous backup of your system. If you are concerned that some recently created files may be overwritten by the restore, simply select the notes and export them to PDFs. You can import them after the restore is complete.

Using this method you will overwrite your existing Notes database which is stored at ~/Library/Containers/com.apple.notes/Data/Library/Notes/. This is where Notes are stored on your Mac. You may also find your Notes files at ~/Library/Group Containers in the group.com.apple.notes folder. For safety's sake, copy the files in both folders to a new location.
Steps to Restore Notes from Time Machine
Ensure that you have copied the current Notes database referenced above.
Attach the storage device that contains the Time Machine backups to your computer.
Quit Notes and disable iCloud syncing for the Notes application.
Click on the Time Machine icon on your menu bar to start the program.
Select the data you wish to use for recovery and select the folder you want to recover.
Since you have already made a copy you can replace the current folders with those being restored from the backups.
4

Recovering Deleted Notes from the Recently Deleted folder
If the Notes files that you want to recover have been deleted in the last month or so you may be able to recover them from within the Notes app itself. You may have noticed that when you delete a Note it does not show up in the Trash Bin. Instead, the app keeps a copy in its own version of the Trash Bin called the Recently Deleted Folder. Files are kept for at least 30 days at this location before being permanently deleted.
Steps to Recover Note files on Mac
Open the Notes application.
Click on the Recently Deleted Folder in the left menu panel and select the Note to be recovered from the list in the right panel.
Choose "Edit" from the menu bar at the top of the screen and click on "Undo Trash Note". Alternately you can right-click on the Note and then select a folder in which to store the document.• Alternative option: right click on the note → Move to → Choose folder.
It's a pretty simple procedure that can be helpful if you need to recover Notes that were deleted not too long ago.
---
As you can see there are a number of ways to recover deleted or missing Notes on your Mac or MacBook. We hope that we have pointed you in the right direction to get these important Notes back on your computer.
FAQ
Mac stores notes in the following location: ~/Library/Containers/com.apple.Notes/Data/Library/Notes/
Notes are stored as an SQLite 3.x database, and you can open this database with any plaintext editor.
If your notes have disappeared after a recent macOS update, you should be able to recover them from iCloud:
Open System Preferences.
Click iCloud and uncheck the box next to Notes.
Log into iCloud.com with your Apple ID and password.
Select Notes and save them to your computer.
Alternative, you can restore your Mac to an earlier state using Time Machine.